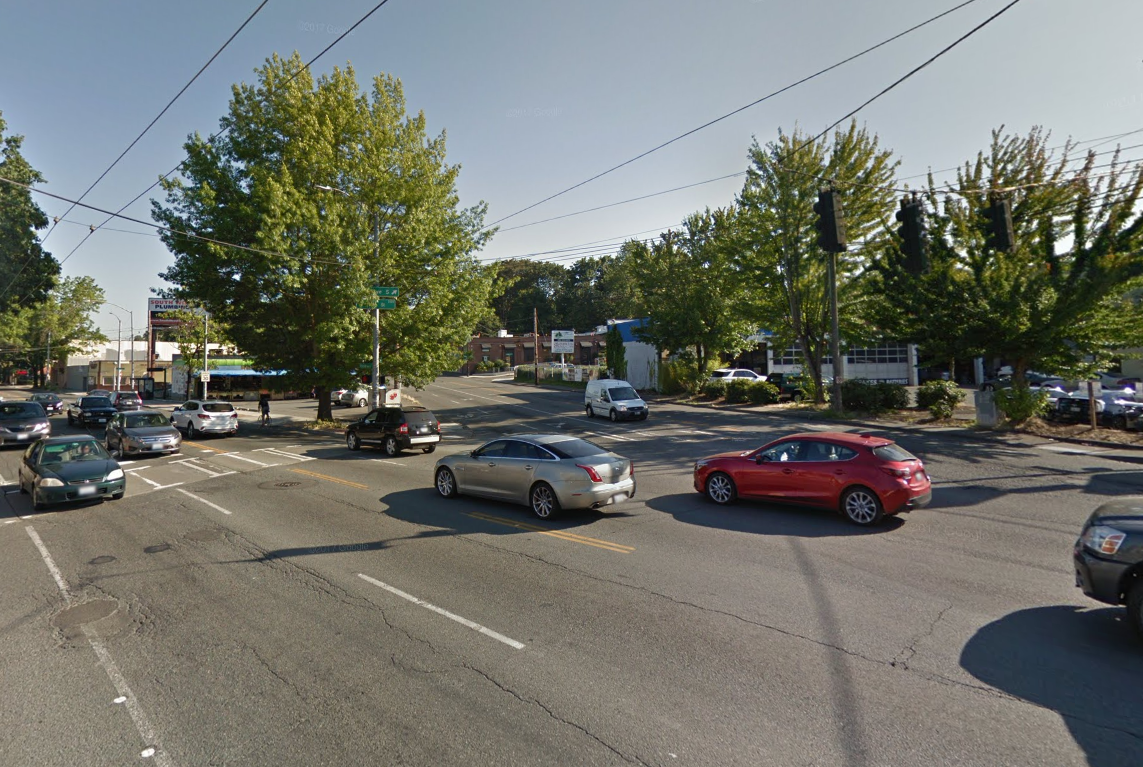 We're now down to four options for the Worst Intersection in Seattle, which is the worst intersection for pedestrians, cyclists, and transit riders as voted by readers of The Urbanist. Based on this year's seeding, voters have identified a worst intersection in each part of Seattle (North, South, South Lake Union, and downtown).
In North Seattle, the mess of 7th Ave NE, NE 40th St (twice), and the Burke Gilman trail is a painful for people biking to the Burke-Gilman, pedestrians who have to figure out when it's their turn to cross, riders of the 31/32 bus, and drivers who may have been waiting 30 minutes to clear the intersection. Several nominations came in for this intersection and Joe Zagrodnik made a good point about how this intersection represents so much that's wrong about Seattle's bike network:
First thing–it's a perfect example of one of the many missing bike links in the city–two of the busiest bikeways in the city and no way to get between them except to cut off cars in a crosswalk, ride up a sidewalk, and hop off a curve (to get from the Burke to Univ Bridge southbound).
South Seattle has more fatal collisions than any other part of Seattle, yet we haven't had a "Worst Intersection" come from anywhere south of Denny. Could this be the year that this changes? Al Dimond nailed it in his nomination of Rainier/23rd/Hill:
It really has everything:
– The awfulness of Rainier
– The bad part of 23rd Ave S
– An angle that causes extra-long crossing distances, with no mitigation (e.g. moving stop-lines back to create right-angle crossings, median refuges, etc.). It's 116′ to cross 23rd along the east side of Rainier. That's like crossing an 11-lane street!
– A third street butting in to make it even worse
– It's missing a crosswalk, across the northwest face of Rainier.
South Lake Union, the neighborhood with four of the last five "worst intersections" has so many bad intersections that you can't choose just one! Mercer was re-built at a cost of over $130 million and the poor pedestrian experience has only been compounded by disastrous adaptive signals along the corridor that have no place in an urban environment. Glen Buhlmann nominated all the intersections along Mercer:
They are all of the size that you can see the curvature of the earth as you stand by the beg button looking across to the other side. The signal timings are designed to make people on foot decide to try to cross without waiting for the light, especially during peak while E/W motorists get eleventy-seventeen minutes of green even though at least one direction of motorists (the one SDOT is trying to prioritize) is not moving at all. These cycles that are measured using the Geologic Time Scale also predictably cause motorists to do stupid things because the incentive to put people walking at risk in order to avoid another epoch-sized wait is very high. As a result there are numerous vehicles of all types and sizes blocking not just the crosswalks but often most of the intersection on almost every cycle even outside of peak periods.
In Downtown Seattle, 4th and Jackson has emerged as the worst. It's currently a very busy transit area with buses from multiple agencies, light rail, and the Sounder all stopping nearby. H Park pointed out that this intersection is bad and will only get worse once the Convention Center renovation begins. "Then all the bus routes in the tunnel move to surface routes. It's going to cause a lot of grief for pedestrians, bikes, and cars."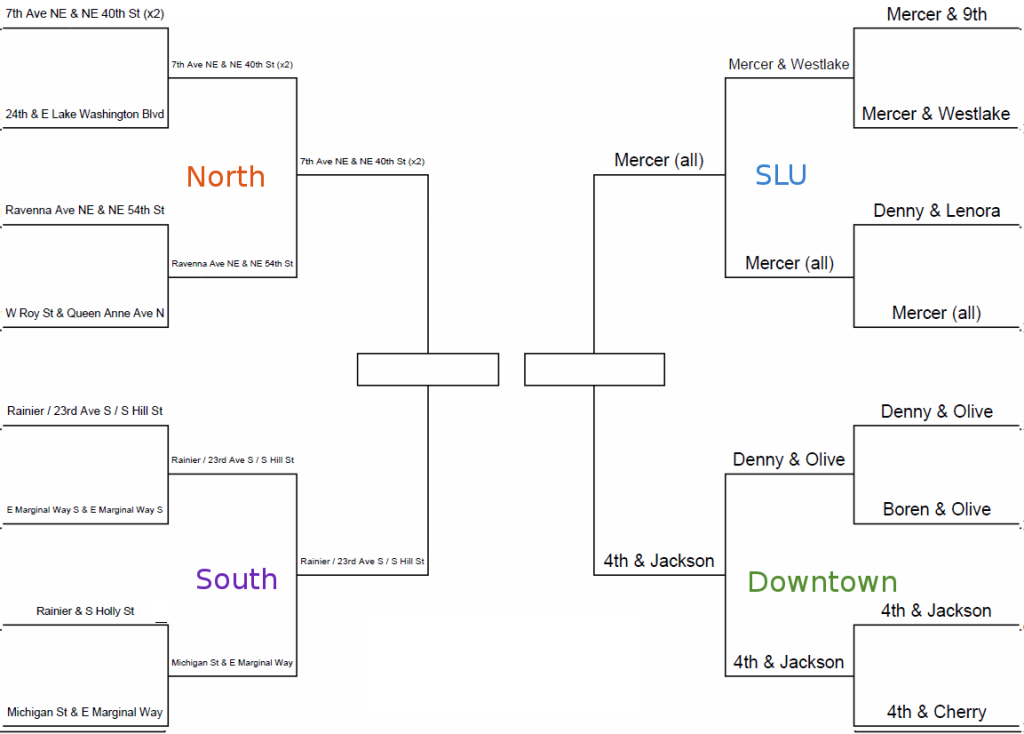 Of these four awful intersections, only two will advance to the final vote for the Worst Intersection in Seattle.
Cast your vote below:
Troy is a pedestrian advocate who serves on the board of Seattle Neighborhood Greenways. He loves cities and walking, hiking, and biking. He wrote a book to help others looking to find the right place for them, called Move to the Place of Your Dreams: A Relocation Handbook. By day, he is a professional consultant for a technology firm.