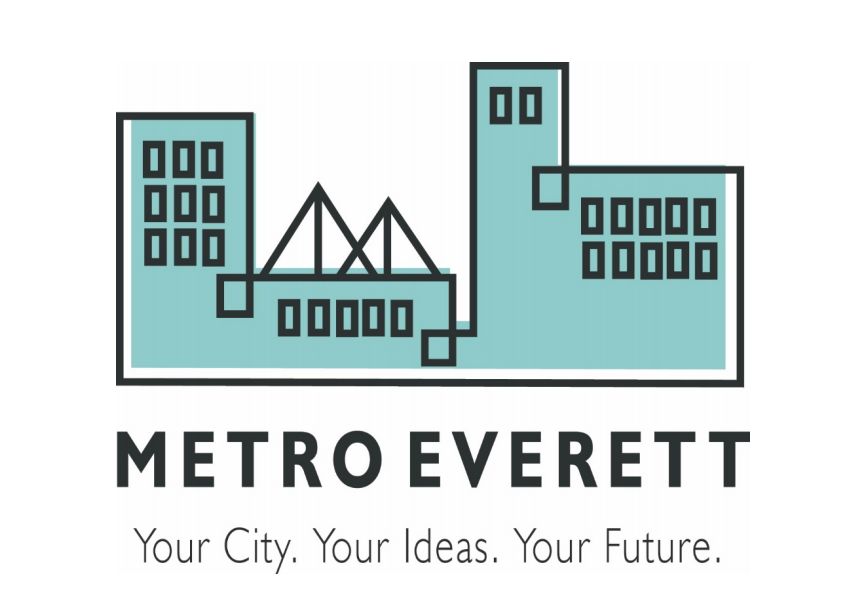 Everett has an ambitious city center planning proposal that has been circulating city hall for more than two years. Known as "Metro Everett," the proposal would rezone large swaths of the city center and nearby areas while pairing extensive development regulations to realize modern, integrated urban districts. The city's planning commission will hold a hearing tonight (skim down to the bottom for details) on formal code changes that could make it a reality. But first, the plans have to get the commission's buy-off before an ordinance would be transmitted to the city council for consideration.
What's Proposed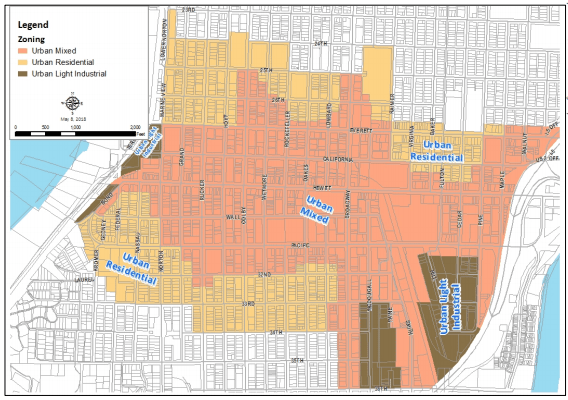 The Metro Everett proposal resembles many of the key features from a draft plan released in January. Three new zoning districts would be in established the city center, largely replacing existing ones, in addition to a new zoning overlay in adjoining higher-density residential and semi-mixed-use areas.
The key zoning districts include Urban Mixed (UM), Urban Residential (UR), and Urban Light Industrial (ULI). As the names suggest, certain uses would be encouraged and restricted by design. Urban Residential would primarily consist of multifamily uses, but some commercial and institutional uses could be allowed. Urban Mixed would provide for a wide variety of uses, except for industrial and lower-density residential uses. Urban Light Industrial would similarly allow for a wide spectrum of uses, including residential, commercial, and low-intensity industrial.
Beyond the bounds of Metro Everett, the city is considering a new overlay district for higher-density residential and semi-mixed-use area. The Core Residential Area (CRA) overlay would apply similar development standards as those contained in Metro Everett to existing zones, such as R-2 and R-3. The underlying zoning regulations would stilly apply, except when superseded by the CRA overlay development standards.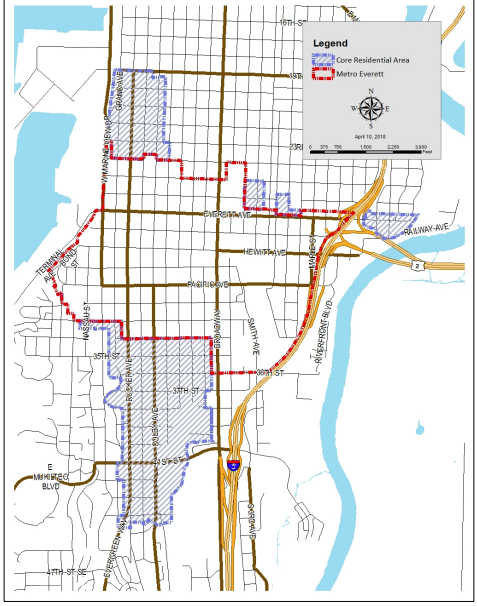 The Metro Everett planning process has resulted in very fine-grained development standards, often a on block-by-block basis in addition to use. Other overlay maps help establish these standards like street type designations, permitted locations for drive-throughs, building height maximums, and parking zones.
This slideshow requires JavaScript.
The proposal outlines the following overlays:
Street types. The proposal would create four different types of street designations (listed from highest to lowest classification) in Metro Everett: Transit-Oriented Development (TOD), Pedestrian, Pedestrian Connector, and Residential Mixed-Use Corridor.
Building height maximums. Three separate maps address building height maximums. For Metro Everett, building height maximums would be addressed in two ways. The proposal would establish building height maximums as-of-right. Developers would be able to build to designated building heights without the use of special incentives. To exceed these ordinary maximums, developers could "buy" additional height up to the absolute maximum through various incentive options. Generally, the absolute maximum building heights in Metro Everett would reach six to eight floors at the edge of the district and 25 floors in the center. The CRA would have a range of maximum building heights, from 35 feet to 65 feet.
Parking zones. Two parking zones would be established for Metro Everett: Parking Area A and Parking Area B. Generally, Parking Area A would require less or no off-street parking for allowed uses as compared to Parking Area B.
Drive-through areas. Generally, new drive-throughs would be prohibited in Metro Everett. However, several sites in the eastern frame could be designated to allowed them.
Aside from the development regulations and zoning, the proposal would also be coupled with changes to the city's comprehensive plan, adoption of a subarea plan, and new exemption thresholds from the State Environmental Policy Act (SEPA) for larger developments in Metro Everett.
Use Regulations
Uses in Metro Everett would be largely controlled by zone. However, the street type could play a role in determining whether a use is allowed or not and the type of conditions applied to it. As a general rule, corner lots would be subject the most restrictive use conditions related to a street type fronting the lot, up to 100 feet into the lot interior to effectively realize the overall use objective by street type. Additionally, on TOD streets, residential uses would generally be restricted on ground floor street frontages to no more than 25% of a block (defined as 400 feet of frontage) in order to encourage active streets.
This slideshow requires JavaScript.
Urban Design, Density, and Building Form Regulations
Density in Metro Everett would not be capped by new development regulations; however, new requirements would set minimum density at three dwellings per lot (where a lot is at least 5,000 square feet, 50 feet wide, 80 feet deep, and 40 feet of frontage), except when residential uses occupy 50% or less of gross floor area on a site. The CRA overlay would have no minimum density requirements, but residential density would be capped at one dwelling unit per 1,500 square feet in the R-3 zone only.
Building heights in Metro Everett would be controlled by the base maximum height and absolute maximum height limits noted before (see the first slider above for height limit maps). The absolute maximum heights would be available to developments that use incentives such as affordable housing contributions, green building, transfer of development rights, public parking, and public art.
Specific standards would be established for most types of incentives, such as the rent thresholds for affordable housing and green building eligibility criteria. The additional height gained from incentives would be converted primarily on square footage basis (e.g., five square feet of additional floor area for every one square foot on on-site or off-site affordable housing).
Principal structures would need to achieve a minimum of two floors in the UR and UM zones while TOD streets would need to achieve at least four floors, and no minimum floor height would apply to the ULI zone.
Building locations would be controlled to encourage more pedestrian-oriented developments throughout Metro Everett and CRA. On the whole, this would promote buildings to be placed close to the street frontage, often with no setback requirements. Buildings that are set back more than 10 feet would need to include special elements like plazas and forecourts to develop a better connection to the street. Where minimum setbacks do apply, a variety of architectural and urban design exceptions would still be available for things like stoops, fences, bay windows, porches, rockeries, signs and awnings, and even transit shelters. In terms of lot coverage, the UR zones and CRA would set the maximum at 85% for structures while the UM and ULI zones would allow for full site utilization.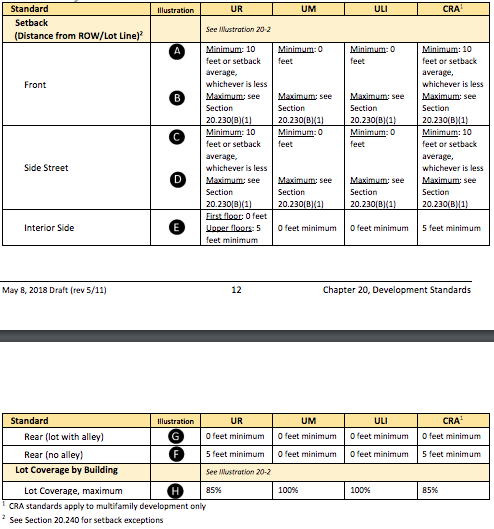 Ground floor spaces would be controlled in minimum ceiling heights, finished floor level, and building depth to promote convertibility of spaces and ensure that they reflect the intent of their zones. UR zones, for instance, would have low building depth and ceiling height requirements since development in the zone is largely anticipated to be residential in nature. Meanwhile, UM zones would have higher minimum standards, particularly for non-residential uses which would need to have at least 15-foot ceilings, a floor-to-ceiling height typical in retail and restaurant spaces. Finished floors across the board would be restricted to no more than six inches above grade for non-residential uses to keep them easily accessible from the street.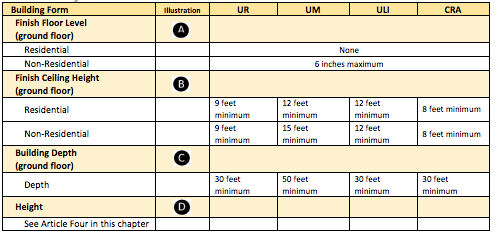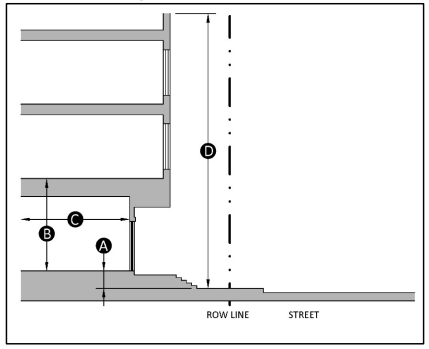 Modulation and floorplates requirements would apply to taller buildings starting at three floors and above for interior sides of lots and six floors and above for front and side streets faces of a building. At lower levels, buildings would generally need to achieve a minimum stepback ranging from five feet to 10 feet, depending upon the side. Once a structure gets beyond seven floors, it wouldn't have a prescribed additional stepback but would be subject to a design review process that could require additional upper-story facade changes for bulk control. The UM zone would also have a floorplate maximum of 12,000 square feet per floor above 11 floors,
Building modulation would be controlled in several other ways. Whenever a building facade would exceed 100 feet in width, it would need to use a mixture of vertical and horizontal articulation to break up the facade in addition to changing the theme of chosen materials, details, and motifs. Residential buildings would have similar requirements, except that the standards would kick in at 50 feet in width with an objective of making the structure look like multiple distinct buildings to create a finer grain. Lastly, horizontal articulation would apply generally to all front and side street facades for every 25 feet of facade width. Developments would have to accomplish this by using different architectural expressions to facades like bay windows, columns, pilasters, recesses, and mullions.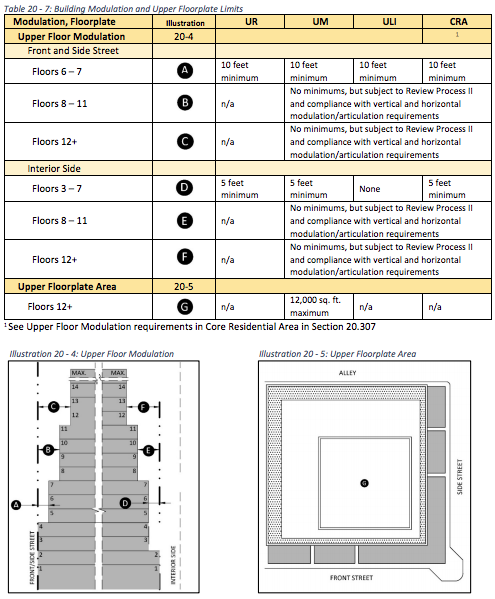 The proposal would control how much structured parking could be visible and front a street. To do this, street types would dictate the standards in addition to whether or not structured parking is an accessory or principal use. TOD streets would be the least permissive street type for structured parking uses.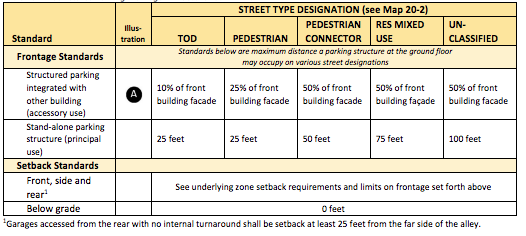 Overhead weather protection would apply to buildings fronting a public sidewalk. Developers could choose a variety of canopy and awning techniques, but the minimum sidewalk coverage, depth, and height would be established by street type. To promote walkability and street activity, the highest standards would apply to TOD streets with Pedestrian streets following only a little behind in quality and quality.

Transparency on street frontages would be highly encouraged throughout Metro Everett in order to engender visual interest, connections between the street and building interiors, and overall safety. TOD streets would have the highest transparency requirements at 90% on ground floors. Other street designations would have lower standards since they are not envisioned to be nearly as active spaces. Where no standard applies, blank walls would still be prohibited.

Frontage improvement standards would apply to new development, including wider sidewalks, frontage zones, and planter strips. These would be determined by the applicable street type to a property frontage. On the high-end, developers could be responsible for 24-foot wide areas of pedestrian realm improvements. The spaces would need to include several special amenities such as pavers, artwork, decorative tree grates, and information kiosks as well as street trees.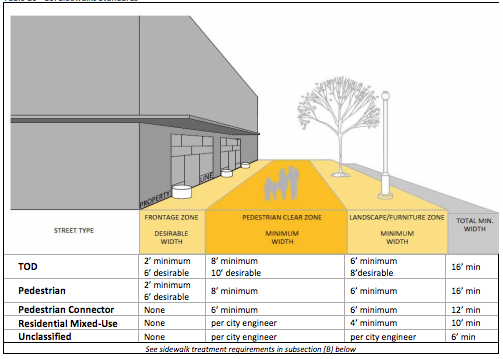 In addition to the general urban design, density, and building form standards described above, the proposal would establish prescriptive standards for the design of plazas, forecourts, recessed entryways, open space, and landscaping.
Parking Regulations
New off-street parking regulations (see general parking requirements in the slider below, the first slider above shows the parking zones) will apply to Metro Everett resulting in a major overhaul to the city's parking policies. Non-residential uses would generally be eligible for reductions over the standard parking requirements:
In Parking Area A, no off-street parking would be required for non-residential uses with the exception of government offices, which would need to meet the standard parking requirements or receive approval for a parking management plan. Developments with more than 5,000 square feet of non-residential uses would still need to seek approval of a Transportation Demand Management plan to assist with transportation accessibility.
In Parking Zone B, off-street parking may be reduced by 25% over the standard requirements for non-residential uses.
Meanwhile, multifamily residential developments in Metro Everett would generally be eligible for lower off-street parking requirements as compared to areas outside. Parking Area A would have lower requirements over Parking Area B, but overall both would still establish parking minimums. Several reduction options would be available to developments, including reductions for affordable housing, proximity to frequent or semi-frequent transit (must be a quarter-mile or less), approved Transportation Demand Management plans, and shared parking as part of mixed use.
Bicycle parking would come into play whenever a non-residential development requires six or more vehicle parking spaces and whenever a residential development contains four or more dwelling units. For non-residential uses, one bicycle parking space would be required for every 12 vehicle parking spaces up to a maximum of 20 spaces while four bicycle parking spaces would be required for every 10 dwelling units in multifamily developments. Senior housing would have a lower requirement and developments within individual garages could receive bicycle parking reductions. In addition, bicycle parking would be subject to special design and location standards to make it accessible, secure, and usable.
The new parking code would further provide other reduction, exception, and incentive (e.g., carsharing, more bike parking, and motorcycle parking) options to eligible developments over the standards discussed, and in all cases, historic structures and site with historic would be eligible for full exemptions from parking requirements.
This slideshow requires JavaScript.
Next Steps
A public hearing will be held before the Everett Planning Commission tonight (June 5th) beginning at 6.30pm at city hall. You can provide feedback on the proposal in-person or submit comments to the planning commission via metro@everettwa.gov. Following the public hearing, the planning commission may further amend the proposal and recommend it to the city council, which would take it up sometime later this summer.

Stephen is a professional urban planner in Puget Sound with a passion for sustainable, livable, and diverse cities. He is especially interested in how policies, regulations, and programs can promote positive outcomes for communities. With stints in great cities like Bellingham and Cork, Stephen currently lives in Seattle. He primarily covers land use and transportation issues and has been with The Urbanist since 2014.