The Urbanist has been banging the drum for following through on long-laid plans to build the Center City Connector to connect Seattle's two orphan streetcar lines. The wheels were well in motion–$75 million in federal grants are secured to fund it–yet politicians vacillate and Very Serious People pundits poo poo the project.
We recently published Joe Mangan's broad case for streetcars. Mangan, a student at Roosevelt High School, did a great job of listing benefits trams typically hold over buses–and the renderings he made of a NE 65th Street tram are wonderful. Still, transit cartographer extraordinaire Oran Viriyincy noted he hoped to see a specific case for the Center City Connector rather than a broad case for streetcars in general. Here is the specific case for Seattle's Center City Connector, because after all this project is going need all the help it can get to avoid being scrapped by penny-pinching policymakers. Mayor Jenny Durkan is expected to make her decision in October and then release the consultant review she's been sitting on.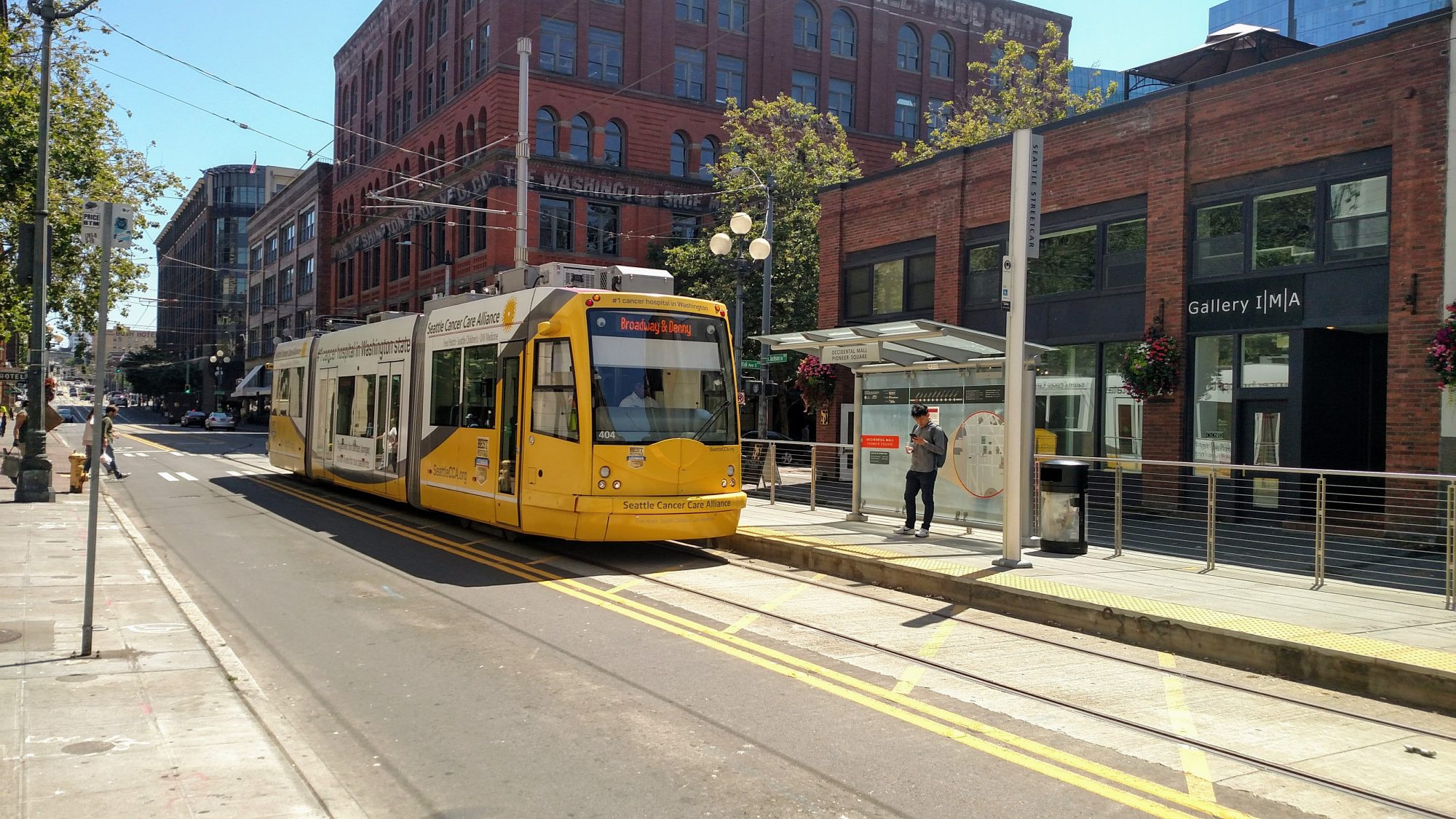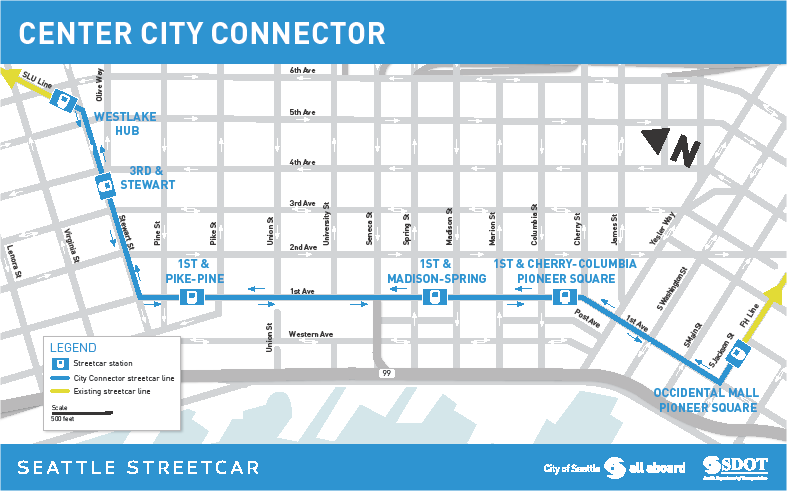 The Center City Connector is high quality transit. Well-executed streetcars are very effective transportation. While KUOW's Carolyn Adolph claimed as fact that "streetcars are not very good at transit" citing a Very Serious professor Jeff Brown, a whole host of international cities utterly refute that. In many European cities, streetcars are a ubiquitous, essential, and beloved form of local transport by locals and tourists alike. Budapest's 36 tram lines carry more than a million riders per day in a city of two million. By way of comparison, the Central Puget Sound region's 116 miles of Link light rail are expected to carry 600,000 daily riders when completed in 2041. 
The Connector has physically-separated transit lanes and avoids typical American streetcar pitfalls. The case against streetcars, which is very much in vogue in the United States right now, is built on drawing hyperfocus on the shortcomings of recent American streetcar projects (while ignoring shining successes in other countries). The shortcomings of American streetcars stem from a mixture of poor execution, too many car-dependent residents, too many cars clogging the streetcar routes, and the overall weakness of transit–but not from inherent shortcoming of streetcar as a form of transport. Dedicated lanes are typically a key factor distinguishing successful streetcars from lackluster ones, and the Center City Connector will have them. The Connector's center-running lanes that are projected to offer significantly faster transit times compared to America's busiest bus mall, Third Avenue, which is often clogged, particularly at peak hours. And unlike some cities which have almost no transit culture or ridership momentum, Seattle's has led the nation in ridership growth two years running. This is a city that should think big to keep pace with demand.
The Connector will serve a racially and economically diverse cross-section of the city. Because the Connector would run through Downtown Seattle, some seem to assume that it's meant to serve rich condo dwellers and economically bolster vague "Downtown interests." In reality, a significant chunk of Seattle's subsidized housing is in Belltown, Pioneer Square, Chinatown-International District, Yesler Terrace, and First Hill–also known as the route of the Center City Connector. The latter two are already served by the First Hill Streetcar, but extending the line through Downtown Seattle will make it much more useful to First Hill.
Finishing the Connector would meet long-made City promises. Moreover, many small business owners along the line were looking forward to the connected streetcar as a business boost. Business owners in Chinatown-International District and First Hill had already weathered a long construction interruption with the First Hill Streetcar with the promise their streetcar would soon be connected to Downtown Seattle.
The Connector will turn the streetcar into a vital link in our transit network. First Avenue has a plethora of destinations, including Seattle's number one tourist destination, Pike Place Market. It's also near the soon-to-be-revitalized waterfront, which won't be separated from Downtown by the Alaskan Way Viaduct much longer as the ugly double-decker highway is torn down next year. Third Avenue can't handle all the east-west traffic, and it's a steep walk from First Avenue–about 100 feet in two short blocks. Adding a major transit corridor on First Avenue makes the city much more accessible for mobility-challenged folks. While former Seattle city councilmember Nick Licata raised the prospect that the Connector would be duplicative and poach riders off buses, this hardly seems like a problem when Third Avenue can barely fit any more buses and the buses can hardly fit any more people at peak. Many riders have seen their buses turn them away because they're so full. In fact, when The Urbanist suggested King County Metro Transit make buses free during smoky unhealthy air quality days, King County Executive Dow Constantine argued our bus system couldn't fit any more people anyway rendering the measure moot. We badly need more capacity and the worry about poaching riders is a red herring. 
The Connector is expandable and could serve future streetcar lines. If plans are resurrected to run a streetcar to SoDo along First Avenue, the Connector would provide the link to Downtown and beyond. Ditto for a streetcar line deeper into Belltown and Uptown–and potentially up to Queen Anne like the old Counterbalance route.
Canceling the Connector will doom the existing streetcar lines. Let's run the scenario. Say we cancel the streetcar connector: what do we expect to happen to the two existing lines? Without a connection, we can't expect their ridership to improve that much. There will be less impetus to get them out of traffic, or run their operational costs out of either Seattle's or Metro's general fund like a normal transit service. Soon, some of the same skeptics will be clamoring to tear the tracks out, and we won't have that good of a case against it if we've already conceded anti-streetcar arguments in the rush to abandon the Connector. How convincing will it be to argue we should preserve the two short streetcar stubs so some valiant mayor down the road can actually invest in First Avenue transit? No, once it's dead, it's going to be very hard to bring back from the grave.
Canceling it will cost nearly as much as building it. So let's built it! While there is a budget hole that needs to be closed, most of the costs are already sunk. Utility work that is already happening is a significant part of the budget and will need to paid either way. Lumping those costs in with transit costs was misleading from the start. The $75 million in grants we aren't getting back, nor are we the design and engineering costs. The signed contract for streetcar vehicles may not be fully recoverable either, leaving us with a bill to pay and no grants if we cancel the project. Would we rather have bills and nothing to show for it but a decade long saga in broken promises or bills for a functioning Downtown streetcar? The answer for me is simple.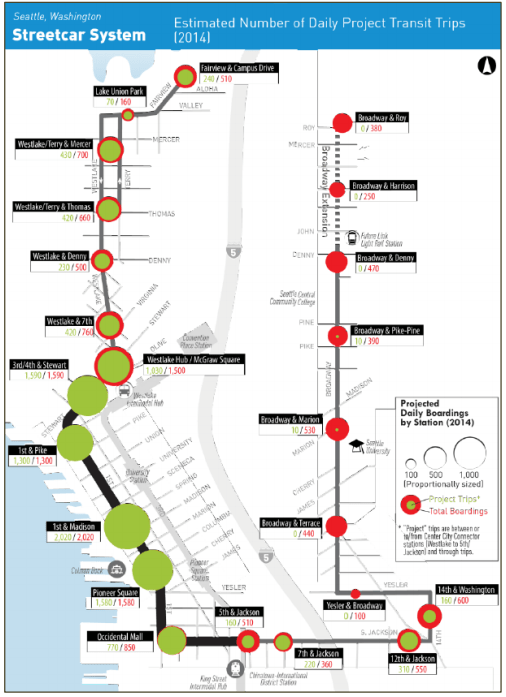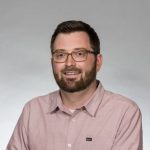 Doug Trumm is publisher of The Urbanist. An Urbanist writer since 2015, he dreams of pedestrianizing streets, blanketing the city in bus lanes, and unleashing a mass timber building spree to end the affordable housing shortage and avert our coming climate catastrophe. He graduated from the Evans School of Public Policy and Governance at the University of Washington in 2019. He lives in East Fremont and loves to explore the city on his bike.