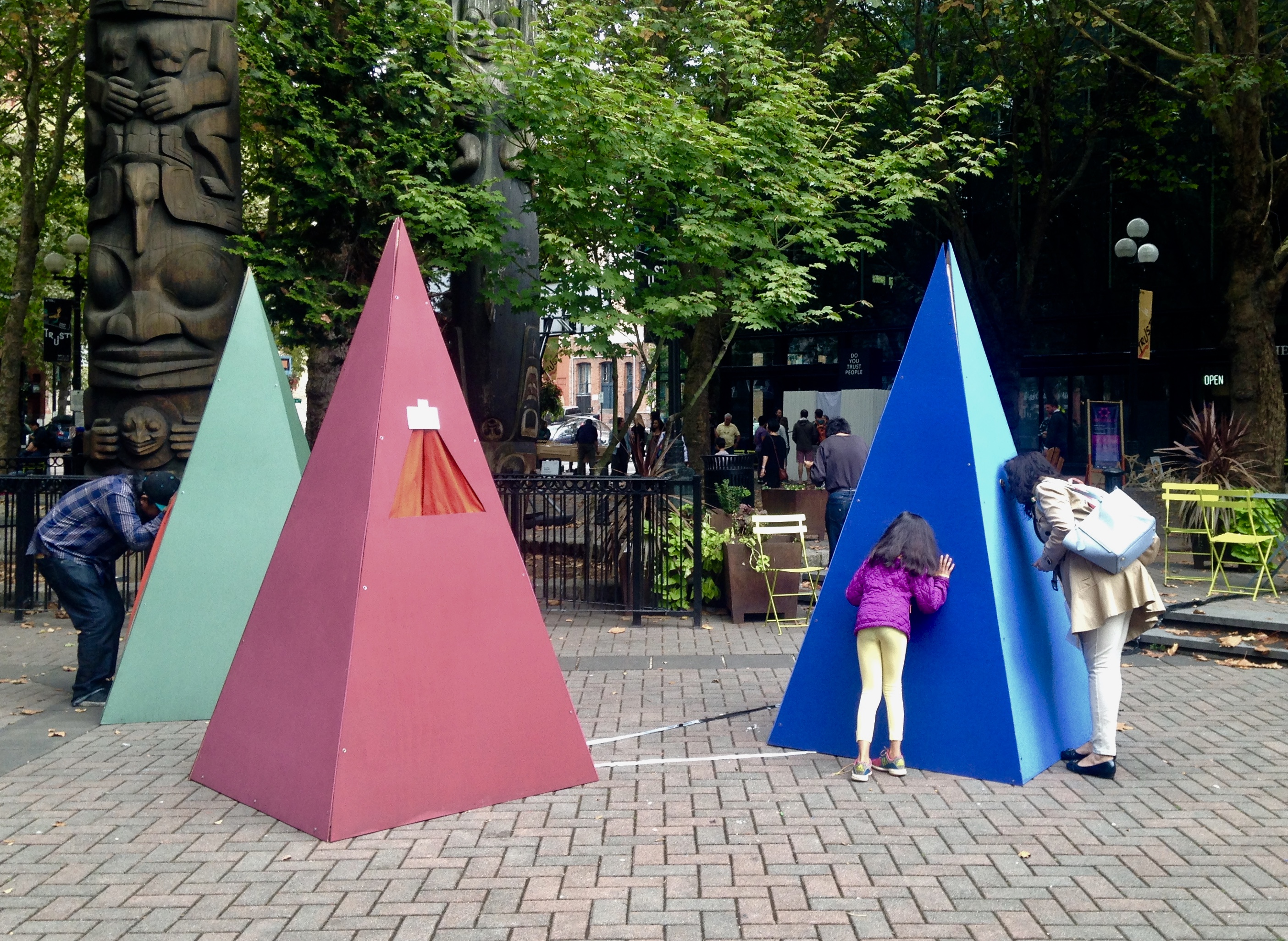 The Seattle Design Festival, sponsored by Design in Public, is moving into its first full week of events, including many related to urban design, architecture, sustainability, and social equity. The entire festival runs until September 23rd, with events occurring at different locations throughout the city.
Founded in 2011, each year the festival takes on a different theme. This year's theme is trust. According to Design in Public, the mission of the festival is " to connect designers, community members and civic leaders to explore how we design for TRUST."
Below is list of recommended events. The full event calendar is available online and includes many additional events of interest to readers. Unless noted, recommended all events are free and do not require an RSVP.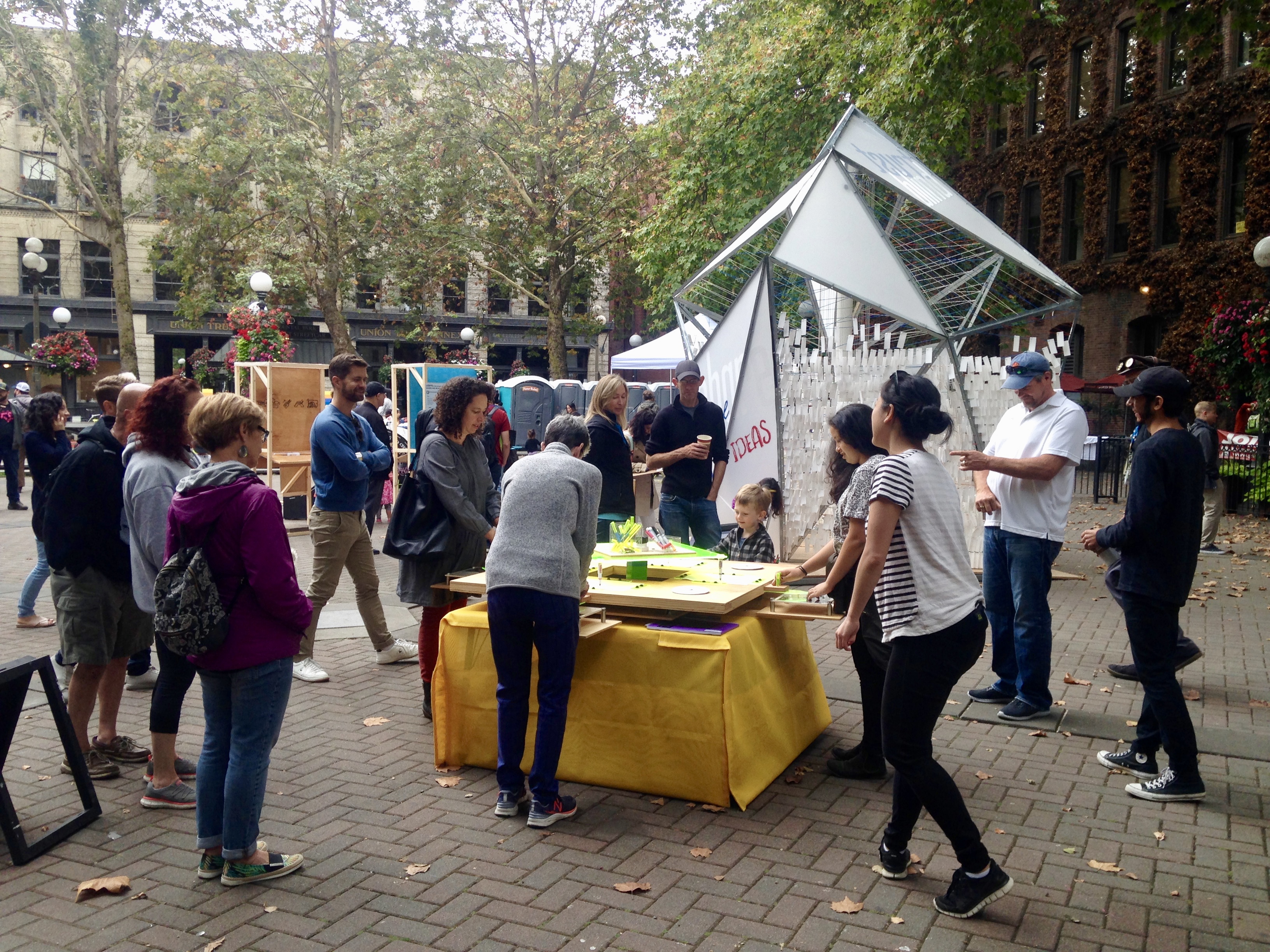 September 10-16th
Monday 9/10
Sea+CDMX: Design Playground 6:00pm – 8:00pm
CITY HOSTEL SEATTLE, 2327 2ND AVE
Five student projects from UAM Mexico City design students will showcase the different challenges both cities and their citizens share, despite the vast contrasts between Seattle and Mexico City. An expert panel/roundtable discussion will be included.
Tuesday 9/11
Equitable Development Mini-Conference 1:00pm – 6:00pm, RSVP
SEATTLE CENTER ARMORY, 305 HARRISON STREET
Presented by the Seattle Equitable Development Initiative, the Equitable Development mini-conference will be a shared learning opportunity for diverse community members to learn about Seattle's Equitable Development Initiative and dialogue with community leaders who are creating projects that will mitigate displacement and create stability for their cultural communities.
Design for Belonging  6:00pm – 8:00pm, RSVP
DLR GROUP, 51 UNIVERSITY ST #600,
Design for Belonging is an expert panel/community discussion that will gather city builders, community organizers, artists, and a diverse public to explore what it takes to create culturally responsive, thriving, resilient, and welcoming neighborhoods. Moderator: Grace Kim, Principal Architect, Schemata Workshop & Commissioner, Seattle Planning Commission

Thursday 9/13
Discussion HALA/MHA Process and Initiatives   5:00PM – 7:00PM, RSVP
DLR GROUP, 51 UNIVERSITY ST #600
A panel from Seattle's Office of Planning and Community Development (OPCD) will present an update on upzoning throughout Seattle, discuss potential impacts, and report on how we are doing within the context of the Housing Affordability & Livability Agenda (HALA) and the Mandatory Housing Affordability (MHA) policy. Program will include a facilitated question and answer session.
Adding Density While Retaining Character   6:00pm – 8:00pm
B9 ARCHITECTS, 610 2ND AVE
Join b9 architects for a panel discussion exploring alternative development strategies to preserve Seattle's existing physical and cultural character while meeting the city's growing density needs.
Saturday and Sunday, 9/15-16
Battery Block Party     2:00pm – 6:00pm
BATTERY STREET, 1ST AVENUE & BATTERY STREET
Recharge the Battery invites Seattle residents to help re-imagine the future of one of Seattle's most under-appreciated corridors in the heart of Belltown. As part of the Recharge the Battery Initiative, the Battery Block Party is an encore event to inspire members of the public to gather and share ideas to help shape the future of the Battery Street Corridor.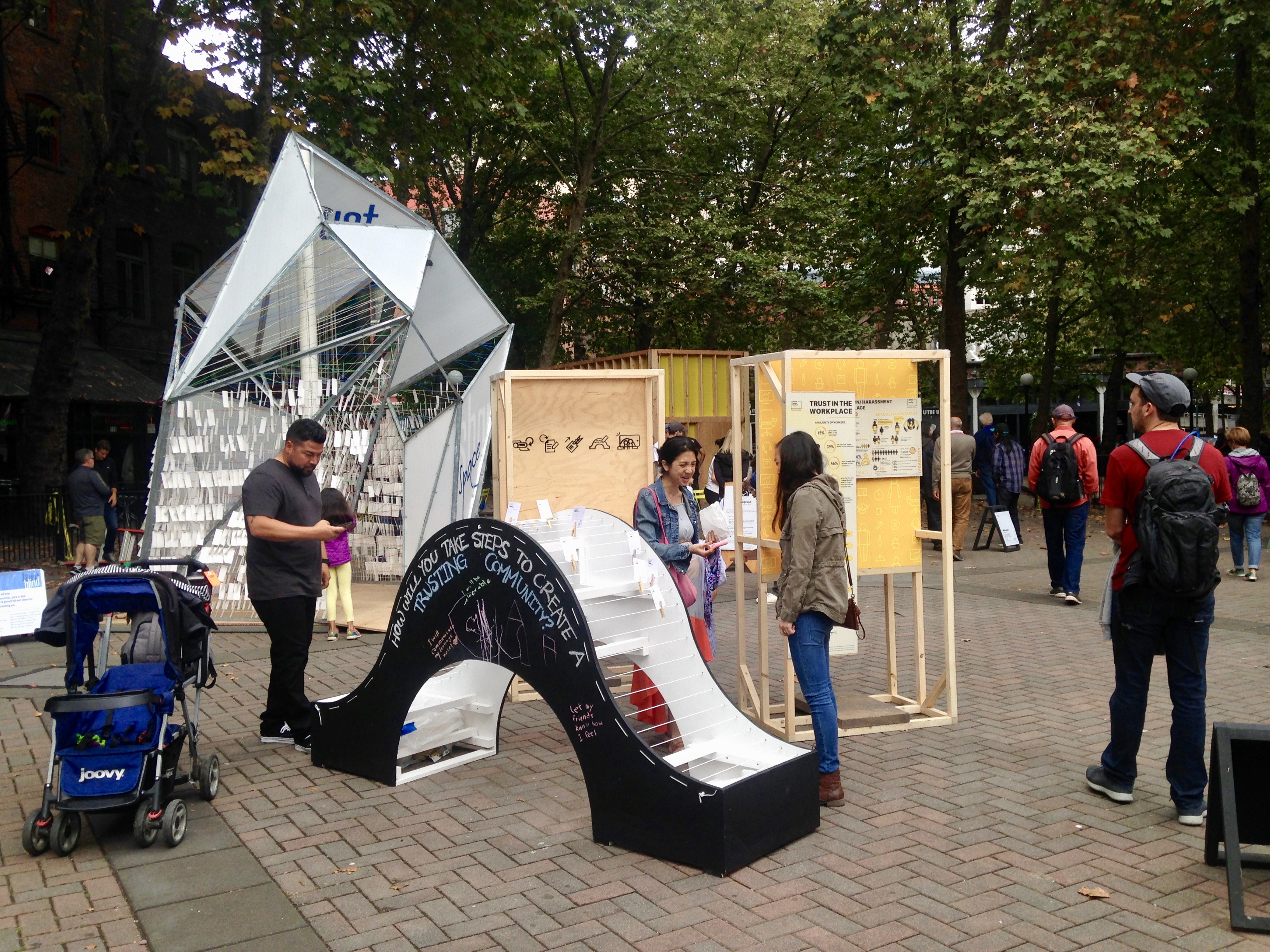 September 17-21st
Monday 9/17
Design for Dystopia   5:30pm – 9:30pm, RSVP, $10
HBO, 1099 STEWART ST
Join IxDA Seattle for a dystopian design jam exploring the impact of trust when everything falls apart. After a small amount of networking, attendees will break into teams to prototype design solutions for natural disasters, emergency events, and other catastrophes inspired by the themes and guidelines provided by facilitators. Expect the unexpected and save the world with design! Each team will have a chance to present and discuss their solutions at the end of the session. (Food & beverages provided.)
Displaced: Design for Inclusive Cities – Winners      6:00pm – 8:00pm, RSVP
BILL & MELINDA GATES FOUNDATION DISCOVERY CENTER
440 5TH AVE N
Design in Public and AIA Seattle launched the competition April 12 – July 1, 2018, which solicited game-changing proposals to provide urban design solutions that promote belonging, dignity and resilience for immigrants and refugees navigating the challenges of urban life in their host city. During this evening celebration, Design in Public will announce the winners and feature a thoughtful discussion with the competition winners and the jurors, followed by a Q&A with the audience.
Wednesday 9/19
The Robot Car in the Emerald City     5:30pm – 7:30pm
CENTER FOR ARCHITECTURE & DESIGN
1010 WESTERN AVENUE
An expert panel discussion will address evolving technologies and how the predicted rollout of autonomous vehicles (AV) will result in the need to reshape our cities, regions, and policies in order to guide the use of AVs in a sustainable manner to minimize potential increases in sprawl and traffic.
Thursday 9/20
The Driverless Data Conundrum   6:00pm – 9:00pm, RSVP
TEAGUE DESIGN STUDIO, 110 UNION, STE 500
This expert panel discussion will address the collection of consumer data from autonomous cars, trucks, and drones, asking practical questions about data capture, storage, and use. Done correctly, data collection will provide the opportunity to architect smarter cities and improve urban mobility. 
Friday 9/21
PARK(ing) Day   9:00am – 7:00pm
ALL OVER SEATTLE, VARIOUS LOCATIONS
Presented by SDOT, PARK(ing) Day is an annual global placemaking event in which community members lead the temporary transformation of parking spaces into people spaces. 
Award Ceremony   7:00pm – 9:00pm
CENTER FOR ARCHITECTURE & DESIGN, 1010 WESTERN AVENUE
In partnership with the Washington Chapter of the American Society of Landscape Architects (WASLA) and Design in Public, this year SDOT will hold a celebration and awards ceremony  to recognize the installations that you vote for as exemplifying the goals of PARK(ing) Day.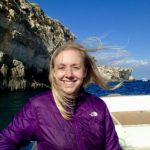 Natalie Bicknell Argerious (she/her) is a reporter and podcast host at The Urbanist. She previously served as managing editor. A passionate urban explorer since childhood, she loves learning how to make cities more inclusive, vibrant, and environmentally resilient. You can often find her wandering around Seattle's Central District and Capitol Hill with her dogs and cat. Email her at natalie [at] theurbanist [dot] org.