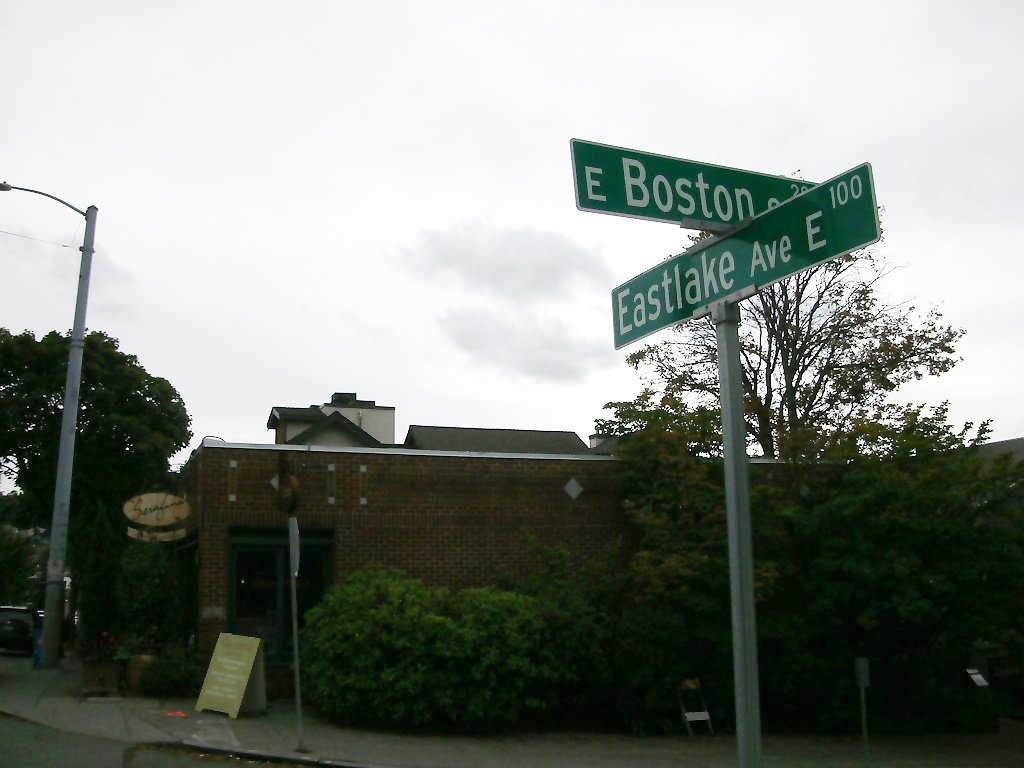 While Lynnwood Link is slated to get its badly needed $100 million from Congress in the latest appropriation from D.C., Seattle's RapidRide projects wait on the Feds and are just as essential in serving the city's surging transit needs. Roosevelt RapidRide is one of the corridors that have submitted applications for Small Starts grants from the Federal Transit Administration and without that money, the project will likely be dramatically scaled back. That uncertain budget is one part of an overall shortfall that could be as high as $150 million on Move Seattle transit projects compared to expectations when the levy was passed.
The project has now been in the planning stage since late 2014, and there has always been a push to ensure that a transit upgrade of the corridor also includes real multimodal improvements. Eastlake Avenue is an obvious piece of any citywide bike network since Eastlake currently lacks any bike infrastructure through the heart of its business district. A direct connection between Downtown Seattle and the second-busiest ship canal crossing for bikes in the city (after Fremont) is a no-brainer. It's on the Bicycle Master Plan, and Roosevelt RapidRide is our chance.
On the other hand, some Eastlake residents and business owners are not happy with the idea of losing the on-street parking that would be required to make room for protected bicycle facilities–325 total on-street parking spots to install one-way protected bike lanes on the entirety of the corridor.
Eastlake as a neighborhood has a large amount of off-street parking available at most times of day, but the loss of the on-street spaces has prompted the Seattle Department of Transportation (SDOT) to go back to its engineers and determine if there's an alternative that could get people using bikes safely through the corridor while not requiring the removal of so much on-street parking.
So the department came back with nine different options:
Option 1: Do nothing at all.
Option 2: One-way protected bike lanes on either side of Eastlake (this is the current plan)
Option 3: A two-way protected bike lane on one side of Eastlake.
Option 4: A one-way protected bike lane on Eastlake headed north, and a greenway two blocks away on Yale Ave E for riders heading southbound.
Option 5: A one-way protected bike lane on Eastlake headed north, and a one-way protected bike lane two blocks away on Yale Ave E for riders heading southbound.
Option 6: Creating a multi-use trail on Fairview Ave E.
Option 7: A neighborhood greenway on Fairview Ave E
Option 8: A neighborhood greenway on Minor Ave E and Fairview Ave E.
Option 9: A neighborhood greenway on Franklin Ave E.
After an initial screening process, all but four of these options were ruled out, either because they don't provide a level bike route, don't meet the original intention of the project, or require a right-of-way purchase (the trail).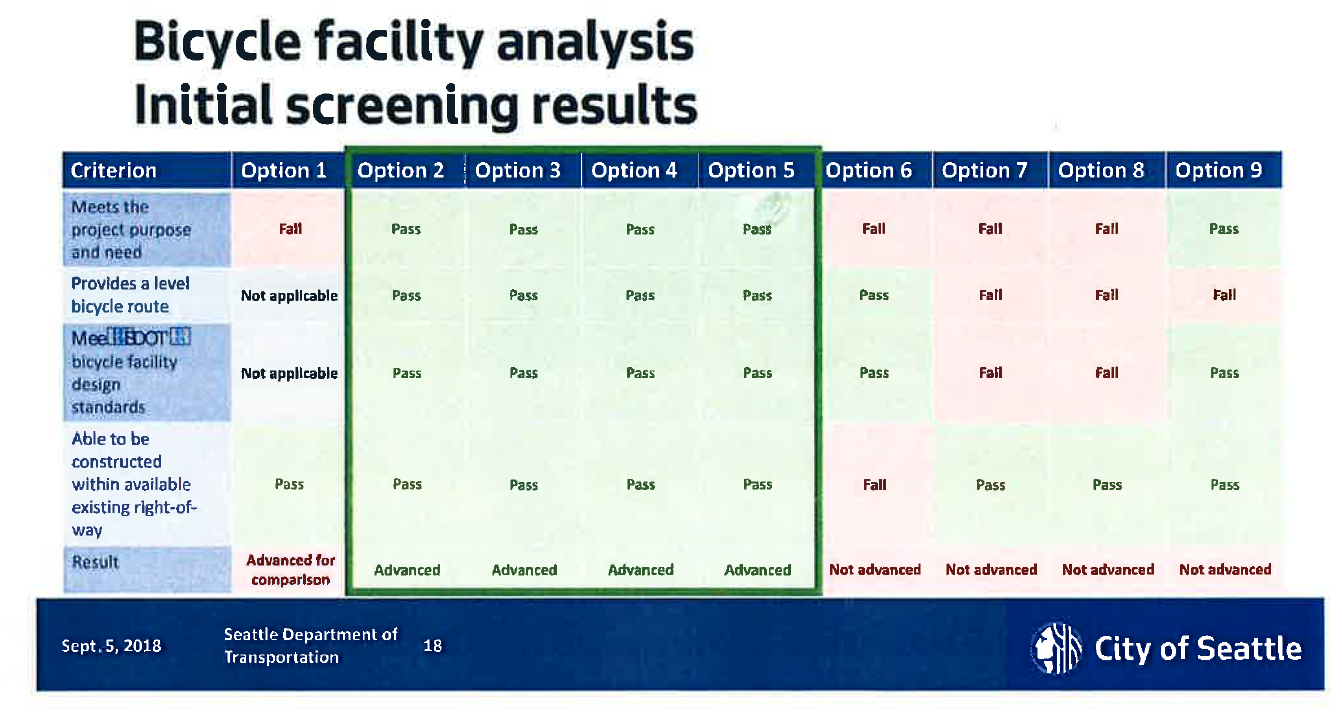 A two-way protected bike lane on Eastlake was found to require the same number of parking spaces to be removed as the one-way lanes will, and was rated lower on safety, likely because people on bikes may not be traveling in the same direction of travel as motor vehicles, increasing opportunities for conflicts with them.
That leaves the two options with a detour for southbound riders.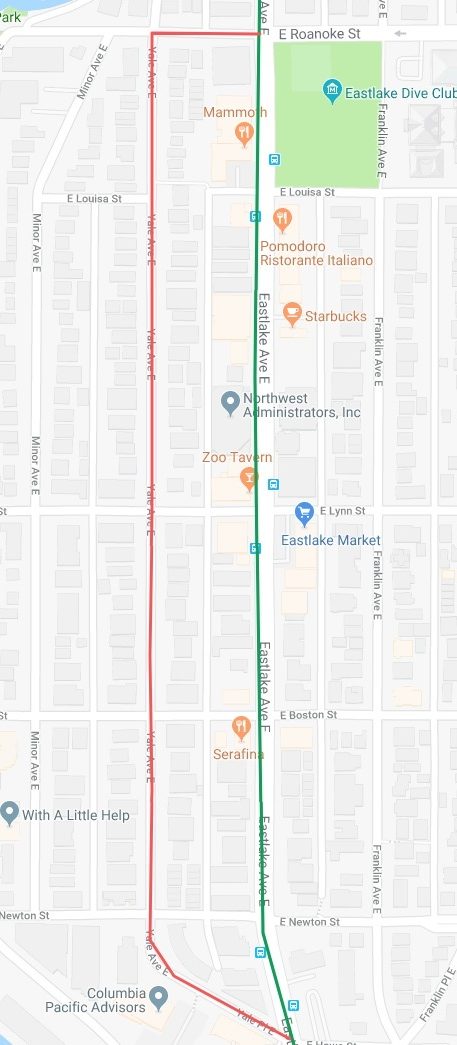 Routing southbound riders either to a protected bike lane or a greenway will not eliminate the need for people to bike safely on Eastlake. People on bikes have a need to get to businesses in the neighborhood too, and people heading downtown are likely not going to take a two block jog, and will end up just biking on Eastlake anyway.
The collision numbers for people biking on this corridor show the urgency needed here: from 2012 to 2017, there were 40 collisions involving people on bikes in the Eastlake neighborhood. 39 of those 40 bike collisions were on Eastlake Avenue itself. Bicycle volume studies showed that 120 people per hour were heading through the heart of the business district during rush hours.  Even if a significant number felt comfortable using a permanent southbound detour, that's still a lot of opportunity for unsafe interactions on Eastlake. That is not a Vision Zero approach.
It would be great if there was a way to route people on bikes through Eastlake safely while retaining as much parking for local businesses as possible, resulting in a win/win. SDOT has studied the alternatives here and it doesn't work. Now they just need the decision-makers at City Hall to back them up and ensure that a key piece in the bike network gets built in a way that it maximizes its own utility.

Email your councilmembers today and tell them you support the bike lanes as designed in the original Roosevelt RapidRide plan.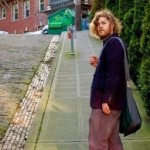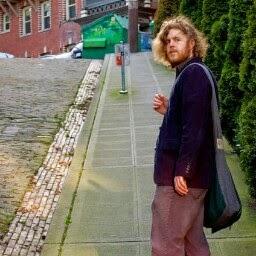 Ryan Packer lives in the Summit Slope neighborhood of Capitol Hill and has been writing for the The Urbanist since 2015. They report on multimodal transportation issues, #VisionZero, preservation, and local politics. They believe in using Seattle's history to help attain the vibrant, diverse city that we all wish to inhabit. Ryan's writing has appeared in Capitol Hill Seattle Blog, Bike Portland, and Seattle Bike Blog, where they also did a four-month stint as temporary editor.