Documentary filmmaker and UW Bothell professor Minda Martin was a recent arrival to Seattle when she first stumbled by accident on the Ramps to Nowhere during a walk through the Washington Park Arboretum.
"My dog always pulled me into places that I wouldn't explore otherwise and she pulled me into the Ramps to Nowhere, these gigantic concrete structures that had ivy all over them. There were people who had their dogs off-leash and all of this activity and energy that I had never seen yet in the city. It felt like it was a true community space," said Martin.
The experience left Martin with many questions. Having been requested by a programmer at NW Film Forum to create a film short about land use, Martin felt certain there was a bigger story to tell. As a result, she returned repeated to the Ramps to Nowhere, in part to photograph a particular image that had captured her attention. A deciduous tree had grown thick branches around one of the structures, providing a vivid metaphor of the struggle between nature and the abandoned built environment.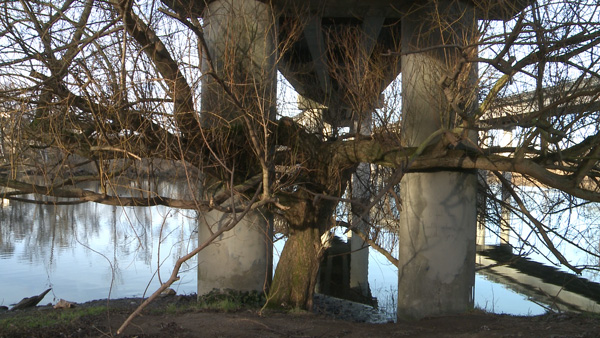 This image of struggle stuck with Martin as she was introduced to and became involved with Seattle ARCH, an organization dedicated to preserving the history and honoring the citizen activists behind Seattle's Freeway Revolt. Led by a group of volunteers, including Priscilla Arsove and Anna Rudd, Seattle ARCH was then expanding its efforts to ensure that the story of Freeway Revolt would be preserved for the future. Part of that work meant preserving some of the Ramps Nowhere, construction relics from the R.H. Thomson Expressway, a major road project which Freeway Revolt activists successfully stopped.
"They were trying to tell this story which apparently nobody really knew about and so I was fortunate to be on the heels of that," said Martin.
The result of their collaboration is the documentary film, "Ramps to Nowhere," which made its world premiere at the NW Film Forum on Wednesday (September 26th) as part of the Local Sightings Film Festival.
The film was supported by grants from organizations like 4 Culture, Shunpike, and the UW Simpson Center for the Humanities, but it was largely the result of a dedicated volunteer effort.
"It was a lot of time and love to tell the story of this important historical moment," Martin said. "We have such an uphill battle right now with so many threats facing us that are very real in our democracy and our environment.  I made this film hoping that young people will see it and be inspired by what citizens accomplished 50 years ago by working together."
 Activists Fought to Stop a Concrete Jungle
Martin's documentary combines archival film and photographs with modern day interviews to tell the David and Goliath story of how an unlikely group of citizen activists stopped construction of the R.H. Thomson (Empire) Expressway and the Bay Freeway, two major freeway projects that would have displaced thousands of Seattle residents and given the city the dubious distinction of being home to the then densest concentration of freeways in the world in a one mile grid.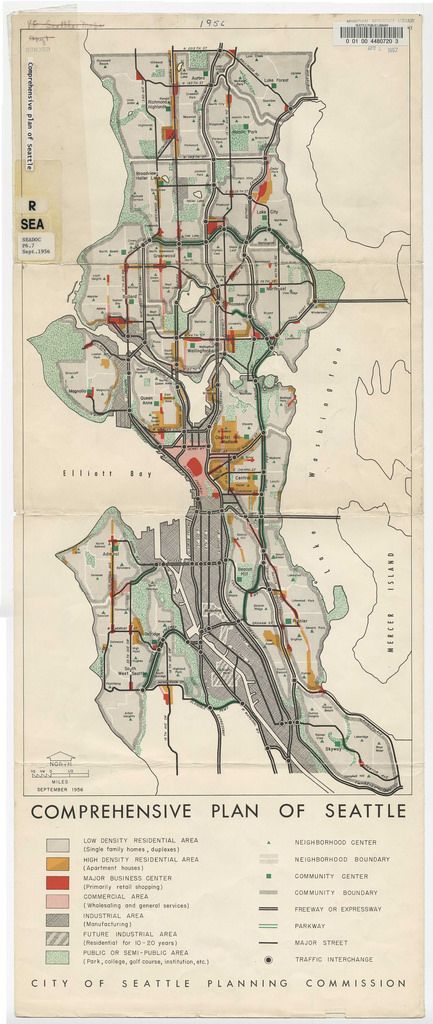 "The highway department had a tremendous amount of power in this city and there were a lot of people who were in favor of freeways and thought of them as progress and the future," Martin said.
But after the construction of I-5, many residents felt uneasy about what this so-called progress would mean for their city and neighborhoods. 
During one particularly haunting moment of "Ramps to Nowhere," archival of footage of the newly completed I-5 cutting through the center of Seattle is accompanied by the recording of a woman's lament for what was lost with the construction of the interstate. "We didn't know how easy it would be break our city. We didn't know how fragile it was," the woman says sorrowfully as the camera whizzes past the divided landscape.
It must be noted that both R.H. Thomson Expressway and Bay Freeway received substantial support before public opinion turned against them.  The proposals were included the City's Comprehensive plan in 1956 and were authorized for millions of dollars of funding by voters in 1960 along with other highway projects.
But when the public learned more details about the R.H. Thomson Expressway, sentiments began to change, particularly in Montlake and Central District, where thousands of residents and businesses would have been displaced, while those who remained would have been heavily impacted by pollution and noise.
Slated to run north-south from Lake City to Renton, following the route of what was then Empire Way (now Martin Luther King Jr. Way), the expressway would have cut through the heart largely African American Central District neighborhood.
Design of the major interchange planned at I-90 was particularly brutal. This interchange alone would have displaced an estimated 4,000 residents and many businesses.
"The R.H. Thomson is racist" was a common anti-freeway slogan of the era.
The Bay Freeway, nicknamed the "Concrete Curtain," was an elevated highway that would have run parallel to Mercer Street between I-5 and Aurora Avenue North in the Cascade neighborhood, now South Lake Union. Comparisons have been drawn between the design of Bay Freeway and the Alaskan Way Viaduct. Critics were concerned that the presence of a second freeway would completely block the downtown core from the water, while supporters envisioned the Bay Freeway as providing stunning views to drivers.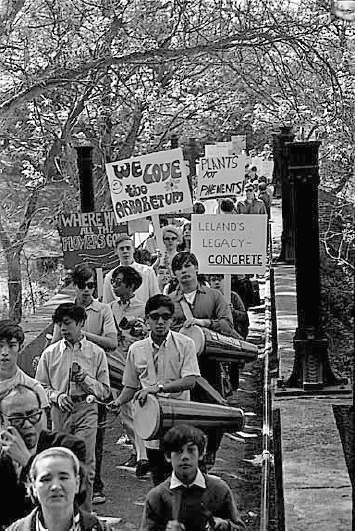 A diverse consortium of activists faced the Seattle City Council and Highway Department head on to stop both of the planned freeways. In a humorous moment in the documentary, a Freeway Revolt activist reminisces about how he hosted both members of the Seattle Black Panther Party and the Bellevue Ladies Garden Club at meetings in the living room of his Montlake home.
"The Freeway Revolt wasn't a Not in My Backyard (NIMBY) story," said Martin. "It had become a part of a city-wide movement that was in conversation with cities across the country. Many cities were forming freeway revolts at that time. It was rare moment of people thinking really critically about land use in America."
A Substantial, but Incomplete Victory
Activists succeeded in calling for a special election, and on February 8th 1972, Seattle citizens voted to cancel both the R.H. Thomson Expressway and Bay Freeway. 
Considering that construction had already begun on the R. H. Thomson, the cancellation was an incredible achievement for its broad-base coalition.
"We need to remember that these activists had full time jobs and they were still working night and day writing letters to the editor and producing media. The outreach and commitment was phenomenal," Martin said.
But Martin cautions us to remember that the Freeway Revolt activists did not achieve all of their goals, a topic which is also touched on in the film. 
"They wanted to stop all freeways including the I-90, and that didn't happen.  I-90 still got to go through the Central District and International District. It was downsized and they got a lid, but it was a big fight and it took many years and a lot of meetings and a lot of labor by committed citizens," Martin said.
King County voters' rejection of the "Forward Thrust" rapid transit initiative in 1970 was also painful for many Freeway Revolt activists, who had made increased transit a central part of their campaign.
"They weren't just fighting freeways for the sake of fighting freeways. They knew there was a need to move people and that more and more people would come to the city," Martin said. "They were also fighting for transit."
Still, Seattle would be a very different city today if the Freeway Revolt activists did not achieve their successes. Instead of "Ramps of Nowhere," Seattleites could have had "Freeways to Everywhere" and become a city designed for the easy access of suburban drivers rather than the health and connectivity of its own communities.
With its captivating visuals and poignant interviews, "Ramps to Nowhere" offers a compelling glimpse into a pivotal moment in Seattle's history. Martin is currently submitting the film to festivals across the country. It will eventually be available on the Seattle ARCH website and other distribution networks. The trailer can be viewed online here.
Readers who are interested in learning more about the Freeway Revolt, can consult Seattle's Freeway Revolt: A Directory of Historical Resources through Seattle Public Libraries Special Collections Online.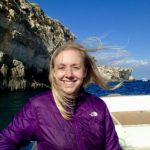 Natalie Bicknell Argerious (she/her) is Managing Editor at The Urbanist. A passionate urban explorer since childhood, she loves learning how to make cities more inclusive, vibrant, and environmentally resilient. You can often find her wandering around Seattle's Central District and Capitol Hill with her dogs and cat. Email her at natalie [at] theurbanist [dot] org.