On November 5th nearly a thousand architects, real estate professionals, and aficionados will be at Beneroya Hall to learn who are the winners of the 2018 Seattle America Institute of Architects (AIA) Honor Awards for Washington Architecture. Selected by an out-of-town jury of peers and respected academics, the chosen few represent the best design produced in the region or by firms from the region. It is also an occasion for reflection on the state of architectural design in our city as the jury discusses specific projects and what they represent.
Interestingly for a city that seems to be in the process of reinventing itself there is very little discussion of the physical manifestation of the change; the building that are sprouting on corners in every neighborhood (with some notable exceptions–I'm looking at you Magnolia and Blue Ridge!). Sure we hear friends at parties disparage the "ugly boxes" or the barista talk about the new "condos" (they're probably apartments) up the street with disdain, but we rarely discuss what we want our city to be. Beyond the pages of insider publications like Gray or Arcade, or a panel by the Seattle Architecture Foundation or at the Design Festival, there is little discussion within the city of what we want our built environment to look like. We seem to know what we hate, but we are not entirely sure what we love.
The Honor Awards provide a small venue for celebration of what the architectural profession (possible developer shills that we are) think is going right in our city and what we should aspire to be. While the actual winners won't be revealed until the ceremony, below are some of the nominated projects in our region that I think are interesting and that tell us something about the current state of design and our build environment.
Granny Pad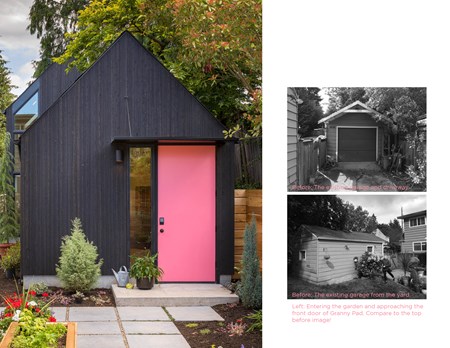 Seattle has been going through painful and seemingly endless process to making building accessory dwelling units (backyard cottages or mother-in-law apartments) easier to build. A small minority of people led by the Queen Anne Community Council has been doing their best to slow the process for years. Granny Pad is a great example of what they are so determined to stop. It is an old garage thoughtfully converted into a 571 sf house. Located in the affluent Maple Leaf neighborhood, it will provide space for an aging family member to be close while maintaining their independence. And in the future it can provide an opportunity for an affordable rental in an amenity-rich neighborhood.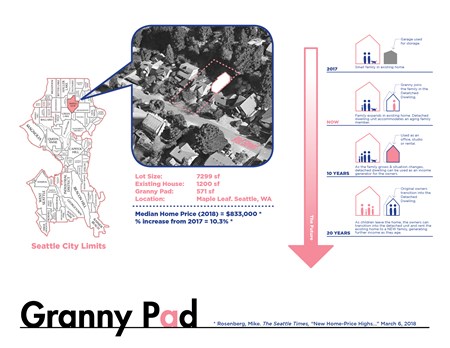 The Klotski Building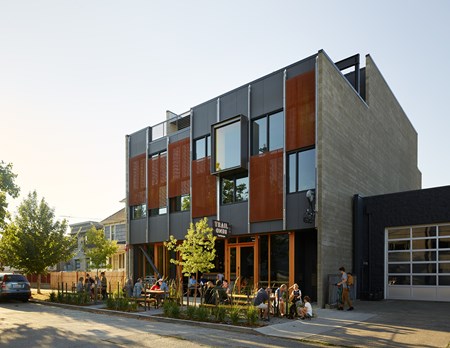 In a city filled with bland boxes, their facades forgotten before your eyes finish passing over them, it is refreshing to see something with texture and feel. There is facade is playful yet ordered, and fresh but in a way that would feel comfortable nestled between two heritage buildings. The facade has movable metal sunscreens both to allow occupants to adjust adjust for their comfort and to create a dynamic and changing facade. Even its program is interesting–a beer hall, maker space, and caretaker's studio.  and I imagine just as many people will hate this building as love it, but at least it makes them feel something too–with so many of our city's new building the only feeling is indifference.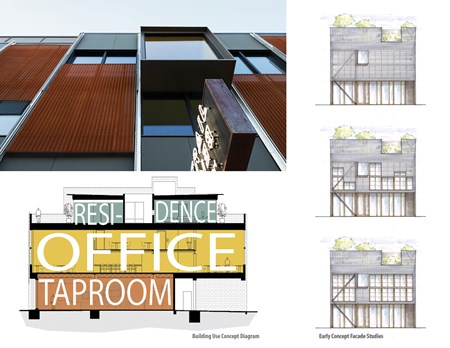 Skyway Library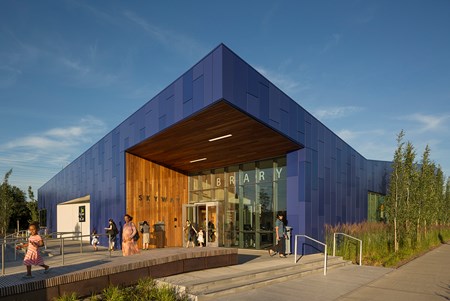 Some times building are best when quiet, as part of a pleasant backdrop to the small dramas of our daily lives. Other times a building need to be bold and be the star. Set amongst aging auto suburbs in unincorporated King County, the Skyway Library need to be the latter. When I bike or drive down Renton Ave S, the Skyway Library is a bright burst of excitement on a dreary strip. Both its form and color invite passerbys to stop and enter. With its sheltering form and small plaza, it doesn't just respond to its context, it is helping to shape it and create a community hub.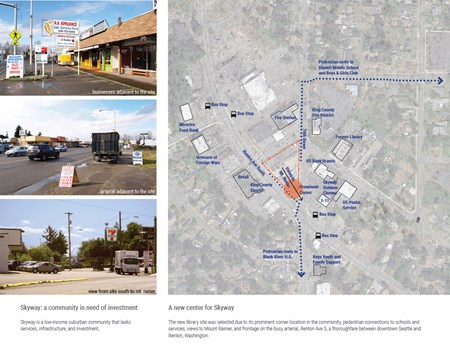 The Mark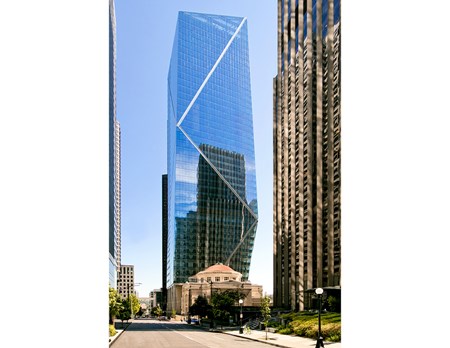 Highrises are funny things. They help form a city's identity yet are largely off limits unless you work or live in them. I think of them like the mountains – part of the landscape that defines our city but not my everyday experience. Seattle has gained around 24 new skyscrapers since 2014, has 21 under construction, and another 46 or so being planned. Yet that majority of those are not memorable and lost in the forest of older building as soon as they are complete. A few however stand out and The Mark is one of them. In a sea of unremarkable boxes The Mark is a shard of crystal, its angled faces reflecting the sun or clouds or neighboring buildings. Besides the drama of it own facade, it also benefits from the contrast provided by the First Methodist Church which was preserved and rehabilitated as part of this project. Dubbed The Sanctuary, it is connected to The Mark by a glass lobby and the new building angles out subtly over the old.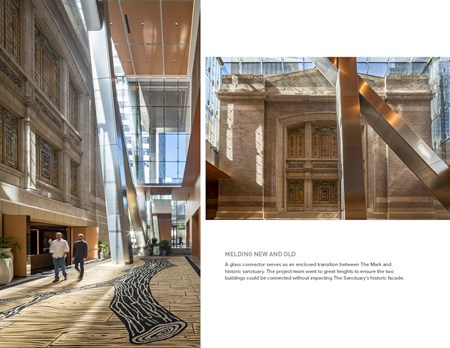 The Amazon Spheres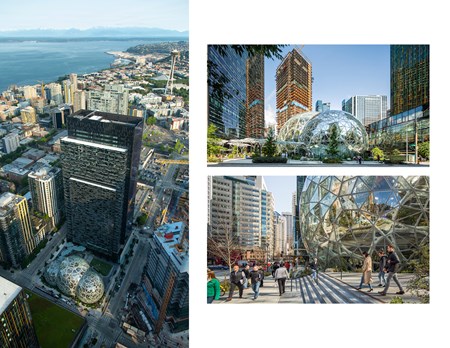 I increasingly feel like we are living in the dystopian sci-fi world I was promised by so many movies when I was young– perpetually smoke filled sky, an angry xenophobic leader dominating the media, billionaires plotting their escape to space. Perhaps nothing captures that feeling more that the Amazon Spheres. We live in a city where shanty towns are springing up on every scrap of land while at the same time the number of Teslas and other signs of conspicuous wealth are increasing faster than the cost of housing. So what better symbol of our age than a glass oasis filled with tropical plants for the tech elite, while the city's unhoused masses freeze outside. And besides being a metaphor for our societies wealth inequity and impending downfall, they are also amazing engineering feats. Even though I am not part of the chosen few who may enter and enjoy the Spheres warm and verdant interior, I can still stand in the rain and appreciate their glow.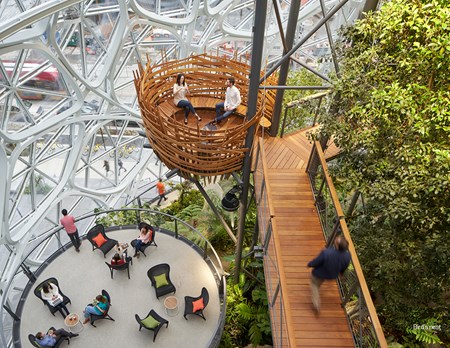 What do you all think? How can Seattle grow while becoming a more beautiful and livable city? What is the role of architects and design in making our visions come to fruition?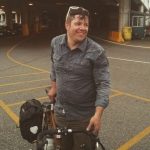 Patrick grew up across the Puget Sound from Seattle and use to skip school to come hang out in the city. He is an designer at a small architecture firm with a strong focus on urban infill housing. He is passionate about design, housing affordability, biking, and what makes cities so magical. He works to advocate for abundant and diverse housing options and for a city that is a joy for people on bikes and foot. He lives in the Othello neighborhood with his fiance and kitty.