If I asked you what Seattle's nearest neighbor to the south was, you might say Tukwila. That'd be part right. Tukwila brushes against the Seattle border in places. But also bordering Seattle to the south are several unincorporated communities people often forget about, including Skyway and White Center.
As an unincorporated area, Skyway (known as Bryn Mawr-Skyway on Google Maps and for Census purposes) relies on King County for its municipal services. Moreover, the community is somewhat cutoff from the surrounding neighborhoods by Renton Municipal Airport, I-5, and the Duwamish River, leaving it in a sort of vacuum. The community lacks a health clinic and is also considered a food desert. It's business district has a Ezell's Famous Chicken, a Grocery Outlet, a couple small casinos, and not much else.
The residents of Skyway have been working on addressing some of what it lacks and charting a brighter future for their oft-neglected unofficial city–one route that could take is annexation into the City of Seattle, by the way. King County Councilmember Larry Gossett helped found a local community development organization called Skyway Solutions to gather public input and formulate the plan.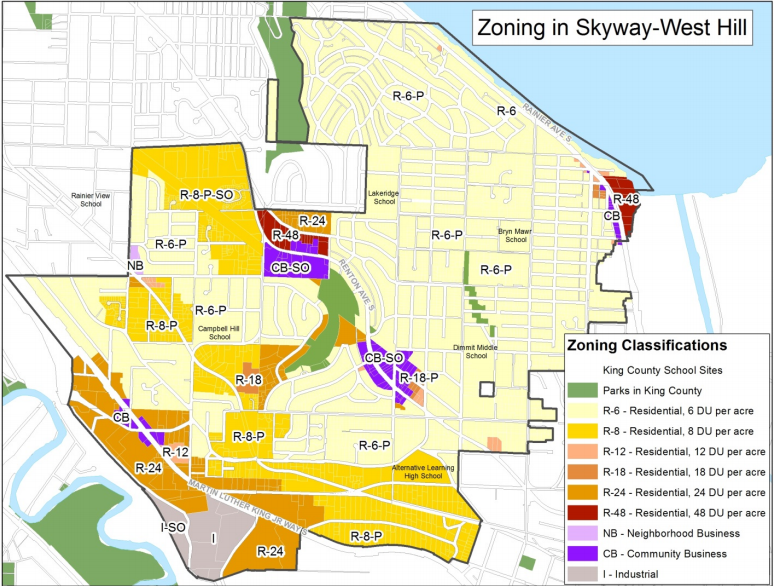 Public Outreach
Skyway Solutions with the assistance of King County government planning staff completed 1,748 surveys from residents and stakeholders and translated in Vietnamese, Somali, and Spanish. The result is the The Skyway-Westhill Action Plan (SWAP). "The SWAP was a 17-month process which included targeted outreach to portions of the community which traditionally are not involved in community planning but are still invested and impacted by planning policies, development trends and civic services and programs," the SWAP's draft report explained.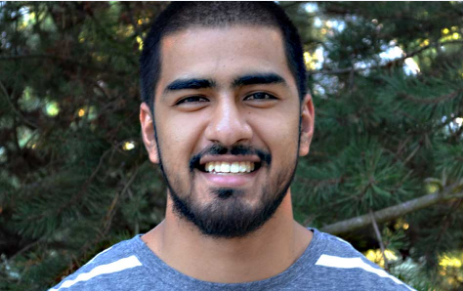 I talked with Ryan Quigtar, who is a Skyway resident and Program Director with Skyway Solutions, to learn more about the results.
"We are like the stepchild of Seattle I like to say. We're right there and we have a Seattle address but we don't the services–we don't get the same police patrol. Crime is very high in our area. A lot of house break-ins, robberies, stuff like that. Skyway Solutions came together because we were fed up with that."
Skyway Park Vision
Quigtar talked about how the community started coming together around Skyway Park, a large park in the heart of the community. Due to budget cuts at King County, services at the park decreased and they lost some rec leagues and activities at the park. The park became associated with crime. The community wanted to reclaim the park as an important community meeting ground.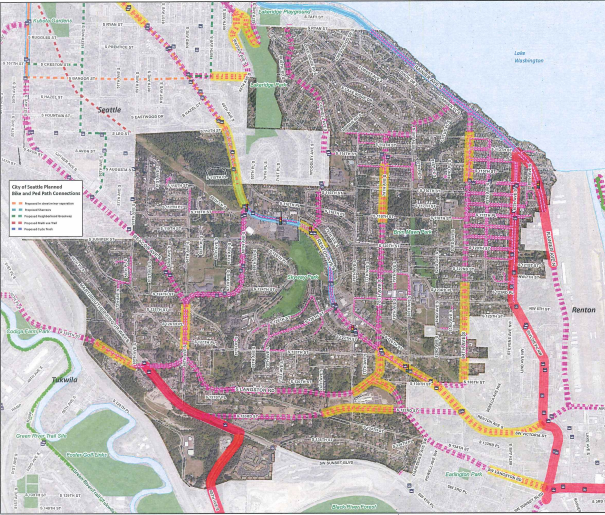 The community has a plan for the park now but as long as Skyway is unincorporated, it's reliant on King County to administer park services which puts them at risk when funds are tight or when King County Commissioners identify other priorities within the county of more than two million residents. Skyway is just a small part of the county with upwards of 20,000 residents. It's been growing but had a population of 15,645 in the 2010 census. Luckily, Skyway Solutions was able to get money allocated for the park in this biennium budget, as it reported on its website:
As of November 15, 2016, the King County Council has approved their budget for 2017-2018 cycle. We are happy to share that King County has allocated $1 MILLION for Skyway Park capital improvements! This is a huge win for the community and a testament to the hard work and persistence of Skyway Solutions and our partners.
Skyway was able to get investment this time, but ongoing concerns about the erosion or lack of local services and the desire for stronger local representation has led some to push annexation.
Annexation
Annexation has been considered before. Skyway-West Hill voted in 2012 on whether to annex into Renton, and the community voted it down by about 10 points. Quigtar said next time around the community may put annexing into Seattle on the ballot, and they expect better results. The thought is that Seattle would have more resources to bring to bear–voters didn't seem convinced that Renton would have sufficient resources to invest in Skyway.
Meanwhile, White Center voted down annexation in 2012, though it would have annexed into Burien. White Center, or North Highline as it also known, is now pursuing in a plan to annex into Seattle as soon as 2018. Quigtar said Skyway is probably a little behind White Center in the process.
Displacement Concerns
Quigtar said folks in Skyway are thoughtful about how annexing into Seattle would impact residents at risk of displacement. Citizens would be less interested in joining Seattle if it caused them to be priced out of their homes. Even without annexation, Skyway residents have noticed increased pressure on their housing stock, which for postal purposes has a Seattle address anyway.
"Another trend is taking advantage of our 'Seattle address.'" Quigtar said, pointing to Taylor Creek Apartments, a new apartment complex that opened up in January, which he said started around $1,600 (with utilities) for one bedroom. "People looking to escape Seattle rent will move out here because it is still 'Seattle,' but relatively cheaper," he explained.
Existing apartment buildings are looking to capitalize, too. One older building rebranded and updated its signage as it sought to attract those fleeing higher prices in Seattle proper, Quigtar said. Most tenants in that building are low- and moderate-income but it may not stay that way.
SWAP envisions an inclusive community with mixed incomes and plans to accomplish that with greater density. Quigtar said Skyway Solutions sees an opportunity in the large lots–some as large as 10,000 square feet–that predominate the area–most of which could comfortably support greater density. Some in fact are vacant lots.
"Encourage new housing types that provide affordable ownership opportunities," SWAP advises, and since I met Quigtar at a community land trust deep dive event, it's safe to say Skyway Solutions is interested in pursuing community ownership models. The plan also identifies the business district along Renton Ave S for mixed-use development, preferably including affordable housing.
Though sometimes neglected, Skyway seems to recognize opportunity is on its doorstep and through its action plan, the community is seeking to take control of its own future. As the plan puts it, they want to "empower and educate local residents, businesses and youth to share-in and capitalize on the opportunities brought with new community development and redevelopment."
Whether Skyway continues to go it alone and remain unincorporated on that journey or joins White Center in the push to annex into Seattle, time will tell.
The title image is by Skyway Solutions and used in its website.
Seattle Evaluates Possible Annexations Of North Highline And Duwamish "Sliver"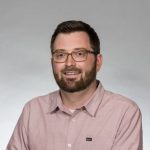 Doug Trumm is publisher of The Urbanist. An Urbanist writer since 2015, he dreams of pedestrianizing streets, blanketing the city in bus lanes, and unleashing a mass timber building spree to end the affordable housing shortage and avert our coming climate catastrophe. He graduated from the Evans School of Public Policy and Governance at the University of Washington in 2019. He lives in East Fremont and loves to explore the city on his bike.