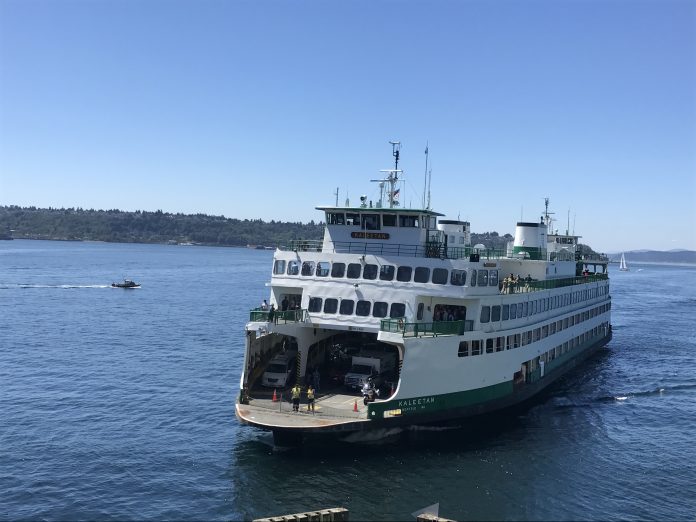 Washington State Ferries (WSF) had another gangbuster ridership year in 2018. Ferries saw their highest ridership since 2002, which plunged after that year due to service cuts as part of the fallout from Tim Eyman's $30 car tab campaign. Fortunately, the ferry system has shored up, seeing buoying ridership that topped 24,687,038. That translates to a 0.9% increase in passengers year-over-year, slightly less than the year prior.
"Our ridership is up 10% from five years ago and it's forecast to grow another 30% to all-time highs over the next 20 years," said WSF Assistant Secretary Amy Scarton. "In order to support this projected demand with reliable service, our recently released 2040 Long Range Plan calls for 16 new vessels by 2040."
In 2017, WSF saw similar ridership growth with more than 255,000 additional passengers over 2016, a 1.0% rise. WSF carried 24,460,045 passengers in 2017.
Last year, walk-on passenger ridership grew by 1.2% to 7,262,396. This was particularly pronounced on several routes around Seattle. The Fauntleroy-Southworth route saw walk-on passengers jump by 14.5% while the Southworth-Vashon walk-on passenger volume grew by 13.4%. The Seattle-Bremerton route also saw a 5.6%, even as high-speed foot ferries by Kitsap Transit have been launched on the same corridor.
Only five routes appear to have seen walk-on passenger rates fall, with the Friday Harbor-Sidney, British Columbia route seeing the largest percentage loss (-11.8%) and Seattle-Bainbridge Island route experiencing the largest absolute loss (-100,094). In the latter case though, there was miscounting that occurred in July due to construction affecting turnstiles at the Colman Ferry Dock in Seattle. This also affected the Seattle-Bremerton route, so it is conceivable that foot traffic was even higher than reported.
In absolute terms, the Seattle-Bremerton route continued to see the largest ridership growth. An extra 114,555 passengers boarded ferries last year, a 1.4% year-over-year increase. The Southworth-Vashon ridership jumped by 8.8% (16,844), the largest percentage ridership growth. WSF reports that that the route has had stellar growth over the past three years and attributes it to jobs and housing.
Several routes, however, saw year-over-year ridership declines, including: Fauntleroy-Vashon (-1.0%), Friday Harbor-Sidney, British Columbia (-3.4%), Anacortes-Sidney, British Columbia (-0.7%), and Seattle-Bainbridge Island (-2.7%)–if the the turnstile issue is to be ignored.
Vessel rotation continues to be a challenge for WSF. Many of the ferries are very old and occasionally break down. That happened several times last year, including a two-week suspension of service on one route.
WSF hopes to right the ship in the years ahead, having recently published a long-range plan that would increase the number of vessels over the next 20 years and allow for more downtime for vessel maintenance. However, this plan must still be approved by the state legislature. The long-range plan, if implemented, would help facilitate more trips and convert the ferry system to hybrid-electric propulsion instead of diesel-only. But the plan is still far short of the expansion needed to support projected growth to 32.5 million annual riders by 2040, a 30% increase in demand; walk-on passengers are expected to grow by 45%.
Major ferry terminal work also continued last year in Seattle and Mukilteo. That work has been disruptive to passengers and is expected to continue for several years. However, the results should make for better facilities that are more efficient and welcoming, particularly at the Colman Ferry Dock. The first phase of the ferry terminal building is anticipated to be completed this summer.

Stephen is a professional urban planner in Puget Sound with a passion for sustainable, livable, and diverse cities. He is especially interested in how policies, regulations, and programs can promote positive outcomes for communities. With stints in great cities like Bellingham and Cork, Stephen currently lives in Seattle. He primarily covers land use and transportation issues and has been with The Urbanist since 2014.