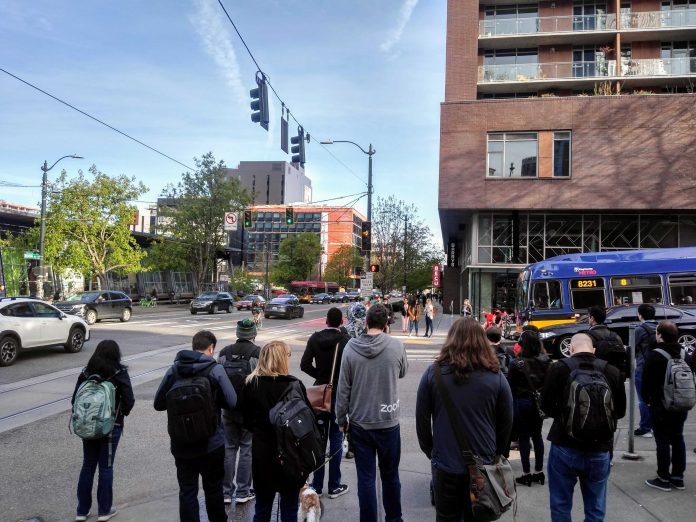 Last year, readers of The Urbanist selected the intersection of Rainier Avenue and 23rd as Seattle's worst. The intersection has been under construction since then and just recently a new crosswalk has opened. A route that previously required crossing five crosswalks now takes just one to cross Rainier.
While advocates have had much to be disappointed with lately, at least the Seattle Department of Transportation's slow and maddeningly incremental march of progress is still moving forward.
Speaking of incremental, voting for neighborhood street fund projects is currently in full swing with a tantalizing slate of dozens of projects. Many of them should be implemented but only around 10 will be.
However, in the case of the worst intersection in Seattle competition, only one will prevail. And, while we can't promise that the selected intersection will be in a better shape this time next year, we can guarantee that it needs to be.
So, what is the worst intersection in Seattle? We're looking for intersections that are terrible for all modes. It's the intersection of most inconvenience. The route of most regret. The crossroads of crap.
Could it be one of those intersections up for consideration in the neighborhood street fund? Like 38th Ave S and S Andover St, where pedestrians can't walk across safely because of fast drivers and poor sightlines. Or maybe it's one of the many dysfunctional intersections along Denny Way: Stewart and Denny, 2017's "winner" is one project up for consideration in District 7.
We've been doing this, pretty consistently, since 2011: that year, Aurora Ave N with its impenetrable line of intersections between Denny and Mercer, took the honors. This past year saw that stretch renamed to 7th Ave N and the first work toward it becoming pedestrian-oriented with a crosswalk at Harrison Street opening.
Put your best foot forward by putting Seattle's worst intersection forward in the comments below. We'll look for all nominees after Sunday, May 5th.
Troy is a pedestrian advocate who serves on the board of Seattle Neighborhood Greenways. He loves cities and walking, hiking, and biking. He wrote a book to help others looking to find the right place for them, called Move to the Place of Your Dreams: A Relocation Handbook. By day, he is a professional consultant for a technology firm.