Long roadways in Seattle like Rainier, MLK, and Aurora cut scars across Seattle's landscape and have their share of bad intersections. But, even though the main stretch of Denny, from Puget Sound to Capitol Hill, is shorter than those examples, it has more terrible intersections than any of them. And, with South Lake Union burgeoning with people walking, biking, busing, and driving there, those intersections are more clogged than ever.
As a person walking–and this competition has been developed from a pro-pedestrian perspective–your odds of having a clear intersection to cross are about as good as the odds of the Route 8 bus being on time.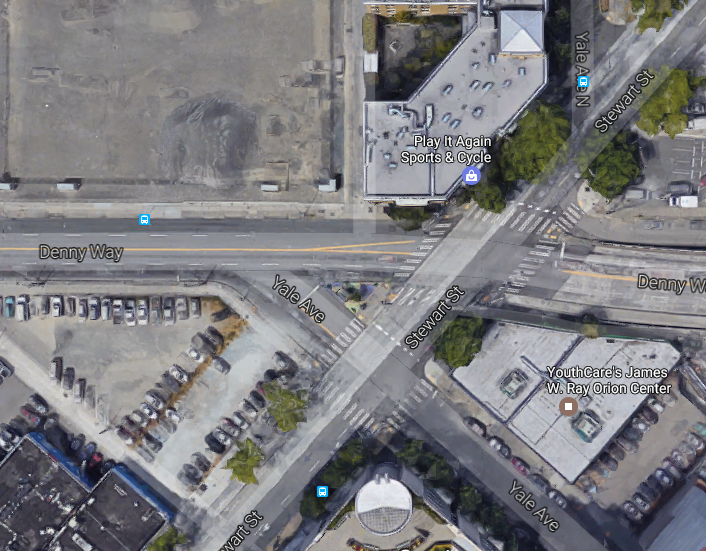 Of the five times that we've done this poll, an intersection with Denny Way has now won three times.
But is it because intersections along Denny are just that bad? Or because the demographic that lives and works in the area is more likely to be focused on transportation issues and pedestrian problems than people in South Seattle?
Regardless, nobody can dispute that Denny and Stewart is an awful intersection for all users.
If Seattle founding father Arthur Denny had lived past the 19th century, he probably would have been hit by a driver at an intersection along Denny Way by now. In fact, back in 1971 when Amazon was still just a rainforest and a river, this intersection at Stewart was the most dangerous in the city.
.@UrbanistOrg is currently surveying Seattle's worst intersections.
One choice-Denny and Stewart https://t.co/U66RhYVpl4
This is from 1971: pic.twitter.com/XlKJ2Wrhat

— David Gutman (@davidlgutman) June 6, 2017
It's no surprise that this intersection is the worst today, 46 years later, given that there are no easy solutions.
The other Denny intersections that have claimed the "Worst Intersection" title are more fixable. At Fifth Avenue, the titleholder in 2012, the Seattle Department of Transportation just needs to put a crosswalk on the eastern side of the intersection, stripe the south crosswalk parallel to Denny, and #GivePedstheGreen. Improvements for 2015's choice (Denny at Terry) are on the way with a pedestrian signal being planned.
Denny and Stewart lies at the southeastern corner of the Cascade neighborhood, which is sometimes called the Heart of Seattle. If that's the case, then Denny and Stewart is its main coronary blockage caused by traffic backups stemming from I-5.
Long lines at the airport are controlled with stanchions, but there's no equivalent for traffic management.
However, a slight improvement is coming for eastbound bus riders, who will have a dedicated bus lane leading up to Stewart Stewart starting in early 2018.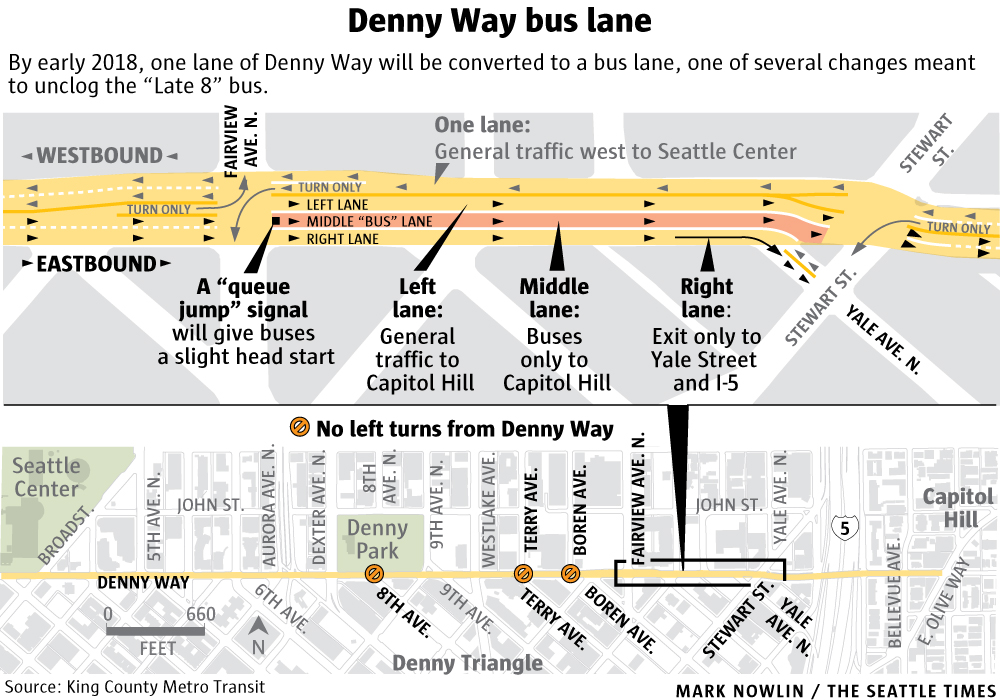 But that doesn't fix things for pedestrians.
Riders waiting for the 8 bus at the southwest corner of Denny and Stewart have a front-row seat for the symphony of stink coming from vehicle exhaust.
People walking toward Capitol Hill have to cross Stewart Street here before the hill climb over I-5. This crosswalk is most often clogged by opportunistic and aggressive drivers, claiming their spot in line for the freeway.
Day 1.? pic.twitter.com/ycA3bXuzAu

— Ryan Packer (@typewriteralley) April 4, 2017
The northeast corner of the intersection should be avoided. You can't get up to Capitol Hill from here anyway, since there's no sidewalk on that side of the bridge, and there's barely anywhere to stand. If you walk southward from here to go to Capitol Hill, look over your shoulder for overeager drivers headed for Capitol Hill.
As you cross to the northwest intersection from the northeast, watch for drivers who are trying to turn right on red onto Denny. If you're heading to the northwest intersection from the southwest, watch for drivers who are trying to turn right on green onto Denny.
And, if you're on the south side of Yale Avenue, you'll have to hurry to get across both Yale and Denny before the next light cycle.
So, is there any way to make things better?
First, drivers need to avoid blocking the crosswalk or face a fine. And, turning right on red from Stewart to Denny should be banned.
A more difficult possibility includes adding a sidewalk on the north side of Denny Way over I-5. This would mean that uphill vehicles would need to share a single lane, but make it much easier for people on foot to get between South Lake Union and Capitol Hill.
The only other reasonable solution would be congestion pricing to reduce traffic. If drivers had to pay a fee to get on I-5 at Yale, fewer people would go that way, decreasing traffic backups and making the intersection much calmer. The revenue brought in from these tolls could fund more mass transit.
That's unlikely to happen soon, however. So I'd predict that we'll still be talking about Denny and Stewart as one of the worst intersections in Seattle in another 46 years.
Title image courtesy of Google Maps.
Troy is a pedestrian advocate who serves on the board of Seattle Neighborhood Greenways. He loves cities and walking, hiking, and biking. He wrote a book to help others looking to find the right place for them, called Move to the Place of Your Dreams: A Relocation Handbook. By day, he is a professional consultant for a technology firm.