Community engagement continues to inform design plans for new developments at 23rd and Union in the Central District
Last summer more than 200 volunteers participated in a painting project that transformed the empty parking lots and shuttered buildings of Midtown Center into the Imagine Africatown Pop-Up Plaza. The project announced the beginning of the first Africatown Community Land Trust Design Weekend, in which community members and professional designers teamed up to imagine what vibrant, Afrocentric development could look and feel like in the heart of Seattle's historic African American community.
The weekend culminated in a striking community dinner set on the pop-up plaza in which people shared food and stories at long tables, admiring the colorful setting.
The 2019 Imagine Africatown Design Weekend was a quieter affair that took place in Washington Hall, a little over a mile away from where bulldozers have begun to rip through the 23rd and Union site in preparation for construction of Lake Union Partners' Midtown Square project (formerly called the Midtown Commons).
The 2019 Design Weekend was also a more reflective event which participants learned about transformative plans for original Africatown in Mobile, Alabama. Urban designer Renee Kemp-Rotan described how the discovery of the Clotilda, the last ship that transported enslaved Africans to North America, has catalyzed efforts to construct an Africatown living monument over four sites, including a full scale replica of the Clotilda, a convention center, pavilion, environmental jobs center, African Museum, permanently affordable housing, and more. An international design competition is slated to open this September.
Saki Mafundaikwa, a professor at Cornish College of the Arts and founder of first school of graphic design in his native Zimbabwe, gave a presentation on African writing systems and typographies. Both guest speakers' presentations emphasized the importances of the arts, culture, and design in the efforts to preserve and grow the presence of the African American community in the Central District.
Africatown's Designs for 23rd and Spring
As part of that effort architect Laurie Wilson shared her plans for the parcel at 23rd and Union owned by the Africatown Community Land Trust, which was created with the goal of acquiring land that would ensure a permanent future for the African American community in the Central District.
Wilson worked with the Africatown community to create a design that eschews more angular "eurocentric" architecture for a rounded design intended to be reminiscent of traditional African architecture. The earthen tones also break from the modernist palate more common in recent Seattle architecture.
"The goal was to create an iconic building that doesn't look like the typical building you see in Seattle," said Wilson. The Africatown project is intended to be a seven story approximately 130 unit mixed-used development with street level retail. Initial permits for the development were filed this summer.

Midtown Square will showcase public art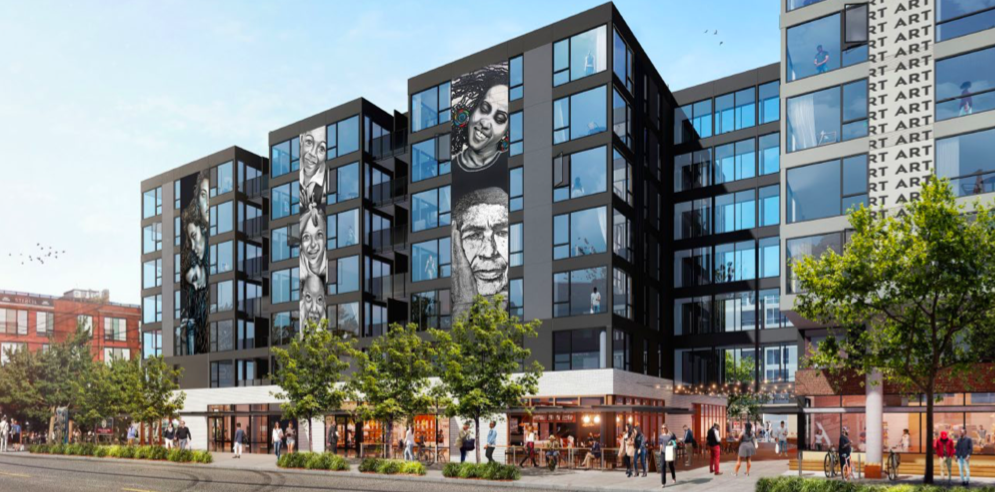 One of Seattle's largest planned mixed-use developments, Midtown Square will include 432 apartments and 16,000 square feet of retail space centered on a large publicly accessible square that will be open 24 hours a day.
Often cited as a flashpoint for gentrification in Seattle, the corner of 23rd and Union has undergone significant changes in recent years, a large part of which can be attributed to Lake Union Partners, which already has three mixed-use developments within a stone's throw of the intersection: The Stencil, East Union, and The Central.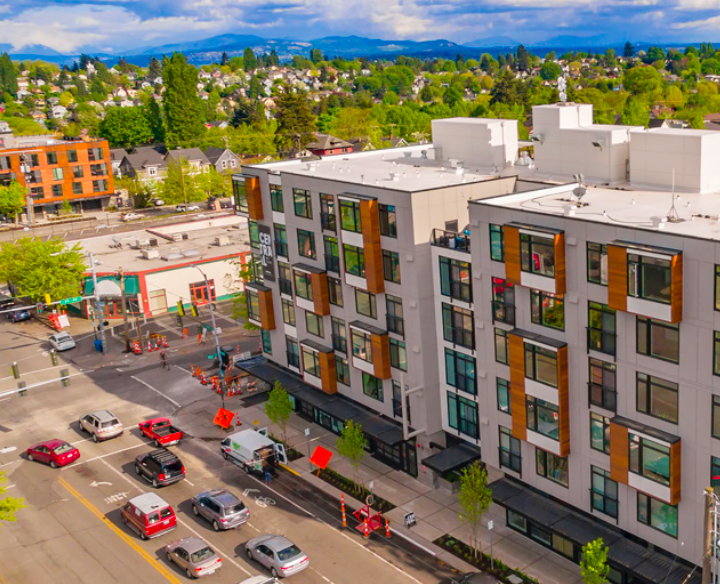 In addition to acquiring the land at the south end of the site to retain for permanent community ownership, Africatown Community Land Trust has also urged Lake Union Partners to be accountable for how its developments impact the surrounding neighborhood and African American community. In 2017, Lake Union Partners entered into a Memorandum of Understanding (MOU) with Africatown Community Land Trust and Forterra. The MOU is a non-binding document that "details the goals for maximizing the contributions of the Central Area African-American community to the project."
While the MOU has resulted in a number of wins for the community such as designating 30% of the housing units as affordable, promising best efforts are made on the part of Lake Union Partners to ensure commercial space is designed and operated to prioritize affordability for small African American owned businesses, and coordinating with Africatown to "maximize the participation of Black owned consultants, contractors, and other workers." One of the most striking impacts of Africatown on Midtown Square project can be observed in how the project design has changed over time to adapt to community feedback.
Last summer, a number of community participants registered dismay at renderings, in particular design plans for the corner of 23rd and Union, which was criticized for not highlighting the corner as a "sacred space."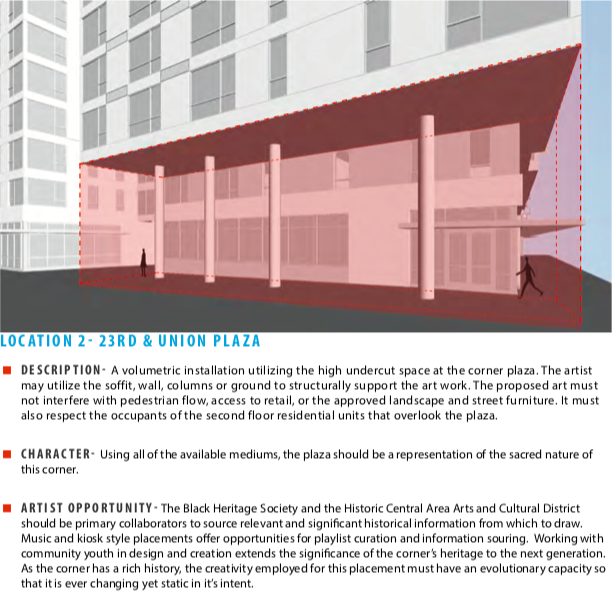 Since then Lake Union Partners has committed about $230k to pay for commissions and materials for the eight public art areas identified throughout the site, including what is now referred to as the 23rd and Union corner plaza site. Proposals should intend to collaborate with local African American cultural and historic organizations, such as the Black Heritage Society, but also seek to "extend the significance of the corner's heritage to the next generation."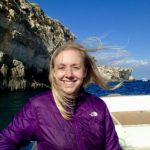 Natalie Bicknell Argerious (she/her) is a reporter and podcast host at The Urbanist. She previously served as managing editor. A passionate urban explorer since childhood, she loves learning how to make cities more inclusive, vibrant, and environmentally resilient. You can often find her wandering around Seattle's Central District and Capitol Hill with her dogs and cat. Email her at natalie [at] theurbanist [dot] org.