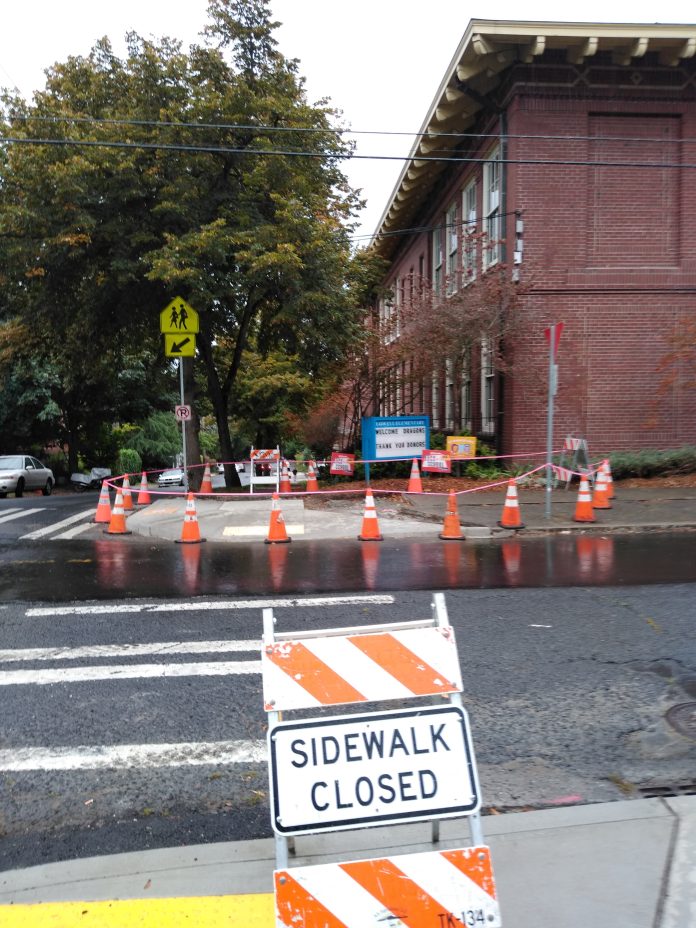 In the summer of 2017, every single sidewalk in Seattle was visited by a team of interns and assessed: 2,300 miles of sidewalk were inspected. They found, unsurprisingly, a lot of issues. There were 93,000 places where sidewalks were meeting at unlevel surfaces more than a half inch high, 3,600 spots where the sidewalk was itself sloping downward, and 20,000 obstructions preventing the sidewalk from being 36 inches wide.
This $400,000 assessment yielded a full accounting of problems that are estimated at costing $500 million to $1.5 billion to fix. Currently, Seattle spends a few million dollars a year to repair sidewalks, which pays for around 1,000 spot improvements and the equivalent of repairing five to 10 full blocks of sidewalk per year.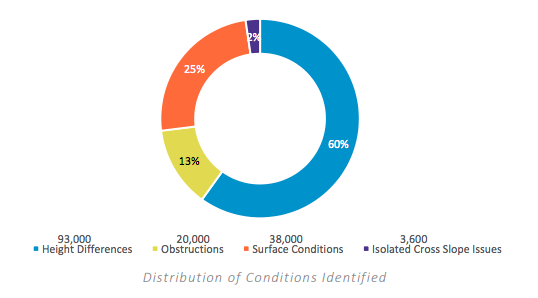 In other words, we are not even repairing sidewalks as fast as they can become, unusable. The poor quality of sidewalks impacts Seattle residents on a daily basis, particularly those who rely the most on sidewalks: people who use them to roll on (where obstructions and uplifts can literally prohibit movement) and people with sight challenges who may not be able to see obstructions and uneven surfaces to avoid being hurt by them.
Sidewalk Maintenance Resolution
The city council's transportation committee is taking up a resolution, brought forward by the MASS Coalition (of which The Urbanist is a member) that asks the Seattle Department of Transportation (SDOT) to do more to address this. Bundled as part of the MASS Transportation Package, the resolution requests a report to be delivered to the council by March 31 of next year, and asks SDOT to look into:
Assessment of strategies to implement an equitable cost sharing program
An evaluation of the City of Denver's sidewalk repair program
Options for do-it-yourself maintenance and hiring an approved contractor
Point of sale and lien options
The same resolution also seeks to address the issue of inaccessible sidewalks during snow and ice events, like the one that occurred this past February. Many neighborhood streets were impassable for nearly a week after the snow and ice event, despite city law requiring property owners adjacent to the sidewalk to clear sidewalks after snow and ice.
The resolution asks SDOT to implement a public messaging campaign around the sidewalking clearing requirement and requests they do it nearly immediately to get ahead of the start of winter, setting a deadline for the campaign to start no later than November 1, 2019. It also asks SDOT to analyze how it enforces the requirement to keep sidewalks clear and to present a report by New Year's Day.
Council to SDOT: Develop Equitable Signals Policy
To people who roll and walk around the city, street crossings are just as important as sidewalk condition. Considering the fact that traffic signals exert a huge amount of control over how people move through the city along our busiest streets and districts, it is surprising that SDOT has not developed an overall signals policy that they use to guide their own decision making.
At today's Transportation and Sustainability meeting, the city council will consider a resolution, also brought forward by the MASS Coalition, asking SDOT to develop one, in conjunction with the City advisory boards, community groups, city staff, and the general public. This request is also on an expedited timeline, with an intial policy requested by the 1st of December.
The Seattle Pedestrian Advisory Board has already outlined a number of the things that they would like to see from a new signals policy, as laid out by chair David Seater in this video:
A more equitable signals policy would have both mobility and safety impacts, and without one the right to sidewalk access for everyone will not be fully provided. Signal timing is frequently one of the clearest ways that a city demonstrates that it prioritizes car movement over other modes, with long wait times for pedestrians to cross major arterials often just considered de rigueur.
This past Tuesday, at another Transportation Committee meeting, SDOT Director Sam Zimbabwe and other key staff led a presentation on Intelligent Traffic Signals (ITS) and the rollout of increased technology to control signals in Seattle. The primary purpose of these signal upgrades is to move more cars on arterials that can't be made any wider: this was made explicit in the rollout of adaptive signalization on Mercer Street.
The rollout of adaptive signals is continuing, with the Seattle Center Arena project leading to the upgrade of signals on Denny Way, with a price tag of around $10 million. Adaptive signals near the arena will help SDOT flush cars out parking garages after games and performances.
Now SDOT is reframing the focus on ITS as essentially mitigating the problem that the department itself is creating. The most notable example of this is a pilot program being rolled out in the University District next year where a signal will respond to cyclists who have downloaded and turned on a special app on their phones telling the signal that a cyclist is approaching the intersection. We'll also find out what pedestrian surge technology is, apparently, and if it's any better than simply providing pedestrians ample crossing time at a frequent interval.
The fact that SDOT is heading in this direction demonstrates just how badly an equitable signal policy is needed. You should not need to download an app to use a city.
Both of these resolutions are on the agenda for today's Transportation and Sustainability Committee meeting today at 2pm, with public comment accepted at the start of the meeting. Both represent a clear direction from the city council that SDOT has significant work to do on improving access for those using Seattle's sidewalks, and prioritizing those who do so.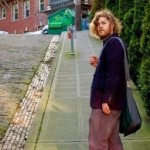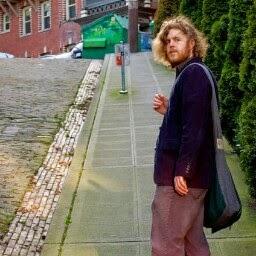 Ryan Packer lives in the Summit Slope neighborhood of Capitol Hill and has been writing for the The Urbanist since 2015. They report on multimodal transportation issues, #VisionZero, preservation, and local politics. They believe in using Seattle's history to help attain the vibrant, diverse city that we all wish to inhabit. Ryan's writing has appeared in Capitol Hill Seattle Blog, Bike Portland, and Seattle Bike Blog, where they also did a four-month stint as temporary editor.