Mayor Jenny Durkan revealed the slate of affordable housing projects the City would be funding next year to the record-breaking tune of $110 million on Monday. The 13 buildings funded will bring 1,944 apartments affordable below 60% of area median income or lower.
"Over the last three years, we have made monumental and historic investments in affordable housing," Mayor Durkan said in a statement. "With nearly 900 City-funded affordable homes that came online this year and another 3,400 expected to come online in the next few years, we have created a true partnership to deliver on affordability in our city."
Among the funded projects is Africatown Plaza, which is intended to be a stake in the ground for Black residents of the rapidly gentrifying Central District, and Madison/Boylston tower in First Hill that will be the first affordable highrise in more than 50 years. That highrise recently got a few stories added on for a total of 17, representing 361 affordable homes.
Renters Lead Charge to Ban Winter Evictions
Meanwhile, Councilmember Kshama Sawant announced she was introducing legislation banning evictions in the winter months, attempting to protect cash-strapped tenants. The legislation defines winter as November 1st to March 31st, and would not allow evictions, even for non-payment of rent–although Councilmember Sawant did say she was open to fine-tuning the bill and was conferring with the City Attorney on legal grounds for the measure.
"I'm pleading with you to pass this legislation," Violet Lavatai, interim executive director with the Tenants Union of Washington State said at the press conference annoucning the bill. "The winter is cold… just imagine the people on the streets."
The Seattle Renters Commission brought forward the idea, saying a wintertime moratorium would "keep neighbors from being displaced to the streets during the months with the harshest weather and poorest living conditions." In its letter to the City urging a winter eviction moratorium, the renters commission stressed that it's a life or death issue.
"According to the King County Medical Examiner's Office, 191 homeless individuals died last year, and 57% died outdoors, in a vehicle, or in an encampment. While exposure to the elements cannot be blamed for every one of these deaths, it is most certainly a contributing factor as exposure to harsh weather and living conditions only exacerbates many medical related issues," the renters commission letter states.
"Additionally, according to the 2019 Point in Time count, 84% of homeless neighbors were previously housed in King County with eviction given as a direct cause of homelessness for 15% of survey respondents," the letter continues. "It isn't just hyperbole when we say that an eviction notice can be a death sentence."
If passed, Seattle would be the first U.S. city to ban winter evictions, although France has a nationwide policy (dubbed trêve hivernale or winter truce) outlawing evictions in the same timeframe Sawant proposes. Many cold-weather American cities require utility providers keep the heat running for non-paying clients during winter months, essentially setting up a similar principle.
Some councilmembers like retiring Council President Bruce Harrell made skeptical comments, while the Mayor was noncommittal. However, Sawant may yet have the votes.
"We will wait to see Councilmember Sawant's proposal as well as legal analysis by the City Attorney's Office," Mayor Durkan's spokesperson Mark Prentice said in a statement.
Leveraging City investment sixfold
The Mayor said the investment will be leveraged nearly sixfold. "The City's rental housing awards of $110 million will leverage at least an additional $600 million in investments through additional public and private sources," the press release states.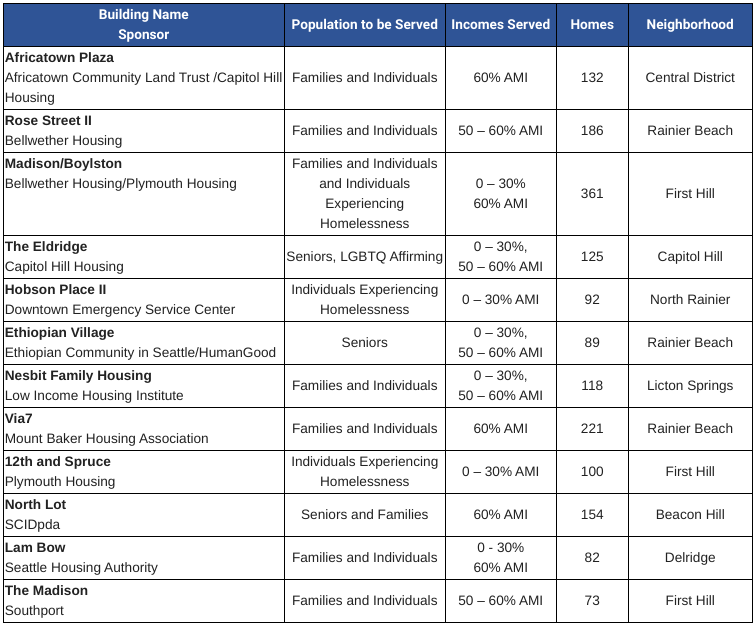 The $110 million in funding comes from $29 million in Seattle Housing Levy (passed overwhelmingly in 2016) revenue, $8.9 million in incentive zoning payments, $7.4 million in Mandatory Housing Affordability payments, $32 million in Real Estate Excise Taxes, and over $13 million through retained sales taxes, "made possible by changes in state law authorized by the 2019 Washington State Legislature and Seattle City Council."
Mandatory Housing Affordability (MHA) requirements were enacted in 2017 with MHA rezones passed in the University District, Downtown, South Lake Union, and Uptown. The remaining 27 urban villages got their MHA rezones in March 2019 after a lawsuit brought by homeowner groups–which included Toby Thaler, who now works as an aide for newly-elected Councilmember Alex Pedersen–delayed implementation. With mandatory inclusionary zoning now in place in virtually all multifamily- and commercially-zoned areas, most future construction will either include affordable units directly or pay into the City's affordable housing trust fund, adding to the year-end tallies like this one. Construction in most single-family zones, meanwhile, does not face affordability requirements, nor does most industrial construction.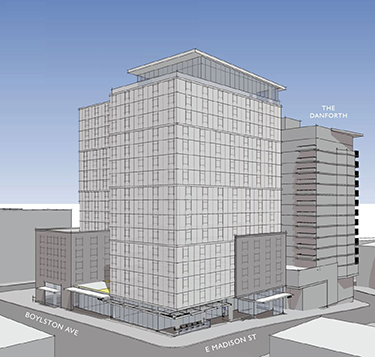 More than 6,000 affordable units will be created by MHA in its first decade, the City projects. Overall, affordable housing production is ramping up. In 2017, the City invested $100 million in its year-end Office of Housing awards. In 2018, that number was $75 million.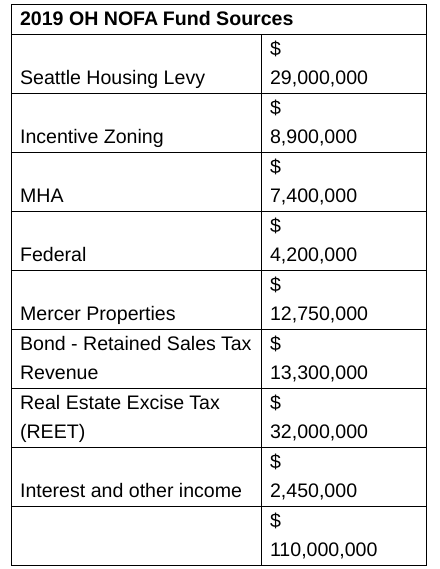 "The City of Seattle expects nearly 5,000 new affordable homes to come online between now and 2022," the Mayor's release states. "This may be viewed on the Office of Housing's Affordable Housing Under Development Dashboard. Note that the 1,944 to be created with funding awarded today are not yet included in the dashboard."
The housing gap is much greater that 5,000 homes. But this is good start. Let's keep building on the momentum.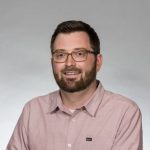 Doug Trumm is publisher of The Urbanist. An Urbanist writer since 2015, he dreams of pedestrianizing streets, blanketing the city in bus lanes, and unleashing a mass timber building spree to end the affordable housing shortage and avert our coming climate catastrophe. He graduated from the Evans School of Public Policy and Governance at the University of Washington in 2019. He lives in East Fremont and loves to explore the city on his bike.