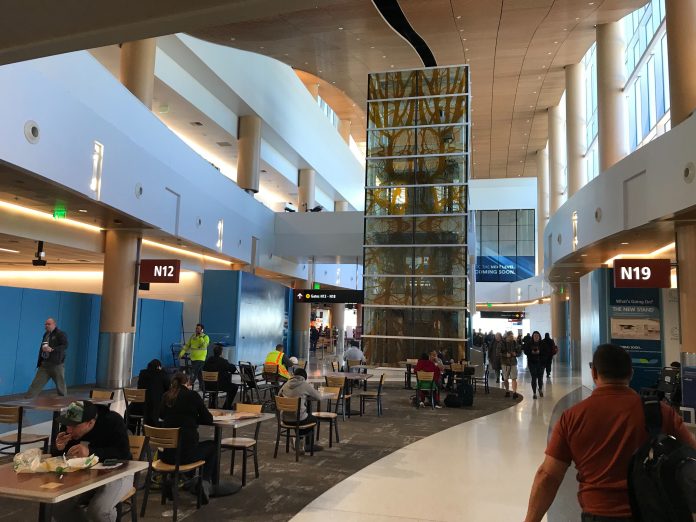 Sea-Tac International Airport broke the 50 million passenger mark last year for the first time. A total of 51,829,239 passengers passed through the airport in 2019, a year-over-year increase of 3.97%. This continues the streak of annual passenger growth the airport has had since 2009. In 2018, the airport was just shy of 50 million when it moved 49,849,520 passengers.
The growth rate appears to have decelerated somewhat from last year when passenger counts grew by 6.2%. Regional population in the four-county Puget Sound area grew by 1.6% last year, so perhaps the slower passenger growth rate is somewhat in line with overall decelerating regional population growth. The average yearly growth rate has hovered closer to 5.2% for passenger growth.
Growth continues to be driven by a mix of business and leisure travel. International travel is a notable source of growth as it has been in recent years. Port of Seattle data shows that international passenger numbers were up by 5.3% from the year prior at 5,727,899, and now representing over 11% of all passengers. This was partially boosted by the introduction of four new international services.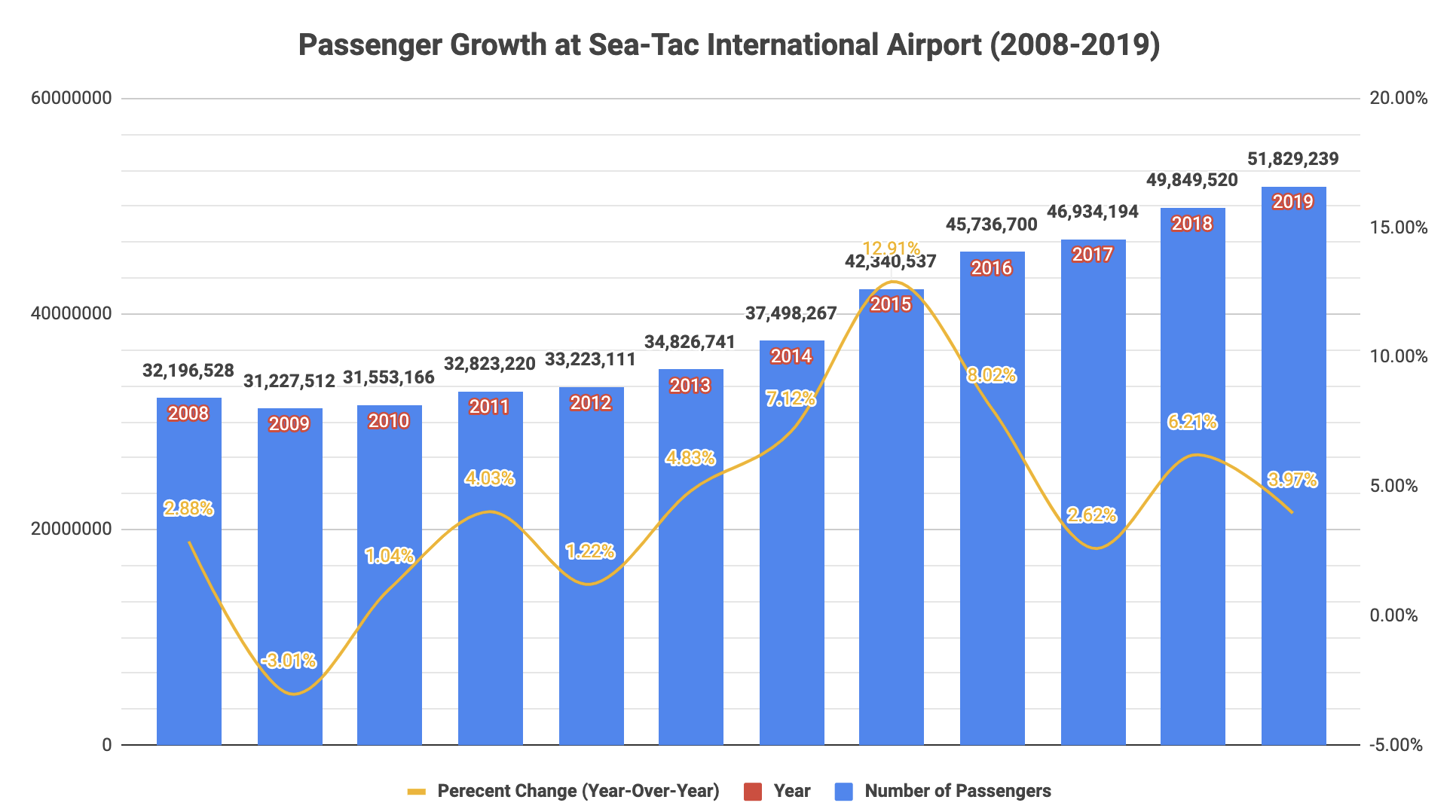 Domestic airlines will continue adding service this year. Several have already declared an intention to serve new destinations including Sun Country Airlines' new route to Madison, Alaska Airlines to Monterey, and Delta Air Lines to Kansas City and Sacramento. Domestic service is benefiting from modernization and expansion work at the North Satellite, which is Alaska Airlines' prominent terminal hub.
A portion of the modernization and expansion work was completed last year, adding more gate capacity. The remainder of the work should be completed next year, but capacity issues remain a challenge at the airport, which is why many flights are boarding and disembarking from hardstands near the cargos. Passengers are bussed to and from the Concourse D Annex from the hardstands.
The year ahead for international service could be a bit mixed though. On the one hand, the airport is poised to open the new International Arrivals Facility in the October or November timeframe. On the other hand, the outbreak of the Wuhan coronavirus since January has put a damper on Asian routes generally, but particularly with mainland China.
Delta Air Lines has suspended its mainland China routes to Shanghai and Beijing for now. Hainan Airlines, another mainland China carrier, has followed suit in suspending its own service. Over the weekend, the federal government issued new protocols to deny visa access to foreigners traveling from mainland China or who have visited mainland China in the past 14 days. American citizens, residents, and their families are being quarantined upon return from mainland China to reduce the likelihood of viral transmissions.
However, Asia has been a big area of international growth in recent years and could continue to be in the future. Last year, several new international services were added, such as Delta Air Lines to Osaka, Cathay Pacific to Hong Kong, Singapore Airlines to Singapore, and Japan Airlines to Tokyo. However, Thomas Cook went bankrupt last summer, ending service to Manchester, England. International carriers have already announced new international connections for this year. Lufthansa and Condor will both commence their second German routes to Munich this spring and already compete on the Frankfurt route. Philippine Airlines will begin service to Manila and Air Canada plans to launch Montreál service in the spring, too.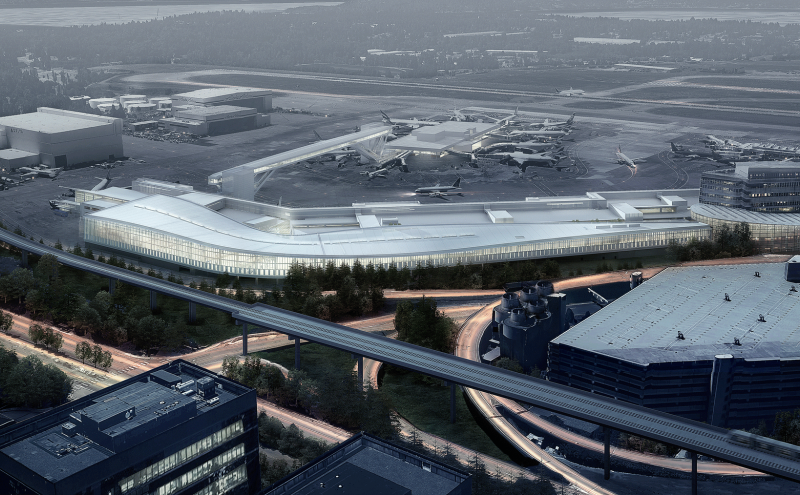 In the run up to the 2020 Tokyo Summer Olympics, several airlines will take advantage of new slots at Tokyo Haneda Airport–which is closer to central Tokyo–and end service to Tokyo Narita Airport. Likewise, Delta Air Lines plans to end service at the older Beijing Capital Airport and transfer service to the expansive Beijing Daxing International Airport south of the capital.
On pace for major completion in mid to late fall, Sea-Tac's new International Arrivals Facility is poised to open its doors to international travelers then. The facility will offer faster processing of international passengers going through customs control and greatly increase overall processing capacity. This is due to new a landside processing facility and baggage claim area that will be located next to Concourse A.
The facility is fairly late in construction delivery and over budget since contractors ran into early environmental problems that required resolution with the United States Environmental Protection Agency. However, construction was about 74% complete in December, according to Port of Seattle data.
A significant element of progress came late last month with the movement and installation of the prefabricated pedestrian bridge that will connect arriving international passengers at the South Satellite with a secure corridor to the landside International Arrivals Facility next to Concourse A. The secure corridor will also link gates at Concourse A so that those can be used for international arrivals as well.
The delayed opening of the International Arrivals Facility probably means that Sea-Tac has lost out on some additional international service this year that it might have otherwise received had it opened on schedule and the ongoing Wuhan coronavirus also may have significant impacts to international carrier interest this year. Competition with the recently opened Paine Field Airport in Everett may also take a small bite of passenger growth on top of all that.
Still, bigger questions remain for the airport as it approaches ultimate capacity for all market segments. Sea-Tac International Airport essentially is projected to cap out at 66 million passengers by 2034, assuming the timely delivery of near-term and long-term airport improvements–including construction of an entirely new terminal. Several studies are underway to evaluate the airport and other airports' baseline demand and capacity through 2040 as well as a possible second major airport location in Puget Sound.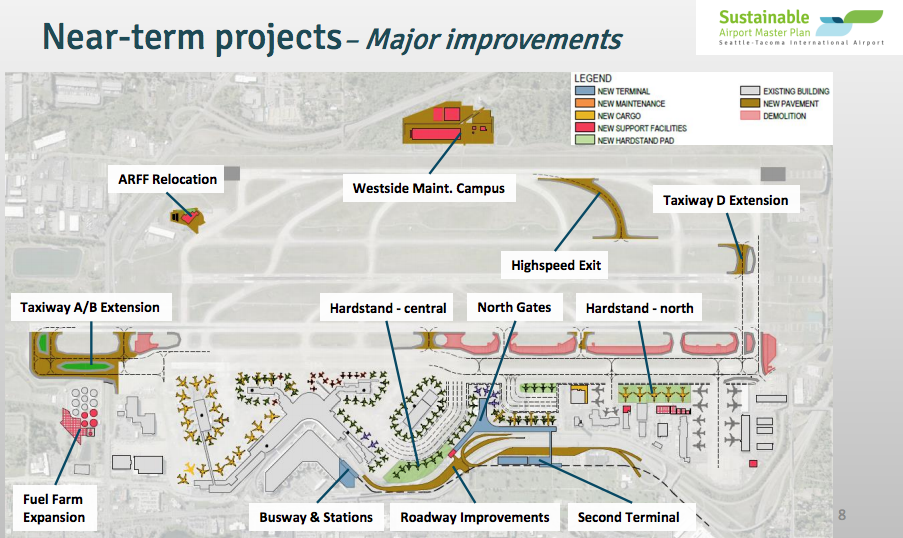 The Puget Sound Regional Council has taken on the first set of questions in their ongoing baseline study process. Local officials have asked if the study is really exploring the right questions, particularly around the assumptions built into demand and whether expansions really should be priorities. King County Councilmember Claudia Balducci (Council District 6-Bellevue) was one of the politicians questioning the demand models and expansion premises.
"There's a missing level of planning, somewhere between the state and the region and the cities; maybe it's the feds," she said in an October meeting. "We do this thing where we project what we call unconstrained growth, but I'm not sure if it's really unconstrained. I think there are certain embedded assumptions in there that become privileged assumptions that we don't examine."
Separately, the state is leading a conversation on where a second major airport should be sited in the state. This, however, is widely understood to mean the Central Puget Sound. Recommendations should be forthcoming on that front by the end of next year.
In the meantime, Port of Seattle officials have a lot on their hands in managing airport growth. Important decisions lie ahead on planning and moving capacity projects forward while airport management grapples with day-to-day operations challenges and the current public health epidemic of global concern. Whether or not the airport continues its long-standing growth trend through this year is deeply uncertain, but barring a national economic downturn, passenger counts will likely at least match that of 2019.

Stephen is a professional urban planner in Puget Sound with a passion for sustainable, livable, and diverse cities. He is especially interested in how policies, regulations, and programs can promote positive outcomes for communities. With stints in great cities like Bellingham and Cork, Stephen currently lives in Seattle. He primarily covers land use and transportation issues and has been with The Urbanist since 2014.