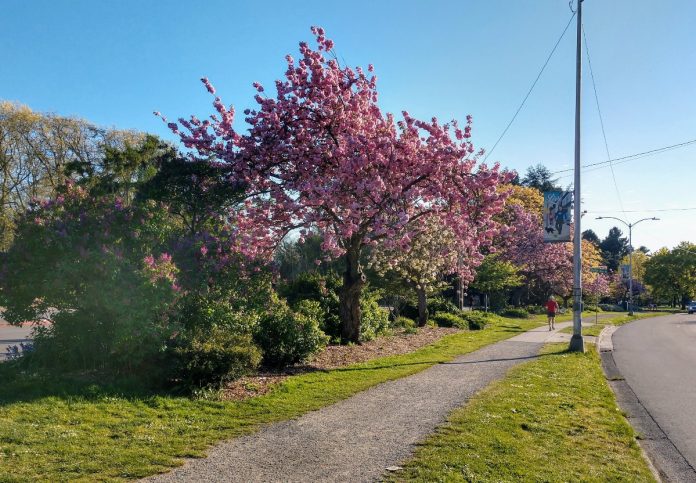 The City announced yesterday its new Stay Healthy Streets program would be expanding today. The streets being pedestrianized are in Beacon Hill, Greenwood, the Rainier Valley, and an additional street in the Central District, which will bring the program's total mileage to nine.
The Seattle Department of Transportation (SDOT) reported that car traffic has shrunk to a tenth of its normal volume while biking has tripled on the Central District's 25th Avenue on its first Sunday of Stay Healthy streets treatment. Last Saturday, 25th Avenue was closed to through car traffic from Dearborn Street to Columbia Street. Today Columbia Street will also become a Stay Healthy Street from 12th Avenue to 29th Avenue, providing intersecting pedestrian thoroughfares through the Central District.
Early reports have also indicated that will the Stay Healthy Streets program has been popular, but it hasn't led to crowding. This suggests that the program is serving its intended purpose to aid in social distancing while still encouraging exercise–a useful service when gyms are closed and recreational trails can be too crowded. This stands in contrast to the City's extensive weekend park closures two weeks ago that hindered people looking for places to safely exercise or relax outdoors. With parks back open, the expanding Stay Healthy Streets program serves as a welcome alternative and safety valve for crowds.
Beacon Hill's Stay Healthy Streets route will stretch from the Mountain to Sounds Trail to Jefferson Park primarily along 18th Avenue S. That puts the route just east of destinations like El Centro de la Raza, the Beacon Hill Library (albeit closed currently), and Beacon Hill's light rail station. The route jogs over to Lafayette Avenue at S Hanford Street, crossing Beacon Avenue S (and Route 36).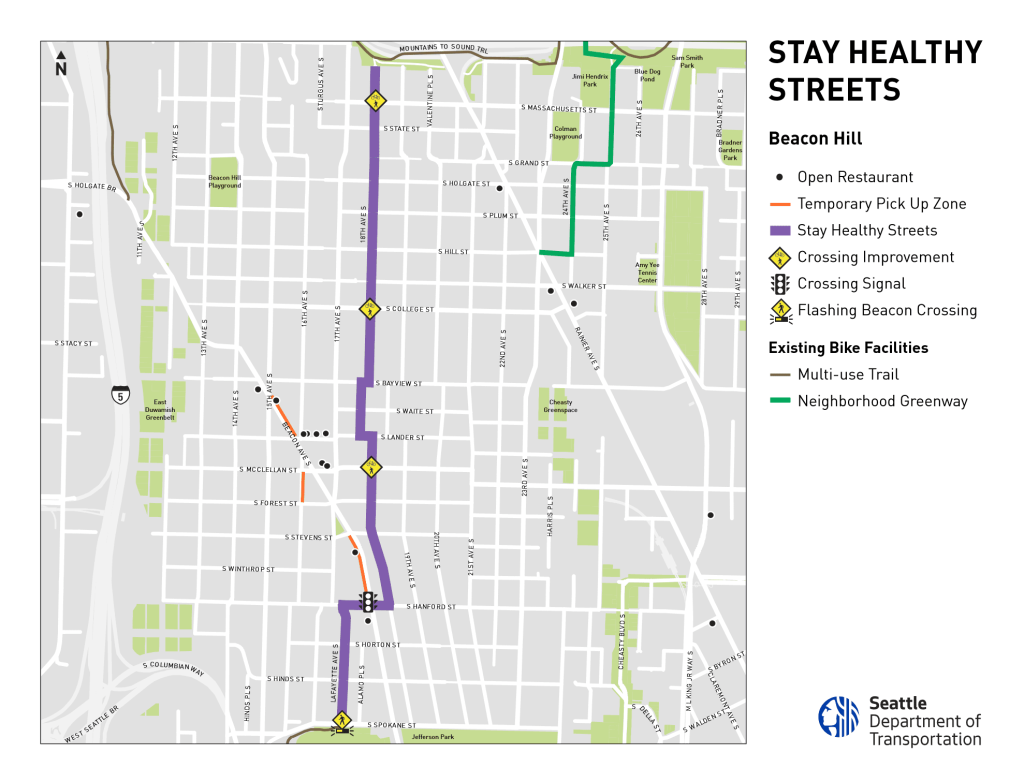 Greenwood's Stay Healthy Street will be on 1st Avenue NW from NW 73rd Street to NW 100th Street. That's just west of the neighborhood's major commercial artery on Greenwood Avenue. The new open street will connect the Neighborhood Greenway on N 100th Street and the one headed west on NW 92nd Street. While not closed to through traffic, those Neighborhood Greenways are more pleasant for people walking, rolling, and biking than a typical street.
The Stay Healthy Streets route in Othello and Rainier Beach, meanwhile, aren't as straight. The route zigzags along streets a few blocks west of Rainier Avenue S, using 44th, 45th, and 46th Avenues S. It also connects to Rainier Avenue at S Holly Street and snakes toward to MLK Way on S Willow Street, coming within a few blocks of Othello's light rail station but not connecting to it. The open street path passes by Othello Park and Rainier Beach Playfield before reconnecting with Rainier Avenue S at the Rainier Beach Library.
As a bit of a construction-related bonus, SDOT also added West Green Lake Way N to the Stay Healthy Streets roster. The route should relieve pedestrian and cyclist congestion on the multi-use path around Green Lake–quite the magnet for people trying to exercise or find a spot to take in the sun.
In the next week, SDOT should start to update "street closed" signs with clear "Stay Health Streets" signage to better identify them.
As noted in the previous article, SDOT is seeking volunteers to ensure road closure signs remain in place, to conduct pedestrian and bicycling counts, take photos, and share vignettes. The agency is asking those interested in volunteering to email NorthSeattleGreenway@Seattle.gov. 
SDOT has pledged a total of 15 miles of Stay Healthy Streets, so expect a few more additions in coming weeks. And with the program's success and momentum, why stop at 15 miles? The six additional miles promised would still come well short of serving the whole city. Let's provide this vital opportunity for safe travel and recreation to every neighborhood in this city.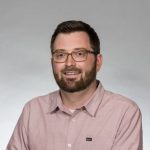 Doug Trumm is publisher of The Urbanist. An Urbanist writer since 2015, he dreams of pedestrianizing streets, blanketing the city in bus lanes, and unleashing a mass timber building spree to end the affordable housing shortage and avert our coming climate catastrophe. He graduated from the Evans School of Public Policy and Governance at the University of Washington in 2019. He lives in East Fremont and loves to explore the city on his bike.