As we live through the current moment, it is difficult to understate the impact that the Covid-19 pandemic has had on the world. While the current outlook on the progress of the virus in most countries is looking better than it was this time last month, there is still a long way to go. Large sections of the American and Canadian economies continue to be shutdown, and the Canada/United States border, the world's longest non-militarized border, remains closed for at least a few more weeks.

The public health crisis has created another crisis as an offshoot; an economic one. The stock market has dropped, most sports leagues, theaters, bars, and restaurants have closed, and any business that is not deemed "essential" has been temporarily shutdown. Even if a vaccine is developed very quickly, or the social-distancing measures are sufficient to starve the virus of new hosts, the lasting damage to the economy will take far longer to overcome.

That being said, we need to begin looking toward and planning for an economic-comeback. It has been shown historically that government spending (in the form of a stimulus) to stimulate the economy is a proven way to recover from a slump. The most notable and oft-cited such large-scale investment is Franklin Delano Roosevelts's New Deal which was used to pull the United States out of the Great Depression of the 1930's. A large portion of the New Deal was the Public Works Administration (PWA), which spent $3.3 billion on building airports, roads, bridges, public schools, among other things. The purpose of the PWA was to address sweeping unemployment by investing in projects to maintain and upgrade existing infrastructure–thus creating good, relatively stable, high-paying jobs.

The economic prosperity of post-war America was urged on in a big way by the interstate highway project started by President Eisenhower in 1956. The idea for a highway system stemmed from Eisenhower's exposure to the much more efficient and complex system in Europe while he was there during World War II. Eisenhower's appointed "Clay Committee," responsible for planning the national interstate system in the United States, aimed to improve the safety of roads, decrease transportation costs, and create jobs to aid the economy in keeping up with population growth. The IHS (interstate highway system) project achieved this, injecting $521 billion (in 2018 dollars) into the economy. It was an incredibly massive undertaking that was only completed in 1992 and it fundamentally changed the nature of how Americans moved about the country, shaping large aspects of the economy and society.
In a post-COVID economy, it will be imperative for the governments of both the United States and Canada to invest heavily to bring us through these tough times, similar to what we saw in the original New Deal. Because single-use car and truck usage combine to make up29% of the American greenhouse gas emissions, further investment in our nation's highways would not be the most forward-thinking decision for the United States government to make.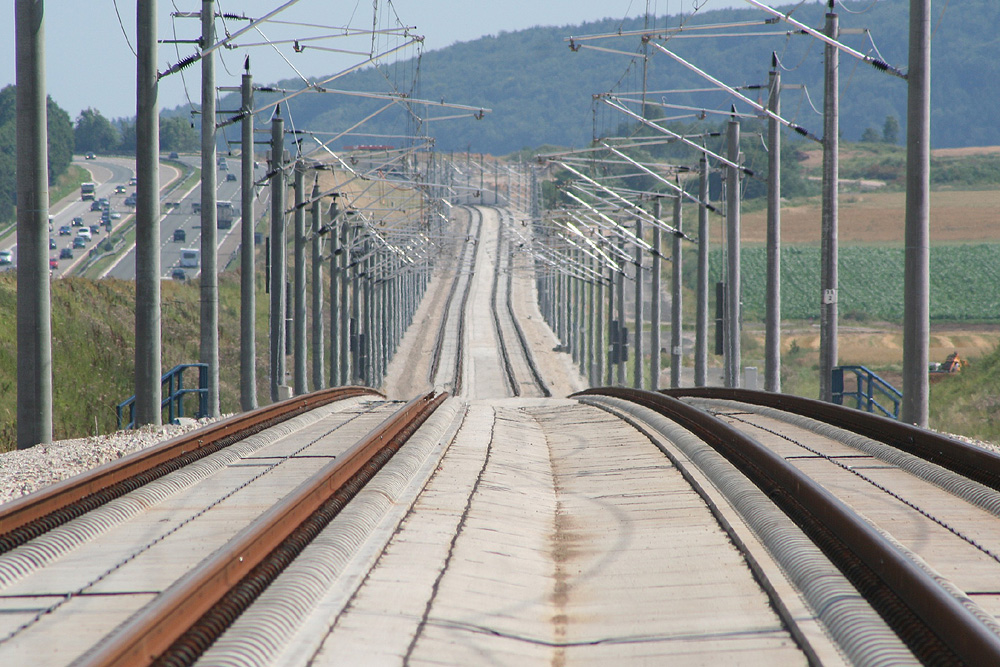 High-speed rail, however, may be the way to go. A high-speed rail line from Portland, Oregon to Vancouver, British Columbia is the perfect project to provide hundreds of short- and long-term employment opportunities, stimulate the economy of one of North America's top 10 most populated mega-regions, foster increased cooperation between the two nations post border-closure, and to help move people through the region and to new employment opportunities in an economy that may result in fewer people being able to afford personal vehicles. Looking back at the conception of the highway system, it seems to be the right time to invest in such a project–to accommodate large, and growing urban populations, create jobs and economic growth, and cut transportation costs.
High-speed rail is a proven technology, used in many countries around the world, especially Europe (the French TVG, German InterCity Express, and Pan-European Eurostar) and Asia (Japan's Shinkansen and China's High-Speed Rail system). They are cost-effective, safe, environmentally friendly, and, as the name implies, fast. In 2019, the Washington State Department of Transportation released the findings of their business case study on a potential high-speed rail route from Portland to Vancouver, British Columbia. The study concludes that an high-speed rail line would bring many benefits to the region. It has the potential to move up to 32,000 people per hour, reducing 6 million metric tons of CO2 emissions over 40 years. Most importantly to economic recovery, it would create $355 billion in economic growth and over 200,000 new jobs just in the construction and operation of the line for only a $24 billion to $42 billion upfront investment. That is a return on investment of over 1,400%.
A proposal for a New Deal-style economic stimulus package titled The Green New Deal has already been proposed by prominent politicians before the pandemic as a response to the climate crisis. The proposal's main aim is to combat climate change and move the United States to net zero carbon emissions by 2050 through a large public works program. The proposal calls for "overhauling transportation systems in the United States to remove pollution and greenhouse gas emissions from the transportation sector as much as is technologically feasible, including through investment in . . . high-speed rail."
Shifting inter-city car, bus, and regional plane trips to high-speed rail would lead our country to that net zero goal, since high-speed rail results in much less emissions than air and vehicle travel. High-speed rail also has the potential to be run entirely from renewable energy, which is not the case for airplanes.
Not only does the Green New Deal advocate for high-speed rail investment as a positive environmental move, it also addresses many economic principles including a federal jobs guarantee and the economic output of such a large infrastructure investment. A University of Pennsylvania summary of the Green New Deal's high-speed rail plans explains that, "since [high-speed rail] provides an additional mode of transportation for commuters, its implementation would not only decrease congestion and the costs associated with it, but also has the potential to decrease travel times, effectively increasing productivity levels and the gross domestic product (GDP)."

Even though the proposal was debuted over a year before the pandemic, it provides a very solid starting point for a large government infrastructure investment that is even more desperately needed today. The Sunrise Movement, a political-action committee and supporter of the Green New Deal, has expressed that the proposal would be a great option for the government to respond to the economic situation, specifically mentioning infrastructure investment.

On May 19th, Massachusetts Representative Seth Moulton introduced a bill to Congress and an accompanying whitepaper outlining a plan to invest $205 billion to fund over 30 high-speed rail projects, including Cascadia High-Speed Rail from Portland to Vancouver, British Columbia. The white paper calls for a public-private partnership where government funds are used to bolster private company investment in the projects. It would incentivize projects where at least 20% of funds come from sources other than the federal government, and does not limit those funds to state, provincial, and local governments. This allows for private companies such as Virgin Trains and Microsoft to invest in these high-speed rail projects as they have previously expressed interest. This type of public-private cost sharing on infrastructure development could be a key to jump-starting the post-COVID economy. (Join our letter writing campaign and take two minutes to tell your elected officials to support the bill.)
The global pandemic has been devastating to the airline industry, and most major airlines are struggling to remain solvent. The demand for travel will come back once the pandemic is over, but the airline industry may look very different as airlines reorganize. Although an high-speed rail line would take several years to be up and operational, it would be a good compliment to a leaner, more focused airline industry. High-speed rail is a more environmentally conscious means of travel, using only 16% as much carbon emissions per passenger mile than air travel. With airlines focusing on longer haul domestic and international flights, which are more profitable than short-haul regional flights, a high-speed rail corridor, such as in Cascadia, can very nicely fill the regional travel market.

The Pacific Northwest region, as well as the world, is facing a period of unprecedented uncertainty. The full economic impacts of the COVID-19 pandemic are still to come, however it is important for governments to begin planning for the recovery. A large-scale infrastructure project that can provide areas of investment, boost employment, and increase connections for millions of people in the region is an exceptional means of jump-starting the post COVID-19 economy. The Cascadia Rail project is a worthy investment toward the return of a robust economy.
The featured image is a public mural by William Gropper from the New Deal arts program and is in the public domain.
Martin Brosnan (Guest Contributor)
Martin is a transportation engineer and urban planner at TransLink in Vancouver, BC who had his interest in trains instilled in him from a very young age while riding the steam engine at Greenfield Village near his childhood home in Michigan. It was reaffirmed from his work in Chicago where he took the METRA commuter rail every day, and his trip to Belgium and the Netherlands where riding trains is a way of life. Martin firmly believes that high speed rail can provide a safe, reliable, sustainable inter-city transportation solution that is well suited for the 21st century.