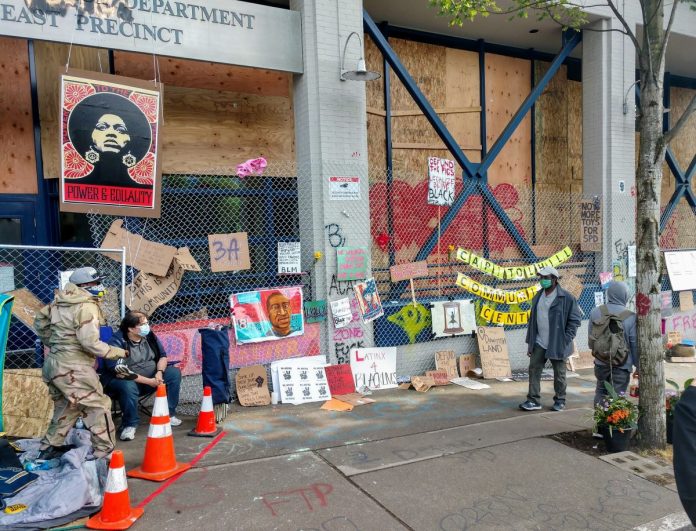 The Seattle City Council voted against a police officer hiring freeze yesterday, despite a strong "No New Cops" campaign from the Solidarity Budget coalition, which The Urbanist joined and endorsed. The leaders of the coalition–which include Decriminalize Seattle, King County Equity Now, Got Green, Puget Sound Sage, 350 Seattle, Mazaska Talks, Transit Riders Union, and Climate Justice for Black Lives–issued a press release voicing their frustration and the path they see ahead.
The vote was 7-2 to reject an amendment to shift $9 million away from the Seattle Police Department (SPD) hiring budget and direct the funds to scale up community alternatives to policing. Councilmembers Kshama Sawant and Tammy Morales were the only votes in favor of the Solidarity Budget amendment.
"With this vote, a majority of Council signalled that they'll move ahead with a 2021 City Budget that allows for SPD to hire 114 officers in the coming year," the Coalition said in a statement. "Eighty-nine of these positions would replace cops who are expected to leave the force, while 25 would be new hires. Thus, Council has voted not only to replace police officers who leave, but to expand the force beyond its current size–this in a year that a veto-proof majority pledged to defund SPD by 50%."
While disappointed in the outcome of their amendment, the Solidary Budget coalition did touch on the sea change happening right now with respect to SPD.
"The uprising in defense of Black lives this summer has forced a reckoning with the anti-Black role of policing in Seattle. This year is the first time in Seattle's history that we are shrinking, rather than growing SPD's budget, via eliminating 35 unfilled positions and civilianizing functions like 911 response and parking enforcement," they wrote. "This is a step in the right direction, but it can't be a stopping point: if we are truly reckoning with how to build healthy and safe communities, hiring new police officers will not help us reach that goal."
The Seattle Council did follow through with $35 million in cuts that will reduce SPD's bloated budget, which reached $409 million in 2019 thanks to the lucrative 2018 union contract and runaway overtime spending. Mayor Durkan transferred $40 million in spending out of SPD by spinning off parking enforcement and the 9-1-1 emergency call center, but had included fewer cuts in her proposal. Counted together, the $75 million reduction to the SPD budget works out to roughly a 17% cut, a far cry from the 50% SPD cut that had been the rallying cry for protesters under the Defund banner, but still a significant step.
Mayor Jenny Durkan proposed funding 1,400 sworn officer positions in the 2021 budget–despite the high likelihood that SPD could not maintain that staffing level due to a high rate of attrition recently. SCC Insight has a good explanation of the arcana of matching funding to SPD hiring and attrition projections. The Seattle City Council proposal is to fund the number of positions that SPD actually thinks it could keep filled, rather than just funding a bunch of extra positions just in case, as the Mayor proposed. The number they settled on is 1,311, by abrogating 93 positions once they become vacant and instructing SPD to do 35 out-of-order layoffs, targeting cops with a history of misconduct. To stay at 1,311 is still expected to require hiring 114 officers next year to keep pace with departures.
Those staffing cuts are not that much deeper than the Council proposed in its 2020 rebalancing package this summer, which the Mayor vetoed forcing a veto override. This time around, Mayor Durkan has signaled she can support the rebalancing package, and perhaps that tenuous truce is why Councilmembers didn't press any deeper with staffing cuts.
The Durkan administration has argued hiring new officers will help change SPD's culture and increase diversity. Decriminalize Seattle and the rest of the Solidarity coalition argue our policing model has failed and pouring more resources into it is misguided. Several councilmembers have backed this analysis at various points.
Statements from Council President M. Lorena González illustrate the evolution of the majority of the council from initial pledges to defund SPD by 50% to much squishier positions later on–although this isn't to pick on her, as she is far from alone in going from strident to circumspect and politician-y.
"I'm done with calls for reform," González tweeted in June. "You can't fix what is fundamentally broken. I stand with Black-led, PoC-led organizations calling for transformation for meaningful public safety." In August, Council President Lorena González criticized fearmongering and delay tactics and said Mayor Durkan is "hoping efforts to defund and demilitarize the police will blow over."
Defund advocates must be wondering if Council has joined the Mayor in hoping this will blow over, too. Or, at the least, the City Council seems intent on nurturing their old rotten tree with bad apples on the vine while slowly working on planting a new healthy tree with crisp non-murderous apples, to play with another Councilmember's metaphor.
In case you forgot the reference, Councilmember Debora Juarez tweeted in June: "I disagree with folks who say that police violence is caused by a 'few bad apples,' it's the whole tree. It's time we plant a new tree."
The Council has plenty of gardeners to work with at the Solidarity Budget coalition, but keeping two trees alive won't be easy.
"With yesterday's vote, Seattle's 2021 City Budget will not be the vehicle for a hiring freeze," the Coalition said. "But there are still pathways forward: Mayor Durkan can readily implement a hiring freeze. Doing so would be a clear commitment from City leaders that Seattle will no longer invest in a model of policing that has failed to produce true health and safety, particularly for Black communities. Solidarity Budget members organizations will take every opportunity to keep the pressure on the current Mayor and City Council to stop growing SPD."
To learn more about what the Solidarity Budget coalition won in the 2021 City Budget and what's next, join them at 5pm Monday for a Solidarity Budget Teach-in, which is live-streaming here and on 350 Seattle's Facebook page.
Correction: This article has been updated to reflect that the Council landed on funding 1,311 officer positions rather than 1,322 as earlier reported.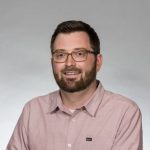 Doug Trumm is the executive director of The Urbanist. An Urbanist writer since 2015, he dreams of pedestrianizing streets, blanketing the city in bus lanes, and unleashing a mass timber building spree to end the affordable housing shortage and avert our coming climate catastrophe. He graduated from the Evans School of Public Policy and Governance at the University of Washington. He lives in East Fremont and loves to explore the city on his bike.