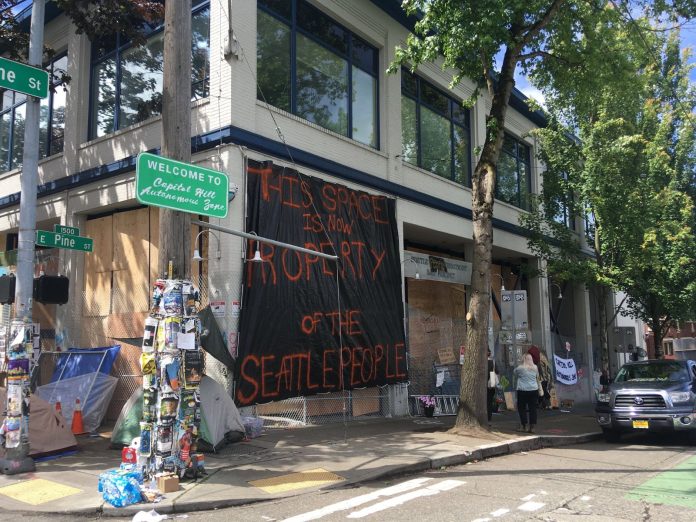 After a desperate final stand Sunday night in which they again tear-gassed protesters (this time with Councilmember Kshama Sawant in the crowd), the Seattle Police Department (SPD) retreated Monday after boarding up the building and removing valuables.
Protesters have taken over the building and surrounding blocks and dubbed the area the Capitol Hill Autonomous Zone or CHAZ. Signs on repurposed barricades read "You're leaving the United States and entering Free Seattle" and variations on that theme. Murals have gone up with protest slogans and imagery.
But the following nights have been peaceful, giving Capitol Hill a reprieve from tear-gassing, macing, and "blast ball" explosives. Nonviolent protesters continue to mob the streets–often under the banner "Defund The Police"–keeping the pressure on Mayor and City Council to redirect SPD funding to more worthy causes.
A bloated police budget
The Seattle City Council's budget committee started the process of digging into police funding on Wednesday–and they will meet every Wednesday through the rest of budget season. Councilmembers will be aided in their task with new inquest power that allows them to see more detail in SPD budget after Seattle City Attorney Pete Holmes withdrew the City's legal challenge to the inquest.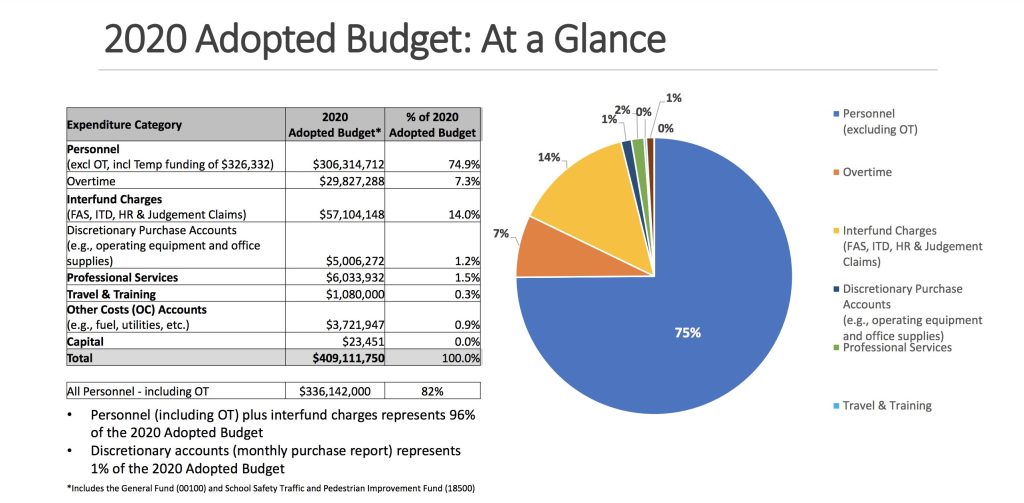 The political terrain is still uncertain. Some councilmembers have issued statements in favor of dismantling SPD rather than seeking mere reforms, and cited Minneapolis as a model since its city council just voted to start the process of disbanding its police department to start from scratch. Nearly all have demanded some level of budget cuts and demilitarization. However, Councilmember Sawant accused her colleagues of co-opting the language of abolition in her comments, pointing out they voted for the police contract and budget that expanded their ranks, added signing bonuses and stripped accountability measures. She was the only "no" vote on that contract in 2018.
The presentation at budget committee did seem intended to give SPD tarnished reputation a little boost. SPD claimed that it's average response time to 911 emergency calls was 8.77 minutes in 2019 which may suggest some interesting number crunching there since plenty have of people have reported they don't get a meaningful response from police when they call, if they come at all.
Patrolling events cost the city more than $6.8 million last year even after accounting for compensation from the professional sports franchise. Directing traffic is the primary duty there–in other words a hidden cost of car dependence. Staff did not have the reimbursement rate available, but Budget Chair Teresa Mosqueda did request they track that information down and get back to them. Councilmember Lisa Herbold noted that state law requires uniformed officers to do traffic control on streets and that a change in state law would free the City to require sports franchises pay for their own traffic control services.
City budget analyst Greg Doss noted that the cancellation of events due to Covid likely would mean overtime would be less this year. He also said they didn't need to request for additional overtime funding last year–though SPD's budget was a record high and included a whopping $30 million of overtime built into the $409 million budget to look at that a different way. In contrast, SPD budgeted just $1 million on training and travel in 2020.
Mayor Jenny Durkan's emphasis patrols program consumed $2.25 million, which is up sharply from previous budgets. As a nuisance complaints system built on appeasing neighborhood groups, emphasis patrols appear to be not just an inequitable use of resources, but also not closely tied to increasing public safety.
Three quarters of SPD's budget does go into personnel, mostly via salaries. Mayor Durkan has sought to expand the police force and worked a pay increase into the last contract with the Seattle Police Officers Guild (SPOG). Many have portrayed police as underpaid including Senator Bernie Sanders, but a SPD sworn officer's salary exceeds $100,000 within 42 months of employment and that's even before factoring in overtime and lucrative moonlighting opportunities that SPOG has arranged and successfully defended in contract negotiations. That's before full benefits, which include a pension.
The Mayor's last budget also included a big recruitment and retention program that City Council shaved down to $1.28 million, with "lateral move" proposed hiring bonuses shrunk from $15,000 to $7,500. Those efforts hoped to recruit officers who live in Seattle, although the City has declined to offer specifics on if the numbers have improved since the 2010 Census which showed that only 15% of SPD officers lived within Seattle.
How the Councilmembers are posturing
Councilmember Sawant voiced strong support for a 50% cut to SPD's budget and working toward a future without police forces. The rest of the council seems to fall on a spectrum of how deep they want to cut SPD's budget.
"I'm done with calls for reform," Council President M. Lorena González tweeted. "You can't fix what is fundamentally broken. I stand with Black-led, PoC-led organizations calling for transformation for meaningful public safety."
"I'm committed to defunding the police and using most of that money to invest back into communities we've failed–creating anti-racist, low barrier housing, equitable transit, permanent supportive housing, housing options for survivors of violence and more," Budget Chair Teresa Mosqueda tweeted. "I will not pass the Mayor's 2020 revised budget until we get through a simultaneous transparent deep dive into SPD's funding. I expect the full cooperation of city departments, who often can only share what the Executive allows them to share."
"Minneapolis City Council showing how to move toward a kind of public safety that doesn't center police. #DefundPolice," Councilmember Tammy Morales (District 2) tweeted. She's backed defunding and said she'd use a racial equity lens to make sure communities of color benefit and not disproportionately impacted by broader budget cuts. Councilmember Morales also backs raising additional progressive revenue to invest in communities and co-sponsored the Amazon Tax.
Councilmember Lisa Herbold (District 1), who chairs the Public Safety Committee, hasn't necessarily said that a 50% cut is her target, but she cited Minneapolis as a model, and she organized a letter that dozens of elected officials signed including all of her fellow Councilmembers.
Councilmember Debora Juarez (District 5) had been more reticent on the issue and took longer to make her position known. That said, on Monday, she made a strong statement in favor of defunding and demilitarizing. "As a former King County judge, public defender and attorney with 30 years of experience, I disagree with folks who say that police violence is caused by a 'few bad apples,' it's the whole tree. It's time we plant a new tree," she tweeted. Not noted she doesn't want to disband SPD, but supports defunding police to increase funding to community organizations working on issues like public safety and mental health. She said she won't commit to 50% until she sees the details.
Councilmember Alex Pedersen ran a law and order type campaign and is more conservative than his colleagues on many issues. Still, he's speaking the language of defunding the police and defending his record on "upstream solutions."
"As we confront a budget deficit of over $300 million, I want to signal to my colleagues that I am open to reallocating substantial dollars so we clearly and boldly demilitarize and fully fix our police," Councilmember Alex Pedersen (District 4) said Monday. "The funds from military-style weapons were approved by previous city councils and this city council has the authority to defund them. I have a strong track record of funding upstream solutions including high quality preschools and tens of thousands of units of low income housing." (Pedersen's speech is transcribed here by Paul Chapman.)
Councilmember Andrew Lewis (District 7) has supported banning tear gas and showed up at the barricades Saturday hoping to de-escalate. He hasn't been vocal about the level of defunding he supports although he did sign on to the demilitarize and reinvest letter Herbold spearheaded. He referred to systemic injustices in policing and said there'd need to be a systemic change.
Councilmember Dan Strauss (District 6) made a strong statement against chemical weapons and the lack of de-escalation tactics by police at Council Briefing on Monday. He'd supports demilitarizing, but how deeply he'd defund SPD beyond that is less certain. He does want to increase funding for community-based public safety alternatives.
The City Council's shift in opinion on policing has largely mirrored America's shift. Polling has shown a remarkably sharp uptick in support for the Black Lives Matter movement and although some are skeptical that "Defund The Police" will be as popular as the movement writ-large, many of these same skeptics didn't see this shift in public opinion coming and have questioned the tactics that made it possible. Who knows what will happen next. But it's nice to be trying something new.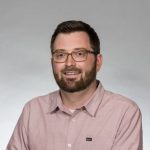 Doug Trumm is publisher of The Urbanist. An Urbanist writer since 2015, he dreams of pedestrianizing streets, blanketing the city in bus lanes, and unleashing a mass timber building spree to end the affordable housing shortage and avert our coming climate catastrophe. He graduated from the Evans School of Public Policy and Governance at the University of Washington in 2019. He lives in East Fremont and loves to explore the city on his bike.