Since Seattle is bounded and divided by numerous fresh and salt bodies of water, the city has what are colloquially known as Street Ends: those streets that end when they encounter a waterbody and are unable to continue. There are hundreds of such occurrences–almost as many as there are east-west and north-south streets. A number of them, 149, are part of a Seattle Department of Transportation (SDOT) program called Shoreline Street Ends. The program's goals are:
Help create great neighborhoods;
Improve public access to and enjoyment of Seattle's shoreline;
Enhance shoreline habitat;
Encourage community stewardship of shoreline street ends;
Support maritime industry; and
Responsibly manage private permits and deter non-permitted encroachments.
A little over half of the Street Ends are defined by SDOT as 'worth a visit', while the remainder are either 'not yet ready for visitors' or have 'no public access.' Street Ends are most heavily concentrated along the Ship Canal and Lake Washington but occur along each waterfront environment. Working with the city and neighborhoods to secure funding, pass legislation, and organize work parties, the non-profit and all-volunteer Friends of Street Ends help ensure Seattle's accessible Street Ends grow in number and those already serving visitors continue to thrive.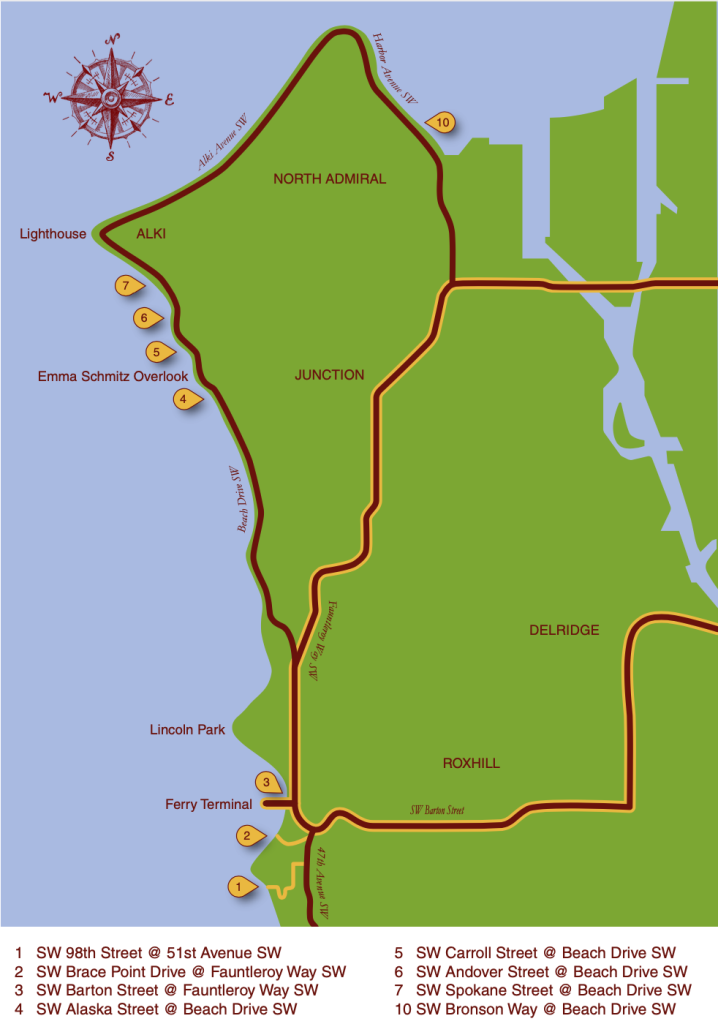 Street ends vary in character from sandy beaches to docks wedged amongst shipyards and industrial uses. They are spacious and they are compact; some are easy to find, others require a bit of diligence. They support habitat for native species of flora and fauna as well as convenient places to launch a kayak, sailboat, or motorboat. Oftentimes, they are adjacent to waterfront parks, expanding upon those assets. They are as varied as Seattle's topography, and you can visit them any time.
West Seattle's eight 'worth a visit' Street Ends provide access to gravelly beaches, seawalls, and steep, rocky shorelines. Being on Puget Sound, their character and accessibility constantly change with the tides, making each visit a new experience.
Street End #1
The shoreline to the north of Street End #1, at SW 98th Street, is rugged and picturesque. Decades-old logs define the water's reach.
While to the south seawalls guard homes against the tides, leaving the beach rock-strewn and absent of logs.
In addition to anchoring the beach, the seawalls provide a prospect from which to photograph passing marine wildlife. Please note that the beach at the Street End is private property; therefore, it only provides view access.
Street End #2
Street End #2, at Brace Point, offers a new perspective to the Fauntleroy Ferry Terminal and Lincoln Park. Visitors are reminded more of a setting in the rural San Juan or Whidbey Islands than urban Seattle.
Winter is a fine time to visit Brace Point, the gravelly shore and barren trees harmonizing with the moody skies.
Street End #3
Immediately north of the Fauntleroy Ferry Terminal, Street End #3 accesses an expansive beach leading to Lincoln Park's 135 acres and waterfront promenade. Access to the beach is via a paved ramp, aiding accessibility.
Art often finds a home in Street Ends. Frequently made of steel or similarly durable materials, the maritime and ecological themes are often produced by tribal artisans.
Given room to roam, dogs and their people are a constant presence. The tide's bounty provides numerous diversions to occupy even the most active canines.
Street End #4
Not all Street Ends provide easy shoreline access. While Street End #4, at SW Alaska Street, does have less daunting engagement points, a rip-rap hillside offers a more adventurous experience for those so inclined.
Should one not muster the courage to traverse the boulders, seating steps provide a convenient way to get to the water.
SW Alaska Street is but one of a series of Street Ends and Seattle parks that form a network of public spaces along an otherwise developed waterfront. Three other Street Ends are captured in this view.
Street End #5
While all are worth a visit, not all Street Ends boast impressive infrastructure or seemingly endless beaches. Some, such as Street End #5 at SW Carroll Street, offer intimacy.
Street End #6
For those seeking solitude, Street End #6, at SW Andover Street, is a good destination. Inaccessible via other shorelines except (perhaps) during the lowest of tides, #6 offers tidal-worn steps and a variety of boulders from which to enjoy the sunset.
Street End #7
Boundaries between some Street Ends and Seattle Parks fade with the receding tides. Beginning at Street End #7, SW Spokane Street, visitors can walk to Charles Richey Viewpoint, Constellation Park, the Alki Point Lighthouse, and beyond. Streetends are gateways, not limits, for Seattleites to explore their captivating shorelines.
An icon on West Seattle's waterfront, the Harbor West Condominium's numerous concrete piers are revealed at low tide. The stone breakwater in the foreground protects Harbor West and its neighbors along Beachside Drive from slipping back into the sea.
Street End #10
South of Salty's on Alki Beach, Street End #10 at SW Bronson Way (neither #8 nor #9 are ready for a visit), offers unsurpassed views of Seattle's Central Business District and Central Waterfront. A working waterfront, the view is worth periodic visits as vessels' coming and going are a dynamic scene.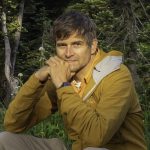 John Feit (Guest Contributor)
John Feit lives on Capitol Hill in Seattle, and volunteers with Friends of Street Ends, Lid I-5, and the Pike|Pine Urban Neighborhood Council (PPUNC).