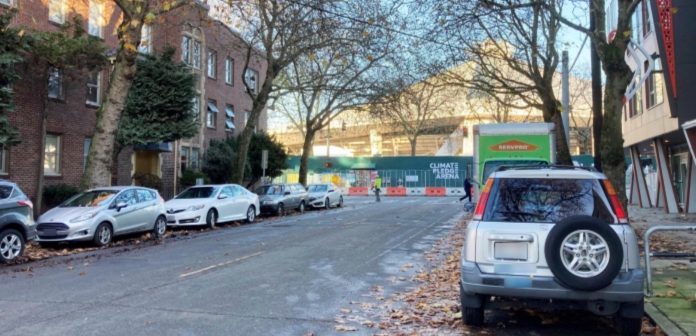 With the arrival of the revamped and expanded KeyArena as Climate Pledge Arena later this year, the Seattle Department of Transportation (SDOT) has proposed curbspace management changes that could affect nearby streets in Uptown. The proposal involves expanded paid on-street parking and a wider restricted parking zone (RPZ). SDOT is also planning bike and pedestrian improvements in the vicinity of the arena and new transit-only lanes.
When the new arena opens in the fall, the city is expecting events to generate surges in transportation demand in Uptown. Events at the arena will often bring more than 10,000 attendees. In a given year, the area is anticipated to have over 250 events, bringing it into use more than two-thirds of the calendar year. A significant proportion of trips are projected to be by car with 60% in private cars and 10% taking taxis and ridehails. Transit is being encouraged with free passes for hockey games along with secure bike parking and a bike valet service, but there will be a limited amount of new on-site vehicle parking spaces (over 400 new spaces added). Invariably though, some people who want to drive but do not want to pay the premium for parking at nearby event lots may choose to park on-street. This is why SDOT is proposing changes to curbspace to prioritize on-street parking for residents and visitors of local businesses first, not eventgoers.
SDOT's paid on-street parking strategy is to use a combination of paid hours, cost, and time limits to ensure some available parking spaces on a block at any given time so that people can access local businesses. The specific policy in Uptown is generally a rate of $0.50 per hour with a four-hour time limit from 8am to 8pm Monday through Saturday, except on holidays. There are, however, some areas with shorter time limits. Prior to the pandemic, SDOT had a more robust performance-based paid parking program that actually varied rates by time of day and that is likely to return when the pandemic ends and demand for on-street parking in popular districts like Uptown rises again.
Paid on-street parking areas largely prevail on the blocks closest to Seattle Center with some mix of RPZs, particularly near the retail and office areas to the west. SDOT's proposal would generally add paid on-street west of the arena in pocket around W Republican St and 1st Ave W and another pocket northeast of Seattle Cetner. Conceptually, SDOT would keep paid on-street parking in place Monday through Saturday from 8am to 8pm. However, special event rates may apply on event nights and event weekends.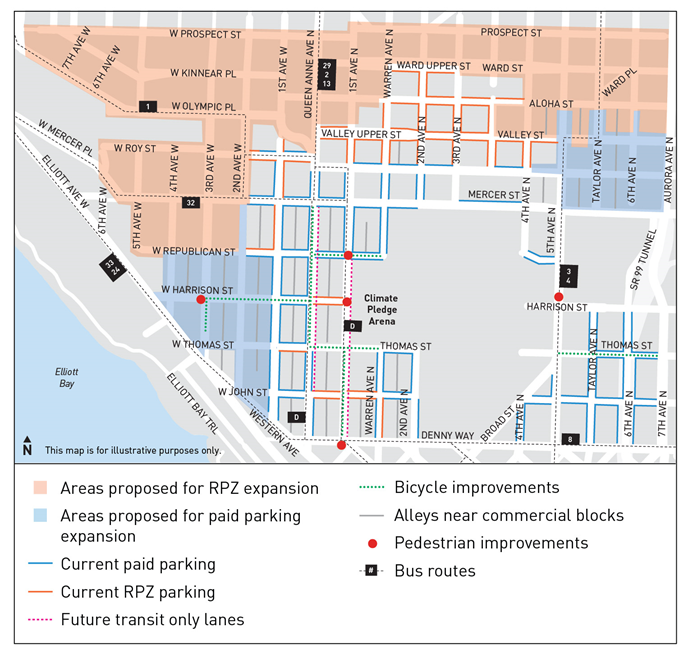 Similarly, RPZs are meant to allow time-limited temporary visitor parking, usually during daytime hours, while giving residents better access to local on-street parking with passes. Residents who purchase RPZ passes can display them on their cars, allowing the vehicles to be exempt from time limitations on RPZ blocks with the same zone number. RPZ 13, which serves the area, restricts non-passholders to only two hours of parking Monday through Saturday (except on holidays) from 7am to 6pm. The current iteration of the RPZ program allows residents to purchase passes on a two-year cycle for each registered vehicle. Cost for the pass is typically $65, but low-income households can qualify for a reduction to $10 per pass.
Most of the RPZs though are located north of Seattle Center on Valley Street and Aloha Street since the area is predominately multifamily housing and within walking distance of the performing arts centers along Mercer Street–the latter of which can generate a lot car trips to events. SDOT's proposal would expand RPZ 13 to include most blocks north of the existing RPZ as far as Prospect Street. It would also be expanded further westward and eastward to the edges of Uptown and even add a pocket west of 2nd Ave W and north of W Republican St. Restrictions are proposed to change, operating seven days a week from 7am to 10pm. Visitors would still be able to park in the RPZ for up to two hours.
Additionally, SDOT is working on where to provide loading zones for businesses affected by the parking changes and where to add designated disable parking spaces. Usually the latter are placed at the ends of blocks when possible.
In September, SDOT did a survey of community priorities. The vast majority of respondents (84%) agreed that access should be prioritized for local business access, residents, and visitors. That included discouraging on-street parking use by arena eventgoers and facilitating transit, bike, and loading access. Support for specific curbspace actions ranged:
Support for the RPZ expansion was 70%;
Support for the paid on-street parking expansion was 59%; and
Support for changing the time of RPZ restrictions was 55%.
As part of a wider access program for the new Climate Pledge Arena, SDOT has developed plans to implement improved bike lanes and transit-only lanes on nearby blocks. Targeted pedestrian improvements have also been planned in the area. On the one-way streets, SDOT is planning a four-block northbound transit-only lane on 1st Ave N between Denny Way and W Republican St and another four-block southbound transit-only lane between Mercer Street and W John St. This largely aligns with the major bus stops that eventgoers to the arena will use. Five key locations will benefit from pedestrian improvements to aid eventgoers reaching buses and crossing other major streets.
SDOT is also planning to roll out protected bike lanes to provide a north-south path west of Seattle Center and a new connection east of Seattle Center. The planned north-south path jogs as it heads north and has east-west splits on intermediate streets between Denny Way and Mercer Street to provide local access. The planned connection east of Seattle Center would thread South Lake Union to the district via Thomas Street. To accommodate the improved bike lanes facilities, SDOT does plan to remove some on-street parking. The bulk of on-street parking removal is planned W Harrison St between 1st Ave W and 3rd Ave W.
Transportation reporter, Ryan Packer, has covered the bike plans in detail highlighting how they leave much to be desired for riders who want to reach Uptown and Queen Anne comfortably and quickly. However, a bright spot may be the planned improvements to the Thomas Street Overpass that connects to the Elliott Bay Trail west of Uptown.
A final decision on the Uptown curbspace management changes will come after a public hearing in March. In the meantime, SDOT is taking public feedback on the proposal.

Stephen is a professional urban planner in Puget Sound with a passion for sustainable, livable, and diverse cities. He is especially interested in how policies, regulations, and programs can promote positive outcomes for communities. With stints in great cities like Bellingham and Cork, Stephen currently lives in Seattle. He primarily covers land use and transportation issues and has been with The Urbanist since 2014.