Sound Transit recently opened a survey looking for community input on their plans for transit-oriented development near the Overlake Village Light Rail Station. If you'd like, you can respond to it here. The rest of this article goes deeper into detail about current and future development plans around Overlake Village.
Not too long ago, Redmond's Overlake neighborhood used to be everywhere and nowhere at the same time — it looked uncannily like every other suburb, but was so unremarkable that you wouldn't even know that you were there. But with the eastern branch of Link light rail coming to the neighborhood in two years, the hustle around Overlake is starting to get a lot more bustle-y.

For one, the "Overlake" is actually going to mean something now. While Overlake officially refers to the southwestern portion of Redmond and nearby portions of Bellevue, there's so many distinct, individual things (like strip malls and office parks and single-family homes) located within it that calling Overlake a "neighborhood" would be stretching the definition of what a neighborhood is. And light rail is sharpening those divisions even more. The southernmost section of the neighborhood near the future Overlake Village Station is seeing so much construction that it's starting to look far more like South Lake Union than the rest of Overlake. So even though the Overlake Village neighborhood technically doesn't exist yet, it's already developing its own unique identity.
In fact, just walking around some parts of Overlake Village will make you feel like you're in a city and not a suburb (just as long as you ignore the older sprawltastic buildings hiding in the gaps). And that's a good thing — since Overlake Village is centered around light rail (and King County Metro's B Line RapidRide bus), people need to be able to get around without a car, meaning that its urban landscape is denser and more walkable. It's sort of like Bellevue's Spring District, except a bit smaller (for now, at least).
A quick trip onto Redmond's Overlake neighborhood website reveals a host of construction projects in Overlake Village, most of which are mixed-use midrise buildings. Some of them have already been completed as part of the "Esterra" development. They look like typical modern apartment buildings, are home to about 200-300 units each, and have some nice stores along the street.
Those buildings were built in conjunction with a new road network that adds more streets (so far, only parts of Turing, Graham, Calder, Shen, and Tagore have been built) to create smaller city blocks, which make walking less daunting. You can remember the new street names better because they are named after artists and innovators (not a jumble of numbers). Smaller blocks also increase storefront perimeters so there's a denser cluster of stores and a greater likelihood that someone can find what they want in a shorter walk. Many of the streets are actually quite narrow and feature parallel parking, a welcome addition that is normally a rarity in suburbs. 152nd Avenue NE will remain the traffic artery but will become more pedestrian-focused. Hopefully, Calder, Graham, and Tagore Avenues can be extended southwards and dedicated bike lanes can be added in the future so that the network is more cohesive. Sure, some strip malls will need to be demolished, but we can replace them with denser mixed-use buildings that can bring in more residents and house the same existing businesses.
There will be lots more development to come in Overlake Village as time goes on, especially as the date for the light rail opening nears. Currently, an office tower is in the works at 156th Avenue NE, along with a giant mixed-use development called Seritage a bit to the west on the old Sears lot. A nice 2.7-acre park being built on Turing Street is gearing up to be the community gathering place (the park is privately owned and maintained but publicly accessible). It looks a lot like the Cascade Playground and is very close to everything. You can take your family there after school and unwind there. Overlake Village is very close to Microsoft and other offices (and will have convenient access to the rest of the region on light rail), so its path for growth is pretty clear-cut.
Sound Transit's TOD Survey
Transit-oriented development site in Overlake. (Sound Transit)
Apart from the rest of the development going up around Overlake Village, Sound Transit has two acres of land left over from the light rail station that they will open up for transit-oriented development (TOD) once construction is complete. The plans aren't set in stone yet, and they are asking for public input on how the TOD could be designed in a survey. But a key part of Sound Transit's vision is to include affordable housing (which is still pretty hard to find in Overlake and the Eastside). You can help them decide whether the project includes more small housing units or fewer large units, which populations (like lower-income, LGBTQ, and immigrants) should be prioritized, among others.
Personally, I think that there should be the most number of housing units (especially affordable ones) possible. Our region is truly in a housing crisis, and since there's already a ton of larger, market-rate housing units going up around Overlake Village, Sound Transit's housing units don't need to be the same. By maximizing the number of affordable units, we can make sure that the most people have housing, even if many of the units are physically smaller.
A new freeway ramp?
New SR-520 ramp dreams by the state versus slimmed down ramps and growing local street grid for TOD. (WSDOT/Brandon Zou)
Strangely, the Washington State Department of Transportation (WSDOT) is also trying to get in on the action around Overlake Village with a new freeway ramp from SR-520. This is a horrible idea. And I'm just not saying that because freeways are frowned upon in urbanist-y circles — I know from experience that it's simply not necessary. Before the pandemic, I used to pass through that part of Overlake almost every day and traffic really wasn't that bad. Plus, Overlake Village is supposed to be transit-oriented, so why ruin it with more freeway? The ramp is like an answer to a question no one had.
In fact, I might even propose that we make the 148th Avenue NE/SR-520 interchange smaller, so there will be three more blocks of room for housing and more useful things. This can even be done with minimal impact to existing traffic patterns since the existing interchange is configured a bit weirdly.
Final thoughts?
Light rail will do wonders for Overlake. Mixed-use, transit-oriented development will make Overlake a hub of life and a plethora of park spaces will help foster a sense of community for locals and visitors alike. Maybe, finally, Overlake will be able to find its place on the map.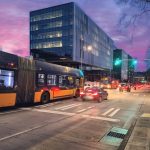 Brandon Zuo is a high schooler and enjoys reading about urban planning and transportation. They enjoy exploring the city on the bus and on their bike. They believe that income and racial equality should be at the forefront of urban development. Brandon Zuo formerly wrote under the pseudonym Hyra Zhang.