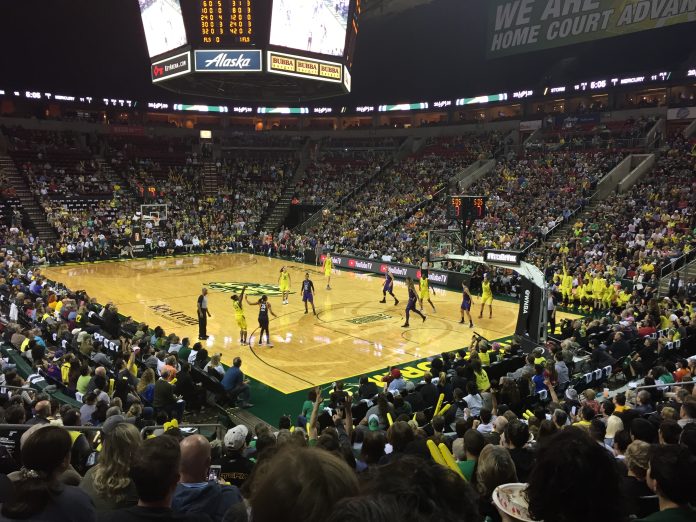 City Council Land Use Committee votes to exempt proposed Interbay site from zoning rules.
On Friday, the Land Use and Neighborhoods Committee of the Seattle City Council passed an ordinance that will pave the way for a new Seattle Storm training facility. The mechanism allowing the new gym lifts the current size limits on athletic facilities in the Interbay neighborhood. The measure will be before the whole City Council next week. 
This is the second meeting on the matter in three days. On Wednesday, the committee heard from representatives of the WNBA Champions. Testifying for the change was 12-time WNBA All Star and five-time gold medalist Sue Bird. She spoke of the changing dynamic in a growing WNBA that allowed some teams to build new facilities and draw her former teammates to new homes. Storm Co-owner and decorated olympian (rowing) Ginny Gilder testified that the facility would demonstrate equity by extending the support the city shows to men's teams to Seattle's sole professional women's franchise.
The change lifts design rules that set a limit of 10,000 square feet on athletic facilities in the industrial areas. To some, the proposal sounded like illegal spot zoning. More broadly, the speed of the proposal calls into question the legitimacy of Mayor Durkan's recent Industrial and Maritime Lands Commission. If that commission resoundingly said that industrial uses should be protected on the city's dwindling industrial lands, why is a gymnasium getting to jump ahead in the zoning process?
A One-Off Kind of Permission
Council Bill 120149 has the innocuous title of "An Ordinance relating to land use and zoning; amending maximum size of use limits and minimum parking requirements for indoor sports and recreation uses." The bill adds the following language to the (already 1,400 page) Zoning Ordinance:
H. The maximum size limit for indoor sports and recreation is 50,000 square feet for lots in the IG1 and IG2 zones that meet all of the following conditions:
     1. Located in the Ballard Interbay Northend Manufacturing Industrial Center (BINMIC);
     2. Located 500 feet or more from a shoreline;
     3. Located within 300 feet of land zoned either Neighborhood Commercial (NC) or Seattle Mixed (SM);
     4. Located within 1/4 mile of a public park with active recreation use such as sports fields or sports courts; and
     5. Not located within 1 mile of another indoor sports and recreation use in the BINMIC that exceeds 25,000 square feet in size.
The functional impact of this is two-fold. First, large gyms are permitted in a thin strip along Dravus Street, including a parcel at 1616 Bertona Street owned by Ginny Gilder's development firm. Second, after one such gym is built, no others will be permitted.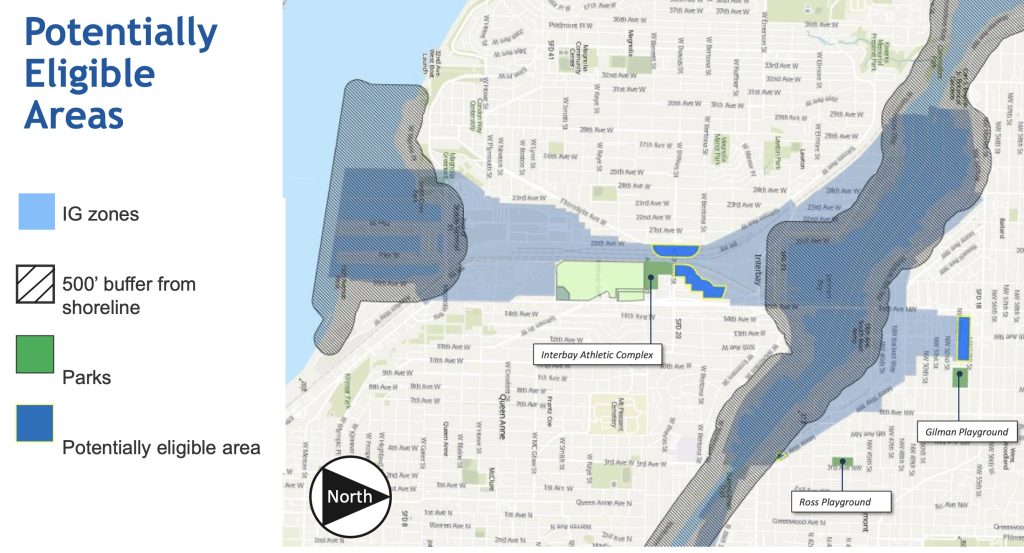 The one-off nature of this ordinance raised the question whether it is spot zoning, singling out an individual lot for unique zoning which is illegal in Washington. The land use committee did not help itself at Wednesday's meeting because some members decided to poo-poo the issue and insult folks asking it as "armchair lawyers." Friday, the committee got its act together and actually described the difference between spot zoning and increasing development standards. The allowed uses do not change, only the allowable size. Indoor athletic facilities are currently permitted in Interbay, up to 10,000 square feet. This ordinance just raises that to 50,000 square feet, thus no spot zoning.
An argument can be made that size defines the use. A 200 square foot apartment is not considered a legal dwelling. A 5,000 square foot store is a 7-11 while a 50,000 square foot store is a supermarket. This is particularly acute in Interbay and other industrial areas that are fighting to prevent a proliferation of big-box retail. Admittedly, when I first heard this expansion was on the council's docket, I thought it was for a giant LA Fitness because that's the kind of buildings that have been popping up in the corridor.
Litmus Tests
Ostensibly, the current proposal before the city council is not specific to a Storm training facility. Whoever is first to get permits in place for a 50,000 square foot indoor athletic facility along Dravus will lock out all similar uses within one mile. It just happens that there are no other lots of adequate size. But would this proposal be moving forward for any other proposed gym?
Probably not because this is the most contentious land in the city. Interbay has been studied and restudied, with committees and commissions, to fit new needs into old dead plans. Some of this conflict is very apparent in the contradictory statements made by and before the land use committee. The new ordinance creates a general rule, but the practice gym will be awesome. It will activate the neighborhood, but not have visitors. This needs to move quickly, but we are setting it up for litigation.
And that gets to the broadest picture. The Mayor's Industrial and Maritime Lands Commission just released their report. It emphasized preserving industrial lands for industry and proposes rezoning this area to prevent big boxes. Those changes are necessary and underway. An Environmental Impact Statement has begun to implement new zones. Interim regulations limiting new big-box stores are expected this winter.
If a new athletic facility truly fits in the neighborhood, this city council can permit it as part of that broader rezoning. As it is proposed, this one-off exception will need to be a perpetual footnote in all future zoning updates. That is the kind of garbage that makes the zoning ordinance an impenetrable mess.
But it's hard to make that argument because the entire discussion somehow became a litmus test for equity between women and men's sports. Adrienne Thompson, Policy Director for the Mayor, justified the exemption by emphasizing the opening of the new men's training facility for the Kraken. Councilmember Juarez spoke extensively about the threats and hate mail she received from criminal trolls over her vote against vacating an alleyway for a Sonics arena in SoDo.
Characterizing this discussion as some sort of fight between men's and women's teams is, well, a strawman argument. Toweringly shady deals have been made around men's sports, and we point that out when we can. It could be the disproportionate number of sports representatives on the Mayor's Industrial and Maritime Lands Commission or the number of quasi-public sports districts slicing up the governance of industrial areas. This is not an equity argument, it's about good governance.
And good governance isn't permitting a training gym by footnote. It's about making a zoning ordinance that allows development of housing and employment throughout the city, with transit and services. When a unique building is proposed — and any type of complex for a professional sports team is unique — we don't have to allow it by exception. We can look at what makes it unique and clearly discuss what will help it fit into a lively neighborhood.
But that's not the zoning ordnance Seattle has, so we're left with this dissonant discussion of hating women's sports versus hating industry. From the Storm's perspective, that makes the only logical process one where they jump to the front of the line before impending zoning changes. Can't blame them for trying, given it's been a process available to the boys for decades. Wouldn't that be a nice option to have for, say, housing throughout the city.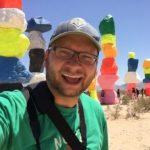 Ray Dubicki is a stay-at-home dad and parent-on-call for taking care of general school and neighborhood tasks around Ballard. This lets him see how urbanism works (or doesn't) during the hours most people are locked in their office. He is an attorney and urbanist by training, with soup-to-nuts planning experience from code enforcement to university development to writing zoning ordinances. He enjoys using PowerPoint, but only because it's no longer a weekly obligation.