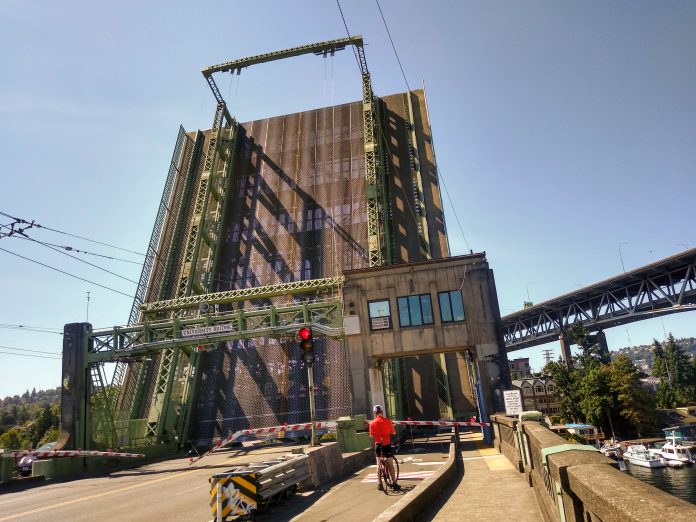 Seattle needs a transportation network that can better adapt to the unexpected.
Update – 12pm, 11/14/21, the University Bridge has been reopened for use.
The Seattle Department of Transportation (SDOT) is working to repair damaged electrical equipment which has caused the University Bridge to be stuck in an upright position since Friday morning. At this time, it is unknown how long it will take for the repairs to the lift bridge to be completed.
In the meantime, King County Metro bus lines, including the 70 and 49, have been rerouted around the closure — apparently via the I-5 Bridge, although the rider alert didn't specify. Most Route 49 stops on Harvard Avenue are closed, as are the northernmost Eastlake Avenue E stops. People trying to catch those buses from the Portage Bay area apparently must schlep up to the Roanoke Street bus stops near the I-5 on-ramp on Harvard Avenue. Signs have also been placed at key decision points around Seattle so people driving can know to avoid the University Bridge area.
The bridge closure will impact traffic to two major sports events scheduled for later today. At 4pm the University of Washington Huskies play the Arizona State Sun Devils at the UW Husky Stadium, which is served directly by Link light rail. For people driving in from north of Seattle, free parking is available at the Northgate Station, which is only an estimated five-minute ride on Link light rail.
The new Seattle Kraken hockey team hosts the Minnesota Wild at the Climate Pledge Arena at 7pm All ticket holders can ride transit for free using the Kraken + Climate Pledge Arena mobile app. SDOT has also created a guide for walking, biking, or rolling to Climate Pledge Arena for event goers.
SDOT is strongly encouraging event goers to take transit, walk, or bike to the games and plan for more street congestion than on a typical game day. Those taking the busses in the U District and Montlake may encounter slower time due to the reroute, so it'd be a great day to take advantage of Link light rail.
The problem was initially attributed to to burnt-out fuses in the bridge's mechanical system, which resulted in a failed transformer. However, after replacing the faulty parts failed to resolve the issue, SDOT engineers identified that a deeper electricity malfunction was at work. Engineers are still working to pinpoint the problem's root cause, heightening uncertainty around how long the closure will last.
The electrical malfunction comes on the heels of ongoing discussion around how much the City should be investing in maintaining and repairing Seattle's bridges.
Currently the Seattle City Council is considering investing $100 million in bridge maintenance bonding to pay for maintenance on several key bridges. The bridge bonding plan, which would last for 20 years, was included in the budget balancing package announced by Budget Chair Teresa Mosqueda last week despite the question of how an estimated $7.6 million in annual debt servicing would be paid for remaining unanswered.
Of $100 million in bridge bonds, an estimated $23.5 million would go to bridge structural rehabilitation, with funds distributed between the University Bridge, Magnolia Bridge, Fauntleroy Expressway, and a hydraulic overhaul of the Spokane Street swing bridge. The bulk of the bonding would pay for seismic upgrades to the Fremont Bridge and Ballard Bridge, even as SDOT is also in the midst of planning a full Ballard Bridge replacement. The bonding package also includes $6 million to fund Magnolia Bridge replacement planning — though transportation advocates have warned 1:1 replacement is a poor investment and a low priority project.
Separate from that investment, the council is currently also considering allocating $5.25 million next year and an additional $1.175 million in 2023 to replace and upgrade mechanical and electrical components of the University, Ballard, and Spokane bridges.
As an alternative approach, the Solidarity Budget coalition has argued $100 million in additional transit, walking, rolling, and biking investments should be the top priority given a spike in traffic fatalities despite the City's goal to eliminate traffic deaths by 2030. On the surface, it may appear quixotic to advocate for shifting investments elsewhere in the face of aging bridge infrastructure. On the other hand, our car-centric transportation system is currently failing Seattleites' needs and transportation emissions continue to compose almost two-thirds of Seattle's carbon footprint.
Like the sudden closure of the West Seattle high bridge, which occurred in March of 2020 and is expected to remain closed until mid-2022, the current closure of the University Bridge has issued a rude wake-up call. In addition to the bridge being closed to vehicles and buses, pedestrians and cyclists who rely on it to move between the U District and Eastlake will be impacted as well, which is no small thing.
But the closure also presents Seattle with the opportunity for creative problem solving that pushes us emphasize investments in a low-carbon multi-modal transportation network that can adapt better to future unforeseen challenges. While Seattle cannot ignore urgent maintenance issues with its bridges, it also needs to create a plan to transition toward a transportation network that does not rely on squeezing vehicles across bridges that were not built to withstand the volume of traffic they support today.
Update: This piece was updated to note the bus stop options during the detour, clarifying that busses seem to be using the I-5 bridge, not Montlake Bridge.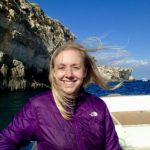 Natalie Bicknell Argerious (she/her) is Managing Editor at The Urbanist. A passionate urban explorer since childhood, she loves learning how to make cities more inclusive, vibrant, and environmentally resilient. You can often find her wandering around Seattle's Central District and Capitol Hill with her dogs and cat. Email her at natalie [at] theurbanist [dot] org.