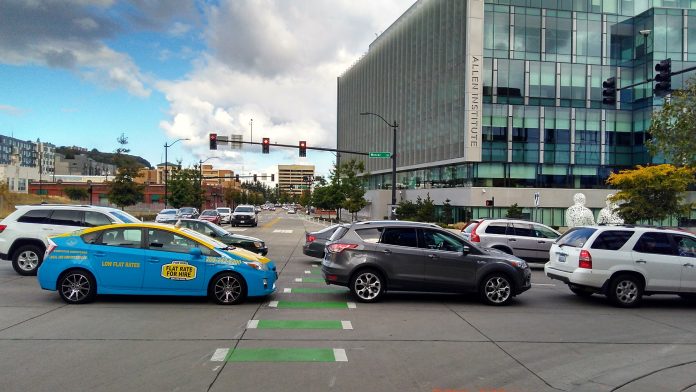 A year-and-a-half after Governor Jay Inslee signed a bill approving a pilot program giving Seattle authority to issue automatic citations for drivers blocking crosswalks, intersections, and transit-only lanes with their vehicles, the Seattle Department of Transportation (SDOT) has announced locations for broader enforcement across the city. In early 2021, SDOT did install automatic camera enforcement on the Spokane Street swing bridge, but these new cameras will be the first in the city that are designed to keep intersections clear for people walking, rolling, and biking.
The new automatic enforcement cameras include three dedicated block-the-box cameras, four additional dedicated lane cameras along transit corridors, and one that will function as both. As on the Spokane Street bridge, the first time an offender is caught by camera, they will be issued a warning, with a $75 dollar ticket issued starting with a second infraction. Per SDOT, warnings and citations will not be issued until 2022, but the department will be installing signs alerting drivers about restrictions in areas slated for camera enforcement.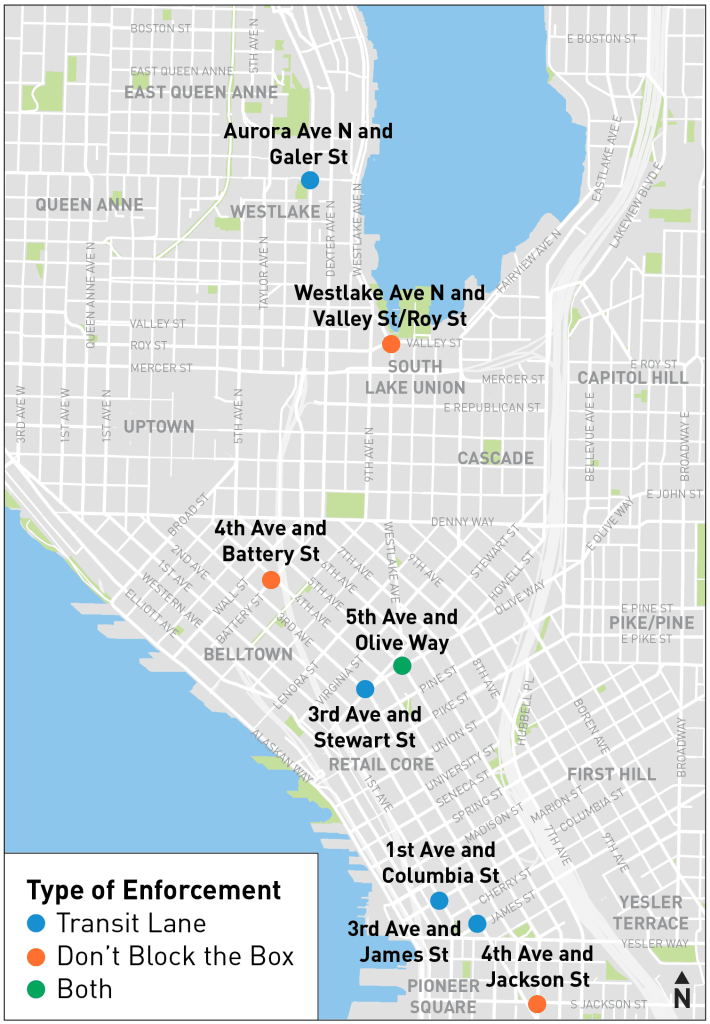 The block-the-box cameras will be installed at 4th Avenue S and S Jackson Street, 4th Avenue and Battery Street, and Westlake Avenue N and Valley Street, with a camera at 5th Avenue and Olive Way also enforcing the transit lane there. The dedicated transit lane cameras will be installed on 3rd Avenue on either end of the transit corridor, at James Street and Stewart Street, at 1st Avenue and Columbia Street for buses coming to and from West Seattle, and Aurora Avenue N and Galer Street for buses using SR-99.
"The cameras will work like photo-enforcement cameras in other parts of Seattle which issue tickets for red light violations or speeding in school safety zones. This will mean fewer police officers making in-person traffic stops, so that police can focus on other public safety needs. This also makes enforcement more consistent, objective, and fair," reads SDOT's blog post announcing the rollout.
Revenue from these cameras, after accounting for expenses, will be split equally between the City of Seattle and the Washington Traffic Safety Commission. Seattle's portion is planned to be dedicated to adding Accessible Pedestrian Signals to intersections around the city. The Traffic Safety Commission's expenditures tend to be more focused around the areas of education and enforcement. A recent update on the Spokane Street cameras detailed that both shares were approximately $390,000 for the period of January through July, with an overhead cost of 24.8% over that timeframe.
By law, violations need to be reviewed by a police officer before they are issued. "To protect privacy, the cameras will only record vehicle license plates and not the people inside the car. The photos are only intended to be used for enforcing the bus lane and blocking the box laws, and are not intended for other law enforcement action," SDOT's blog post noted. There may be some desire to move the act of reviewing these citations outside of the police department's purview, just as Seattle has done with its 911 dispatch and parking enforcement officer divisions, but that move would need be approved by the state legislature.
If these cameras are to continue, the state legislature will have to act by the end of its 2023 legislative session to prevent the authority to issue tickets from expiring on June 30, 2023. A preliminary report is due to the legislature by next June, with a full report on the impact of the pilot program due by the beginning of 2023. Getting legislative approval for the pilot was a significant accomplishment, with many lawmakers open about the fact that they feared that they themselves would receive tickets when trying to drive in Seattle even though they represented places far away from the pilot area.
SDOT also intends to install additional school zone speed cameras in the next year, which are not governed by the special authorization overseeing the transit and block-the-box cameras. The department is hoping to use revenue from those additional cameras to install more miles of neighborhood greenways, in an effort to increase the safety of routes used by people heading to schools and get the city closer to its 2015 promise of installing 60 miles of neighborhood greenways by 2024.
Keeping transit lanes clear and making sure that intersections are not blocked, particularly for people who depend on curb ramps for mobility, is increasingly urgent as Seattle works toward its stated goals of getting people out of single-occupancy vehicles. The expansion of automated camera enforcement is a welcome advancement for mobility in the Seattle and we hope to see it continue past this current pilot authorized by the legislature.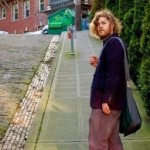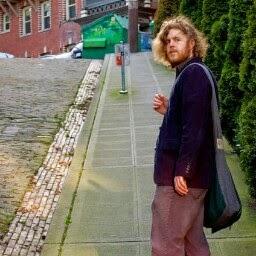 Ryan Packer lives in the Summit Slope neighborhood of Capitol Hill and has been writing for the The Urbanist since 2015. They report on multimodal transportation issues, #VisionZero, preservation, and local politics. They believe in using Seattle's history to help attain the vibrant, diverse city that we all wish to inhabit. Ryan's writing has appeared in Capitol Hill Seattle Blog, Bike Portland, and Seattle Bike Blog, where they also did a four-month stint as temporary editor.