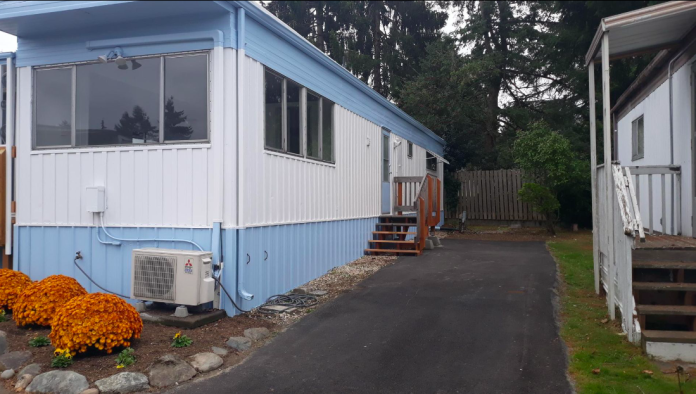 The Seattle City Council has passed another six month development moratorium for the city's two remaining mobile home parks. The legislation, which passed 7-0, is the fifth and apparently final extension of the moratorium, which was first passed in 2019 after residents raised concerns about the pending sale of Halcyon Mobile Home Park in North Seattle. Developers had filed preliminary plans for constructing 196 market-rate townhomes on the seven and a half acre site, creating fears of displacement among tenants, many of whom were elderly and/or disabled. The filing followed the closure of University Trailer Park in 2017, which was replaced by a development of 89 townhomes.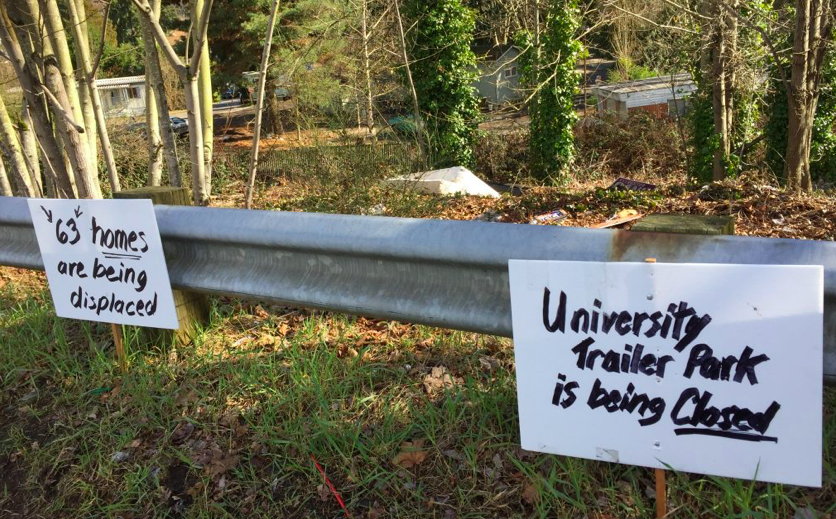 "I ask that we extend this moratorium one final time to prevent any loopholes before our long-awaited long-term protections can be adopted by the City Council next week," said Dan Strauss (District 6), sponsor of the bill.
Councilmembers Strauss and Debora Juarez (District 5), in whose district Halcyon and neighboring Bella-B Mobile Home Park are located, have been working on a permanent legislative solution for the sites, which will be voted on by the full City Council on December 13th where it appears likely to pass with strong Council support based on past statements. Their legislation would create a mobile home overlay district, further restricting the sites' development until it sunsets in 2051. In a special meeting of the Land Use and Neighborhoods committee on December 3rd, Ketil Freeman, City Council Central Staff, explained that the term "overlay" district is used because the additional specifications "sit over an underlying zone designation."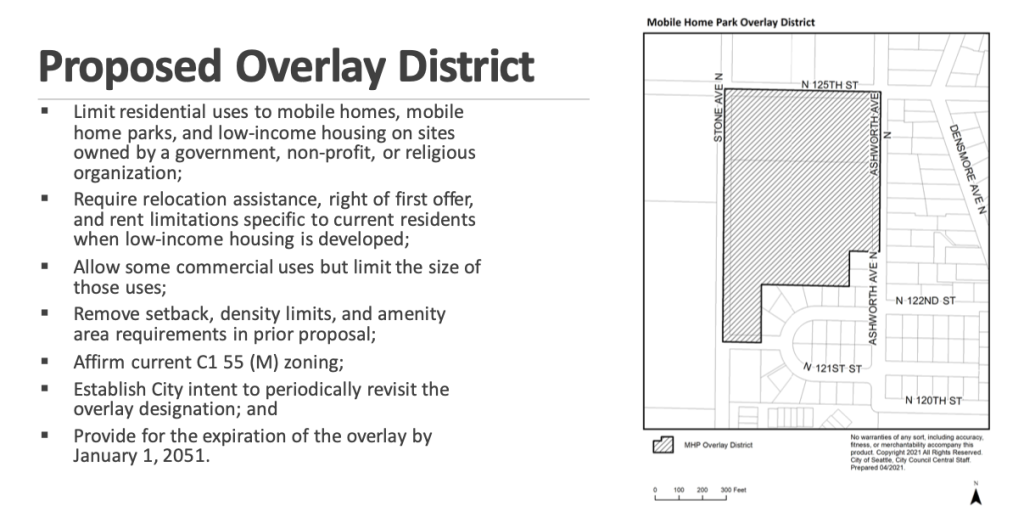 In this case, both sites are located in the Bitter Lake Urban Village, which was rezoned to increase residential density as part of the City's Mandatory Housing Affordability (MHA) legislation, passed in 2019. MHA requirements mean that the any new development constructed in the area either include affordable housing or contribute to an affordable housing fund. Both the Halcyon and Bella-B sites are currently zoned for commercial uses.
Once the overlay district is in place, however, the land will be limited to use for mobile homes, unless it is acquired by a government, non-profit, or religious organization. In that case, the land can be developed into affordable housing if a few additional requirements are met. These include relocation assistance, right of first refusal, and rent limitations for current mobile home residents. According to Freeman, the addition of the possibility of developing the land into affordable housing arose from the settlement agreement made with the owner of Bella-B Mobile Home Park. Freeman remarked that it was a "very salutary change."
Affordable rental housing developed on the site will need to be affordable for households earning up to 60% of area median income (AMI) and remain affordable for at least 75 years after the certificate of occupancy is issued. For ownership housing, prices must be affordable to households earning up to 80% of AMI, including both the purchase price of the property and ongoing costs like homeowner's insurance and association dues.
The requirements will only take effect if new development impacts 25% of the existing mobile homes. For development that does not reach that threshold, the overlay district statue will not come into effect and developers will not have to complete any additional paperwork to secure residential or commercial permits.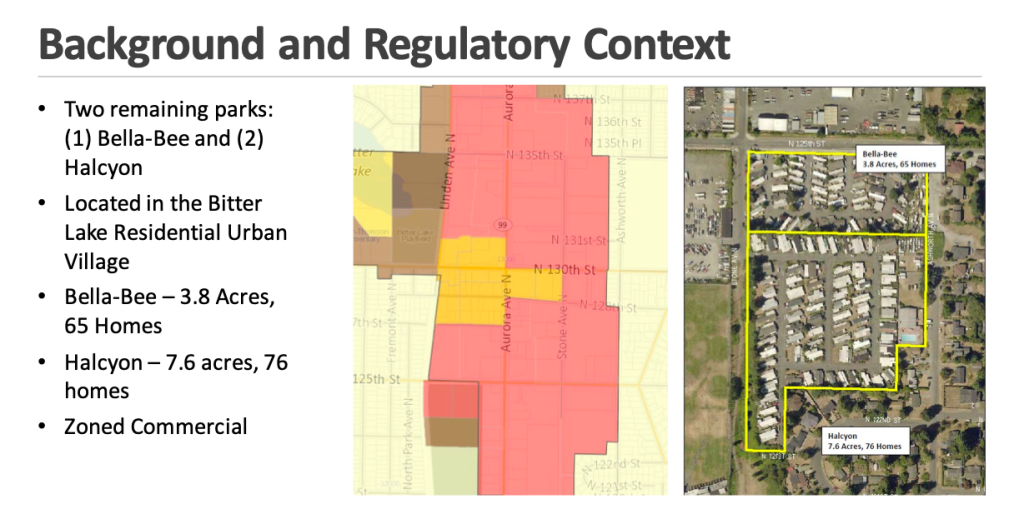 Seattle is not the first city in Washington State to use zoning to preserve mobile home housing; Tumwater, Bothell, and Kenmore have all passed similar zoning legislation.
The City of Seattle estimates that 150 households live on the 11 acres that make up the Halcyon and Bella-B sites. While that is admittedly fewer people than might be housed if the land were redeveloped into denser mixed-use development, calls to preserve the Halcyon and Bella-B sites for affordable housing came forward as a result of a few notable factors.
Firstly, while called a mobile home park, the fact is that most homes within Halcyon and Bella-B cannot be moved from their current location. "If you move a manufactured home, especially if it's older, it is likely to get destroyed," Councilmember Strauss noted. Additionally, for the limited number of homes that can be moved, costs are high. Current estimates for relocating a mobile home come in around $7,000 for moves within 100 miles, although costs may run as high as $20,000.
Next, Seattle, like many cities, lacks housing that meets Americans with Disabilities Act (ADA) requirements. Because mobile homes are single story, they are suitable for many people who are unable to use stairs because of age or disability. Many current residents have cited the need for accessible housing as a reason why they wish to stay. Throughout both of the Council's recent mobile home overlay district meetings, the term "aging-in place" came up frequently. Both mobile home parks have been in place for nearly 50 years, according to the City. Some residents have lived in the mobile home park for decades and feel very connected to their homes.
"It is a place that creates community, that creates an affordable option to live inside," Strauss said.
While Halcyon is officially an ages 55 and up community, smaller Bella-B Mobile Home Park is not age-restricted.
One important point to note about the current legislation is that it does not restrict residents' rights to rent their mobile homes. Currently there are two mobile homes listed for rent at Halcyon; one 550 square foot two bedroom/one bath unit is advertised at $1,800 per month, while a larger 720 two bedroom/one bathroom unit is listed at $1,850. Using the City's current AMI calculations, that would make both units priced in excess of the 60% AMI requirement that will be placed on future development.
In recent years, mobile homes have attracted the attention of affordable housing advocates. The Manufactured Housing Institute estimates there are nearly 8.5 million mobile homes in the U.S., comprising roughly 10% of housing stock nationwide. Mobile homes provide housing to nearly 22 million people, and the median annual income of a U.S. household living a mobile home is just under $30,000. While mobile homes are an important source of affordable housing, they can be a risky bet for owners, especially when they do not own the land on which their property is located. Nationwide, it's estimated that about half of mobile homes are located in landlord owned parks, about 50,000 of which are distributed across the country.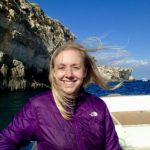 Natalie Bicknell Argerious (she/her) is Managing Editor at The Urbanist. A passionate urban explorer since childhood, she loves learning how to make cities more inclusive, vibrant, and environmentally resilient. You can often find her wandering around Seattle's Central District and Capitol Hill with her dogs and cat. Email her at natalie [at] theurbanist [dot] org.