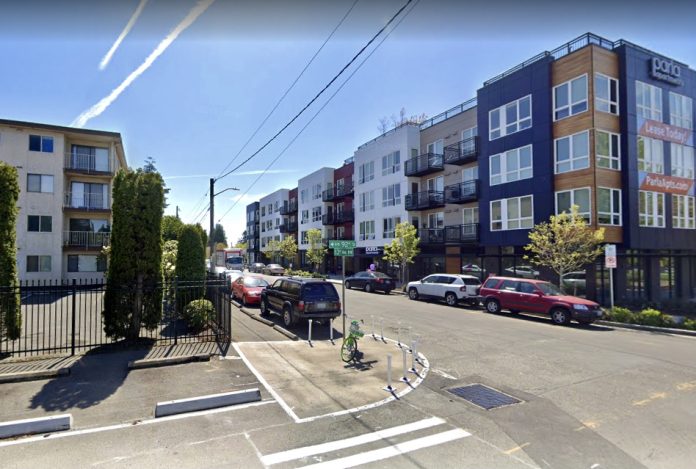 In November, Seattle's Office of Planning and Community Development (OPCD) released their draft Crown Hill Urban Action Plan. The scope of this plan is small, short-term, and focused on community, sustainability, livability, and equity. You've come to the wrong place if you're in search of a much needed revision of the urban village's zoning, which continues to skirt zoning for density despite strong transit connections in the area. But if you're looking for micro but mighty pedestrian and transit improvements this document is for you. The action plan contains significant neighborhood level improvements to enhance the greater transportation system. If implemented, the plan could result in the creation of a rare walkable neighborhood in the far north of Seattle.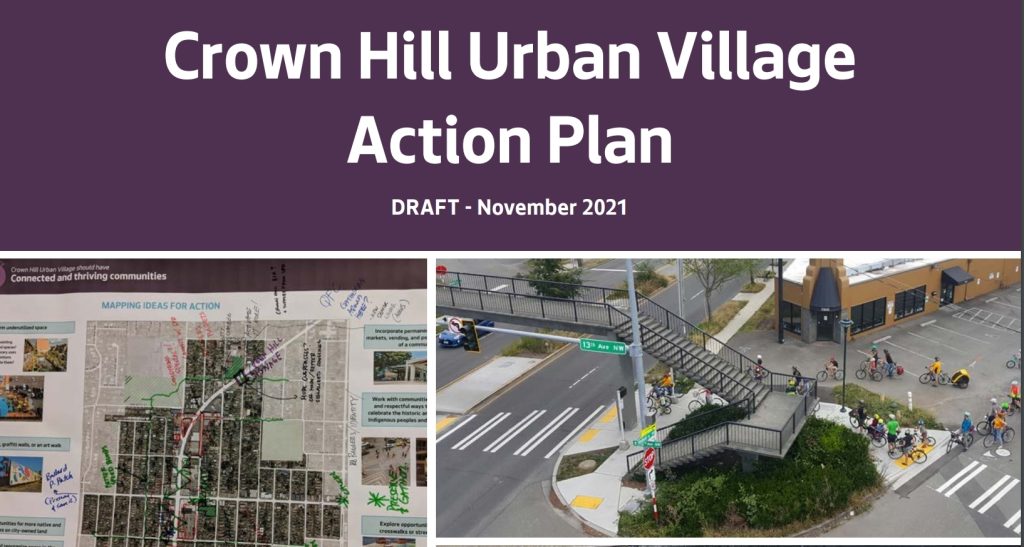 Developed through processes of community engagement, the action plan provides an evaluation of the neighborhood context. Primarily presented as weaknesses, the plan notes issues of disjointed urban village identity, an incomplete pedestrian network, pedestrian barriers, a lacking public realm, limited housing options, and inadequate drainage infrastructure. Residents find the pedestrian environment dangerous. They also report an excess of dead zones like parking lots. Some strengths and opportunities are identified with existing community assets like parks and greenways and possible coordination sidewalk and stormwater infrastructure.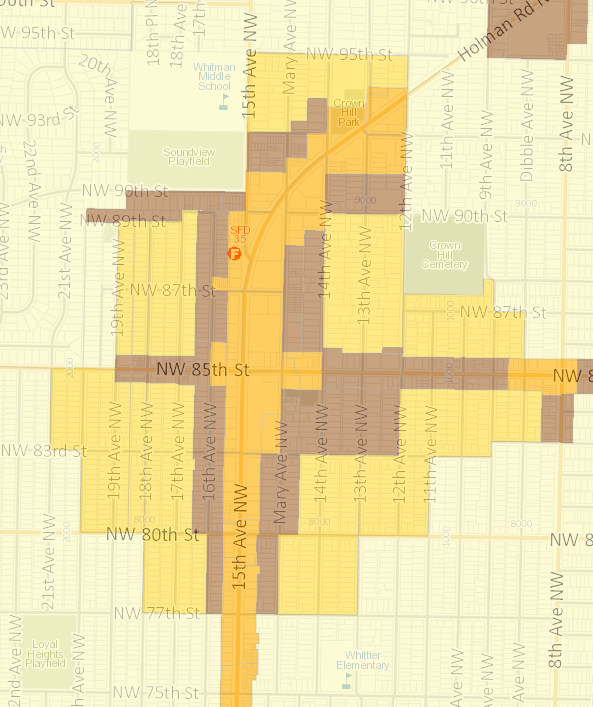 As it is, the Crown Hill Urban Village is centered around the intersection of NW 85th Street and 15th Avenue NW, the meeting point of the murky borders of the Blue Ridge/Olympic Manor, Crown Hill, Loyal Heights, and Whittier Heights neighborhoods. Among its urban village cohort, the Crown Hill Urban Village's zoning is among the most anemic. A narrow strip of mixed-use midrise zoning runs all the way through 15th Avenue NW, bisecting very limited low-rise zoning and Residential Small Lot (RSL) — basically single-family zoning, but with smaller lots — zoning. This weak zoning is in contrast with the robust bus service that the urban village sees. The RapidRide D, the workhorse Route 40, and Route 45 all provide the neighborhood frequent bus service. Plus, the D and the 40 are in the night owl network and offer 24/7 service. Route 28 also runs on 8th Avenue NW on the eastern edge of the neighborhood.
More walkable streets and transit enhancements
The action plan is segmented into three community priorities that also advance citywide goals and serve as a stepping stone for future work. One of the priorities places significant emphasis on enhancing the transportation environment of the urban village. The second priority listed in the plan are streets that encourage walking and make it easy to get around. Past successes are acknowledged here with the 2019 implementation of the North Seattle Greenway, planned crossing at NW 83rd Street and 15th Avenue NW, and ongoing evaluation of Route 40 improvements.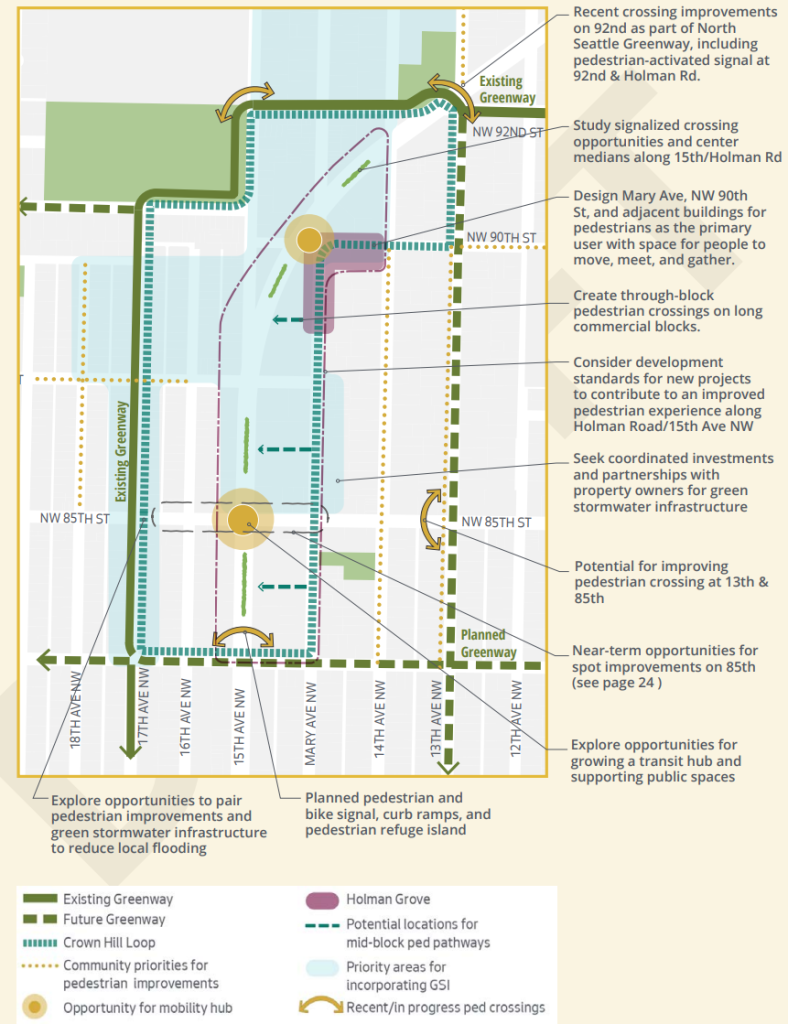 The priority is further segmented into three strategies of pedestrian connectivity, pedestrian experience, and transit stop experience. Most fleshed out is the pedestrian connectivity, which discusses east-west pedestrian connections around Holdman Road and north-south connections across NW 85th Street, through-block pedestrian connections on long blocks, traffic calming, and more comfortable street design. Like the rest of the potential actions listed in this plan, next steps for both the community and city are included, and potential program support and funding sources are mentioned. For example, east-west connections across Holman Street could be funded by the Pedestrian Master Plan implementation funds, Neighborhood Greenways, the Department of Neighborhood's "Your Voice, Your Choice" program, and the Neighborhood Street Fund program.
To create more pleasant and engaging walking experiences, the plan discusses potential land use regulations to require comfortable and active pedestrian spaces along 15th Avenue NW. At 15th Avenue NW and Holman Road, the idea of landscaped medians is also considered. Transit spot experience improvement action items include spot improvements for safety and transit service efficiency and improvements for waiting and transfer experience. Less developed ideas for transit stop improvements include plazas and open space at frequent transit stops, space for bike-share services, public art, vending, and other activation.
A distinct neighborhood and great places
Emphasis on pedestrian improvement proposals also make an appearance in the top priority of the action plan, which is to cultivate a "a distinct neighborhood with great destinations & public realm." Central to this priority is strategy number one which aims to grow a walkable mixed-use neighborhood center at NW 90th Street and NW Mary Avenue. Potential actions in this plan could complete a pedestrian loop around the denser development in the neighborhood.
The loop would have community gathering spaces around it, such as Holman Grove at NW 90th Street and Mary Avenue NE, once an underutilized space that has since seen street festivals, street painting, and a garden. Continued activation of the Holman Grove and expansion of the concept are core to two of the actions in this strategy. To implement the loop, which only has its northern and western portions already completed as a result of the Ballard and North Seattle Greenways, the plan suggests pedestrianization of NW 90th Street and Mary Avenue NE with Festival Street designation, commercial uses, and community gathering spaces. The Crown Hill loop would eventually be realized with future Greenway construction on NW 83rd Street and 13th Avenue NW.
The remaining two strategies would further establish a sense of community understanding for the urban village with establishment of an identity and inviting open spaces. Identity enhancement actions include the placemaking of neighborhood gateways with signage or art, and the adornment of important corners/nodes in the urban village with distinctive architecture, public art, and streetscape improvements. Actions for inviting open space include land use tool development for green and open space increases, and activation of dead spaces like parking lots with programming, art, markers, or murals.
Connected community
The third priority also focuses on keeping community, with connection, health, and engagement top of mind. The Crown Hill Village Association, Holman Grove Street Festivals, Crown Hill Market, and small commercial space requirements are held up as early successes for Crown Hill's community development. Strategies here revolve around small businesses, tree canopy and green infrastructure, multi-cultural opportunities, family-friendliness, public art, and community capacity.
Standout possibilities in this include pop-up markets and a housing measure. I find local pop-up markets and vendors to be the most exciting proposal in this priority, as these pop-ups can electrify an underutilized space and bring more variety to the neighborhood. This could include continuing and expanding the Crown Hill Market. One potential concern is the encouragement of accessory dwelling units (ADUs) within the urban village. Stuck into the family-friendly strategy, building more low-density housing would just further lock in an artificially depressed housing supply in a neighbor well served by transit. The Crown Hill Urban Village already has an abnormally high amount of low-density zoning for a urban village. ADUs would help preserve that perverse legacy.
Next steps
Walkability and community identity have been locked in as the theme of the Crown Hill Urban Village action plan. If fully implemented, a highly walkable neighborhood could emerge in North Seattle. A final plan should be on track to be released later this month. Implementation would come next, as the OPCD is in the latter portions of the project's timeline. If you'd like to learn more about the project, visit the project website. The story map is especially informative. If you have feedback for the OPCD, they may be still taking comments at CrownHillPlan@seattle.gov.
Shaun Kuo is a junior editor at The Urbanist and a recent graduate from the UW's Jackson School. He is a Seattle native that has lived in Wallingford, Northgate, and Lake Forest Park. He enjoys exploring the city by bus and foot.