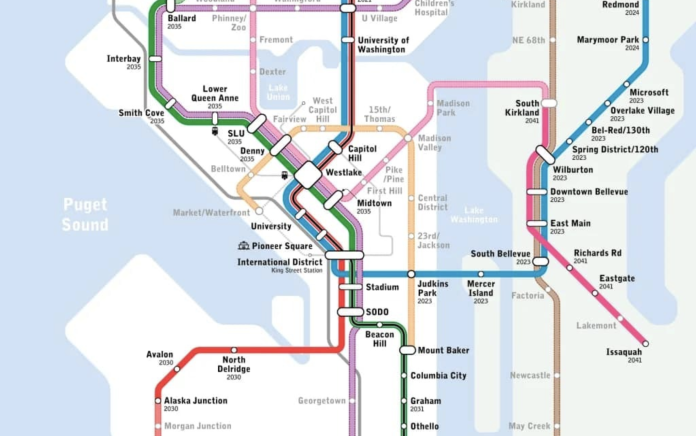 This week's Traspo Notes highlights: hearing on an additive Sound Transit funding bill, cats and dogs can ride the King County Water Taxi, the state transportation department has a new mobility plan, Seattle café streets are poised for an extension, and Via to Transit expands in Renton.
Additive Sound Transit bill gets a hearing today
This afternoon, an additive to fund transit expansions and service in Sound Transit's service area will have a hearing. The bill is sponsored by Senator Jamie Pedersen (D-43rd District) and co-sponsored by Senator Marko Liias (D-21st District), who is also Chair of the Senate Transportation Committee, and Senator Brad Hawkins (R-12th District). The bill is Senator Pedersen's answer to a more limited Seattle-only bill backed by Representative David Hackney (D-11th District).
If adopted, the bill would allow smaller areas within the Sound Transit service area to form special zones capable of levying an extra motor vehicle excise tax (up to 1.5%) and a commercial parking tax to fund projects. Seattle Subway worked with Senator Pedersen to craft the bill ahead the legislative session and hopes to see it win approval.
Seattle Subway's new Executive Director, Efrain Hudnell, was optimistic about what the bill could achieve in the region with transit expansions and service. "It's no secret that Seattle Subway has been pushing for an 'ST4' for awhile now; SB 5528 might just be the mechanism to help us get there," he said. "This legislation allows for cities, unincorporated portions of counties, and any contiguous combinations thereof, to vote as an 'enhanced service zone' to fund enhancements beyond what ST3 provides. This means Seattle could vote to fund more light rail lines, Tacoma and North Pierce County could increase Sounder frequency, all while Bothell, Kirkland, and Everett vote to increase express bus service." Hudnell added, "We see this bill as potentially providing the tailor made transportation solutions needed to solve our universal need to reduce carbon emissions, increase housing inventory through density, and promote equity by not requiring car ownership to participate in our region's economic system."
However, Pierce County Councilmember Derek Young, a prominent local Democratic Party legislator, has expressed opposition to the legislation in a series of brash tweets. "Seattle wants to push every working class person to the outskirts of the region with bad land use and then abandon their transit needs," he wrote. "Just absolutely rancid environmental and social justice policy." His philosophy seemed to hinge on the idea that there needs to be regional equity in investments, which might otherwise be parsed out into fewer areas under the enhanced service zones authorized by the legislation. He recently blasted the Puget Sound Regional Council over federal relief funding allocations for local transit agencies over similar equity critiques.
A hearing on the bill happens in the Senate Transportation Committee at 4:00pm. The public can register to speak, or provide written testimony or a general position electronically.
Cats and dogs can ride the King County Water Taxi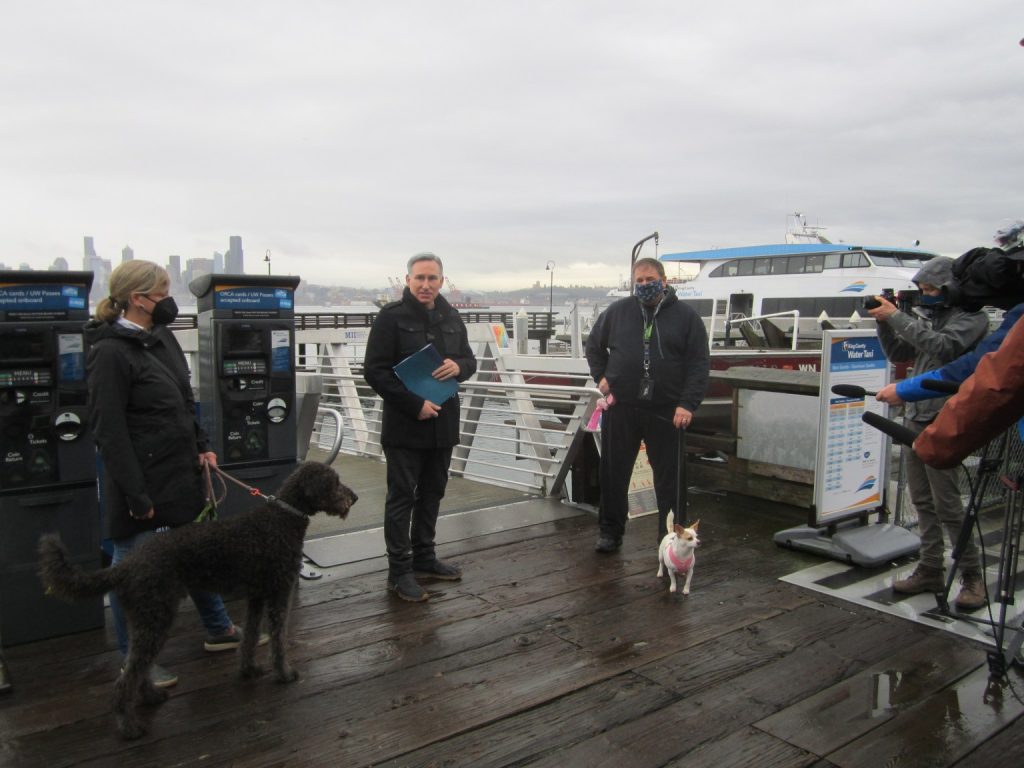 On Wednesday, King County Executive Constantine announced a new "pets ahoy" policy on the King County Water Taxi. Cats and dogs can now ride along with their pet parents.
King County Executive Dow Constantine shared the good news in West Seattle at the Seacrest Ferry Dock, flanked by two dogs, Juneau and KC Metro. "With fast service and amazing views, the only thing missing from the Water Taxi was our furry friends. Now we're welcoming well-behaved cats, dogs, and humans to come aboard and cross Elliot Bay," he said. "The Water Taxi remains a vital connection to downtown Seattle, especially now while the repairs to the West Seattle Bridge are still underway. Whether you're on a bus or the Water Taxi, heading to the off-leash park or the veterinarian, King County Metro is ready to get pet parents and their floofs wherever they need to go."
According to the formal policy, cats and dogs are treated a little differently. "Cats must ride in an enclosed, ventilated pet carrier within reach of a passenger who accepts responsibility for them throughout the trip," the policy reads. Whereas "well behaved dogs" are allowed a little more freedom if they are "leashed when on the exterior aft decks of the vessel (they must be under direct control of a passenger who assumes responsibility) [and] crated when in any passenger space on the vessel (they must be in an enclosed, ventilated pet carrier within reach of a passenger who accepts responsibility)." Pet parents are also reminded to be responsible and clean up after their pets while on vessels.
The policy provides a broad exemption for any service animal dog assisting a passenger with a disability. In such cases, they may be permitted in the cabin to carry out their services to the passenger. Other pets are not covered under the policy.
WSDOT unveils draft Human Services Transportation Plan
Also on Wednesday, the Washington State Department of Transportation (WSDOT) announced the opening of their draft statewide Human Services Transportation Plan to public feedback. The plan "identifies gaps and barriers that create mobility challenges for people with special transportation needs and develops strategies to address those issues," according to WSDOT. The plan is intended to guide local and regional planning in the state and inform the kind of human services transportation need.
Over the past three years, WSDOT has worked with a broad group of social services providers, tribal governments, and transportation experts to develop the draft plan. In broad strokes, the online open house outlines four general objectives embodied in the plan, including how it:
"Identifies unmet needs or barriers to using human services transportation."
"Develops strategies to address the unmet needs of people with special transportation needs."
"Highlights innovations and emerging trends that are shaping the future of human services transportation."
"Informs coordinated human services transportation plans across the state."
The draft plan is open to public comment through March 7th.
Seattle's café street program poised to be extended
On Tuesday, Seattle Councilmember Dan Strauss (District 6) announced that he had introduced legislation designed to extend free permits for café streets and outdoor dining through January 31, 2023. The program is currently set to end on May 31st barring any legislative changes. Under the terms of the free pilot program, restaurants and retail businesses can use street space for outdoor dining and retail displays.
"Last year I took action to create a pathway to permanency for café streets after hearing from many small businesses about the program's success," said Councilmember Strauss in a statement. "The pandemic has prompted us to use our outdoor spaces in new ways, and the addition of café streets across Seattle adds vibrancy to our neighborhoods while saving so many small businesses."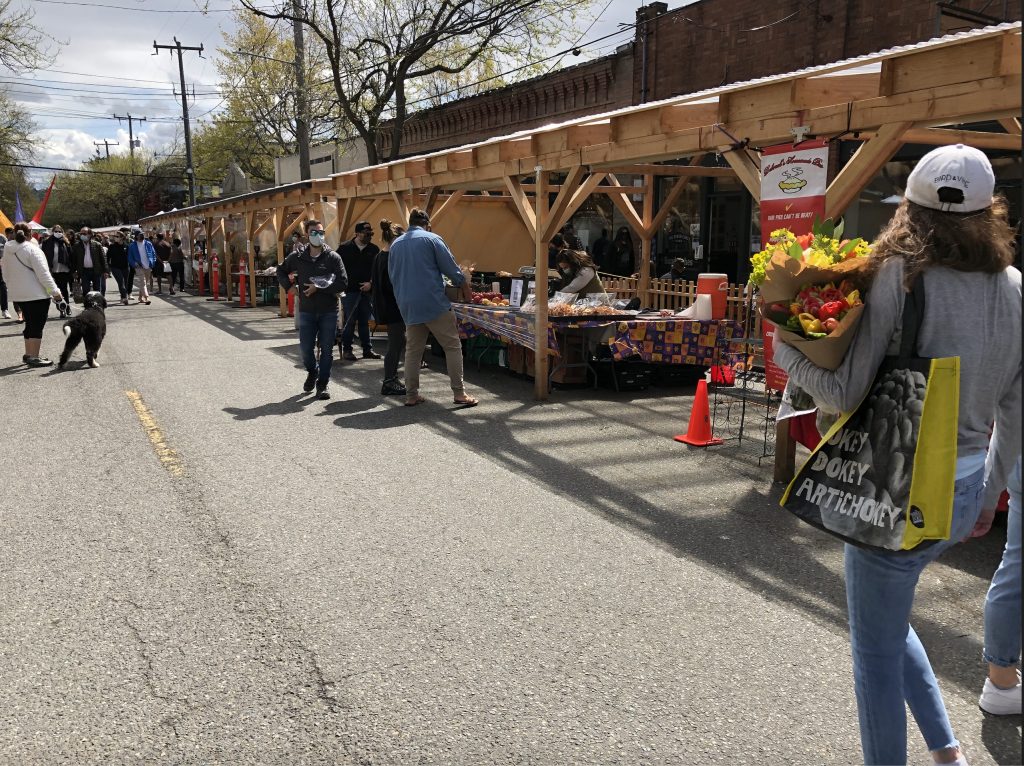 Councilmember Strauss represents areas of Northwest Seattle, including Ballard where café streets have been especially robust. On Ballard Avenue, large segments of the street now feature outdoor dining sheds that double as farmers market booths. Retailers have also been active in putting out special displays for clothes and goods.
The extended program will allow the City sufficient time to complete work on designing final regulations and guidelines for a permanent program. It will also support businesses as the pandemic persists. The legislation is expected to appear in committee on February 1st at 9:30am and could receive a final vote by the City City on February 8th.
Via to Transit expands hubs in Renton
On Monday, King County Metro announced an expansion of Via to Transit service in the Renton Highlands area. This comes on the heels of an expansion in August that first started service in the area. Four new "hubs" are served as part of the expansion and service hours have been added. This brings the total number of hubs served in Renton to eight.
Via to Transit requires that riders either start or end a trip at designated hubs within a service area as part of their journeys. With the service expansion, riders can now pick Hazen High School, Renton Landing, King County Public Health/Renton Technical College, and Whitman Court/Safeway as part of their trips.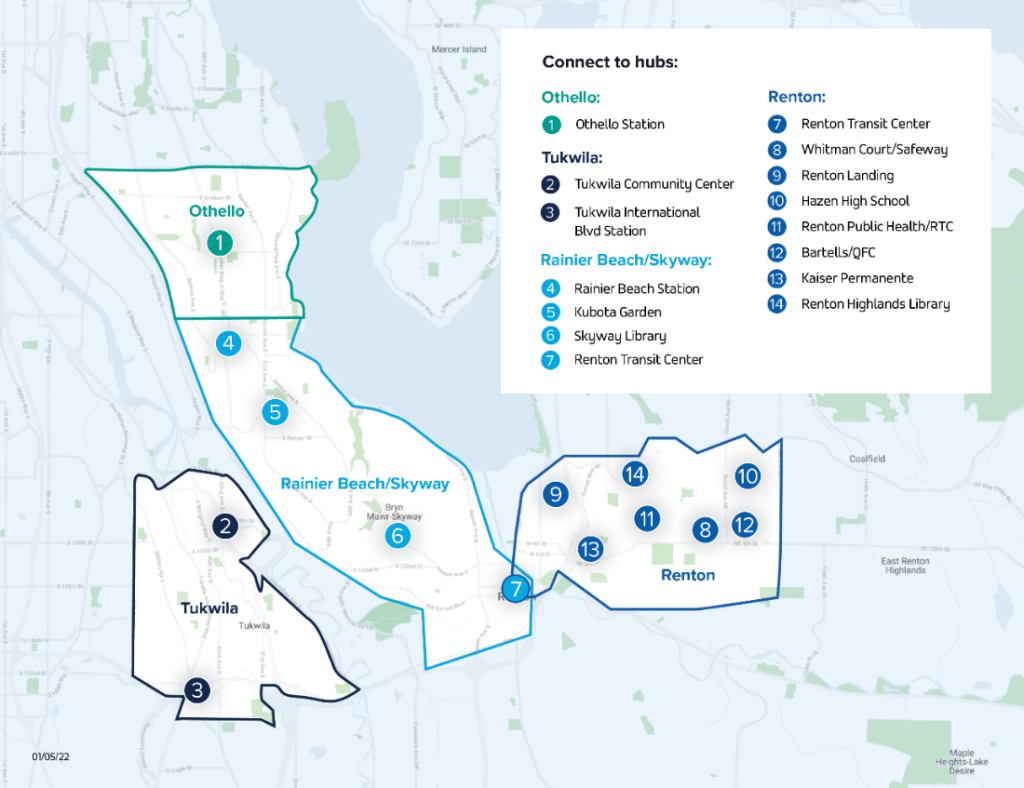 In addition, service hours now extend 5:00am to 1:00am on weekdays and Saturdays and 6:00am to 12:00am on Sundays. This is a big expansion of service hours, which were previously limited to only 8:00am to 6:00pm seven days a week.

Stephen is a professional urban planner in Puget Sound with a passion for sustainable, livable, and diverse cities. He is especially interested in how policies, regulations, and programs can promote positive outcomes for communities. With stints in great cities like Bellingham and Cork, Stephen currently lives in Seattle. He primarily covers land use and transportation issues and has been with The Urbanist since 2014.