This installment of housing notes contains mix of high and low notes, but we'll kick things off with story that hits the upper octaves. After years of hardwork, Africatown Community Land Trust and partner Community Roots Housing broke ground on their plaza project at 23rd and Spring in Seattle this past weekend. Africatown Plaza will bring 126 affordable homes to a rapidly growing corner of Seattle's Central District, along with office and retail spaces, as well as open plazas for community and resident use. The development also has ambitious plans to become a cultural destination showcasing pieces of art that exemplify "the spirit of Africatown Plaza — which is envisioned to be a space for healing, restoring, and celebrating Black and Pan-African communities in the Central District of Seattle."
The groundbreaking was filmed by Converge Media, whose Omari Salisbury interviewed Wyking Garrett, President and CEO of Africatown, about the event during Converge's February 7th episode of Morning Edition.
"It's not just about the Central District. You got to start somewhere so we started where we started, right, and preserve that legacy. But it's really about developing new models for Black community to thrive," Garret said. "So long our experience here in this country has been about surviving; getting in where we fit in, making a way out of no way, but what does it mean to design? With our unique experiences and ways of being in the center of what we build. You'll see that in the architecture. We were fortunate to bring together brilliant Black architects."
In his speech at the groundbreaking, King County Councilmember Girmay Zahilay said Africatown was a model to emulate that had inspired him in his work. "You love to see it," Zahilay repeated. "Today is about deepening our roots in the historic epicenter of Seattle's Black community." Seattle Mayor Bruce Harrell and other officials also attended and spoke at the event.
"I think this moment just signifies what's possible. When we have a thought, we come together around that thought and we take that and rally and push it forward to make it real. I think that's what it represents: possibility," Garrett said to Converge.
Africatown Plaza will be next to Lake Union's Midtown Center development which will soon offer 428 market-rate and affordable apartment homes centered on a plaza open to the public. Thirty percent of the units (138) will be affordable through the Multi-Family Tax Exemption Program for households earning $40,000 to $65,000 annually.
Midtown Center's retail clients will include a new incarnation of beloved hangout, The Neighborhood Lady, previously located across the street, Raised Doughnuts, which will be moving across 23rd Avenue into their new space, All the Best Pet Care, Jerk Shack, So Beautiful Salon, and Arté Noir, an arts center.
Washington State Department of Commerce to fund 1,500 affordable homes
The Washington State Department of Commerce announced on February 7th that it will provide $18.6 million in funding for 16 affordable housing projects. The 1,500 affordable homes created through these projects will be located across seven different counties and were selected from 40 applications.
"The communities receiving grant funds have already made affordable housing a priority with local tax levies. This program supports and helps accelerate that work at a time when affordable housing projects throughout the state are facing significant cost increases," said Lisa Brown, Commerce Director, in a press release.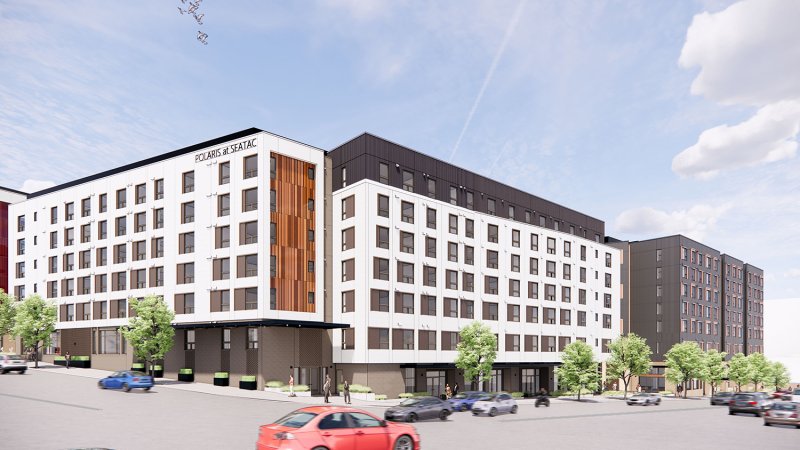 Examples of developments that will receive funding from the Department of Commerce include:
Eastgate Permanent Supportive Housing, a 95 unit development by Plymouth Housing and the first permanent supportive housing project to be built on the East Side;
Redondo Heights, a transit oriented development of 202 affordable homes with an onsite playground and food bank developed by Shelter Resources in Kent;
SeaTac Center Affordable Housing, bringing 365 affordable homes and a daycare to the Polaris development in SeaTac. One of the largest transit-oriented housing developments to be built in King County in recent years, Polaris offer a total of 585 homes and 27,000 square feet of new commercial space in the neighborhood near the Tukwila International Boulevard Link light rail station.
Built-to-rent single-family home industry booming
According to a study published by RentCafé, Seattle was among the top 20 U.S. metros with built-to-rent single-family housing rentals. RentCafé estimates there are just over 1,300 single-family homes located in rental only communities in the Seattle area. While that's a far cry from number one-ranked Phoenix, which has about 6,400 rental homes, it was still enough to rank Seattle 17th in the nation.
A confluence of factors, ranging from the lack of affordable housing for sale, to a desire for more space fueled by the Covid pandemic, has caused the built-to-rent single family housing industry to boom to previously unforeseen heights in the past year. Rentcafé has called it the "hottest trend in housing." An industry that creates rental housing marketed as "luxury" for renters whose desire single-family homes, but cannot afford to purchase them, to some, the built-to-rent industry feels like a cruel twist on the "American Dream" of the mid-20th century, spiked with a healthy dose of climate crisis denial.
Unsurprisingly, it's a suburban trend with about 84% of built-to-rent communities are located in the suburbs and 14% in urban areas nationally. The Seattle metro area closely follows this trend of most built-to-rent homes being located around the big cities. For example, Redmond and Puyallup emerged as some of the top suburbs where renters can find what some in the industry call "horizontal apartments." About 560 single-family rental homes are located these two suburbs alone, while another 210 houses are located in built-to-rent communities in Tacoma.
A search of built-to-rent properties offered by American Homes 4 Rent in suburban Puget Sound cities like Puyallup, Spanaway, Arlington, and Enumclaw reveals prices ranging from $2,300 to $3,000 per month. Most of the rental houses in their portfolio are large, with some offering five bedrooms.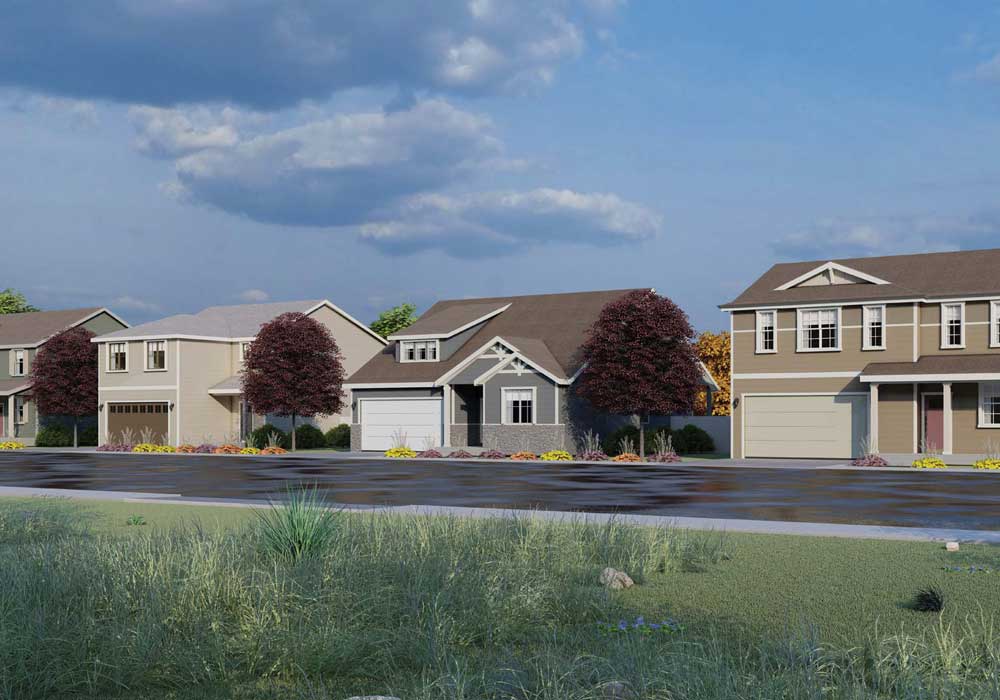 A "living" office building designed with pollinators in mind
It's not housing, but 570 Mercer is an office building in the works in Seattle worthy of mention. Part of Seattle's Living Building pilot program, 570 Mercer, which will go for design review on February 16th, aims to achieve petal certification with a range of innovative environmental features, including onsite energy production, water conservation, environmentally safe construction materials, and space for beehives and pollinating plants on the roof. Attend the meeting and learn more about how the architects are designing with sustainability in mind.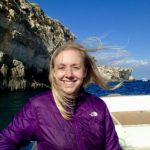 Natalie Bicknell Argerious (she/her) is a reporter and podcast host at The Urbanist. She previously served as managing editor. A passionate urban explorer since childhood, she loves learning how to make cities more inclusive, vibrant, and environmentally resilient. You can often find her wandering around Seattle's Central District and Capitol Hill with her dogs and cat. Email her at natalie [at] theurbanist [dot] org.