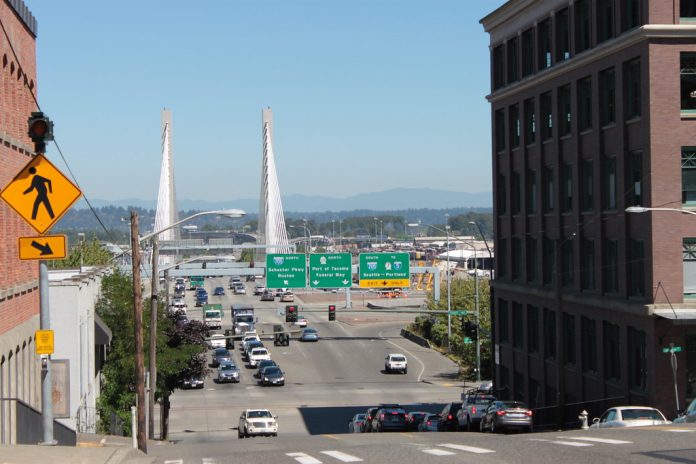 In 2020, the Tacoma City Council passed a resolution that committed the City to creating a Vision Zero initiative to eliminate traffic deaths and serious injury collisions by 2035. Now it is in the process of developing an action plan to be presented to the City Council for approval this coming summer. As part of that work, the City has created a Vision Zero survey available online in six languages: English, Russian, Khmer, Vietnamese, Spanish, and Korean. The survey will be open to the public through March 4th.
The need to create safer streets for people who walk and roll in Tacoma is significant. According to data from the Washington Department of Transportation (WSDOT) between 2016 and 2020, out of approximately 3,400 reported collisions in Tacoma, almost 400 resulted in someone being killed or seriously injured. The City of Tacoma estimates that almost 80 people are killed or seriously injured in traffic crashes on its streets every year.
While the problem has long been serious in the city, Tacoma leadership was spurred into action for reform after a driver hit and injured two middle school youth on their way to school in 2015. Reporting at the time emphasized that the girls chose to cross the road because a driver in a right lane waved them forward, while, unbeknownst to them, another car sped forward in the left lane. "If you stop you should not wave on any children unless you are sure and confident no one is jetting out around you," said Annie Schneider, who assisted the girls at the scene, in an interview with KING 5 News. However, others noted it was clear that not only behavioral changes and awareness-raising would be enough to make Tacoma's streets safer.
The following year another Tacoma middle schooler was seriously injured while walking to her school bus stop by a suspected drunk driver. At that point the City had recognized the problem needed more attention and was in the midst of implementing a Safe Routes to School program to help children walk and roll safely to school. Street design and traffic speeds were also assessed as contributing to unsafe road conditions, leading the City pursue a Vision Zero initiative.
As part of that work, Tacoma is conducting a speed reduction study in which drivers are encouraged to maintain speeds of 20 miles per hour or less on residential streets. The City is also exploring funding options that would help make the residential street speed reduction permanent. For arterial streets in neighborhood business districts, the City is in the midst of an engineering study around reducing speed limits to 25 miles per hour. It is also investigating what traffic calming solutions like speed humps and round-a-bouts may be needed to slow down traffic in certain areas. Tacoma has 15 neighborhood business districts that would be impacted by the change.
By pursuing city-wide speed reductions, Tacoma is following in the example of Seattle, where speed limits have been reduced to 20 miles per hour on residential streets and 25 miles per hour on many arterials. According to a 2020 speed limit case study shared by the Seattle Department of Transportation (SDOT), the changes have helped to both reduce traffic speeds and decrease traffic crashes in areas where case studies were undertaken. The agency found that after implementation of the new speed reduction policy the number of crashes decreased by 22% and the number of drivers speeding at over 40 miles per hour decreased by about 54% in the case study areas.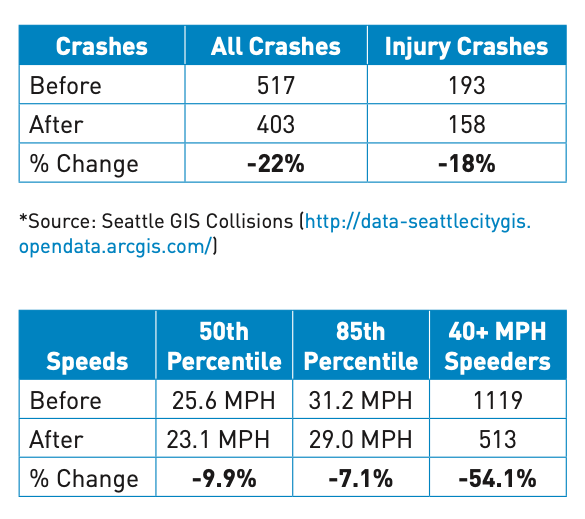 Unfortunately, as Ryan Packer reported for The Urbanist, the entire city of Seattle, and Washington State as a whole, has seen a rise in traffic deaths and serious injuries in the last couple years. In an effort to stem the tide, Seattle has turned its efforts toward improvements in high crash corridors, such as adding leading pedestrian intervals to signals and hardened center lines. In the 400-some intersections where SDOT has added leading pedestrian intervals, the agency estimates that traffic deaths have been reduced by 35%.
For its Vision Zero plans, Tacoma is planning to rely on a similar mix of street design changes, updates to traffic laws and policies, and installation of traffic cameras in key locations. Vision Zero data will be shared with the public using a program-tracking dashboard that will help to evaluate program effectiveness.
Currently Seattle is the only city in the state to have authorization to use cameras for automatic traffic enforcement outside of school zones as part of a pilot program focused on transit lane blocking and intersection and crosswalk blocking. Legislators are currently considering bills allowing for traffic cameras to be installed more widely in school zones and extending the Seattle automated enforcement pilot. Both bills, SB 5687 and SB 5705 passed the Senate and may advance to the floor for a full legislative vote before the end of the 2022 session. In Tacoma's Vision Zero survey, respondents are asked specifically to express their level of support for automated camera enforcement, with an option for those who oppose it to provide a more detailed response.
The survey also asks people who share how they travel around Tacoma, how safe they feel traveling in different transportation modes, and if their use of modes would change if they felt safer. The City also asks respondents to share if they or someone close to them have been involved in a serious crash in Tacoma, and it is actively seeking people who experienced a life-altering crash to share their personal stories.
As it moves ahead with its Vision Zero work, the Tacoma will also be evaluating crash data and equity indicators to help determine where it should prioritize investments. The amount of funding available will certainly impact how many projects are implemented. Currently, Tacoma plans to use grant funding from the federal Safe Streets and Roads for All program for its Vision Zero efforts.
So if you live or work in Tacoma and want to help the make the city's streets safer, make sure to complete the survey on the City's Vision Zero website before March 4th.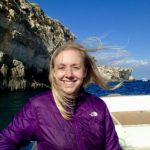 Natalie Bicknell Argerious (she/her) is a freelance reporter and podcast host at The Urbanist. She previously served as managing editor. A passionate urban explorer since childhood, she loves learning how to make cities more inclusive, vibrant, and environmentally resilient. You can often find her wandering around Seattle's Central District and Capitol Hill with her dogs and cat. Email her at natalie [at] theurbanist [dot] org.