This week's Transpo Notes highlights include details on: Sound Transit's new ticket vending machines, the Green Lake Outer Loop project, transit service changes, Angle Lake Station transit-oriented development, and café street and outdoor dining permit extension in Seattle.
Sound Transit testing new ticket vending machines
New ticket vending machines are being installed at Link stations as part of ORCA testing. The ORCA system will be enhanced as part of next generation technology. New ticket vending machines will be located at SeaTac/Airport, Capitol Hill, University District, Roosevelt, and Northgate Stations as part of testing. They will only issue paper tickets during the 12-week testing period. Eventually, they'll be able to issue new ORCA cards and reload them with fare media. In the coming months, other fare machines and card reader kiosks will be replaced across the system to support the next generation of ORCA.
King County Metro plans to largely delay service improvements
In a report last month, King County Metro said that service improvements planned would largely be delayed. "The emergence of the Omicron variant in late 2021, however, has resulted in a change in Metro's service restoration planning," the report said. "In response to a decline in ridership, further delays in return-to-office plans by major local employers, and staffing shortages at Metro, Metro is now planning to delay continued service restoration."
Approximately 200,000 annual service hours remain suspended. Metro had intended to restore some of this during the March service change, but the agency is using its administrative authority to keep service levels where they're largely at — around 96% of scheduled weekday service was being operated in mid-February. The fall would be the next main opportunity for Metro to consider service restorations, but that could hinge heavily on sufficient staffing levels.
Nevertheless, Metro does intend to make some minor service adjustments this month by improving access to First Hill hospitals, providing connections too schools, enhancing nighttime service in Southeast and Central Seattle, and making minor trip additions funded by Seattle where staffing increases aren't required. Schedules will also be adjusted to support better operator working conditions and there will be stop adjustments at Renton Transit Center.
Green Lake Outer Loop project update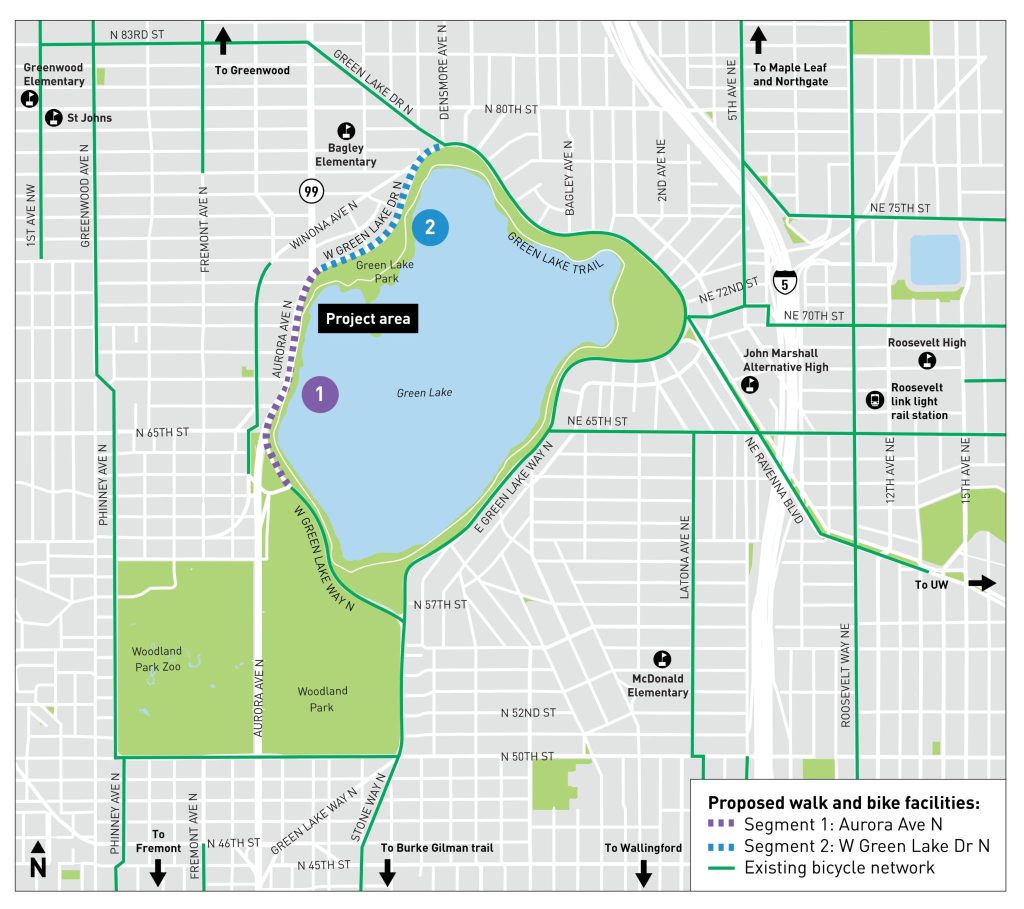 Last week, the Seattle Department of Transportation (SDOT) provided an update on the Green Lake Outer Loop project, which would deliver a safer space for folks to walk, run, and bike. The proposed design would achieve this by slightly adjust street configurations, including conversion of one northbound lane on Aurora Avenue N and West Green Lake Drive N. Conceptual renderings show that physical separation barriers between car lanes and walk/roll/bike lanes would be installed.
On Aurora Avenue N, Jersey-type barrier would be used to protect people walking, rolling, and biking while on West Green Lake Drive N low concrete barriers would be installed. That seems to be reflective of the kind of speeds, volumes, and size of vehicles would be traveling on the respective streets. Markings on the outer loop would indicate two directions of travel for people walking, rolling, and biking. The outer loop will neatly connect with other existing shared walk/roll/bike and bike lane assets that have recently been installed.
Construction of the 0.4-mile walking, rolling, and biking project along the west side of Green Lake could begin in the middle of this year.
Sound Transit March service change a mixed bag
Last week, Sound Transit issued a service change notice for later this month. Because transit providers are short staffed, the March service change will largely be a service reduction, but there won't be impacts to Link service and Sounder will even see some service restorations.
Service changes will shake out as follows beginning on March 19th:
| | |
| --- | --- |
| Service/Routes | Changes |
| Sounder N Line, Link 1 Line, and Link T Line | No changes. |
| Sounder S Line | Two trips in each direction will be restored, including Train 1501 (6:05am from Seattle), Train 1509 (3:15pm from Seattle), Train 1514 (7:20am from Tacoma), and Train 1522 (4:30pm from Tacoma). |
| 510, 511, 512, 532, 535, 545, 550 | Service frequency will be reduced, however, scheduled travel times will improve. For Route 512, late Sunday trips will be extended to Stadium Station (normal terminal is 4th Avenue/Jackson Street). For Route 550, a trip will be added after midnight seven days a week. |
| 513, 554 | Scheduled travel times will improve. |
| 522 | The stop at NE 65th Street/Oswego Place NE will be eliminated and trip times will be adjusted to improve transfers with the 1 Line. Scheduled travel times will also improve. |
| 566 | Service will be transferred to King County Metro with some minor trip adjustments. |
| 578 | There will be some minor trip adjustments. |
| 580 | The 6:37am trip from South Hill P&R will be eliminated. |
| 590 | All trips will be extended to S 10th Street/Commerce Street in Downtown Tacoma. |
Community Transit March service change strictly cutbacks
Community Transit has warned that its March service change will feature a service cuts as labor shortages plague the agency. Lower ridership is also blamed with Community Transit citing that ridership levels are 55% of pre-pandemic levels — although it's an odd thing to cite and a double-standard to discourse around roads.
"We are consistently focused on providing reliable service that meets community needs," said Community Transit CEO Ric Ilgenfritz in a statement. "These changes will ensure we are able to operate all service scheduled and provide the right level of service for the current level of ridership."
An Community Transit press release said that "the agency anticipates a continued steady, but slow growth in ridership" and "through surveys, many former riders have told the agency they will return to using transit when their employers call them back to the office." That return to office may begin this month as local employers, including major public sector employers like King County and Seattle, have said.
The list of affected bus routes is long, but the most notable changes are commuters routes to King Count and Swift Green Line. The 800 series routes that operate from Northgate Station (Routes 810, 821, 860, 871, and 880), aforementioned Community Transit-operated Sound Transit Routes 511 and 512, and Routes 412 and 435 will see cutbacks. The Green Line will also see frequency reductions from every 10 minutes to every 12 minutes on weekdays. Other affected services include Routes 112, 113, 119, 120, 130, 196, 402, 410, 412, 416, 417, 422, 425, 435, 510, 513, 532, and 535.
Sound Transit surpluses Angle Lake Station property for housing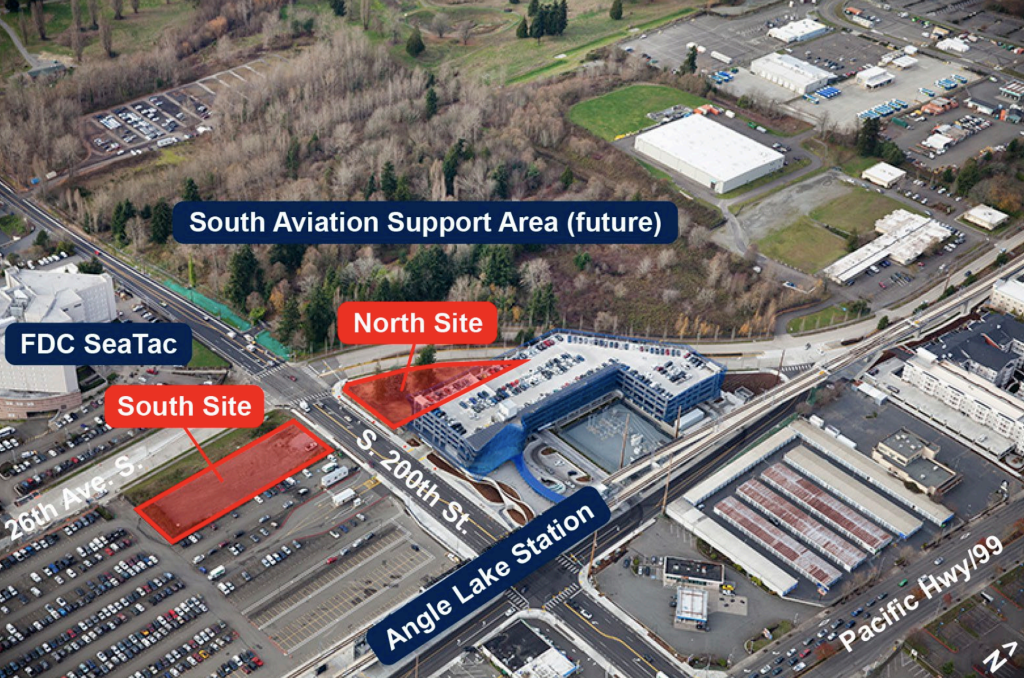 Last week, Sound Transit's board approved agreements with developers for two transit-oriented development projects at Angle Lake Station. Under the agreement terms, the developers would be required to deliver at least 315 homes but the projects could be as much as 380 homes.
Mercy Housing will build at least 85 homes as affordable with one-, two-, and three-bedroom apartments with ground floor commercial space. Over half of those homes will be family-sized and 20 homes would be set aside for residents with developmental or intellectual disabilities. South 200th Street Station, LLC conversely plans to construct at least 230 homes, but that could rise to as much as 280 homes. Affordable housing would be offered in 20% of the homes.
For the Mercy Housing project, Sound Transit has agreed to offer surplus station area property at a deeply discounted price, somewhere between $300,000 and $400,000. A market rate price will apply to the South 200th Street Station, LLC developer for surplus property, which is pegged at $1.95 million. Construction on the Mercy Housing project is expected late this year and the South 200th Street Station, LLC project could begin in 2024.
Café streets and outdoor dining permits extended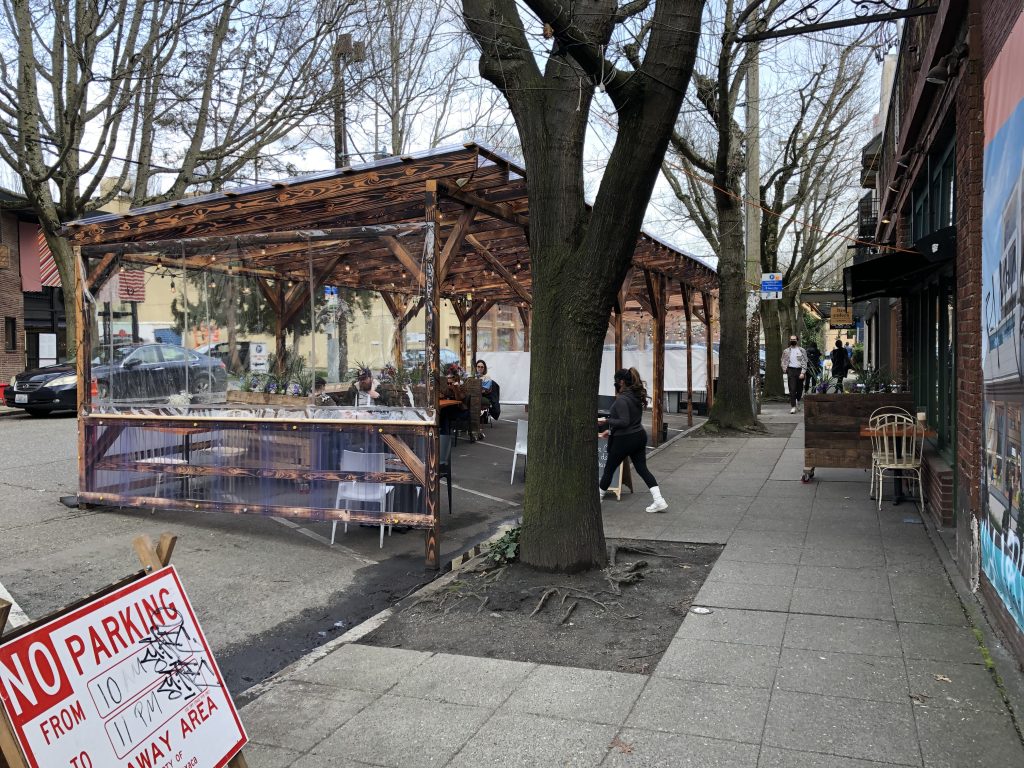 Popular café streets and outdoor dining will remain in Seattle for the foreseeable future. Legislation passed by the Seattle City Council will allow business owners to obtain free permits through January 31, 2023 for outdoor dining and retail displays on city streets, curbs, and sidewalks. The pilot program also allows for permits food trucks, vending carts, and community street closures. Permanent guidance and development of a permanent program is being developed.
Councilmember Dan Strauss has been a big supporter of the pilot program, including in his district which hosts exemplar café streets, particularly on Ballard Avenue. "This is another meaningful step along the pathway to permanence I created last year after hearing from many small businesses about the success of café streets," said Councilmember Strauss after passage of the legislation. "We will ensure that these free permits continue to be available until the City Council, Seattle Department of Transportation, and Mayor Harrell establish permanent guidelines that are right-sized and meet the needs of our city."

Stephen is a professional urban planner in Puget Sound with a passion for sustainable, livable, and diverse cities. He is especially interested in how policies, regulations, and programs can promote positive outcomes for communities. With stints in great cities like Bellingham and Cork, Stephen currently lives in Seattle. He primarily covers land use and transportation issues and has been with The Urbanist since 2014.