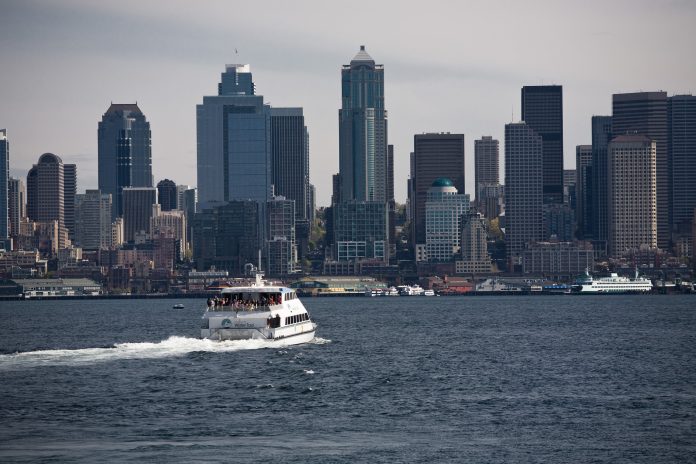 This week's Transpo Notes highlights include: repeal of King County's bike helmet law, return of cross-border Amtrak Cascades train service, preliminary report of King County Water Taxi expansion, Colman Dock construction progress, and Tacoma Link project woes.
King County bike helmet law repealed
On Thursday, the King County Board of Health decided to end the all-ages bike helmet law on an 8-1 vote. The full helmet law repeal ends enforcement of a law that has long been disproportionately implemented across the county by local policing agencies and discourages biking as a means of transportation through a gatekeeping barrier. An attempt to repeal the law in the fall had stalled out as opponents came out of the woodwork to block a policy change.
Prior to the vote, Seattle Councilmember Tammy Morales raised important points around bike safety and helmet. "According to the National Highway Traffic Safety Administration, the most common cause of bike accidents is getting hit by a car. So if our goal is to reduce brain injury from biking, we need to focus on street design that prioritizes the safety of people outside of cars instead fo the convenience of people inside them," she said. "I think what we all agree on is that this helmet racist enforcement of the law. I think we all agree that helmets are important and that there's a lot more work to make sure that people who bike to navigate their way around the city deserve protection."
Though the law has been repealed, the King County Board of Health also passed a resolution reiterating support for bike helmet use. It states four things:
"A. The board supports universal helmet use for all age riders in King County."
"B. The board members will support efforts that seek to expand availability of and lower barriers for individuals of all incomes to have access to helmets."
"C. The board commits to work with local community partners and jurisdictions to expand access to low- and no-cost helmets, provide education on helmet safety and support the improvement of community infrastructure to support safety for bicycle and other modes of active transportation."
"D. The board encourages all local jurisdictions to repeal existing helmet."
Despite the repeal, 17 communities in King County still maintain bike helmet laws on the books. These include Auburn, Bellevue, Black Diamond, Burien, Des Moines, Duvall, Enumclaw, Federal Way, Issaquah, Kent, Lake Forest Park, Maple Valley, North Bend, Pacific, Renton, SeaTac, and Snoqualmie.
Cascades train service to return to Vancouver, B.C. in spring
Last week, Amtrak Cascades announced that daily service between Seattle and Vancouver, British Columbia will be restored this spring. However, the agency has been quietly telling customers that service will only be once daily initially. That leaves communities between Seattle and Vancouver with very low passenger rail frequencies for the foreseeable future, particularly Everett and southward which had been dependent upon Cascades service for extra trips via Amtrak and Sound Transit's RailPlus program that allows free seats to be filled with ORCA pass riders.
Prior to the pandemic, two daily roundtrips were offered between Seattle and Vancouver, allowing for day trips along the corridor. In an email, Jill Matkin of the Washington State Department of Transportation (WSDOT) said that "we'll begin with one roundtrip and then add back the second as ridership returns." So when the second daily roundtrip returns is unclear for now, but the state rail plan eventually envisions up to four daily roundtrips on the corridor by 2040.
Service on the corridor has been suspended virtually since the beginning of the pandemic. Calls had repeatedly been made to restore service at least to Bellingham or Blaine, but Amtrak Cascades made veiled assertions for why scheduling such service was not possible. Ultimately though, the state transportation department hasn't prioritized train service during the pandemic and still hasn't fully restored Seattle-Portland service levels.
Right now, train crews are conducting re-qualification runs along the corridor to restore service. Since December, Amtrak has been operating contracted Thruway bus service on the corridor as a supplement.
Preliminary King County Water Taxi expansion report delivered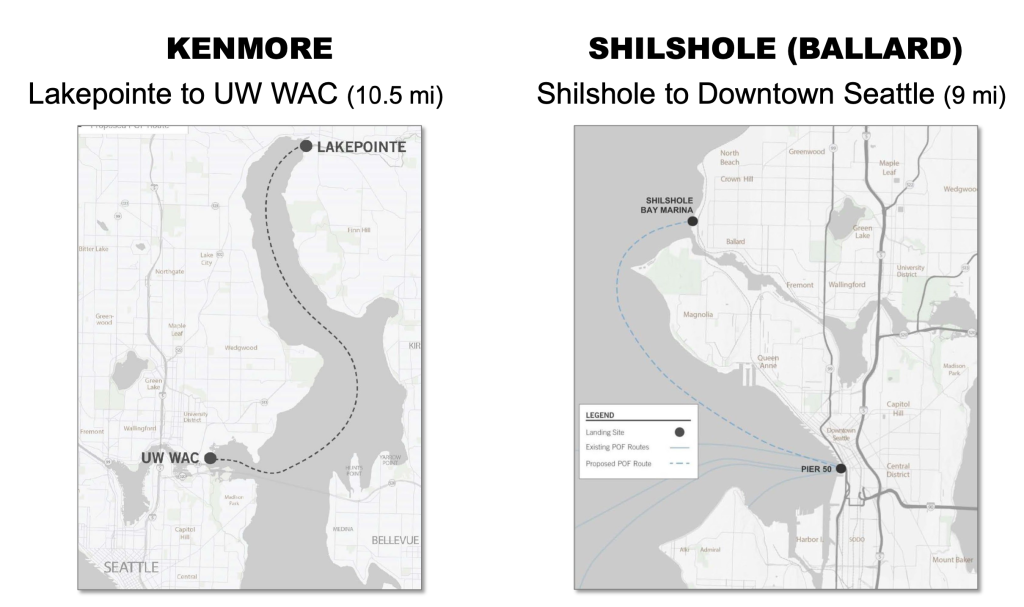 Earlier this week, King County Metro delivered a preliminary report on a requested study for new passenger-only ferry options. Two potential routes from Kenmore and Ballard are the focus of King County Water Taxi expansion. The agency believes that the routes would be time competitive with existing transit options.
The report suggests that the Kenmore-University of Washington route would net about 196,068 annual riders by 2025 and cost $661,913 to operate. Service would generally be peak-oriented on weekdays (four morning and three afternoon trips) with trips every to 40 to 60 minutes. In addition, service would come with extra special event and Saturday trips, and summer schedules would see boosted midday and weekend service. The route would require two vessels to operate on the 10.5-mile corridor. The landing sites are expected to be locate at Lakepointe (Kenmore) and Waterfront Activities Center (University of Washington).
Conversely, the report suggests that the Ballard-Downtown Seattle route would net about 195,000 annual riders by 2025 and cost $750,000 to $1 million to operate. Service would generally be peak-oriented on weekdays (the morning and three afternoon trips) with trips every to 60 minutes. In addition, service would come with extra Saturday trips, and summer schedules would see boosted midday and weekend service. The route would require one vessel to operate on the nine-mile corridor. The landing sites are expected to be locate at Shileshole Marina (Ballard) and Pier 48 (Downtown Seattle).
A final report is due at the end of June.
Colman Dock in Seattle sees continued progress
In an update on Wednesday, WSDOT said that the agency expects to open "the last two-thirds of the terminal building at Colman Dock this year." Work progressed markedly on the terminal redevelopment project with the main terminal building reaching an advanced completion stage and the entry building structure being full raised up with steel beams.
Fully opening the main terminal building will be a welcome feature for passengers with vast seating and viewing spaces. A temporary pedestrian bridge links the main terminal building to Alaskan Way, but when the project is fully complete an expansive pedestrian bridge and elevated plaza space will connect it to the entry building under construction.
However, WSDOT also warned that the regional concrete labor dispute is causing some impacts to the project. "Our contractor is resequencing work as best as possible, but we are beginning to see project delays due to the need for concrete," the agency said.
As the agency heads into spring, passengers may see some other changes as testing with new ORCA turnstiles is underway. This is affecting one of the Bremerton turnstiles and one passenger both through May 14th. ORCA is getting a new system. Additionally, the agency is hosting an online open house through March 3rd for design of a new walk-on passenger pedestrian bridge at the Bainbridge Ferry Terminal.
Tacoma Link hits construction snag delaying project
Last week, the Sound Transit System Expansion Committee was briefed on Tacoma Link expansion woes. Project costs are escalating due to unforeseen construction and delivery challenges (e.g., supply chain issues) and the estimated project completion is being pushed backward. The project is now expected to open in early 2023 and agency boardmembers are being to increase the project budget from $252.7 million to $282.7 million. Approval of those budget amendments could come next week.
For riders, the biggest concern is certainly when the Tacoma Link Hilltop Extension will open. That was supposed to be in May, but the construction contractor, Walsh Construction, has had poor performance while design changes have also bogged the project down. The streetcar vendor, Brookville Equipment Corporation, has also been slow on delivery of trains. The first of five cars is expected to be delivered next month and soon put into testing. More cars should be delivered over the next couple of months with the final one coming in June.
So far, construction of the extension has reached 91% completion. But the testing process and remaining work mean that revenue service is vaguely projected to start in the first quarter of 2023.

Stephen is a professional urban planner in Puget Sound with a passion for sustainable, livable, and diverse cities. He is especially interested in how policies, regulations, and programs can promote positive outcomes for communities. With stints in great cities like Bellingham and Cork, Stephen currently lives in Seattle. He primarily covers land use and transportation issues and has been with The Urbanist since 2014.