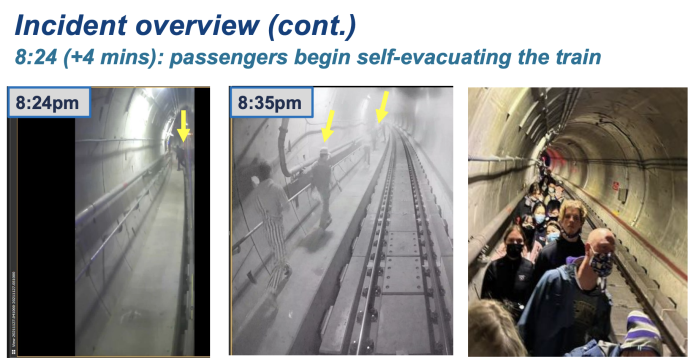 This week's Transpo Notes highlights include: SEA's new International Arrivals Facility, an advancing ST4 bill, a report on the post-Apple Cup Link meltdown, new Port Townsend-Kingston express bus, Kitsap Transit's electric fast ferry, and Pierce Transit seeks feedback on its bus rapid transit network.
SEA's International Arrivals Facility nearing opening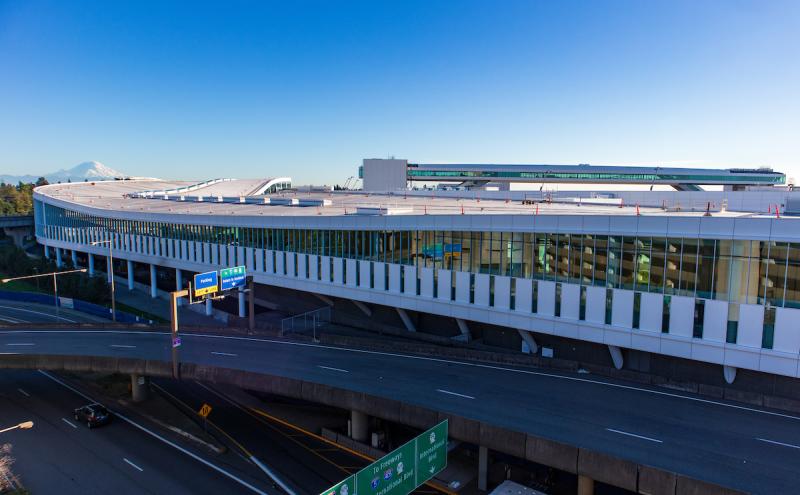 On Monday, the Port of Seattle announced that opening of the long-awaited International Arrivals Facility at Seattle-Tacoma International Airport (SEA) is nigh. Over the next few weeks, the port is carrying out final readiness testing of the expansive facility that includes a new grand hall for customs processing center and baggage facility as well as a special separate corridor from A Concourse gates and passenger bridge from S Concourse to the grand hall.
Readiness work is proofing and stress testing the facilities, such as the baggage, restroom, and waste facilities systems. Simulated passenger flows and inspections processing will also be put to the test. These facilities are expected to increase international gates from 12 to 20, allow international passenger processing to more than double to 2,600 people per hour, reduce international passenger connections from 90 minute to 75 minutes, and increase baggage claim carousels from four to seven.
"It is thrilling that we are on the cusp of launching a modern welcome to the world," said SEA Managing Director Lance Lyttle in a press statement. "The innovative design and passenger experience demonstrates our commitment to the future of international travel and to providing facilities that reflect the diversity of our region and our guests."
As part of the final readiness process, the Port of Seattle plans to have a soft launch of the facilities, starting first with a small number of morning flights at A Concourse gates. This will happen over multiple days. Eventually, the S Concourse's 85-foot tall passenger bridge will open, allowing passengers to be directly processed at the grand hall.
The public will get a first look at the facilities on Thursday, March 3rd. The Port of Seattle plans to provide an online reveal and celebration experience that day.
ST4 bill continues to advance in the Senate
A bill to provide additional funding for Sound Transit expansion projects remains very alive in the Washington State Senate. Earlier this week, the bill passed out of the Senate Transportation Committee, just before the cutoff to do so, with a mixture of technical amendments and just passed out of the Senate Rules Committee on Wednesday. That means the bill could get a vote at any time by the Senate, which if passed would head over to the House.
While the Senate Transportation Committee did make amendments to the bill, it substantively similar to the original bill version that would allow cities and towns within the Sound Transit taxing district to have "enhanced service zones." Such zones are able to raise special taxes to pay for certain types of system improvements, which are defined as enhancements to existing voter-approved projects (such as allowing earlier delivery, improving design, future-proofing for expansion, increasing service levels, and adding interim bus service), building new rail lines that have not already been voter-approved, and conducting planning for future high-capacity transit expansion.
Such zones must cover at least the full extent of a municipality and may cover multiple cities, towns, and unincorporated areas to form a larger enhanced service zone to encourage coordination and delivery of projects. In addition, the bill allows layering of enhanced service zones, which means Seattle could have its own standalone zone and be part of a King County-wide zone. To establish these zones, communities would need to coordinate with Sound Transit to develop a project list and revenue funding mix and then get the agency to put a ballot measure to vote by the public authorizing the projects and funding streams. Only a simple majority is needed to pass such a measure. Revenue options include an annual 1.5% motor vehicle excise tax and a commercial parking tax with no statutory rate limit. Additionally, the legislation would specifically require light rail and similar rail fixed guideway systems to be constructed entirely grade-separated in Seattle.
A similar bill sponsored by Rep. David Hackney (D-11th Legislative District) is technically still alive in the House Rules Committee, but it appears that the Senate bill has a much better chance of moving forward.
Sound Transit's post-Apple Cup meltdown debrief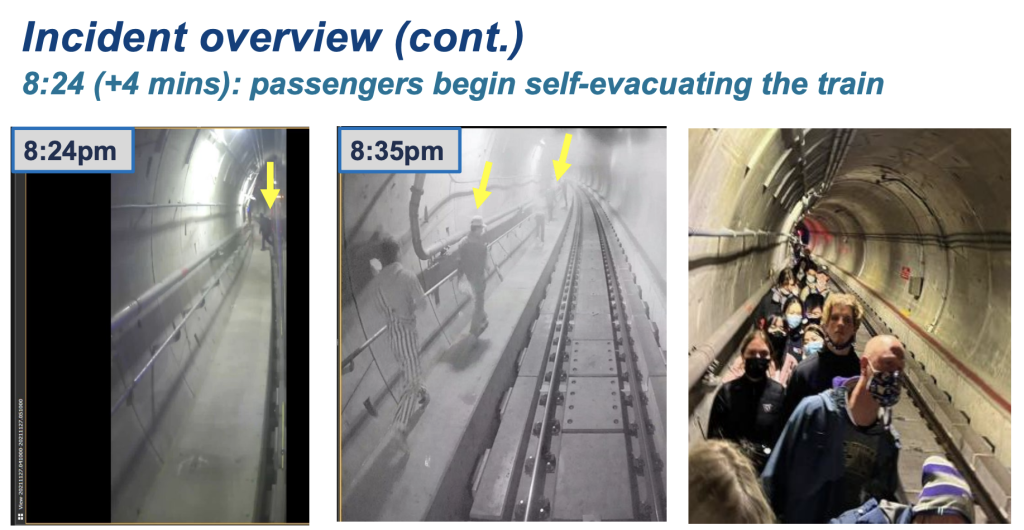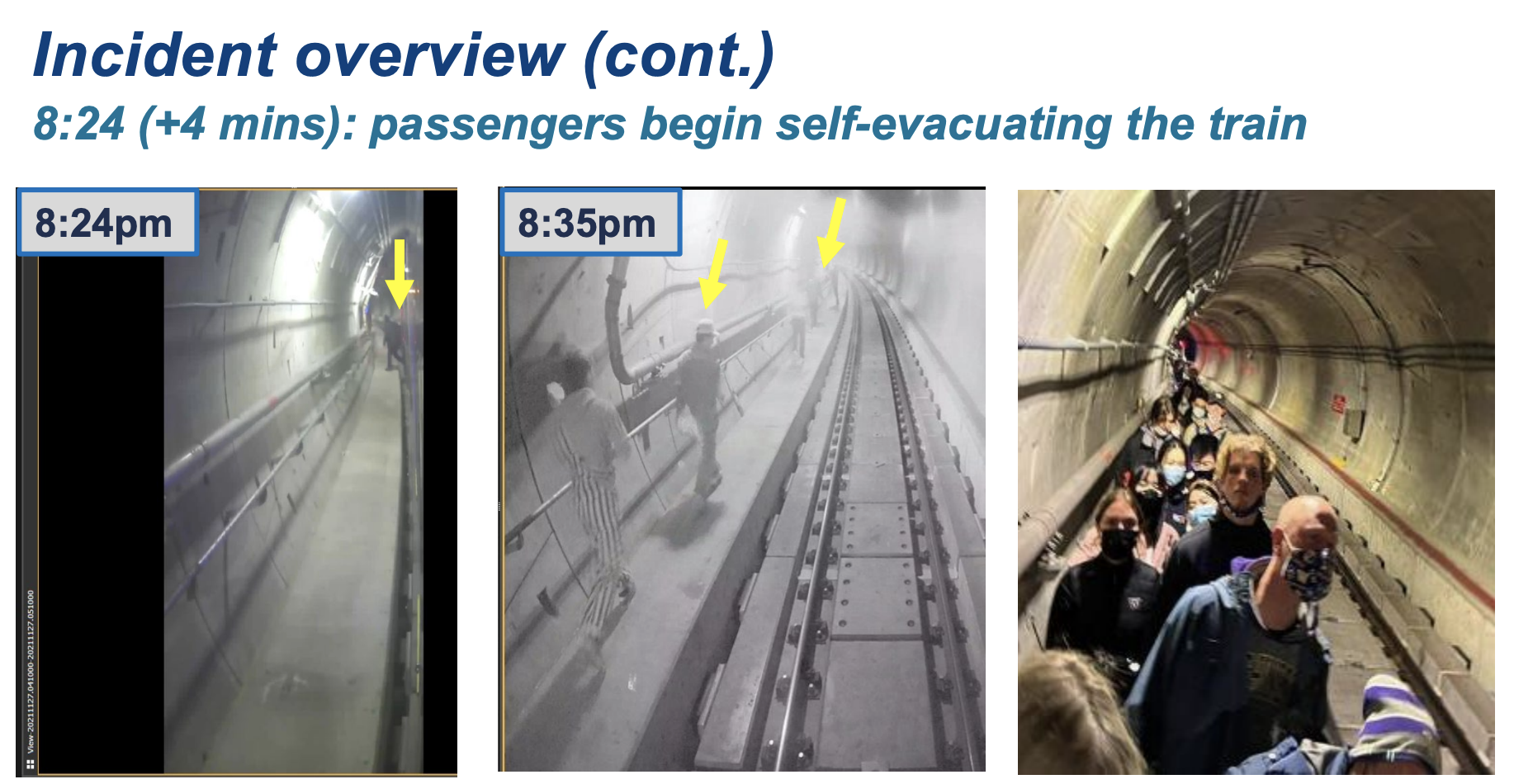 On Wednesday, Sound Transit released its assessment of the significant Link light rail on November 26th that shutdown service across the system. The agency blames the failure on several factors, but the principal one is the result of inadequate testing. Following the Apple Cup game, a new Series 2 train became disabled about 1,000 north of University of Washington Station in the northbound tunnel. As a result of the agency's inability to communicate over the intercoms, riders eventually decided to exit a stalled train to reach nearby station platforms on foot.
According to the assessment, the train abruptly came to a stop in the tunnel after it snagged a partially exposed rod between the rails, a consequence of the heavy weight from the packed train, which severed a cable that provides electronic capabilities throughout the train cars. While the train operator tried restart the train, the operator was unable to do so and was unable to speak over the intercom system.
Sound Transit reports that the contractor had failed to fully implement the construction drawings, which contained instructions to cut exposed rods — which exist in the tunnel to prevent electromagnetic interference with the University of Washington's research labs. Testing of trains had also failed to fully account for the weight trains during a peak event like the Apple Cup — though the agency had filled trains with water packs to partially simulate weight affects. On top of this, the agency reported that King County Metro — which operates the trains — had begun to see damage to the bottom of trains and realized that rods were the culprit. Corrective work to shorten rods in the tunnel had begun prior to the Apple Cup, but it wasn't fully completed.
Adding to the problems of the evening, agency communications and staff protocols were ham-handed, leading to a chaotic series of events. Because of this, Sound Transit and Metro are updating staffing strategies, improving training, and supporting better alerts. In a few months' time, the agency will also roll out a new passenger information management system, which will offer better communications to riders via intercoms and electronic signs.
A presentation made to the Sound Transit board of directors provides a fairly detailed summary account of the incident.
Jefferson Transit launching Port Townsend-Kingston express bus route
Starting on Tuesday, February 22nd, Jefferson Transit will begin running a new express bus service (Route 14) between Port Townsend and Kingston. This will provide a direct connection to Kingston's ferry terminal and town center. The route starts at a park-and-ride near Port Townsend's city center and will have two primary stops in between Port Townsend and Kingston. Service is initially planned to operate Monday through Saturday with one morning and one afternoon trip in each direction. Through March 31st, Jefferson Transit won't charge fares and will offer a free transfer to the Kingston Fast Ferry. After that point, regular adult fares will be $8.00 and reduced fares will be $6.00.
Kitsap Transit electric fast ferry
In late January, Kitsap Transit announced that the agency's Bremerton-Seattle fast ferry route had been selected for a fully electric vessel. "The selection of the Bremerton route means that the vessel will be designed to complete a full round trip through Rich Passage on a single battery charge," the agency tweeted. Concept designs show a modern hydrofoil-style boat with quality seating for riders and indoor bike storage, but a final design has yet to be worked out with partners. The route selection does allow the agency to move forward in seeking grant funding for the project. Research for battery technology and shore-power charging systems will be key issues to be addressed as well as keeping wakes minimized. The agency expects that the Bremerton dock would be the principal charging site.
Pierce Transit wants feedback on bus rapid transit expansion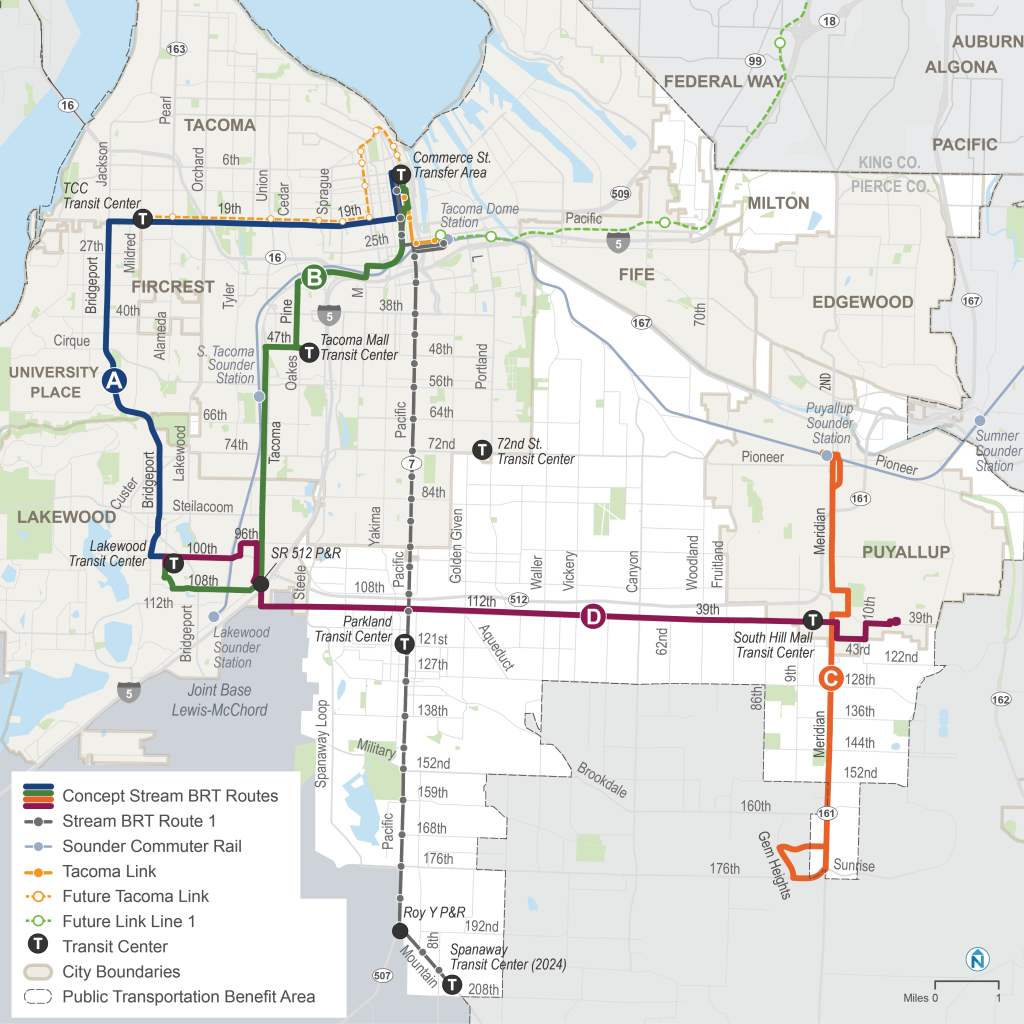 Pierce Transit has grand plans to expand its bus rapid transit network over the next two decades. Four additional lines could be commissioned and essentially replacing four existing bus routes: Corridor A (existing Route 2), Corridor B (existing Route 3), Corridor C (a segment of existing Route 402 from Pierce County Airport to Downtown Puyallup), and Corridor D (existing Route 4). Pierce Transit is branding the service as Stream and plans to launch its very first line in 2024 between Spanaway and Downtown Tacoma largely along SR-7, replacing Route 1. However, for the next expansions, the agency wants feedback on what community members see as access challenges to the lines, safety issues, important destinations, congestion and chokepoints, and key connections. An interactive map online is open for feedback.

Stephen is a professional urban planner in Puget Sound with a passion for sustainable, livable, and diverse cities. He is especially interested in how policies, regulations, and programs can promote positive outcomes for communities. With stints in great cities like Bellingham and Cork, Stephen currently lives in Seattle. He primarily covers land use and transportation issues and has been with The Urbanist since 2014.