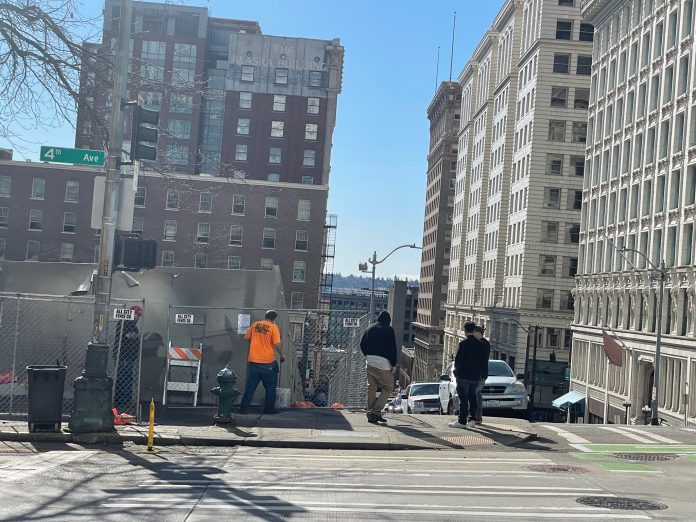 On Wednesday morning, the Seattle Police Department cleared the sidewalks opposite City Hall of homeless encampments, giving the 16 remaining campers two-hour notice. The surprise sweep ended a two-and-a-half-week standoff with advocates and mutual aid volunteers of the Stop The Sweeps coalition who successfully blocked an earlier attempt to remove the encampments by hosting a rally at the site.
The Mayor's office said the sweep was intended to restore use of sidewalks, but workers soon put up fencing that blocked sidewalks on the Civic Square block just west of City Hall.
By evening, the fencing was pulled back which made most of the sidewalk usable again. Jamie Housen, spokesperson for Mayor Bruce Harrell, said construction will soon commence at a highrise that has long planned for the block — but also long delayed. Bosa Development is building a 58-story tower with 422 high-end condominiums at the site, which used to be the Public Safety Building before the City demolished it in 2005, citing its disrepair. They will also add a public plaza as part of a deal with the City.
"The fencing on the western side of 4th Ave between James St and Cherry St is associated with private construction which is scheduled to begin in the near future," Housen said in an email. "The fence was initially placed in a way that blocked sidewalk access, but that has been corrected and moved back so that there is room for people to get by."
The construction could intermittently obstruct the sidewalk once more, but that kind of obstruction is generally more tolerated by the City. For now, displaced campers have moved to other parts of Downtown; seven were referred to shelter, but that doesn't necessarily mean they accepted that referral and were successfully sheltered, as PubliCola's Erica Barnett noted in her report on the sweep.
"Within an hour, most of the tents that have lined Fourth Avenue for months had disappeared into dump trucks, and only a few unsheltered people remained on site," Barnett wrote. "Many appeared to have moved around the corner or down the street to locations outside the police tape, which was still being patrolled by dozens of officers."
The City's policy is to provide 48 hours notice for encampment removals, but recent mayors have noted a number of exemptions to that rule, including camps that obstruct sidewalks or "present public health or safety risks that prevent pedestrians and vehicles from safely using the sidewalk or other rights of way." This made the speedy notice justified, the Mayor has argued.
Regional Homelessness Authority disagreed with sweep
Harrell has promised 2,000 units of emergency housing in his first year in office, and has yet to post an update on how many units have been completed toward that goal so far. The Mayor and Councilmember Andrew Lewis (District 7) did recently announce a plan to stand up ten sanctioned encampments outside the downtown core with space for 600 people. The hope is that homeless people removed from Downtown can settle in these sanctioned encampments until sufficient permanent housing is created.
Seattle continues to have a severe shortage of rental assistance, shelter space, and permanent supportive housing to successfully exit people out of shelters, which creates multiple chokepoints in the system. Meanwhile, Harrell lifted the city's pandemic-triggered eviction moratorium at the end of February.
Those pandemic pressures and the shortage of shelter space and supportive housing has led some advocates to question whether the City's shelter referrals during removals are credible and also of the low-barrier variety that can meet the needs of long-term campers, who may have pets, partners, substance use, or mental health needs that disqualify them from some shelters and nonprofit housing units.
A spokeswoman for the King County Regional Homelessness Authority (KCRHA) told PubliCola, "We didn't know about [the sweep] and we don't support it." The City and KCRHA share the goal of reducing homelessness to functional zero in Downtown Seattle, but KCRHA has stressed building trust and lines of communication with unhoused people rather than antagonizing them with short-notice sweeps.
Homeless campers and mutual aid volunteers had been expecting the 4th Avenue removal eventually, and the short notice may have been intended to prevent another demonstration aiming at thwarting the sweep. Over the past month, the City and its partners did conduct outreach seeking to get campers to voluntarily leave the area and accept a referral to shelter, the Mayor's office said.
"In recent weeks, the HOPE Team, a City of Seattle program within the Human Services Department that coordinates homelessness outreach and referrals to shelter, and outreach providers have been intensifying outreach to 4th Ave between James St. and Columbia St. to connect those residing onsite with offers of shelter and connections to services," House said. "Some individuals receiving referrals were provided Uber rides to the shelter they were referred to. These outreach efforts resulted in at least 22 referrals to 24/7 enhanced shelter and tiny houses since February 17."
Harrell's sense of urgency on removals
At a Tuesday press conference in Ballard, Mayor Harrell said he would ultimately remove encampments from 4th Avenue when pressed by KOMO reporter and Bitcoin enthusiast Jonathan Choe. However, Harrell declined to reveal his timeline and gave no indication it would be in less than 24 hours' time.
"And I've said this, no one wants a safer Seattle and sidewalks, sidewalks without obstructions, more than the mayor that they've elected," Harrell said at the press conference. "When I say you have a sense of urgency, that sense of urgency is little compared to mine. So you will see action and we will keep the lines open."
Still the Mayor made no apology for backing off that removal last month.
"We don't have a militarized approach. We're not trying to strongarm our way back to safety. We're trying to lead with compassion and love, so if I make an executive decision to stop, I'll make that decision," Harrell said. "If I make an executive decision to continue, I will make that decision. Those decisions rest on my shoulders, and I make them unashamedly. I want the city clean. I want it safe. More to come. I'm in it for the long game to rehabilitate Seattle."
The Mayor added his long-game strategy seeks to avoid chaos and anger by listening to one another. Via his spokesperson, the Mayor said the timing of the removal had nothing to do with Choe's pestering.
"The site has been on the list for resolution for weeks," Housen said. "The City, and specifically the mayor and Mayor's Office, receive media questions daily about when various encampments will be removed. That was certainly not the first time we've heard from Jonathan and his questions play absolutely no role in the removal schedule."
Though photographs show workers dumping tents and belongings into garbage trucks, the Mayor's office said five bins of storage were collected from individuals who requested storage services. "Seattle Parks and Recreation staff store personal items in accordance with City policy," Housen said. "People can retrieve their items by calling 206-459-9949 and the City will work with individuals to make arrangements to deliver items."
Civic Square tower construction imminent
Construction on Bosa's Civic Square tower could start any day now, as permits for excavation and shoring have been issued by the Seattle Department of Construction and Inspections, and construction permits appear to be close behind. A noise permit suggests large equipment will move onsite on March 26th.
"Bosa will pay a $5.7 million Mandatory Housing Affordability fee for the project, which includes mostly underground parking for 509 vehicles and about 23,000 square feet of retail, commercial and restaurant space," reported Brian Miller of the Daily Journal of Commerce. "As part of the city agreement, Bosa will construct a cascading 27,000-square-foot public plaza on the south side of the tower, leading to Third and its transit tunnel entrance."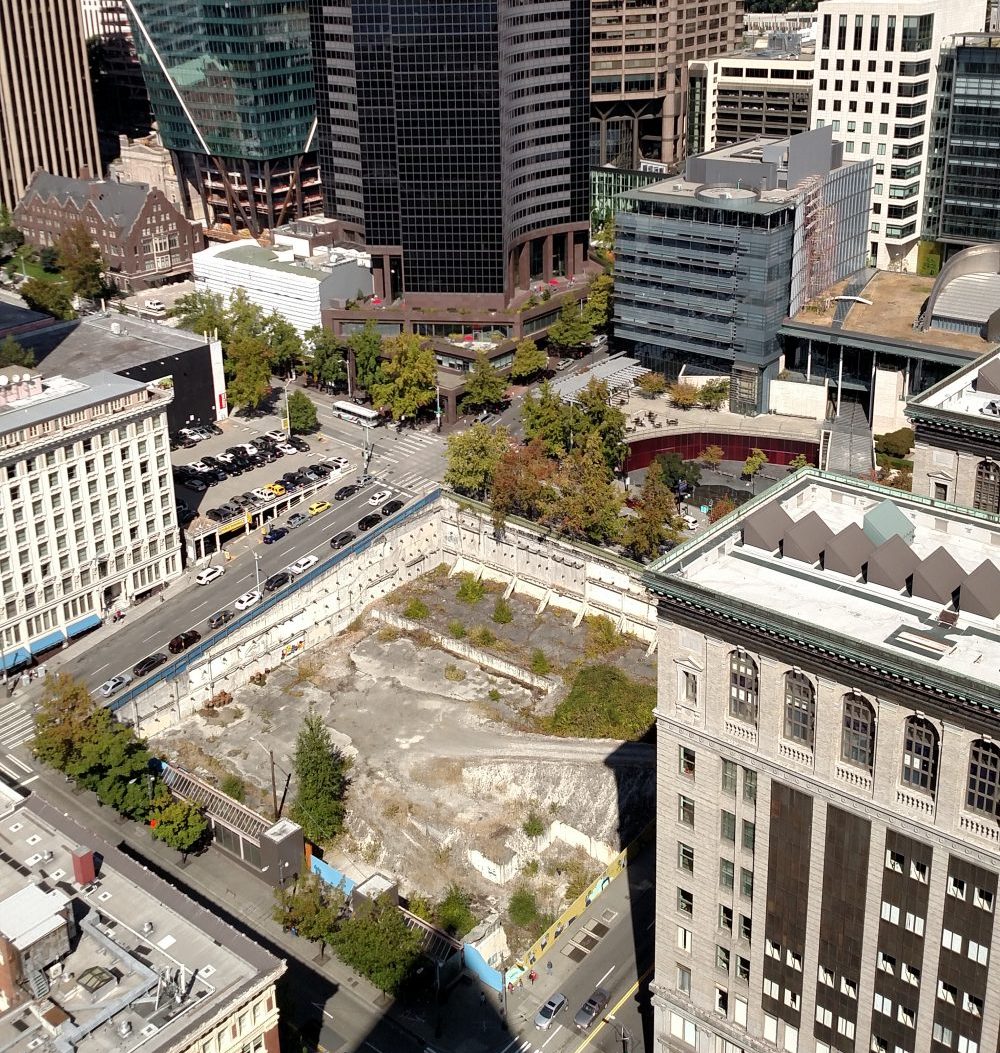 Highrise development continues to push farther south from Seattle's central business district and catered to Seattle new corporate elite, which is leading to tension with low-income folks who've long called Pioneer Square home (whether they have a roof over their heads or not) since its Skid Road days. Just across street from Civic Square, a Miami-based developer called Crescent Heights has proposed a 100-story residential tower at 4th and Columbia. The development could be Seattle's tallest building if it goes ahead, although permit activity has been scant and it's not clear that they have the financial backing to make it happen.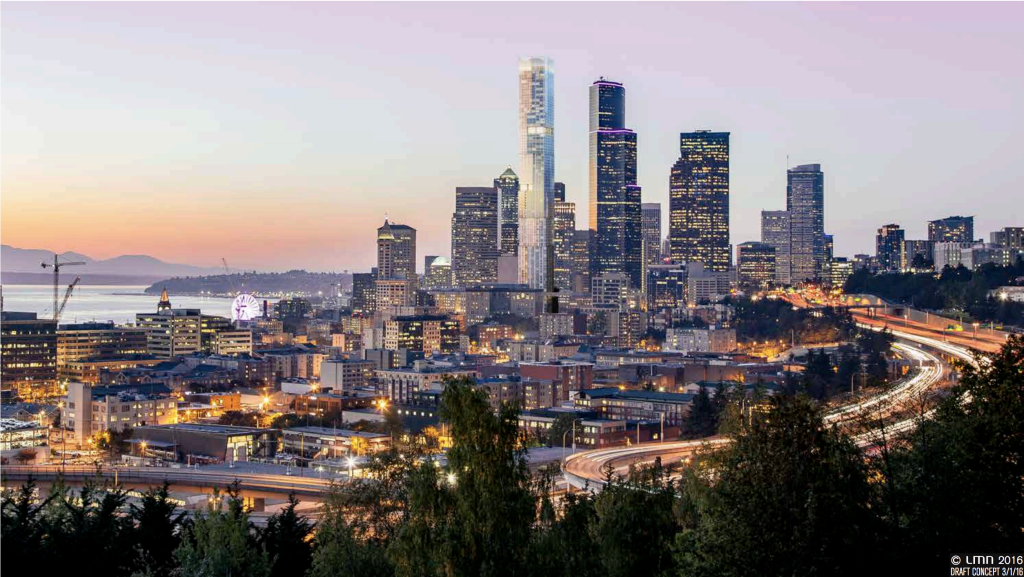 On the other hand, in December Crescent Heights did purchase Budget Parking Garage, a property adjoining their "4C" site for $21.5 million, suggesting they're still planning to build something — and perhaps something even larger than their earlier proposal. But the real estate industry may worry that homeless encampments could jeopardize their massive investments, which may be part of what's driving the mayor's urgency.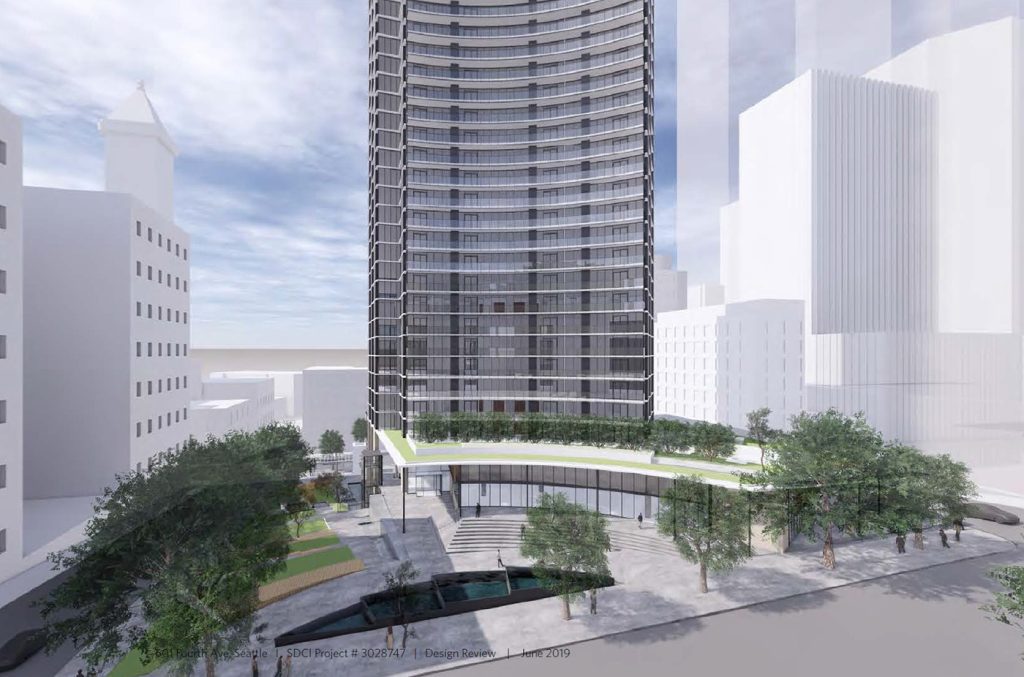 As for Civic Square, a 58-story project with many levels of underground parking will take multiple years to finish, but the public plaza and first floor retail and amenities will be a big improvement to the area, especially when compared to the empty pit that has consumed the site for 17 years.
Of course that public plaza could end up being the next battlefield between the Stop The Sweeps coalition and pro-sweeps forces if Seattle fails to alleviate its homelessness crisis before the space opens.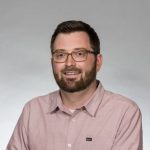 Doug Trumm is publisher of The Urbanist. An Urbanist writer since 2015, he dreams of pedestrianizing streets, blanketing the city in bus lanes, and unleashing a mass timber building spree to end the affordable housing shortage and avert our coming climate catastrophe. He graduated from the Evans School of Public Policy and Governance at the University of Washington in 2019. He lives in East Fremont and loves to explore the city on his bike.