This week's Transpo Notes roundup covers King County Metro's service change, Everett Link extension options, expansion of facilities at Seattle-Tacoma International Airport, additional federal funding for Sound Transit's I-405 Stride bus line, and Sound Transit's fare strategy process.
Metro spring service changes
While Community Transit and Sound Transit are reducing some services, King County Metro is planning to make some limited additions and a spate of other adjustments. There are also two service reductions, including on the South Lake Union Streetcar. Changes will shake out as follows:
| | |
| --- | --- |
| Routes | Changes |
| 5 and 12 | Several trips will be added on Saturdays. |
| 7, 14, 49, 105, 302/303, 342, and 907 | Minor service adjustments will be made. |
| 20 | On weekdays, Metro will add one northbound trip around 6:40pm. |
| 21 | One northbound trip will be added on Saturdays and several trips will be added on Sundays. |
| 48 | On weekdays, Metro will add one northbound trip at 3:35pm to support public schools. |
| 50 | On weekdays, Metro will add one trip at 7:24am to support public schools. |
| 60 | On weekends, one southbound trip will be added around 11:34pm. |
| 106 and 107 | On weekdays, several extra trips will be added to support public schools in afternoons. |
| 124 | On Saturdays, one northbound trip will be added arouond 5:50am. |
| 128 | On weekdays, Metro will add one southbound trip at 3:35pm to support public schools. |
| 269 | On weekdays, one extra trip will be added on mornings to support Eastlake High School. |
| 345 | On weekends, one northbound trip will be added around 11:05pm and one southbound trip will be added around 11:30pm. |
| 635 | Peak weekday service will be reduced from every 15 minutes to every 30 minutes. |
| South Lake Union Streetcar | On weekdays, service frequency will be reduced from every 10 minutes to every 12 minutes between the hours of 7:30am and 6:30pm. |
Service changes will start going into effect on Saturday, March 19th.
Technical analysis unveiled for Everett Link options
Options for Alderwood. (Credit: Sound Transit)

Options for Ash Way. (Credit: Sound Transit)

Options for Mariner. (Credit: Sound Transit)

Options for Airport Road. (Credit: Sound Transit)

Options for SW Everett Industrial Center. (Credit: Sound Transit)

Options for Evergreen. (Credit: Sound Transit)

Options for Everett Station. (Credit: Sound Transit)

Options for the operations and maintenance facility. (Credit: Sound Transit)
On Monday, Sound Transit released the initial results of technical analyses on station, route alignment, and operations and maintenance facility location alternatives. The results offer a window into Sound Transit's thinking on the alternatives as well as public feedback received on them last year. No alternatives have been taken off the table yet, but no new ones have been put on the table either.
The early scoping report does acknowledge that many comments received urged Sound Transit to drop the Paine Field deviation and instead straighten out the light rail line between Mariner and Downtown Everett, as proposed here at The Urbanist. However, the report didn't address that widespread call among community members and advocacy organizations in a meaningful way. Whether or not the alternatives will be retooled in the next phase of project development remains unclear, but feedback reiterating support for the Faster, Better Everett Link plan could be key.
From south to north, the agency's report summarizes the pros and cons of each station location and alignment as follows:
At West Alderwood, most commenters supported the ALD-D and ALD-F options. Both options would better suit transit-oriented development.
At Ash Way, most commenters supported the ASH-D and ASH-A options. The east-of-I-5 ASH-D option decisively provides the most opportunity for transit-oriented development but could have cost issues since it would require crossing I-5 twice. Meanwhile, ASH-A is the best west-of-I-5 option.
At Mariner, most commenters supported the MAR-A and MAR-D options. The two options differ quite significantly with MAR-D putting the station in a central area where transit-oriented development can flourish around it while MAR-A puts the station right on a surface highway and requires odd property acquisitions lowering transit-oriented development potential.
At SR 99/Airport Road, most commenters supported the AIR-A and AIR-B options. The options are real tradeoffs with slightly fast service on the straighter AIR-A and AIR-B alignments and better bus connections whereas AIR-C might offer unique transit-oriented development potential given the area's constraints. The AIR-A option also has the benefit of largely avoiding electric transmission lines over the AIR-B option.
At SW Everett Industrial Center, most commenters supported the SWI-C and SWI-A options. However, all options are generally terrible since the stations are in the middle of nowhere. Among a truly bad bunch, SWI-A is decisively the best since it at least puts a station near the existing Seaway Transit Center and multifamily housing. SWI-C fails to get even remotely close to Paine Field Airport — which even if it did would generate some of the most abysmal ridership levels in the Link system. Sound Transit also acknowledged that there is serious concern for low ridership at these stations and future prospects of Boeing remaining in the area.
At SR 526/Evergreen, most commenters supported the EGN-A and EGN-B options. Both options are fairly lackluster though EGN-B has better ridership and transit-oriented development potential. The real winner is EGN-D for ridership, bus connections, and transit-oriented development.
At Everett Station, most commenters supported the EVT-A and EVT-C options. Both are predictable leaders, but come with real drawbacks. The EVT-A option would put a station where the existing Everett Station facilities are, forcing people to transfer to mediocre bus service to reach the city center and points north. The EVT-C option clumsily tries to thread the station and alignment via alleys, but would require a lot of property acquisitions and preclude some key transit-oriented development (this option would only be wise if it ran down alleys only starting at 39th Street). A better option may be something like EVT-B but with the station on Pacific Avenue.
Additionally, the operations and maintenance facility options that ranked highest among commenters were at Airport Road/94th Street SW and Airport Road/100th Street SW. A location further south, however, may be more strategic if the extension needs to be broken up into more segments for earlier delivery.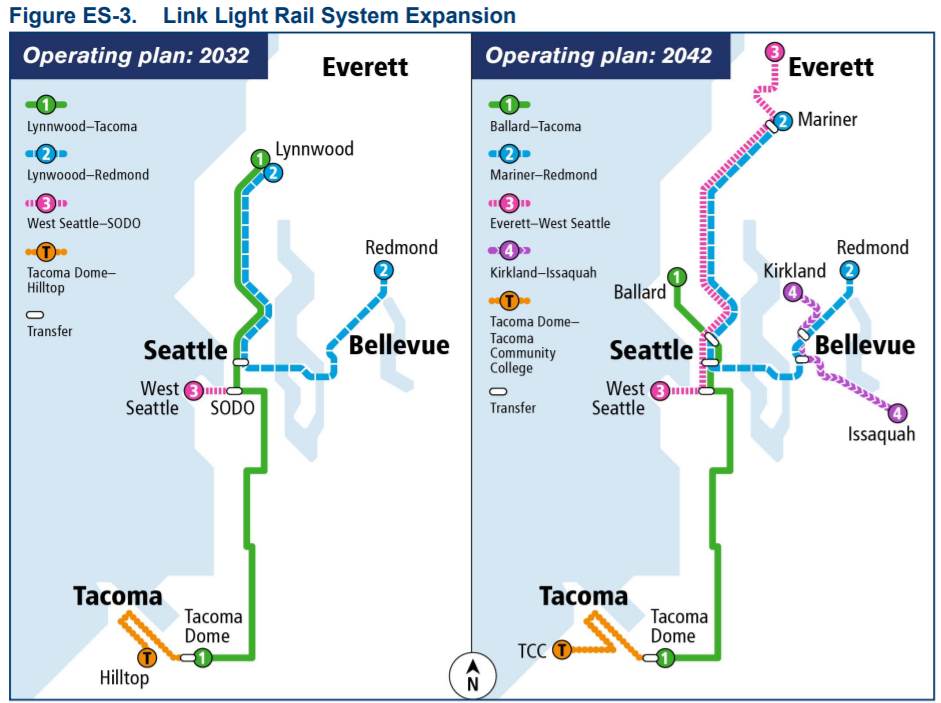 As of now, Sound Transit is planning to open the Everett Link extension by 2037 if $600 million in additional funding or savings are found for the project. Otherwise, the project will be delivered in two phases, opening to the Southwest Everett Industrial Center in 2037 and Everett Station in 2041.
Designs for SEA's expanded C Concourse revealed
The Port of Seattle has unveiled new renderings for its C Concourse expansion project at Seattle-Tacoma International Airport (SEA). Design work for the expansion plans has reached the 30% completion benchmark and features a new seating, retail, and dining area. The expansion will add four floors to the existing building and blend the C and D Concourses together only a stone's throw from the Central Terminal marketplace. A central feature of the expansion will be a grand staircase that functions as an ampitheater, which will offer space for people to sit, dine, people-watch, and enjoy live music. The Port wants this to be a welcoming gathering space that feels a lot like public markets.
The expansion will be quite significant with more than 145,000 square feet of new dining and retail space as well as other public amenities. Alaska Airlines will also get a new lounge with more than 20,000 square feet of space. Design-wise, the expansion is planned to feature a lot of airy, woody spaces, reflective of the Pacific Northwest's forests.
The Port has hired Miller Hull and Woods Bagot to design the project with an eye toward sustainability. The Port hopes that rooftop solar panels will meet 15% of the expansion's energy demands and that a spate of other design strategies will reduce waste, energy, and water consumption.
So far, $340 million has been allocated for the project, but it could reach as much as $500 million according to estimates. Construction on the expansion is expected to start in 2023 and could wrap up within four years, allowing for an opening by mid-2027.
Stride S1 Line secures additional federal funding
Earlier this week, Sound Transit announced that the agency had secured $15.9 million in additional federal funding for its I-405 Stride projects. The funding will be directed to construction for the Stride S1 Line, which will run from Burien to Bellevue. Federal grants will specifically support bus purchases and construction of bus stations at South Renton Transit Center and Tukwila International Boulevard.
The federal funding is coming in two parts: $12.9 million secured as a competitive Federal Transit Administration grant and a $3 million earmark in the FY 2022 Omnibus Appropriations Bill. The agency praised Senators Patty Murray and Maria Cantwell who were instrumental in obtaining the grants.
"Stride will offer faster, more reliable commutes to thousands of riders every day on new dedicated lines spanning the east, north and south sides of Lake Washington," Sound Transit Board Chair Kent Keel said in a statement. "This funding for building the Stride S1 line on south I-405 will help us give our residents relief to chronic congestion. I want to thank the Biden Administration, Senators Murray and Cantwell, and the rest of the congressional delegation for their partnership and support."
The S1 Line is expected to open in 2026, offering a high quality and frequent bus connection in South King County.
Sound Transit begins fare changes discussions
On Thursday, Sound Transit boardmembers had their first fare strategy workshop to discuss potential system changes. The effort will span a large universe of fares, such as farebox recovery rates, new fares on the T Line and Stride, fare enforcement, and fare structures. Ultimately, these decisions will affect the kind of fare revenue that Sound Transit will take in over the next few decades, which currently are supposed to cover 6% of the agency financial plan (or $8.3 billion) through 2046.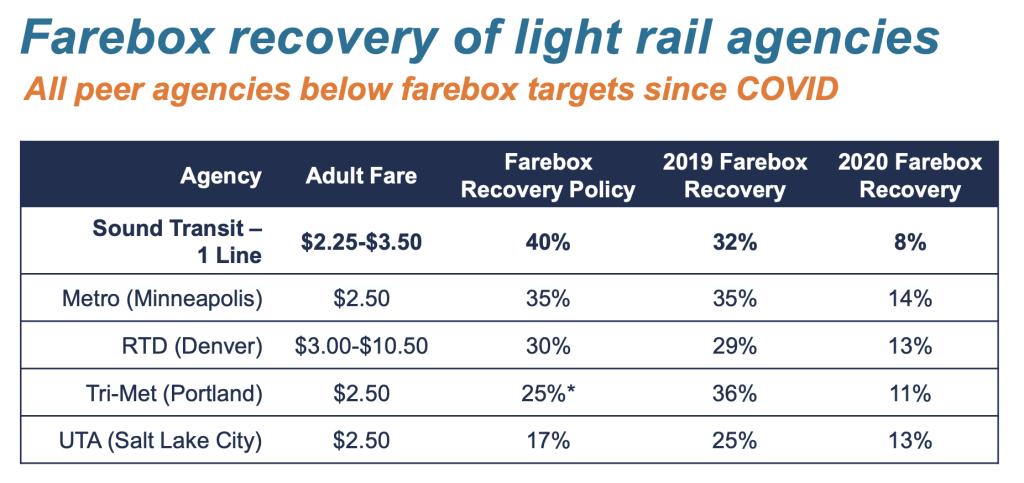 Farebox recovery on the 1 Line (Link light rail) reached 10% in 2021, which was better than 2020's 8%, but that's still a far cry from 2017's 40% farebox recovery rate — the agency's long-standing target for light rail. Agency officials don't expect to see that level of farebox recovery in the future for a variety of reasons, such as high levels of fare evasion (which the agency estimated at 42% in January), lower overall ridership compared to service levels, and higher operating costs. These factors have all worked against reaching target farebox recovery. Peer agencies have seen higher farebox recovery on light rail systems than Sound Transit, which the agency seemed to suggest was the result of having temporarily suspended fares and fare enforcement and its soft fare ambassador program. Sound Transit assumes that without changing fares, fare recovery on the 1 Line might only reach 18% by 2025.
King County Councilmember Dave Upthegrove asked about whether or not turnstiles could be installed in the light rail system. Sound Transit CEO Peter Rogoff said turnstiles would be expensive to implement but didn't have a specific number on cost. Turnstiles require space to line them up and more strategic locations for ticket vending machines. Turnstiles also require a lot more equipment and fencing to operate (think of the complexity of at-grade stations in the Rainier Valley). Rogoff said other strategies were much more cost effective to implement like the agency's current proof-of-payment (POP) system. POP is widely used across the country and found in major transit systems across the globe.
The Sound Transit board is expected to make a variety of fare-related decisions over the next 18 months. The most immediate ones will be around the fare compliance policies and program, T Line and Stride fare structure and farebox recovery rates, daily paid parking, Link fares (i.e., distance-based or flat fares and prices), and youth fares. All of this is ultimately important to ensuring that the agency's long-term financial plan is realistic and that the fare approach doesn't discourage ridership.

Stephen is a professional urban planner in Puget Sound with a passion for sustainable, livable, and diverse cities. He is especially interested in how policies, regulations, and programs can promote positive outcomes for communities. With stints in great cities like Bellingham and Cork, Stephen currently lives in Seattle. He primarily covers land use and transportation issues and has been with The Urbanist since 2014.