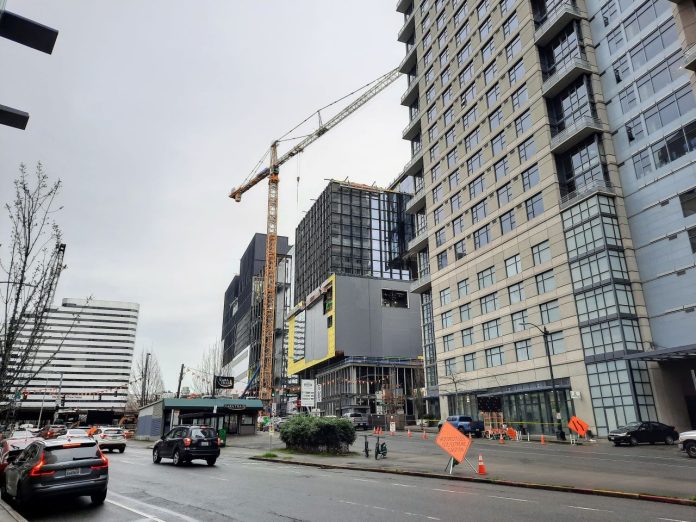 The theme was resurgence at the Downtown Seattle Association's annual State of Downtown event yesterday. With two years of pandemic suffering and emergency public health measures seemingly behind us, Seattle's economic leaders predicted Downtown would come roaring back. The annual economic report from the Downtown Seattle Association (DSA) backed that assertion up with statistics, as did keynote speaker Richard Florida, author of the Rise of the Creative Class, with economic theory and meditations from a national perspective.
"Provided they're strategic about it, dynamic cities bounce back, even after historic setbacks, and it's clear to me that the future of downtown Seattle is bright," Florida said.
A sold-out crowd of hundreds of the biggest movers and shakers in the city gathered at the Hyatt Regency megahotel to hear the program and hobnobbed before and afterward. Among them were dozens of local officials, including Councilmembers Sara Nelson and Andrew Lewis, as well as Tim Burgess, a former councilmember and current director of strategic initiatives for Mayor Bruce Harrell. Land use superattorney Jack McCollough and some of the city's biggest developers could be seen hatching new skyscraper plans or perhaps just catching up on small talk. A small army of servers kept gala-goers well stocked with mini tacos, fried rice, sliders, and an impressive array of beverage options to lubricate the return to large-scale in-person socializing.
Downtown Seattle seemed to be striving to get its swagger back. Like Stuart Smalley looking in the mirror saying "You're good enough, you're smart enough, and doggone it people like you," they appeared to steel themselves into a confident mindset. In his keynote, Florida noted Seattle is the number one destination for college graduates across the country, adding he'd now put Seattle in the top echelon of American cities with New York, Los Angeles, and Chicago.
In particular, Florida gave a nod to the $1.9 billion Washington State Convention Center Addition underway across the street as a construction project that would add to the city's vitality. Backers hope the added space will attract more and larger conferences (but they also said that last time the convention center was expanded — which failed to come to pass.)
Downtown rebound by the numbers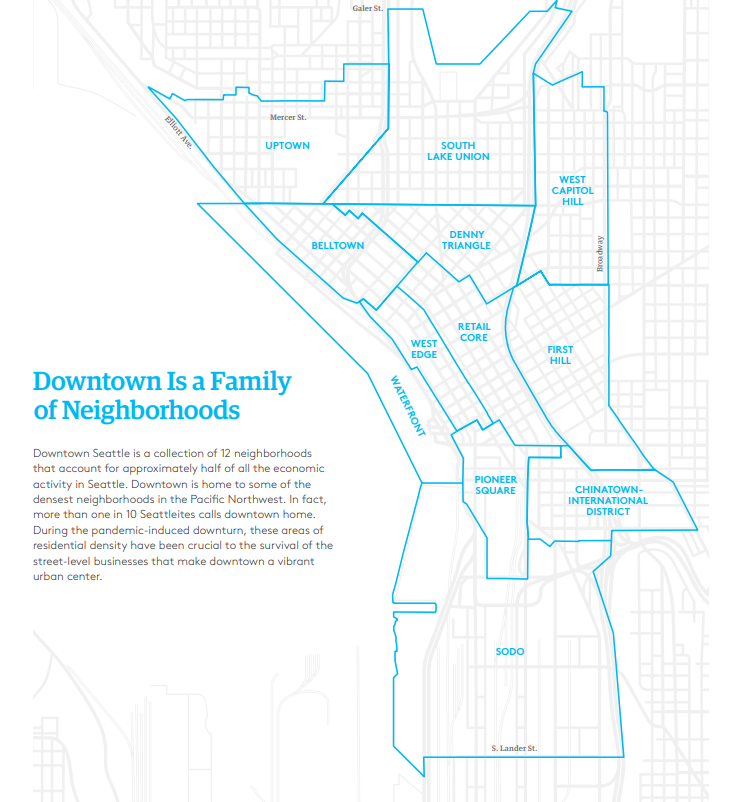 DSA's statistics suggest the rebound from pandemic lows is already happening. Downtown added 4,000 households last year, and had a record 52,976 occupied apartments in 2021, DSA reports, adding the following highlights:
98,000 residents now call Downtown Seattle home, a record high.
170 new street-level businesses opened in the last 12 months, including nearly 70 restaurants.
Nearly 2.5 million square feet of office space was completed in 2021.
323,000 jobs are located Downtown — 51% of Seattle's total jobs.
44 construction projects were in final planning or underway as of December 2021.
1,169 units of affordable housing are under construction Downtown.
Office worker foot traffic doubled in 2021 from 15% of pre-pandemic levels to nearly 30%.
Downtown had 8.3 million unique visitors in 2021, a strong improvement over 2020 that approaches three-quarters of 2019's visitor total.
Pike Place Market received more than 2.2 million visits in summer 2021, four times as many as in 2020.
On the flip side, Downtown office occupancy rates continues to be in the low 30% range with many employers still offering employees work from home options. The smaller office crowd continues to be a drag on street-level businesses, and Florida said he's like to see city double that number in six months, adding he believes the goal is attainable.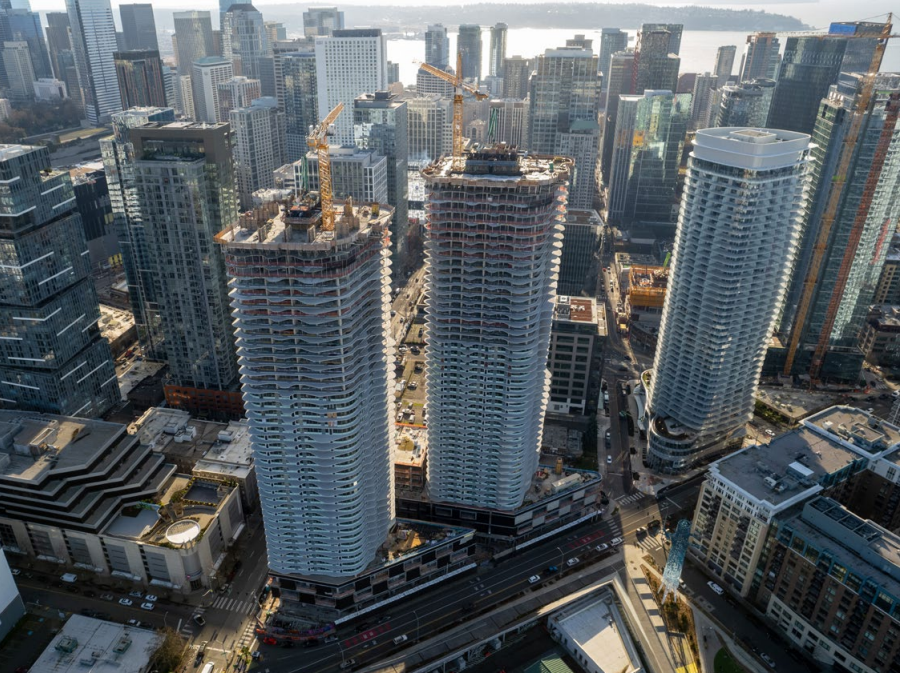 Nonetheless, Florida argued downtowns are in the midst of a transformation and should pivot to greater focus on housing and connectivity. He recommended offering more third-places where people can mingle, such as co-working spaces and coffee shops, and converting some Class B and C office towers to housing, pointing to studies with advice on how to pull off the conversion, which has numerous practical and regulatory hurdles.
In his remarks, DSA President and CEO Jon Scholes said the city was "well-positioned" and expressed confidence in the city's leadership, complimenting Mayor Harrell, Councilmember Nelson, City Attorney Ann Davison, and King County Regional Homelessness Authority (KCRHA) CEO Marc Dones. As part of the program, the latter three participated in a panel on public safety that was moderated by Brandi Kruse, formerly a Q13 Fox on-air personality and now host of [un]Divided podcast.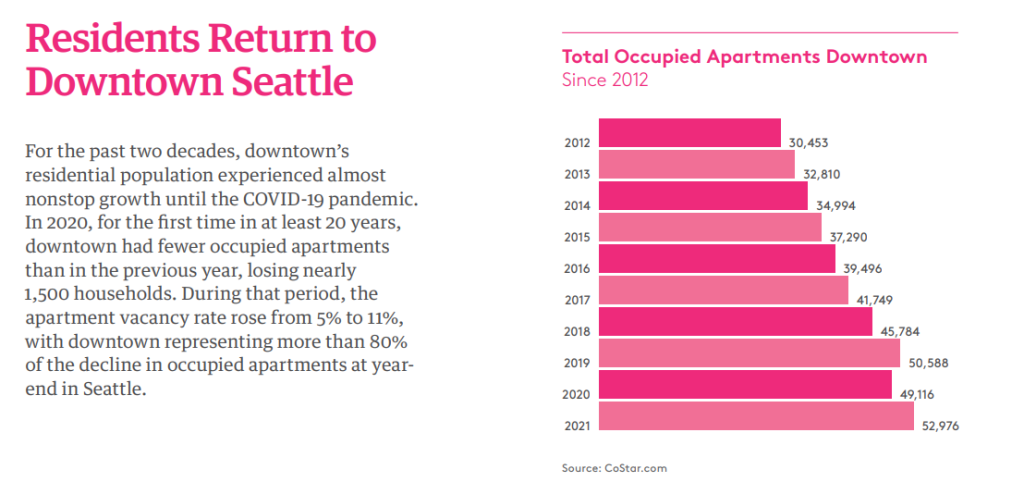 Hiring more police
In between editorializing from Kruse about not trusting the City of Seattle with her money or businesses being ignored by politicians, the panel found some agreement that there did need to be consequences for street violence, but Dones did strike a more compassionate tone. The countywide homelessness czar suggested stealing food to feed your family is not a problem that can be solved by jail. Kruse interjected to disagree with that framing. The DSA and its invited elected official panelists were also bullish about the prospect of the Mayor's hot-spot policing initiative to solve some of the trouble spots in the downtown core, such as Third Avenue and Pine Street and 12th Avenue and Jackson Street.
Hot-spot policing and ramped up homeless encampment sweeps so far appeared to have largely moved problem spots around rather than make them disappear. For example, 3rd and Pine might be a bit more emptied out and pacified, but some neighboring bus stops seem to have gotten worse. Mayor Harrell paused a Seattle Police Department (SPD) plan to target disorderly conduct near 3rd Avenue transit stops, which he apparently thought wasn't fully fleshed out as the department moved to implement it.
Still, Mayor Harrell has emphasized public safety and restoring order Downtown, as he did in his recorded address to the State of Downtown crowd.
"Downtown is our region's economic engine. The steps we take now reverberate statewide," Harrell said. "As we transition back to in-person office environments, revitalize cultural assets, and welcome an influx of visitors to downtown Seattle, we must ensure that our streets and sidewalks are safe and welcoming for all."
Harrell pointed to police enforcement and encampment clearing efforts as key to that strategy.
"Seattle Police have begun targeted action to end organized retail crimes, address open-air narcotics trafficking, and step-up enforcement of
property crimes," Harrell added. "Working with partners at King County and the Regional Homelessness Authority, we are prioritizing downtown tent removal and relocation — helping people into housing and life-restoring services, and reopening our sidewalks."
Meanwhile, Councilmember Nelson teased she would soon be unveiling a new community policing initiative, but declined to offer details for now. She stressed more police officers were needed and said leaders from communities of color had asked for community policing, and noted Black Seattleites are not monolithic on the issue of defunding police and claimed many back her position. With Seattle maxed out on its class of trainees at the police academy, Scholes and Nelson said they'd focus on lateral hires to add to SPD's ranks.
The City of Tacoma has added a $25,000 bonus to entice lateral police hires, Nelson pointed out. She argued Seattle needs to compete and offer similar (or perhaps greater) incentives. Councilmember Alex Pedersen led a push last year to add a retention bonus and a $15,000 hiring incentive, but was rebuffed by his colleagues, who argued there were better uses for that money. On her way out, Mayor Jenny Durkan implemented a $25,000 incentive for lateral hires through an emergency executive order, anyway. It didn't appear to boost recruitment much, however.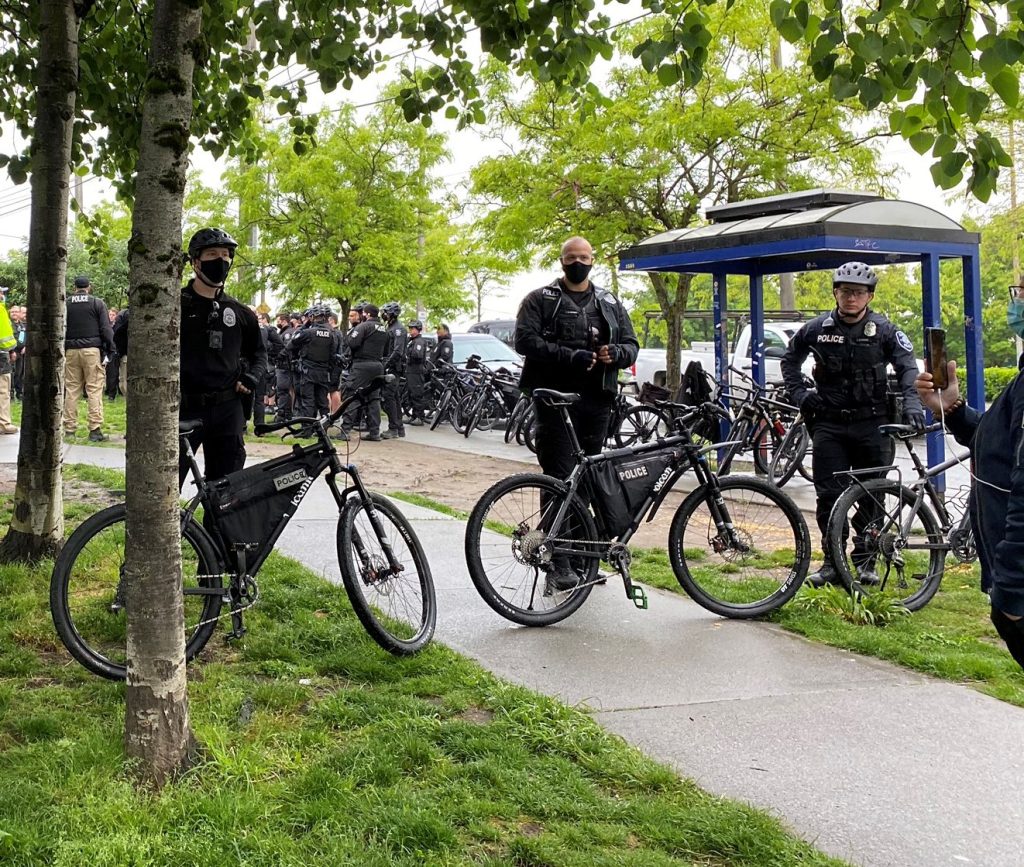 To make the police hiring incentive program permanent, a vote of Council may ultimately be necessary. Nelson's addition will be a boost to that cause, since she replaced former Council President Lorena González, who had been one of the votes against the proposal. It's not clear if hiring incentives can paper over a national shortage of police officers. Mayor Durkan's budget, which Council approved in November, seeks to add 35 net new officers to get SPD average sworn officer count up to 1230 this year, which is down from the department's historic high due to abnormally high attrition rates over the last two years.
Nelson argued the electorate's priorities had shifted toward funding the police, and urged her Council colleagues to take note and business leaders to get engaged and provide support.
Nelson, Scholes, and Florida also talked up alternatives to policing and urban design interventions during the media availability, but were light on policy specifics or funding sources for such programs.
Housing affordability: Nelson backs microhousing reform
In his speech, Florida did occasionally drift from the main course of puffing up Seattle's ego. He also advised the DSA crowd to bake inclusivity into everything they did, increase wages for workers, and tackle the housing affordability crisis, which he reminded them was rapidly escalating in Seattle.
During the media availability, I asked the trio about zoning and housing affordability, and Florida reiterated his point that zoning restrictions have gone too far, although he did couch that in not wanting to impugn Not In My Backyard (NIMBY) activists and advising a thoughtful and conciliatory approach toward winning them over — or at least neutralizing them. There's been a lot of building in downtown and exurban areas, but less so elsewhere, Florida noted.
"Where there hasn't been enough building are the single-family neighborhoods in cities and the adjacent suburban ring," Florida said. "So one thing we can think about is increase density is in the margin. Seattle has really great urban neighborhoods. It doesn't mean adding towers. That's how people go NIMBY. No it means thinking very carefully about what kind of density a single family neighborhood can support to modernize. Maybe it's townhouses."
Seattle's history suggests fierce homeowner opposition materializes even for the smallest zoning changes, including when the City proposed reforming backyard cottage rules and Mandatory Housing Affordability inclusionary rezones in the Urban Villages. Homeowner groups funded appeals that delayed each program by years. Going small hasn't prevented organized opposition or avoid appeals.
Councilmember Nelson voiced support for Mayor Harrell's fledgling micro-housing initiative, and spoke in favor of repealing the 70-7 rule restricting micro-apartment design. She also expressed some interest in following Portland's residential in-fill model allowing fourplexes on single family lots. But first, she proposed focusing on loosening restrictions in and around Urban Villages. She proposed phasing out the roundup rule to encourage townhomes on small lots in Urban Villages. Both Nelson and Harrell campaigned criticizing their opponents for proposing to end exclusionary single family zoning, but her comments did suggest some flexibility on the margins.
"I'm not saying I'm not for zoning changes, but I think we do need to take a fine-toothed comb to the areas we already have [multifamily zoning]," Nelson concluded.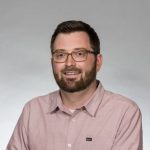 Doug Trumm is publisher of The Urbanist. An Urbanist writer since 2015, he dreams of pedestrianizing streets, blanketing the city in bus lanes, and unleashing a mass timber building spree to end the affordable housing shortage and avert our coming climate catastrophe. He graduated from the Evans School of Public Policy and Governance at the University of Washington in 2019. He lives in East Fremont and loves to explore the city on his bike.