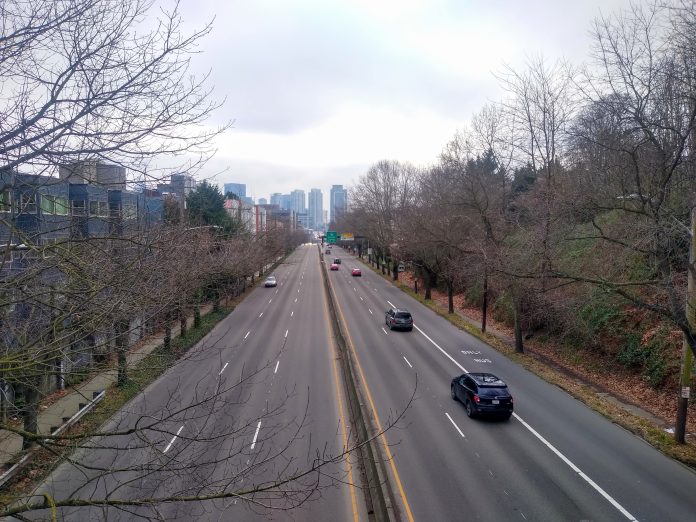 When it comes to highway projects in Washington, the legislature holds all of the authority to decide how to allocate transportation funding. But while the Washington State Department of Transportation (WSDOT) designs, builds, and maintains projects but doesn't technically select them, there are a lot of ways that WSDOT sets up the decisions that get made by the legislature. One of these is the Highway System Plan. Baked into state law, WSDOT is regularly required to update this plan with what it considers the needs are to preserve the state highway system's "structural integrity" and maintain "acceptable operating conditions." Using this plan, the department creates its budget request to the legislature.
WSDOT is completing an update to the Highway System Plan right now. The last update was in 2007, so the current plan is clearly very out-of-date and the opportunity to contribute to this update won't come around again for a decade or more. WSDOT is centering much of its public feedback work for this plan around a survey, produced in conjunction with the University of Washington, that asks users to rank and prioritize spending on the state highway system.
The survey asks users to determine how to spend $3 billion per year in highway spending, but the only category of spending that the survey allows to be kept at zero dollars is spending on walking and biking infrastructure. The survey also only allows spending on "new and bigger" highways to go to $800 million per year. The survey doesn't allow users to imagine a future without new or wider highways. The highest option for bicycle and pedestrian is $400 million, half of the minimum option for new and wider highway spending.
When I asked Barbara LaBoe, WSDOT's acting communications director, about the fact that the survey doesn't allow users to specify they wouldn't expand any highways, told me that "there is a current spending level for projects which have already been funded by the state legislature. Those projects funded by the legislature are unlikely to be substantially reduced regardless of what recommendations emerge through this planning process." In other words, the political pressure to expand highways in Washington that its department of transportation won't even put a hold on highway expansion on the table, even as the head of WSDOT, Roger Millar, acknowledges publicly that highway expansions statewide are reaching a point of "diminishing returns" and are becoming increasingly counterproductive.
And then there's the issue of asking for public input on how much WSDOT should spend on safety when the state has had a commitment to reach zero fatalities and serious injuries for over twenty years now. Asking people to decide just what level of serious injuries and fatalities is acceptable to them is just twisted, even more so considering that only one option is more than the minimum option for new and wider highways.
Of course, how comprehensively this public feedback will even be integrated into the plan is a separate question. LaBoe told me that "[t]he input collected from the survey will inform the plan's final recommendations on the level of investment for each program (e.g., increase travel options, maintenance)." LaBoe said the department is still in the scenario analysis stage of the plan update. "The work to date, including past community engagement, sets us up to discuss how different transportation investment choices will affect the state. However, WSDOT hasn't solidified any recommendations about which investment scenario to pursue. In other words, the public engagement period we are entering now will inform the recommended scenario."
What gets baked into the plan could be significant. The 2007 update to the Highway System Plan looks like, from today's perspective, a roadmap pointing toward the megaprojects that the department has been handed funding for over the past decade or so, with the expansion of SR 18 (approved just a few days ago in the Move Ahead Washington transportation package) just the latest, along with the extensions of SR 509 and 167 together dubbed the Puget Sound Gateway and of course the Columbia River Crossing. Of course, freight needs are pretty detached from the results of a community survey asking whether respondents would spend $800 million or $2 billion on new highways.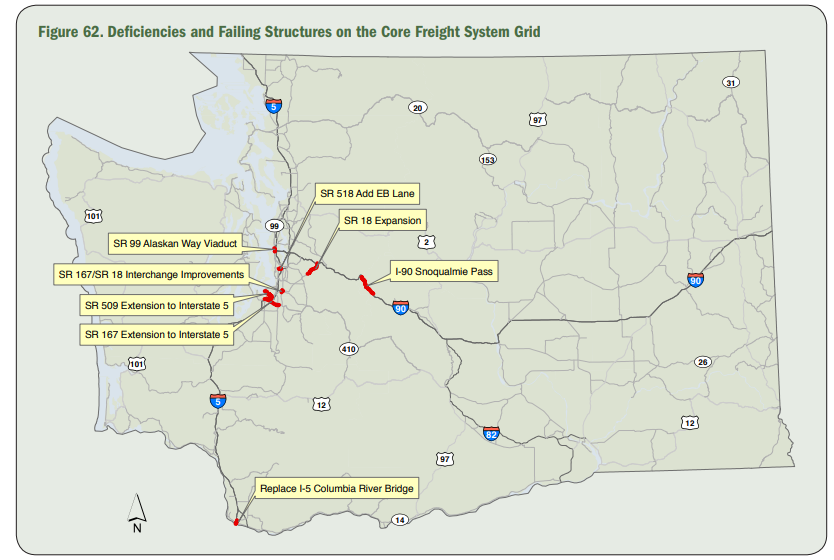 WSDOT is hosting a series of online open houses on the Highway System Plan, starting this week. Each one is focused on a different geographic region, but feedback will be accepted at all of the events regardless of where attendees live. If you're interested in pushing against the framing that expanding highways is the only option, consider attending an open house to let them know.
Wednesday April 5: Chelan, Douglas, Grant, and Okanogan Counties
Thursday April 6: King and Snohomish County
Tuesday April 12: Clallam, Grays Harbor, Jefferson, Kitsap, Mason, Pierce and Thurston Counties
Wednesday April 13: Adams, Ferry, Franklin, Lincoln, Pend Oreille, Spokane, Stevens and Whitman Counties
Thursday April 14: Asotin, Benton, Columbia, Franklin, Garfield, Kittitas, Walla Walla, Whitman and Yakima Counties
Tuesday April 19: Clark, Cowlitz, Klickitat, Lewis, Pacific, Skamania and Wahkiakum Counties
Wednesday April 20: Island, San Juan, Skagit and Whatcom Counties
After collecting this feedback, the department will be releasing a draft plan for more feedback. Concurrently, WSDOT is developing a report to the legislature on how the state can meet its vehicle miles traveled (VMT) goals, but there's no indication that this work will be integrated into the department's goals for the overall highway system. It will take a lot of public pressure to ensure it is. While the projects in the latest transportation package have been selected already, we know legislators and transportation officials are already eyeing the next one.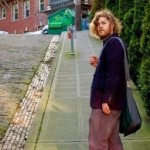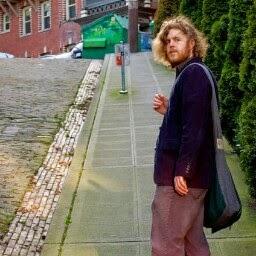 Ryan Packer lives in the Summit Slope neighborhood of Capitol Hill and has been writing for the The Urbanist since 2015. They report on multimodal transportation issues, #VisionZero, preservation, and local politics. They believe in using Seattle's history to help attain the vibrant, diverse city that we all wish to inhabit. Ryan's writing has appeared in Capitol Hill Seattle Blog, Bike Portland, and Seattle Bike Blog, where they also did a four-month stint as temporary editor.