In a recent poll released by the Northwest Progressive Institute (NPI), fewer than 20% of respondents agreed that the Washington State Legislature should prioritize building new highways or widening existing ones in a new state transportation funding package.
Instead by a three-to-one margin, poll participants preferred to fund other transportation priorities such as repairing aging infrastructure, expanding public transit, and creating safe fish passages.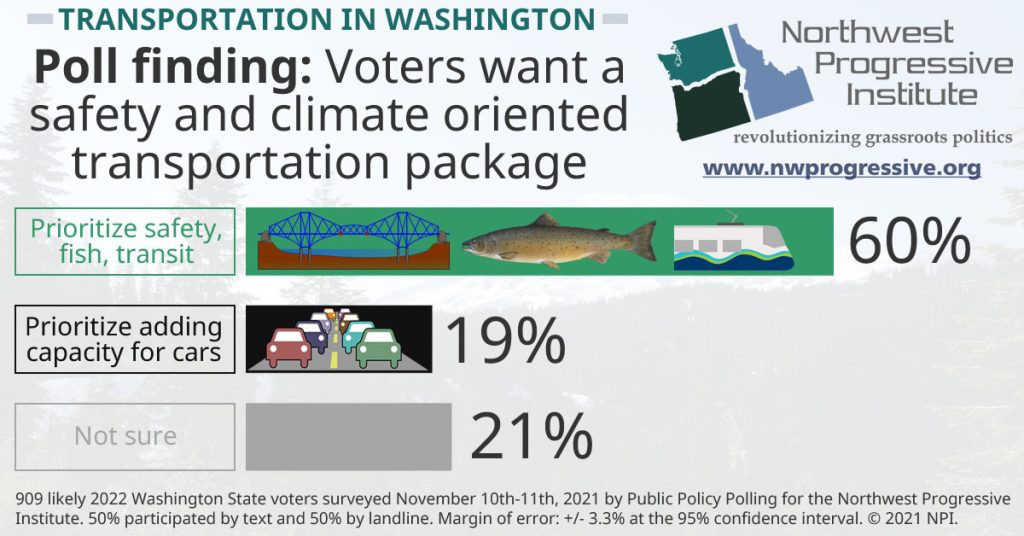 The poll was conducted for NPI by Public Policy Polling in November among 909 likely Washington voters and it has a margin of error of +/- 3.3% at the 95% confidence interval.
While some may feel the poll cast a wide net by combining multiple alternatives to highway expansion in a single answer, NPI defended its approach. "We consider fish passage improvements, fixing unsafe bridges, and resurfacing deteriorating roads to also be essential to a successful transportation package, which is why they are all grouped together in one of the choices. Safety and sustainability go hand in hand and shouldn't be pitted against each other," NPI wrote.
QUESTION: If the Washington State Legislature approves a new transportation funding package in the 2022 legislative session, do you think it should prioritize fixing unsafe bridges, improving fish passage, resurfacing deteriorating roads, and making big public transit investments, or should it prioritize adding capacity for cars by building new highways, widening existing highways with new lanes, and adding or lengthening ramps?

ANSWERS:

Think that the Legislature should prioritize fixing unsafe bridges, improving fish passage, resurfacing deteriorating roads, and making big public transit investments in 2022 transportation funding package: 60%

Think that the Legislature should prioritize adding capacity for cars by building new highways, widening existing highways with new lanes, and adding or lengthening ramps: 19%

Not sure: 21%

Credit: Public Policy Polling for the Northwest Progressive Institute, 2022
Passing a new state transportation funding package is a top priority for lawmakers during 2022's short legislative session. During 2021, Washingtonians watched a succession of proposed funding packages fail to garner sufficient support to advance. In the senate, Rebecca Saldaña (D-Seattle) proposed the $14.3 billion Evergreen Plan, which would have made record-breaking investments in pedestrian and bike infrastructure. The House even supercharged the package to $26 billion, further increasing investment in climate-friendly infrastructure. However, both plans would have been heavily funded by gas tax increases, which proved to be a sticking point that contributed to their demise.
Also in 2021, then senate transportation chair Steve Hobbs (D-Lake Stevens) failed to pass his proposed transportation package, which attracted criticism for its taxation of bikes, transit, school buses, and housing in the name of funding highways. Hobbs also had earlier proposed a carbon fee to fund to his highway-focused transportation bill, which would have undermined the climate benefits.
The Urbanist, along with partners Front and Centered Coalition and Disability Mobility Initiative, has called eliminating funding for new highways a 21st century imperative. As the climate crisis unfolds before us, it has become increasingly apparent that spending needs to shift away from highway expansion and toward more climate-friendly investments.
Advocates are hoping that the 2022 legislative session will offer the chance for a fresh start. Current senate transportation chair Marko Liias (D-Edmonds) has publicly stated he would prefer not to include a gas tax in a proposed state transportation funding package because of the burden it would place on working families. At this point it is unclear what other sources of funding might be under serious consideration.
Liias did, however, express support for funding the controversial Interstate Bridge Replacement (IBR), a $5 billion project widening I-5 in Vancouver and replacing the bridge to Portland. In addition to constructing a replacement bridge, the project would nearly double the size of the freeway by adding numerous new interchanges and space for light rail. Critics of the proposed project are hoping that the highway widening element can be slimmed down to cut costs and that space for a light rail alignment can be guaranteed.
But the highway expansion spending does not stop there. Governor Jay Inslee's proposed supplemental budget for the Washington State Department of Transportation (WSDOT) invests heavily in plugging budget holes in state highway megaprojects as described in a recent article for The Urbanist by Ryan Packer.
The transportation budget also represents the first official announcement of how the Inslee administration will seek to utilize funding from the federal Infrastructure Investment and Jobs Act (IIJA), commonly referred to as the Bipartisan Infrastructure Law.

That law is expected to add about $200 million dollars per year to WSDOT's existing budget, and Inslee's budget proposes to use the lion's share of that money for 2022 to bail out highway projects that the legislature already approved in its Connecting Washington package in 2015.

Out of $289 million from the IIJA, $80 million would be directed to preservation projects to maintain current infrastructure, with the remainder allocated to these in-progress highway "improvement" programs.

Ryan Packer, "Inslee's Proposed 2022 Budget Plugs Holes in Highway Megaprojects," The Urbanist, 12/27/2021
Using new funding to cover already green-lit infrastructure projects is nearly a default reflex. It may also appear a practical choice given the time and money already invested in these projects. However, it can also mean pouring much needed funds in transportation projects that were vetted years ago, under different circumstances and with different priorities. As awareness of the climate crisis increases, it's time to cast a more critical gaze on transportation projects that expand infrastructure for cars. For decades, transportation spending on local, state, and federal levels prioritized investments in car infrastructure over transit and active transportation. Instead of those investments being a gift, they have served to lock our state into a transportation system that emits harmful levels of carbon dioxide and results in loss of life and serious injury.
The polled Washingtonians chose investing in maintenance, sustainability, and going big on transit over paving the way for more polluting highways; state legislators would be wise to listen to them as they work to assemble a transportation funding package that will have major impact on our state's future.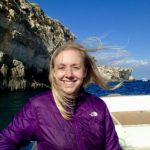 Natalie Bicknell Argerious (she/her) is a freelance reporter and podcast host at The Urbanist. She previously served as managing editor. A passionate urban explorer since childhood, she loves learning how to make cities more inclusive, vibrant, and environmentally resilient. You can often find her wandering around Seattle's Central District and Capitol Hill with her dogs and cat. Email her at natalie [at] theurbanist [dot] org.