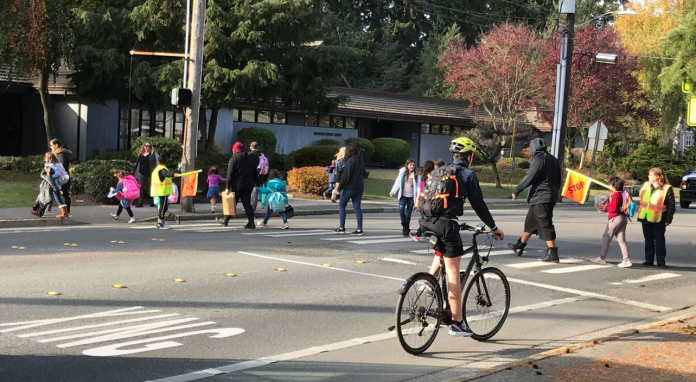 A relative flood of new grant opportunities for tribes, cities, towns and counties is on its way as a result of the passage of the Move Ahead Washington state transportation package this spring. One program that will see a boost is the Complete Streets grant program. In order to qualify for grant funding, municipalities have to show that they're working to accommodate all types of users on their local streets, including people who are walking, biking, and rolling. A requirement of being eligible for these grants is that the city or town has adopted a "complete streets" ordinance. Many cities in Washington have already adopted these, with Seattle's version dating to 2007.
One city that currently doesn't have a complete streets ordinance is Lynnwood. In part to be able to take advantage of those grants, the Lynnwood City Council is poised to adopt one, and toward that goal it held a public hearing on the proposed ordinance last week. Briefing the City Council in July, project manager Amie Hanson told councilmembers that the ordinance would be "updating our vision for how we want our streets to be used."
But will adopting a complete streets ordinance prompt Lynnwood to add separated bike lanes and improved pedestrian facilities to every road project in the city? The answer appears to be no.
Lynnwood's proposed complete streets ordinance includes a long list of exceptions — holes so large you could drive a truck through them. It says facilities can be left out in the case of a "documented absence" of current or future need. They can also be left out if "implementation requires more space than is physically available," if their cost is "disproportionate" to current need or "probable future uses." Finally it allows the Public Works Director to determine that added walking and biking facilities aren't justified because of "impracticality or infeasibility."
Lynnwood's existing bike network is pretty sparse. With the Interurban Trail as a fairly well-developed spine, bike users trying to get around Lynnwood will find a few paint-only bike lanes, some signage, but no other separated bike facilities. The Complete Streets ordinance should be an opportunity to radically improve the network, but it will only produce results if the city is actually serious about setting aside space on its streets for people who aren't in cars.
"This can be a network approach. Not every street is going to need every amenity," Hanson told the council. "The city's definition of a complete street isn't the same for every street," she said ahead of last week's public hearing.
The most dangerous streets in Lynnwood, according to the City, unsurprisingly, are some of the most heavily used corridors including SR 99, and 196th Street SW. Yet the city's plans largely avoid making changes to those streets that would make them safer and more accessible to people outside cars.
15 and 30 Year Plans
The complete streets ordinances in many cities also have broad language similar to what is proposed in Lynnwood, in order to give city staff wide latitude to make decisions about individual cases. So to have a better understanding of whether or not Lynnwood is serious about making space on city streets for people to safely bike, we can look to the Connect Lynnwood Active & Accessible Transportation Plan that the city council will be adopting along with this ordinance.
Connect Lynnwood includes a 15 year action plan outlining the top priorities for added bike infrastructure over that full decade and a half, and it only includes facilities on eight disconnected streets around the city. A large portion of this proposed network expansion is an extension of the existing short Scriber Creek Trail running north-south through Lynnwood. Trails can provide great connections, but they aren't really a substitute for on-street facilities that connect to businesses and services, and they frequently don't have lighting, making them inaccessible during large parts of the day.
The map also doesn't include any new east-west connections through the heart of the city, forcing people trying to access the coming light rail station to make do with existing streets for the foreseeable future.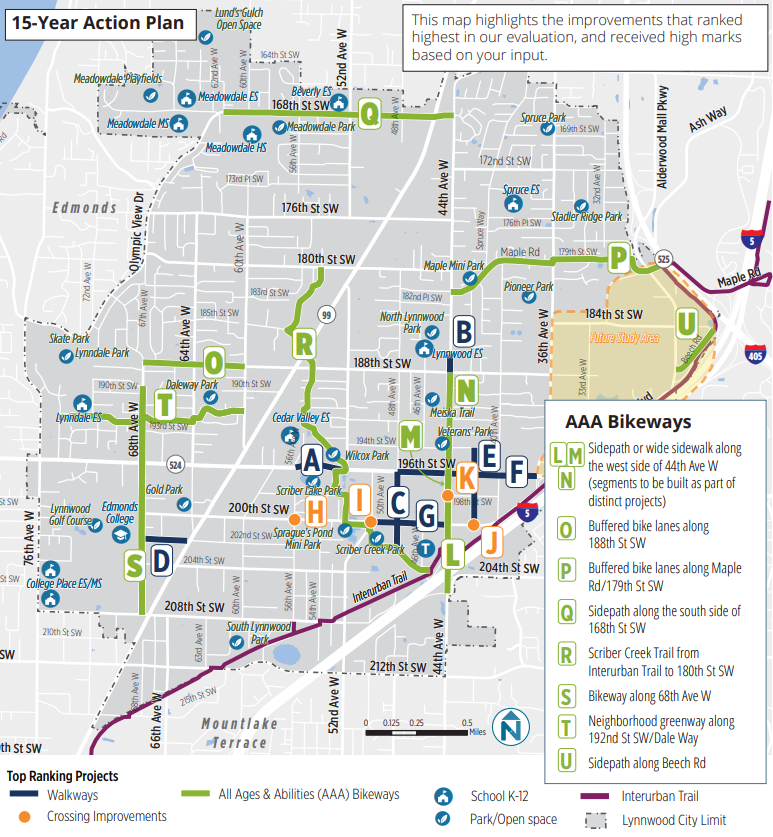 The 30 year action plan gets closer to achieving a fully connected bike network through the city by envisioning all-ages-and-abilities facilities on many more streets across Lynnwood. But a proposed 30 year timeframe may as well be 100 years for a plan being adopted right now, with the current fundamental need to make walking, biking, and transit trips more accessible. And even after the 30 year vision is achieved, 196th and SR 99 will still not be a part of the city's bike network: those streets will still primarily be oriented around cars in even the most ambitious plan.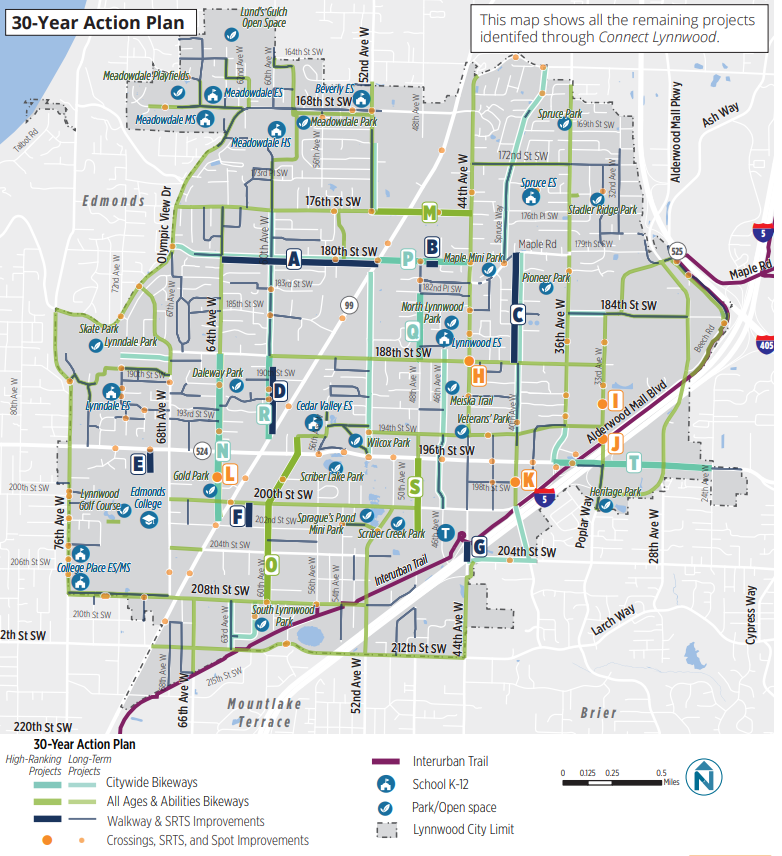 196th St SW: A Complete Street?
Right now, the City of Lynnwood is in the middle of a massive revamp of 196th Street SW, which is also known as State Route 524. The project is taking what was a five lane road up to seven lanes where there are turn lanes. The new curbside lane will be reserved for buses as well as vehicles turning right into the driveways along the street. The effective side of the sidewalks will increase with new buffers between walking space and traffic, but the sidewalks will be just seven feet wide, still relatively narrow for a major commercial corridor.
No space for people to safely bike along 196th is being created, nor is the street envisioned as being part of the citywide bike network over the next three decades. Hanson noted that parallel bike facilities are planned on 198th and 200th Street, but it's not clear if those streets will see fully separated bike facilities any time soon.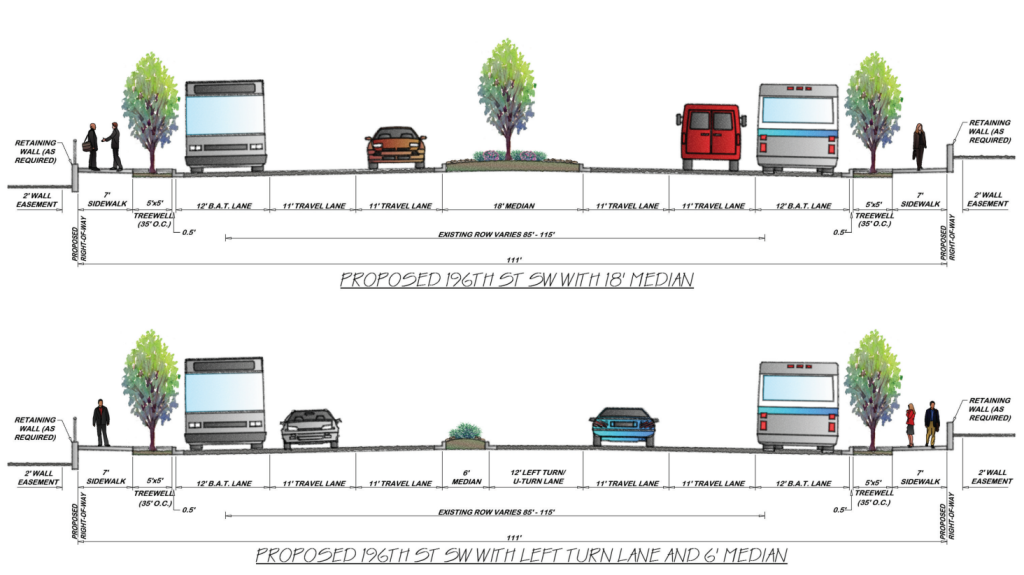 Creating a brand new incomplete street
Puget Sound cities rarely get an opportunity to illustrate their priorities for street right-of-way in the manner that Lynnwood is set to do with 42nd Avenue W. This is a street that doesn't currently exist on the grid: between 40th Avenue W and 44th Avenue W is currently unimproved. The city is moving forward with creating this brand new street to provide a new connection.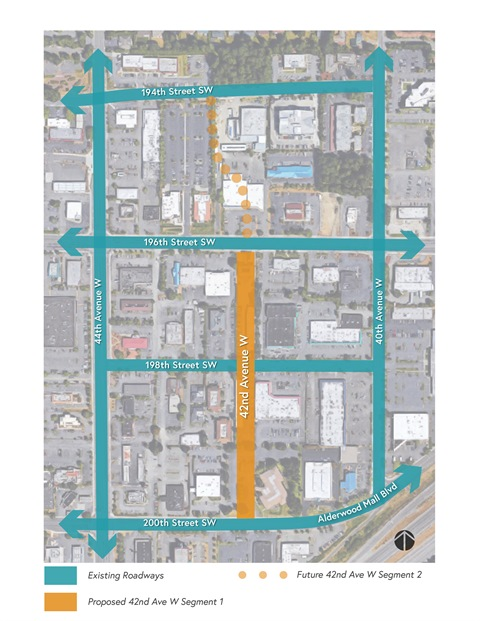 Lynnwood is set to skip an incredible opportunity to show how street space can be allocated to people outside of vehicles, by using most of the new street for back-angle parking, with no proposed bike facilities on the street. Back angle parking has known safety issues when it comes to people who are walking and biking, but the need to add more parking apparently took precedent. At the public hearing, Amie Hanson stated that 42nd Avenue W will be "focused on being a pedestrian environment." A pedestrian environment where the lion's share of the space is being created for motor vehicles.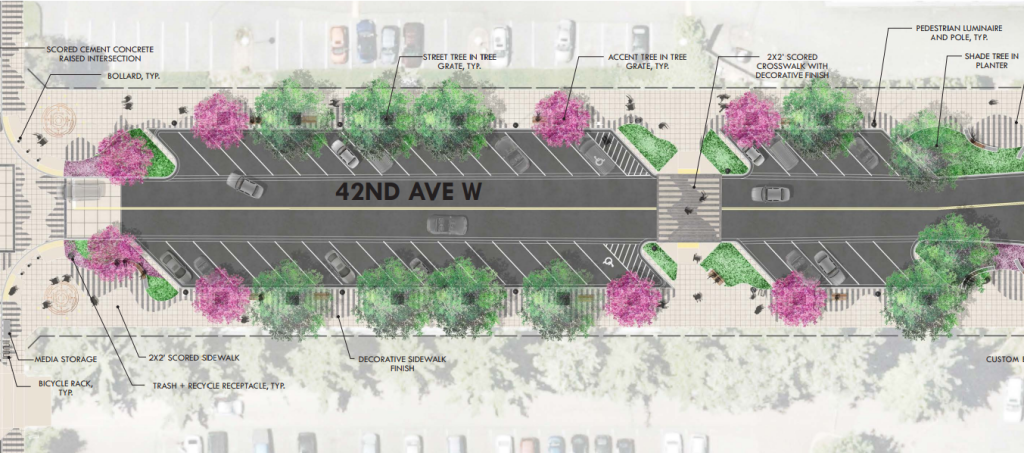 Funding Prospects Unstable
During a discussion of the active transportation plan, Lynnwood councilmembers sought and received assurances from staff that they weren't being asked to fund any specific projects right now. The plan actually lists a number of sources where future funding could come from. On the list is the city's Transportation Benefit District. Last year, the City Council actually voted to remove that funding source in the name of reducing taxes, but that vote was vetoed by the mayor at the time. This year, with a new mayor and some new councilmembers, the issue was brought up again but a discussion was postponed to budget season this fall.
The Lynnwood City Council has been using federal dollars via the American Rescue Plan Act to bolster city programs, and in the area of transportation it chose to invest in street repaving over improving access for people who aren't in cars, in one case deciding to move ahead with repaving one of the last unpaved roads in a far corner of the city ahead of utilizing the funds to improve walking and biking routes to schools or adding more ADA compliant curb ramps around the city.
The complete streets ordinance that the council is poised to adopt on August 8th could be the basis for some systemic changes to Lynnwood's streets under future, more ambitious leadership but the current trajectory doesn't appear to be about to change with this complete streets ordinance.
In voicing a concern about the ordinance as written, Councilmember Patrick Decker raised the issue of a Public Works Director 10 years from now using the authority of the complete streets ordinance to dramatically expand the amount of safe bike facilities on Lynnwood's city streets. His concern was that the Public Works Director has too much authority to grant exceptions, but walking and biking advocates in Lynnwood can only hope that Decker is right and that the opportunity comes sooner rather than later.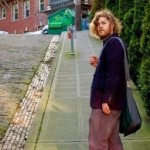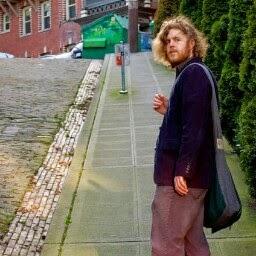 Ryan Packer lives in the Summit Slope neighborhood of Capitol Hill and has been writing for the The Urbanist since 2015. They report on multimodal transportation issues, #VisionZero, preservation, and local politics. They believe in using Seattle's history to help attain the vibrant, diverse city that we all wish to inhabit. Ryan's writing has appeared in Capitol Hill Seattle Blog, Bike Portland, and Seattle Bike Blog, where they also did a four-month stint as temporary editor.