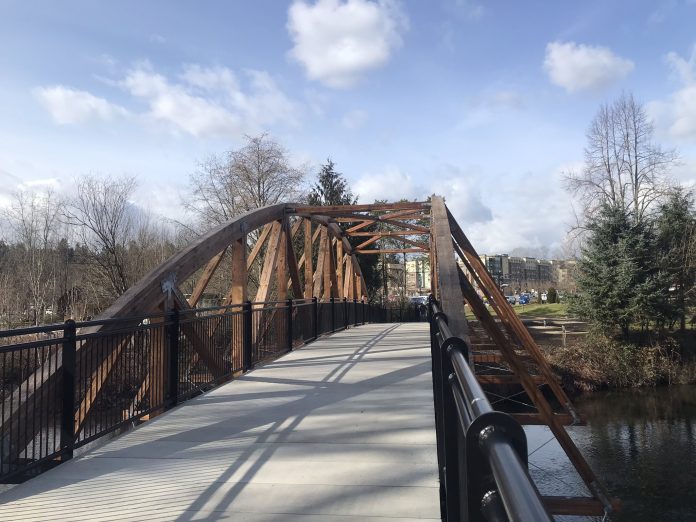 Since 2018, the City of Bothell has been working on an update to its citywide bike facility plan. With significant new grant opportunities becoming available at the state and federal level, city staff are attempting to finally get the plan approved in order to be competitive since many grants rank cities higher when they have comprehensive network plans. Earlier this spring, the city released an updated full draft of the bike plan. It's still intending to hone the plan throughout this year, but the draft that has been released so far falls short of what staff at the City of Bothell explicitly say it's intended to do: create a network that people of all ages and confidence levels will feel comfortable using.
Like many city bike plans, Bothell's draft plan separates what it's trying to establish as its fully built bike network, which would take much more resources than are currently available, from the immediate projects that the city can do to expand the existing network and fill in gaps that currently exist.
"Right now there's a grid that's proposed in the ultimate vision… and then the Part B part, which is another map, is how do we get connectivity as quickly as possible, because we're trying to be somewhat practical," was how the capital project director at Bothell's public works department, Steve Morikawa, described it to the city's planning commission earlier this spring. "We don't think we're going to get to the ultimate vision soon, so we want to get as much connectivity as possible."
That interim vision is incredibly unambitious, however, and it would create fully separated facilities on almost no new arterial corridors. Out of the ten "tier 1" projects listed in the plan, eight include sharrows, or paint bicycle symbols added to the road, as a planned segment of the project, with one project consisting entirely of adding sharrows.
That project would add sharrows to one of the city's Sammamish River bridges, 102nd Avenue NE, which already has a separated path used by riders traveling to and from the Sammamish River trail. Sharrows would not make riders more comfortable using the roadway and are estimated to cost $43,700 for just 0.19 miles — an incredible $230,000 per mile.
The City of Bellingham, by contrast, estimates the cost of sharrows at $4,500 per mile: it's not clear what would account for sharrows costing 51 times that amount in Bothell. Of course, the larger issue is that sharrows are not bike infrastructure. Numerous studies conducted in recent years suggest they could even be worse than doing nothing at all.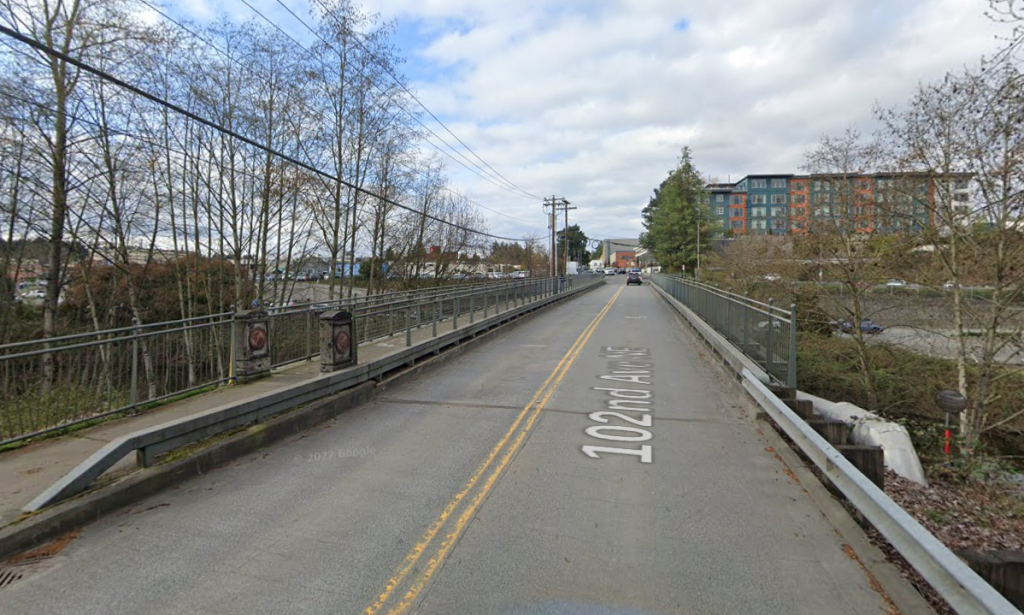 Of all the projects in the draft plan's prioritized list, only one includes a protected on-street bike lane, though several do include segments of new shared use paths. "The City of Bothell residents have shown strong community support for a bike network that can be used by riders of all ages and abilities," the city notes in a plan that includes few of those facilities.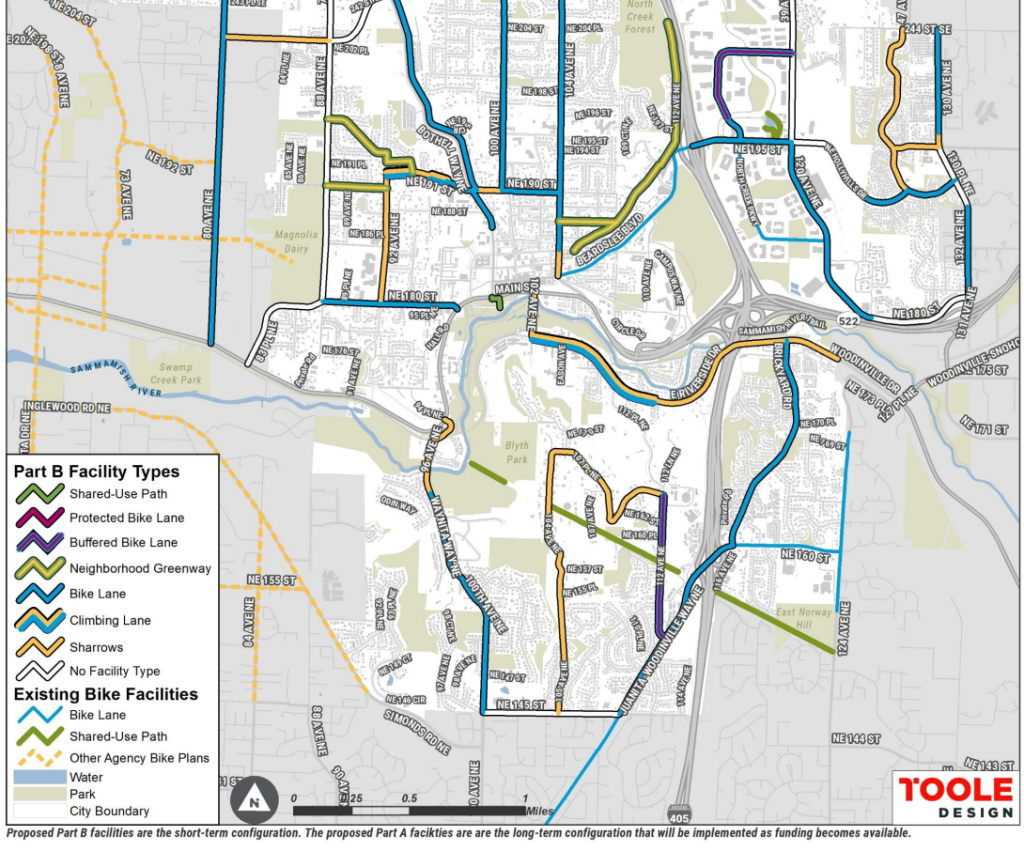 Expanding roadways represent one of the few places where Bothell is moving toward adding on-street separated bike lanes. The city is currently seeking funds for an overhaul of one of the main north-south corridors through the city, Bothell Way NE. Slightly north of downtown, the road will be widened to add a travel lane in each direction, for a total of five lanes for much of the corridor. Along with the substantive amount of real estate being acquired for the street widening will come room for protected bike lanes and improved sidewalks. The project, which will cost over $60 million, is being touted as necessary for the Community Transit Swift Green Line, which currently only travels as far south as the Canyon Park park and ride but is envisioned as terminating in downtown Bothell.
But what would clearly become a key segment in Bothell's bike network is not envisioned as being expanded any further north in the current iteration of the bike plan. Paint bike lanes currently exist on Bothell Way and further north as the street turns into the Bothell Everett Highway and runs to the city limit. However, given the busy multi-lane street conditions there, many riders will be unlikely to continue beyond the protected segment.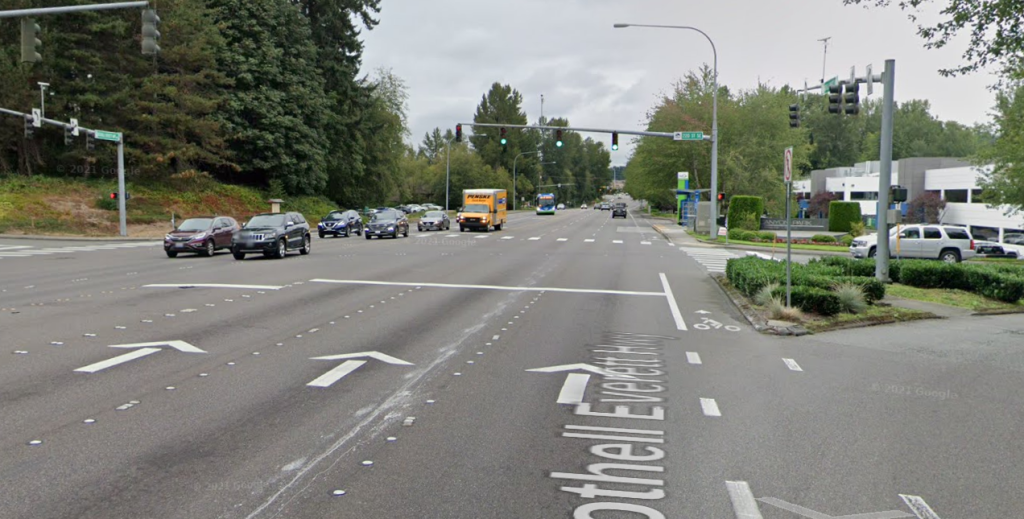 Records show that City of Bothell staff considered, but discarded, the idea of creating a safer bike route along this corridor. A 2018 list of possible bike facilities obtained by The Urbanist lists a separated facility on Bothell Everett Highway with seven foot lanes in each direction. On the document, someone has scribbled "NO. Use North Creek Trail (?) not on 527." SR 527 is the state highway designation for Bothell Everett Highway north of I-405, and the North Creek Trail runs nearby but totally bypasses the major business district at Canyon Park.
For another segment of Bothell Everett Highway, the same person wrote in "Currently Bike Lanes ok," even though those paint bike lanes are far from an all-ages-and-abilities facility.

Some are trying to push the plan in a more positive direction, including members of the city's planning commission. At a meeting in early May, commissioner Cary Westerbeck advocated for the City to reconsider using available funding to fund a few key separated routes as opposed to putting paint down all over the city. "I would think the thing that's going to get people on bikes is protecting them from vehicles… I think it'd be better to have one or two really key, point A to point B, downtown to Canyon Park and east-west routes that are almost completely protected… before we sort of scatter a little bit everywhere like fairy dust," he said.
Planning commission vice chair Carston Curd also pushed the city to reconsider its aversion to reallocating more street space to create protected facilities. "Our right of way in the city of Bothell is typically suburban, and that comes with a huge cross-section through the street. Sometimes 40 or 60 feet, which is a lot of pavement. It doesn't all have to be for cars," he said, pointing to space currently devoted to turn lanes that could instead be used to create a protected bike lane. The draft plan pretty much only considers room for protected facilities to be on the table when a street widening is taking place, which is not the case in other cities in the region like Seattle that are building out protected bike lane networks.
So far, the Bothell City Council has not aimed much direct criticism at the draft plan. In a briefing in April, Mayor Mason Thompson pressed city staff on what is being done to include people who aren't currently regular bike riders in the final development of the bike plan, emphasizing the need to expand outside the normal sphere of bike organizations. Thompson has also made his feelings clear on Twitter when it comes to whether paint bike infrastructure is sufficient.
Later this year, the City Council will have to make a decision on whether the plan is worthy of approval as part of the annual update to the City's comprehensive plan. In May, the City held another community outreach event, and it remains to be seen how much the feedback staff receive will cause the plan to evolve. This summer the planning commission will get another chance to weigh in, but if the plan is going to substantively change, it looks like that will fall to the City Council.
Right now, the plan is on its face pretty far out of alignment with what the City of Bothell itself says Bothell residents want, a bike network that people of all ages will feel comfortable using and that allows people to get where they need to go within the city. Improving the draft plan by creating space for separated bike facilities on existing streets offers a straightforward solution, but it will take some leadership and political will.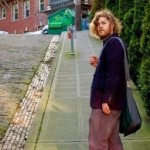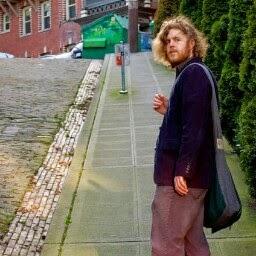 Ryan Packer lives in the Summit Slope neighborhood of Capitol Hill and has been writing for the The Urbanist since 2015. They report on multimodal transportation issues, #VisionZero, preservation, and local politics. They believe in using Seattle's history to help attain the vibrant, diverse city that we all wish to inhabit. Ryan's writing has appeared in Capitol Hill Seattle Blog, Bike Portland, and Seattle Bike Blog, where they also did a four-month stint as temporary editor.