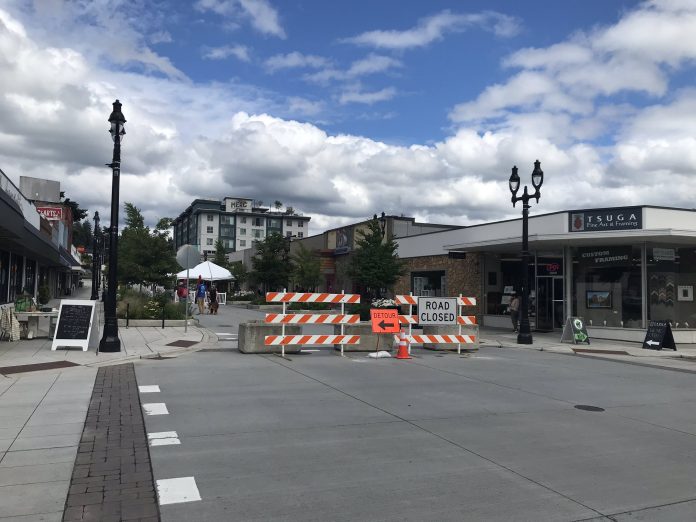 In June of 2020, the City of Bothell closed a one-block stretch of Main Street in its downtown to motor vehicles, opening the space for businesses to expand outdoor dining and creating additional opportunities for pedestrians and people on bikes to use that block. Last week, the Bothell City Council voted to extend that closure for an additional two years, overriding the recommendation of some staff members who were guiding the council toward reopening the street to vehicles.
In preserving the pedestrianized street for now, numerous city councilmembers had to pick apart the arguments that were being made in favor of ending the closure. During the March 15 meeting, the council was briefed by Interim City Manager Erin Leonhart on a survey that had been conducted of business owners along Main Street. It showed nine business owners were very happy with the pedestrian and street dining configuration, and seven business owners saying that they've been negatively impacted. Predictably, the primary impact cited by those seven businesses was parking, but there were also some business owners who felt left out of being on the pedestrian street.
"Some businesses feel that if they're not able to expand in the street in the same way as others, that their business is actually negatively impacted," Leonhart said.
Staff were pushing councilmembers toward only closing down Main Street during off-peak times and with seasonal closures. But Bothell's own survey showed interim closures were unlikely to be as popular as the permanent closure. "Downtown residents love the pedestrian area created and are concerned that intermittent closures would be confusing," a staff report read.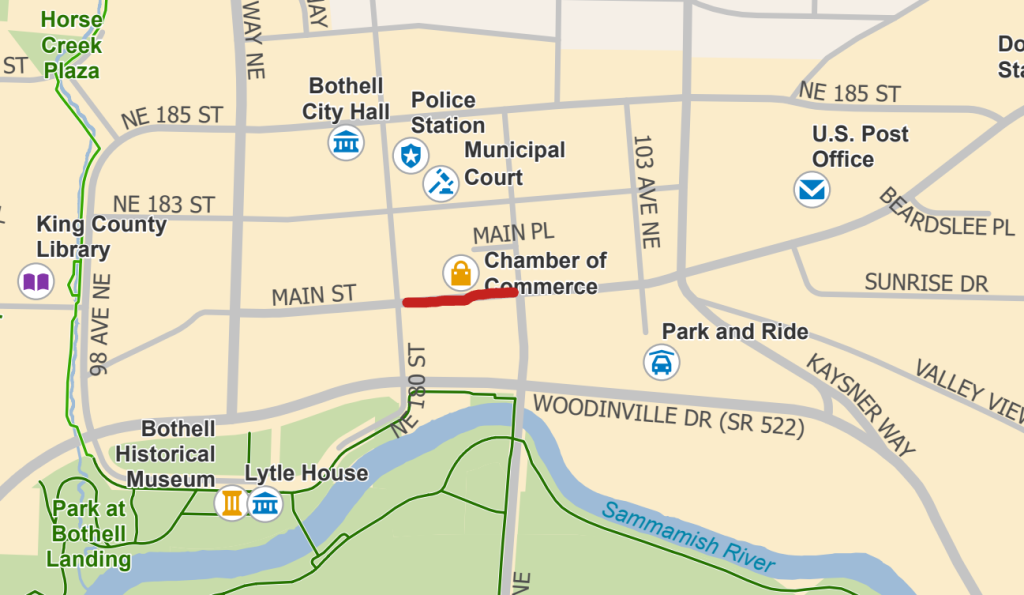 The central argument Bothell city staff were using to push toward those intermittent closures was that a one block pedestrian street is somehow going to disrupt travel times for transit riders through Bothell. "Our engineers are concerned with traffic's impacts to transit, and this outcome is a growing concern," a staff report on the closure noted. "King County Metro and Sound Transit profess that transit is a fundamental public good that we all benefit from, regardless of age, race, or class, and is seen as a civil right. But, reliable transit is especially critical for low income communities, people of color, low wage employees, and students. Public transit has cascading equity and economic effects impact on our growing Downtown that must be considered."
But several members of the council were not ready to accept the equity arguments as presented.
"I would argue that there's an equity argument to be made about pedestrians versus cars," Councilmember Davina Duerr said. "And where the priority is, and people's safety and accessibility. And so I don't quite buy the equity argument, I think it's not well thought through. I think there are other aspects of equity we should be talking about. We are a society that puts cars above all else, and I think one thing the closure of Main Street has taught us is that our citizens, our residents, are craving safe places, safe harbors, from cars. And I just think that's something that is not being considered when we talk about equity."
Buses heading through Bothell are using NE 185th Street two blocks north, which is the designated transit corridor that Sound Transit's Stride bus rapid transit service will use through Bothell. Steve Morikawa, Capital Division Manager at Bothell Public Works, told the council that Sound Transit and Metro had previously requested that street be converted to a transit-only street but that Bothell had turned that idea down due to potential traffic impacts. There is no transit lane at all on the street, but one could be accommodated in the future by removing the on-street parking on the corridor.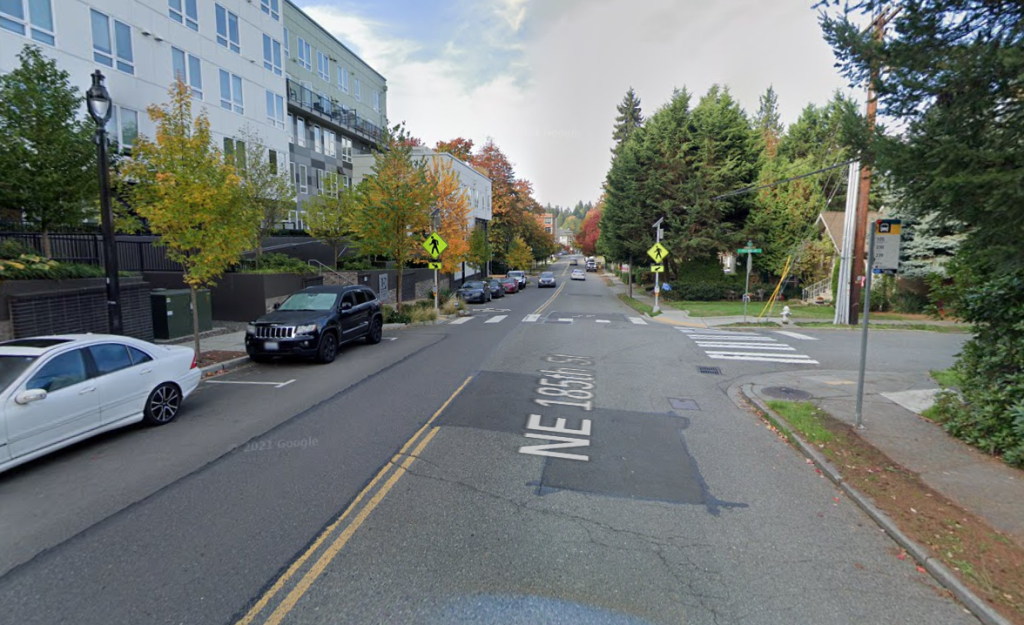 Bothell Mayor Mason Thompson was even more blunt in his criticism of the arguments presented: "I do not understand centering this conversation around transit. Main Street is not the transit corridor, if we give it back to cars it will only be for cars." Thompson emphasized how concerns around traffic impacts from a pedestrianized Main Street were primarily theoretical, and could be addressed if they actually arose.
"If we keep responding to concerns about future traffic by giving more space to cars, we're just creating the future that we're scared of," Thompson said. "We need to think big picture about what we want to be as a city, and I just don't see how hand-wringing about traffic is going to help us get there."
In the end, the vote to keep the pilot in place was not close, with only two votes in favor of ending it. There is clearly a mostly unified vision on the Bothell City Council to continue to try these things.
"I have an overall belief that this is a net positive for our community," Councilmember Duerr said.
"The community loves this. It's overwhelming, the comment we get from the community. And I really think the community needs to be our north star," Mayor Thompson said.
But here in Bothell we saw another instance of equity arguments being utilized in order to maintain the status quo, which disregards existing power structures, which are very unequal as it is.
Councilmember Duerrr didn't just see the Main Street closure as a win for Bothell, but as the start of a trend around the region. "Our success and what we saw happen, kind of resonated with people. Places closed in Ballard and Edmonds because it was so universally seen to be a positive thing [in Bothell]," she said.
As cities recalibrate their pandemic street closures as things open up, it looks like Bothell is interested in continuing to be a model.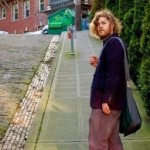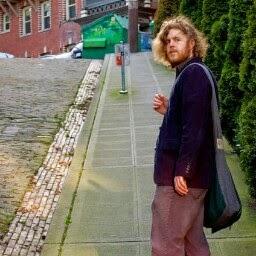 Ryan Packer lives in the Summit Slope neighborhood of Capitol Hill and has been writing for the The Urbanist since 2015. They report on multimodal transportation issues, #VisionZero, preservation, and local politics. They believe in using Seattle's history to help attain the vibrant, diverse city that we all wish to inhabit. Ryan's writing has appeared in Capitol Hill Seattle Blog, Bike Portland, and Seattle Bike Blog, where they also did a four-month stint as temporary editor.