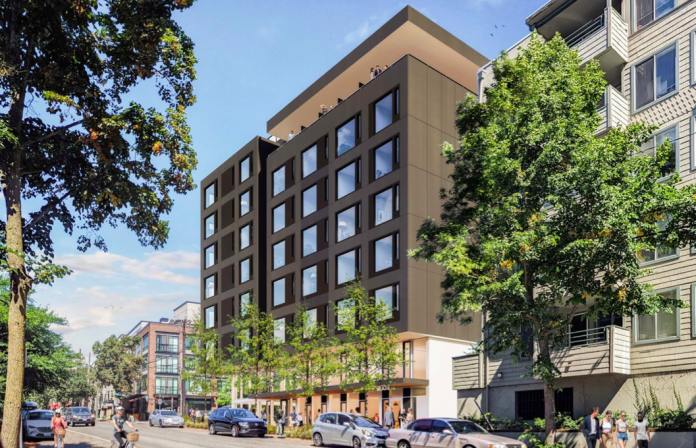 This edition of housing notes will explore two major project proposals in Seattle, the Port of Everett's ambitious residential and commercial waterfront development plan, and an eight-story apartment building advancing in Bellevue's Bel-Red neighborhood.
Transit oriented development in Seattle's Roosevelt neighborhood
Located near Roosevelt Station in North Seattle, Roosevelt Assembly, a proposed 243-home mixed-use development, is going before the Northwest Design Review Board on September 12th. In addition to increasing housing options near Link light rail, the project would also add a street level retail and coworking space. Plans call for 161 below-grade parking spaces.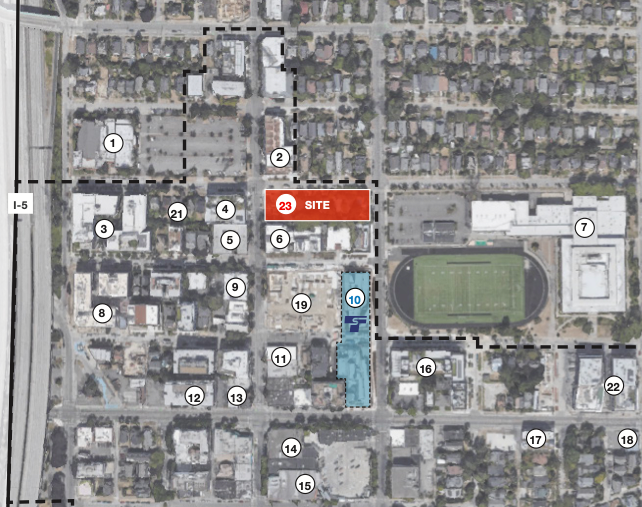 Roosevelt Assembly would represent one of the largest developments in close vicinity to Roosevelt Station. Apart from some dense Neighborhood Commercial zoning on thoroughfare streets like Roosevelt Way, mid-rise, low-rise, and even single-family zoning dominate the area surrounding station, which prompted Urbanist contributor Ron Davis to call for a density-minded zoning refresh in Roosevelt.
Light rail began serving the neighborhood in October 2021 with the opening of the Northgate Link extension, and more than 2,000 new apartments have opened since 2015, with 1,300-plus in the development pipeline, according to Shaun Kuo's tally. However, developable sites are being snapped up fast, which could spell a slowdown around the corner. This site was one of the last remaining major opportunities in the upzoned area near the station. The assembled site includes two auto shops and six single family homes, which likely was no easy feat for the applicant: High Street Northwest Development.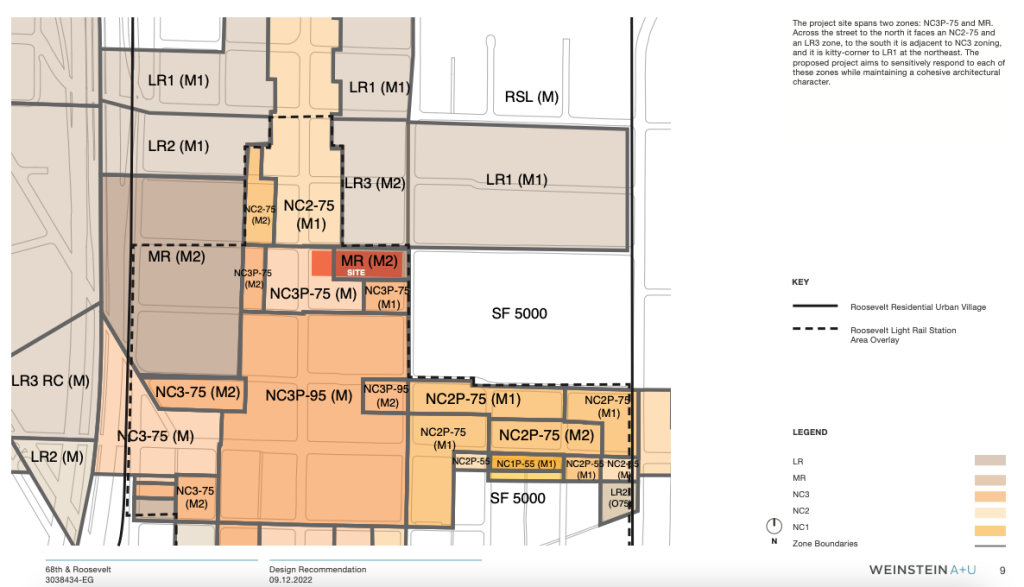 Because Roosevelt Way is considered to be a major pedestrian street, feedback generated during early design guidance on Roosevelt Assembly emphasized the importance of the development contributing to a vibrant and safe pedestrian environment. Current plans strive to meet these needs by including a variety of exteriors elements like seating, planters, and additional sidewalk space. As a whole, the proposal appears likely to be earn its design review recommendation and move forward in Seattle's lengthy permitting process, barring shenanigans.
Project architect Weinstein A+U estimates zoned capacity for 179,000 square feet of gross floor area. Mandatory Housing Affordability (MHA) requirements will apply to the project following the 2019 rezone of the neighborhood. If the developer selects the in-lieu payment option, the project would generate more than $4 million for Seattle's affordable housing trust fund at a full buildout of zoned capacity. Otherwise, the building would need to provide approximately 18 affordable homes (at 60% of area median income) on site based on the 9% inclusionary zoning requirement on most of the site (the western corner has a 5% requirement).
Plans for "first significant residential development" on N 135th near Aurora Avenue
Big box stores surrounded by large surface parking lots currently dominate the area near N 135th Street and Aurora Avenue N. However, a new proposal from Madison Development Group could be the beginning of a very different future for this suburban stretch of the Bitter Lake Hub Urban Village.
Madison Development Group tapped Johnson Oaklief Architecture and Planning to design a seven-story apartment building on a site which currently hosts a large LA Fitness gym and parking lot. In its place would go 413 homes, office space, and 206 structured (but above ground) parking stalls. The parking ratio is 50%.
…We see the subject site as something of a unique opportunity to introduce residential population in a location that provides amenity at a significant scale where the project can create its own community. As much as we would hope that the project might be a forerunner for a future residential community, we are of the opinion that that future may be 10-20 years out.

Early Design Guidance Application, 1215 North 135th Street, Seattle
Reasons why the developer is counting on a bright urban future for residential development in this area of the Aurora Avenue N corridor include the RapidRide E Line, which provides frequent transit service on Aurora, close proximity to grocery stores and other shopping amenities, and a proposed bicycle commuting trail on N 135th Street connecting to the Interurban Trail on Linden Avenue N. So far, Aurora Avenue N itself hasn't seen much residential development in Bitter Lake, but as Linden and Stone Avenues fill in nearby, the leap to Aurora, Seattle's deadliest stroad, could be next, especially if a proposed redesign tames the street, reducing speeding, crashes, and all around bleakness while promoting walkability.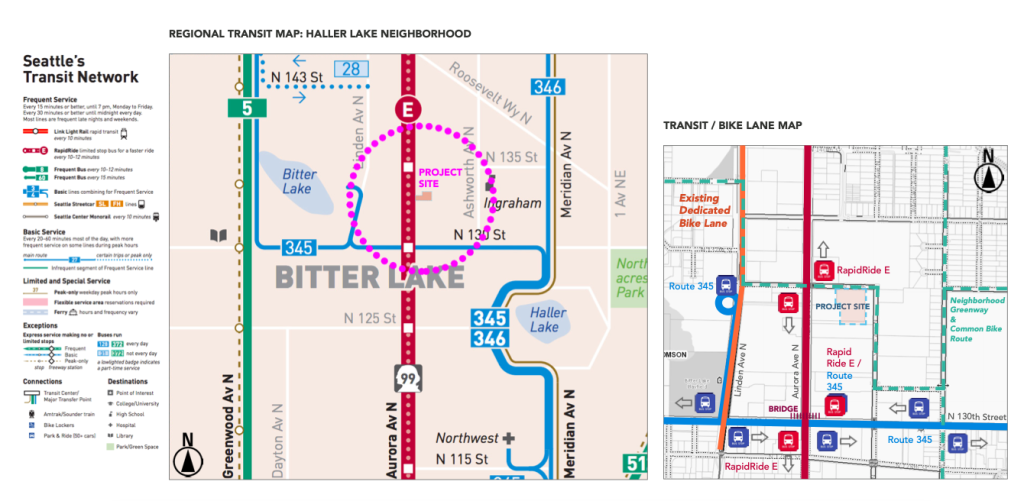 The design packet states that project would also take advantage of a new zoning designation in Seattle that allows for "significant residential in a commercial area," and it would be the first mid-rise development in the area to advance under this zoning code.
MHA requirements will apply to the project, which is projected to be just over 484,000 square feet of gross floor area. If the developer selects the in-lieu payment option, the project would generate roughly $4 million for Seattle's affordable housing trust fund. Otherwise, the building would need to provide 20 affordable homes (at 60% of area median income) on site based on the 5% inclusionary zoning requirement in the area.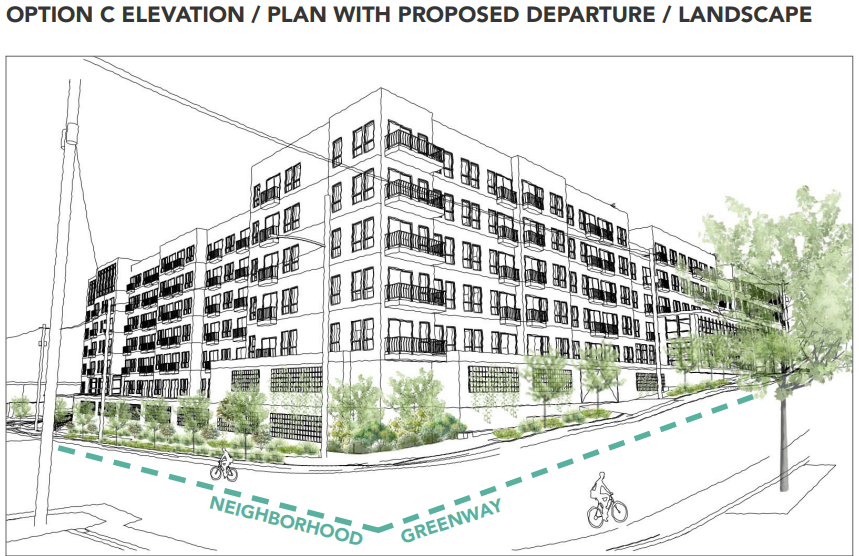 Learn more about this ambitious plan to reimagine an area currently dominated by big box retailers (and some empty commercial buildings and storefronts) as a mixed-use neighborhood at the upcoming September 12th early design guidance meeting. The project is seeking one design departure, which the developer argues would facilitate transitioning Stone Avenue N to a green street. In effect, the structured parking at the bottom of the building would be screened by a row of trees.
Major waterfront development in Everett
Slowed down by pandemic-induced construction delays and a fire that destroyed the building's frame, the Carling has begun welcoming residents. It is one of two residential developments on Marine View Drive in Everett that are known together as Waterfront Place Apartments. Its partner project, the Sawyer, was unaffected by the fire and currently has 95% of its 135 homes occupied as of July 2022. The developer said the Carling has surpassed 66% occupancy for its 131 homes at last count.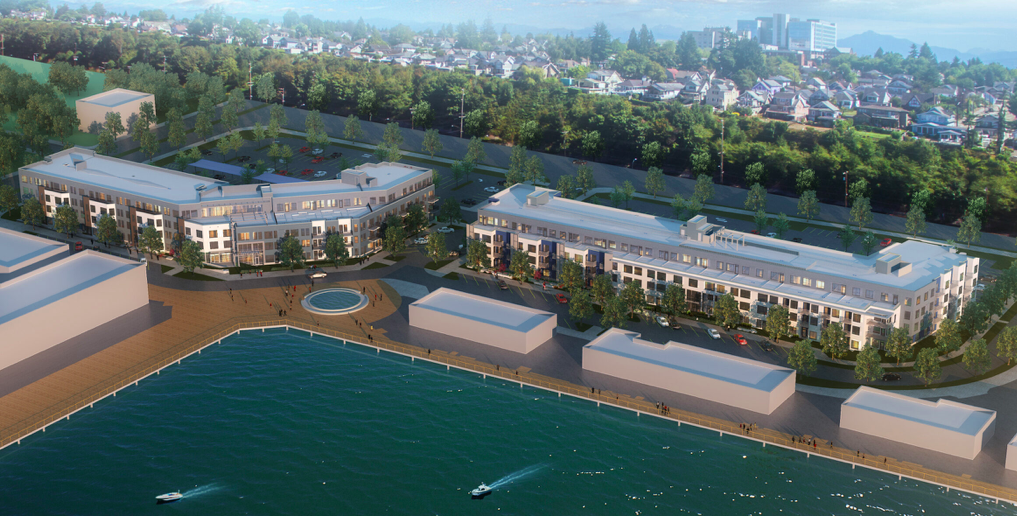 Waterfront Place Apartments is considered to be the anchor project for the Port of Everett's plans for a 65-acre waterfront redevelopment project, which it envisions as "a collection of districts designed to create a sustainable and unique commercial, recreational and residential community."
The Port of Everett has committed to investing $85 million in public infrastructure as part of its plans, which will fund new public spaces, a public dock walk at Fisherman's Harbor, and additional roadway access. When it is completed, Waterfront Place is projected to include:
660 homes,
Restaurant, retail, and commercial spaces,
A 142-room hotel,
5,000 square foot conference and event space, and
Marine sales and services spread over five districts.
The first district to have been completed was the Craftsman District, which brought a new boatyard to the area in 2009 and the remaining districts will be added over the years as part of the Port's long-range plan.
The Port of Everett is located approximately a mile and a half north of Downtown Everett. Everett Community College, Washington State University Everett, Providence Medical Center, and are all located within a 20 to 30-minute walk of the location, and the Puget Sound Naval Complex is situated directly south.
201 homes proposed near amenities in Bel-Red
Residents of Bellevue have until September 8th to submit comments on a proposed development to bring 201 apartment homes to the city's growing Bel-Red neighborhood. The development, dubbed Amity Court, will also be discussed at a 6pm September 13th meeting held online.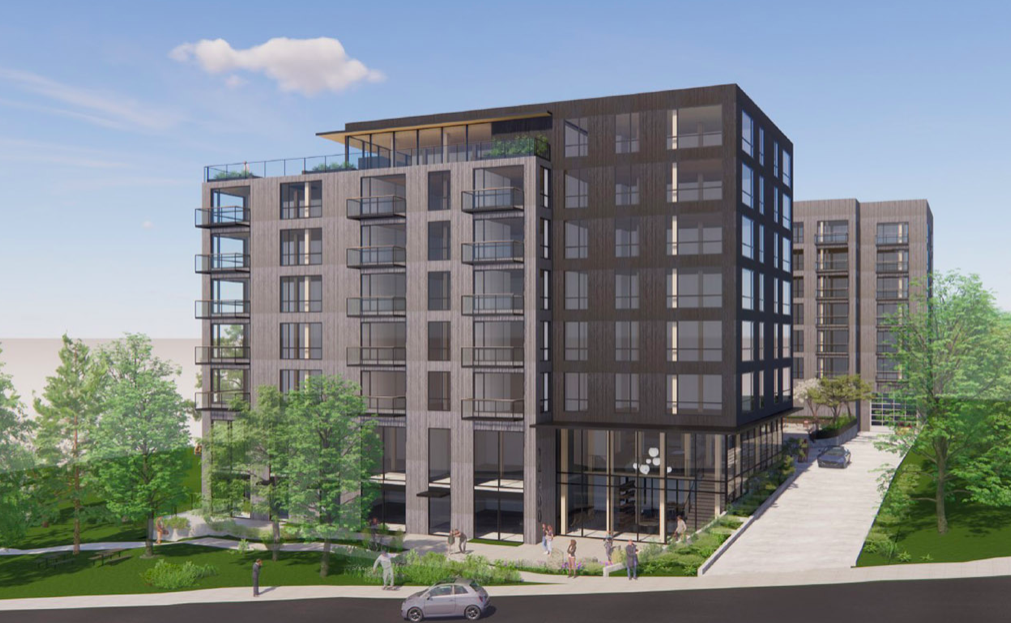 The development will be located near many amenities including Highland Park, which features a community center, skate park, baseball diamonds, tennis courts, and picnicking and play area, the Bellevue Family YMCA, and grocery stores like Safeway and Asian Family Market Bellevue, among other retailers.
The website WalkScore.com awards the proposed development address a score of 75 or very walkable, significantly higher than Bellevue's city average of 41. The development would also be served by King County Metro Route 226 on Bel-Red Road. It is also located just over a mile from the future Bel-Red 130th Link light rail station.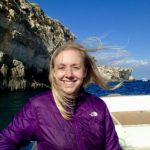 Natalie Bicknell Argerious (she/her) is Managing Editor at The Urbanist. A passionate urban explorer since childhood, she loves learning how to make cities more inclusive, vibrant, and environmentally resilient. You can often find her wandering around Seattle's Central District and Capitol Hill with her dogs and cat. Email her at natalie [at] theurbanist [dot] org.