Seattle has been taking the lion's share of the region's housing growth for the last decade, but developers are starting to look to Tacoma in greater numbers. One big reason why is that Tacoma's permitting and approval process is simple and quick, while Seattle's has increasingly turned into a grueling marathon, especially when building in areas dominated by White homeowners with a lot of spare time on their hands.
Developer Benjamin Maritz said his firm is increasingly investing in Tacoma, especially as getting projects to pencil out as profitable in Seattle has become more difficult.
"The permitting processes are far, far easier and faster in cities like Tacoma," Maritz said. "In Tacoma we have site permits in nine months. There's no design review. There's no land use permissions. It's very straightforward. The correction cycles are much faster. Everything just happens faster."
Maritz said the similar projects could take three or four times longer to get approved in Seattle's more byzantine system. Seattle has bifurcated its system to include a land use application for a Master Use Permit (MUP), itself an extensive process, overlaid on to a separate construction permit process that involves going through another round of design corrections focused on engineering. Tacoma has streamlined its process under one construction permit.
When I called up Tacoma's permit office to confirm their permit times, a knowledgeable staffer was ready to answer my questions and to point me to resources such as the permit timeline tracker. The tracker said 85% of permits for new buildings are issued in 46 weeks or less with 2.37 average correction cycles. This kind of support and information is a big deal to a builder.
"In Seattle, our fastest project will be two years and our slowest one will be three years to get permits," Maritz said. "And that additional time to have to hold the land is really expensive. We're borrowing to buy the land, and a land loan interest rate is 5% to 10% depending on what you're getting."
Construction labor is also pricier in Seattle, with subcontractors charging higher rates, Maritz said. Even the Multi-Family Tax Exemption (MFTE) program is more generous in Tacoma, requiring less steeply discounted rents to qualify, as compared to Seattle. The result is it's just cheaper to build in Tacoma — 20% cheaper on similar projects, Maritz said.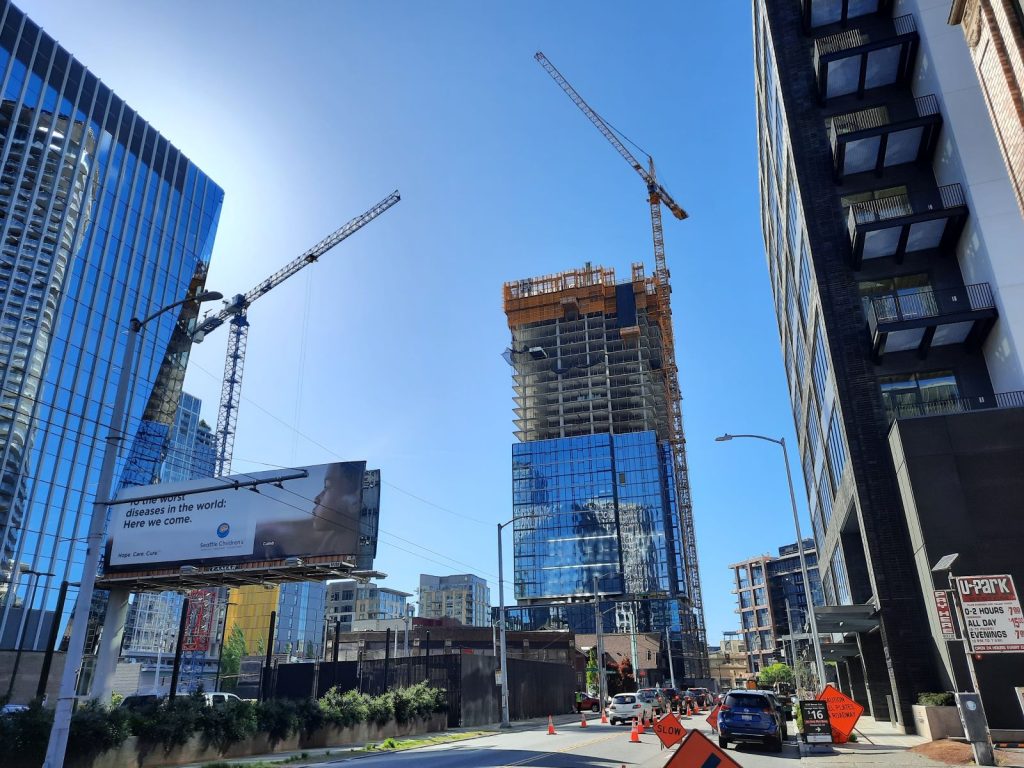 The Seattle Department of Construction and Inspections (SDCI) disputed that Maritz's figures were typical, quoting 14 to 18.5 months as typical SDCI's time to issuance of the Master Use Permit applications when it comes to large multifamily projects. Still, a spokesperson admitted "the time it takes is subjective in terms of how you measure the start and finish." It doesn't appear SDCI is counting some of the pre-application steps like community outreach that developers must do. Moreover, land use appeals wouldn't count in the permitting timeframe as those appeals go to the City Hearing Examiner, the County Superior Court, or the Washington State Department of Ecology, depending on the grounds.
Other apartment developers have backed up Maritz's figures and said two-year permit timelines are typical, even before considering appeals. While this isn't quite San Francisco territory — where large multifamily projects tend to take two to four years in the entitlement or permitting phase and much longer in some cases — it's getting there.
Rents climbing in Tacoma and the 'burbs
When Seattle rents were still on their meteoric rise, builders generally put up with the hurdles, headaches, and risk-adding delays of the City's permitting process. However, with Seattle rents dropping significantly for the first time in a decade at the same time as Tacoma's continue to climb steadily, that calculation is starting to change.
As of April 2021, RentCafé pegged Seattle's average rent at $1,889, down 12% since last year, and Tacoma's average rent at $1,450, up 7% since last year. The average apartment in Tacoma is also larger at 833 square feet, compared to 692 square feet for Seattle, according to RentCafé. That difference means that average rents are 30% higher in Seattle than Tacoma, but the gap is closing.
In January, The Seattle Times' Heidi Groover covered the trend of rents spiking in the outlying area of the Seattle metropolitan area and falling in city limits. A big factor driving the trend seemed to be work-from-home measures allowing Seattle-based workers to seek out more living space in the suburbs. Many tenants also made the leap to homeownership. This outflow from the Seattle rental market drove the nosedive in rents in newer housing stock, and conversely drove up prices in outer areas of the metropolitan area.
Seattle's rental market already appears to be back on the upswing with tenants reporting fewer deals being offered. It's also important to note that tenants in the middle and lower-end of the market saw less relief than at the higher end of the market, where there were more vacancies. Maritz said their Seattle buildings, which are geared toward more affordable rents, are essentially full with very few vacancies.
Something has to give in Seattle
The developers I talked to for this series agreed that Seattle's fast-rising housing prices had papered over some of the fundamental issues with its permitting process. With rents dipping over the past year that easy salve is gone, and it is not an ideal time for that to happen. A confluence of factors could be a drag on new housing in Seattle.
Lumber prices are sky high. The pandemic slowed lumber production but not demand, as many remodeled their homes and large construction projects quickly resumed. Lumber prices have more than doubled.
Land is still very expensive. With single-family home prices skyrocketing, land isn't getting any cheaper.
High market uncertainty. One builder told me this was the most uncertain market he's ever experienced in his long career. Will Seattle roar out of the recession or will the downturn linger? Will Seattle reduce exclusionary zoning or keep adding more restrictions and onerous requirements on developers? Will material costs stabilize or keep their runaway growth? Without solid predictions about where the market is headed, builders are rudderless and project risk is high — potentially unmanageably so.
Some banks and investors are spooked. Some developers have struggled to get financing as investors worry about a softening market, rising costs, and a tarnished image as many media outlets (especially the conservative ones) portray Seattle as a site of civic unrest, homelessness, and (gasp!) rampant progressive policymaking. Some investors are especially averse to government-imposed requirements like Seattle's Mandatory Housing Affordability (MHA) inclusionary zoning program that add costs.
Permitting is still complex and slow. A slow permitting process could be the final nail in the coffin for many projects. In an uncertain market where financing is hard to come by, trying to pencil out a project with two to three years of permitting limbo at the start just makes the rhythm and timing that much more difficult.
Such a complex and slow permitting process risks not just drying up the housing pipeline, but also distorting who can compete in the market and what gets built. Maritz said Seattle's complicated permitting system helps established developers by raising the barrier to entry for new entrants. Bigger firms with experience getting projects permitted in Seattle and access to capital to sit on properties during protracted land use fights and code correction cycles are highly advantaged in this system. Conversely, if helping newcomers and small builders getting their projects off the ground is a goal, Seattle has designed an obstacle maze rather than a system to nurture them. (I was going to make a permitting flowchart, but it was complicated and varied enough by project type that I gave up.)
One way many builders are responding, including Maritz's firm, is focusing on small housing units to cover Seattle's expensive land and material costs. "We're proud of what we do there; we're continuing to build in Seattle, but we have a real blind spot for family housing," Maritz said. "We don't have a good strategy for family housing in Seattle."
Maritz is the developer on an intriguing project in the Central District that aims to be a model for market-rate developments to provide below-market rents and community value by thoughtful design. He has teamed up with architect Donald King and Schemata Workshop on the Acer House project to pursue an Afrofuturist design aspiring to be culturally relevant in this historically Black neighborhood. Early designs pair 400-square-foot studios with some family-sized units and first-floor daycare center. Acer House, Maritz told Capitol Hill Seattle Blog, could be the "first truly anti-racist private sector development here in Seattle." The project is still at the Early Design Guidance stage of design review and is seeking a contract rezone from the Seattle City Council for an extra story of height. So, it remains to be seen if the project vision can be realized.
Beyond smaller units and seeking to forge new models, some developers are heading for the hills.
"When I talk to my peers, developers about our size, they're all moving and doing townhouse developments on the Eastside in Bothell, places like that where there's better availability of land, lower cost of construction, and a red-hot housing market," Maritz said.
Most other cities in the region have permit times closer to Tacoma's than to Seattle's which suggests many other cities could be poised to seize on Seattle's stumbles, especially as their real estate markets heat up — at least if their zoning allows. Waiting three times as long to get a permit in Seattle is less attractive to builders when rents are similar elsewhere.
A lingering, long-identified issue
We're not the first to identify expediting permitting as a fix for our ailing system of housing creation. Seattle Housing Affordability and Livability Agenda committee made it one of their 65 recommendations back in 2015, and it's been a frequent suggestion for years. Unfortunately, it hasn't been implemented in any full sense.
Housing advocates and builders had hoped that the emergency ordinance to deal with pandemic by switching to electronic design review with more projects going through administrative design review with the SDCI instead of a volunteer design review board. But permit times haven't consistently improved and some developers have complained the new process is even murkier than the old one. Regardless, the emergency ordinance can't last forever and will soon expire.
SDCI responds
SDCI has suggested in some cases developers may be slow-walking their permits in order to make sure their construction permit is timed for the ideal time to use it since it expires a year after issued. Trying to open a building amidst a recession can quickly erase profits and risk financial ruin. However, it appears unlikely this is the primary dynamic at play, as lengthy permitting times are not a new issue for Seattle. SDCI spokesperson Bryan Stevens suggested architecture and engineering firms may also be running into capacity constraints due to Seattle's building boom.
"When reviewing permitting times, you [need] to consider the pace of the construction market in a particular city or region," Stevens said in an email. "Meaning that not only are City staff dealing with high volumes of work, but so are the design and engineering community. For the data provided below, plans are in our hands for roughly 50% of the total timeline for obtaining a permit. The other half is in the hands of design professionals, consultants, and engineers who are also dealing with high demand for their services as they revise and correct plan sheets for our review."
The high volume of projects has created challenges for SDCI to maintain proper staffing levels. The agency has stepped up hiring and added new planners and engineers, but sometimes staffing up in one department comes at the expense of another as existing staff take new roles, leading the bottleneck to just move areas.
"We recognize the bandwidth issues for our department and have recently hired a half dozen plan reviewers to decrease review times on building permits," Stevens said. "We are also piloting a new software tool which can allow minor corrections to be made to a plan set in real time while discussing them with the applicant, which will decrease correction rounds and can shave several months of the permit process."
Outside of the pilot program software, Seattle is using a clunky and antiquated system for code corrections that requires long written explanations citing code sections rather than quick notes directly onto plan sets flagging the problem area more legibly, as some other jurisdictions have adopted. The clunky pen pal version slows down correction cycles and may partially explain why architecture and engineering firms aren't able to respond quicker.
A SDCI blogpost also noted that the Citywide pandemic hiring freeze set them back, as did the several weeks backlog from when the design review program was shut down due to Covid before the City could get the emergency ordinance to go online. Still, eventually these various kinks must be worked out so Seattle can build as much housing as it needs to prevent price spikes and rampant displacement.
A bifurcated system creates permit labyrinths
One way or the other, Seattle has to take some obstacles off its maze of a permitting process. Some urbanists have called for abolishing design review boards and that's not a bad place to start, but it won't solve the whole issue on its own. That said, it could avoid some of the really egregious cases, like the long delayed Queen Anne Safeway project that had to go back to the design review board over and over again to squabble over mundane details. The Seattle City Council recently passed a reform intended to streamline permitting and environmental reviews for low-income housing projects, but it really should go further both for social housing projects and to streamline more broadly.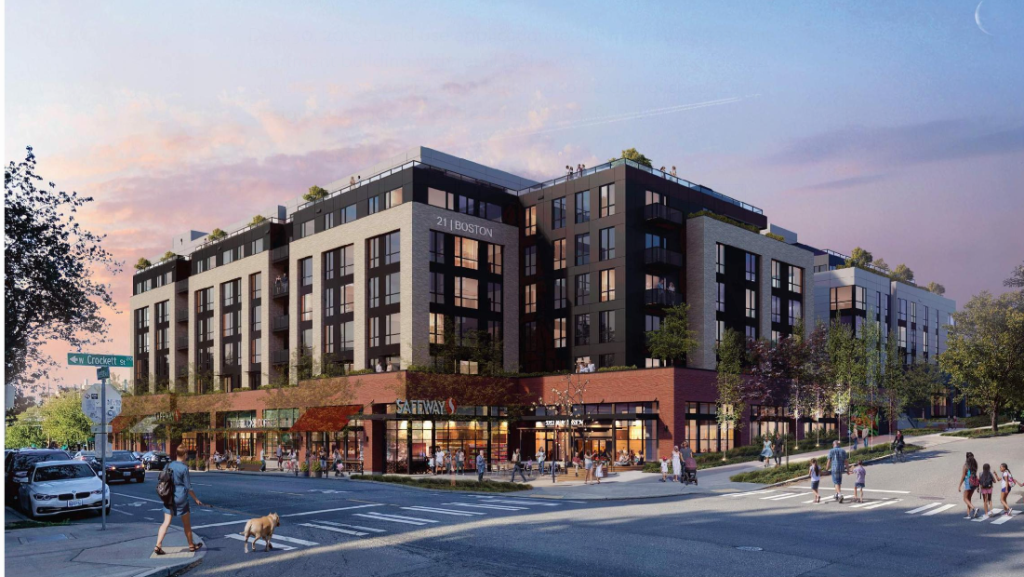 Many of the issues continue after a project has cleared design review and has its recommendation from the volunteer board, such as the long code correction cycles Maritz mentioned. People may believe that design review boards would solve some of these nagging issues, but that's not what they're there for — it's almost entirely aesthetics and weighing in on code departures as necessary. Take for example the Community Roots social housing building above Capitol Hill Station; the East Design Review Board delayed the project for using the wrong shade of blue or something.
A design review recommendation gets a builder closer to the finish line, but it's the construction permit that ensures the building meets energy codes (which just got updated) and other building codes. Having the land use permit separate from the construction permit siloes the two halves of SDCI, leading to unnecessary delays for projects that are grappling with a land use permit and construction permit simultaneously and getting pulled in opposite directions. Getting a permit for street and sidewalks changes from the Seattle Department of Transportation adds yet another silo and bottleneck. Engineers looking for structural issues shouldn't be among the last to look at a project. It's astounding Seattle squanders time debating facade length, brick color, and accent treatments before even grappling with the fundamental soundness of a building.
Still SDCI argued that land use and construction permits happen in parallel, not actually costing the developer time, but developers didn't seem to agree. The complexity of this juggling act means once you make one false step or toss, the whole routine can be thrown off, with cascading delays for both permits as the juggler scoops up the mess.
"[T]he building permit application is usually submitted for review shortly after a MUP application is filed for review — meaning they are reviewed in parallel for the most part. Considering the substantial overlap of the building permit review while MUP is under review, the timing tends to hinge on the timing of MUP approval to allow issuance of the building [permit], which is 14 – 18.5 months for complex projects," Stevens wrote. "Less complex construction permits for smaller scale multifamily proposals can take around 9 months."
Single-family homes and smaller multifamily projects don't require a land use permit and skip design review, and thus sidestep much of this red tape. Setting up the system this way perversely prioritizes the most expensive housing type, a detached single-family home, over working class apartment buildings. Why shouldn't Seattle be offering housing permit times for apartment buildings that are at least as fast as teardowns for spacious single-family homes? And, by the way, most of those single-family homes are exempt from Mandatory Housing Affordability contributions that multifamily projects pay or perform on-site. The incentives are backwards.
The other issue is the land use codes and development standards needing to be simpler and better communicated in the first place so there aren't so many trip-up points for a project. It's high time Seattle streamlined its rules about what can be built so that it doesn't take three years to decipher the tome we've created. The system is highly incompatible with deep green projects and passive house construction techniques, which necessitate simple heat-efficient shapes rather than the wildly modulating structures with upper-level setbacks, which is what our code and design review boards generally prefer. If we're serious about being a climate leader, we need to set up our system to promote deep green buildings and issue permits to them as quickly as possible. And no one should have to wait three years for what Tacoma does in nine months.
In the next installment of this housing series, I'll start looking at the zoning side of the puzzle. Again, it's an area where Tacoma is poised to leapfrog Seattle, as the Grit City advances broad reforms to its single-family zones to encourage missing middle housing and transit-oriented development. Seattle should be taking notes.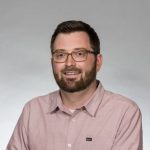 Doug Trumm is publisher of The Urbanist. An Urbanist writer since 2015, he dreams of pedestrianizing streets, blanketing the city in bus lanes, and unleashing a mass timber building spree to end the affordable housing shortage and avert our coming climate catastrophe. He graduated from the Evans School of Public Policy and Governance at the University of Washington in 2019. He lives in East Fremont and loves to explore the city on his bike.