King County Metro is back with its next phase of the Lynnwood Link bus restructure process. The proposal focuses on feeding riders to new stations opening as part of the light rail extension and consolidating some redundant service. It also partially reintroduces some past ideas to offer better east-west connections in North Seattle and Shoreline neighborhoods, but they seem to mostly fall short of the type of crosstown routes long-requested by riders.
At some point, the proposal does go a bit awry. It leaves out a lot of North Seattle routes from potential changes, which complicates how service hours and routes could be redistributed, and cuts many areas from any walking-distance local routes already served by Metro.
In a bit of déjà vu, transit riders may quickly realize just how much this proposal echoes the pandemic-era austerity bus restructure that Metro finalized and implemented as part of the Northgate Link opening. But let's walk through the finer details of the proposal, what there is to like and dislike about it, and how it could be improved. With the bus restructure not set to take place until 2024 when Lynnwood Link opens, there's still time to get this right.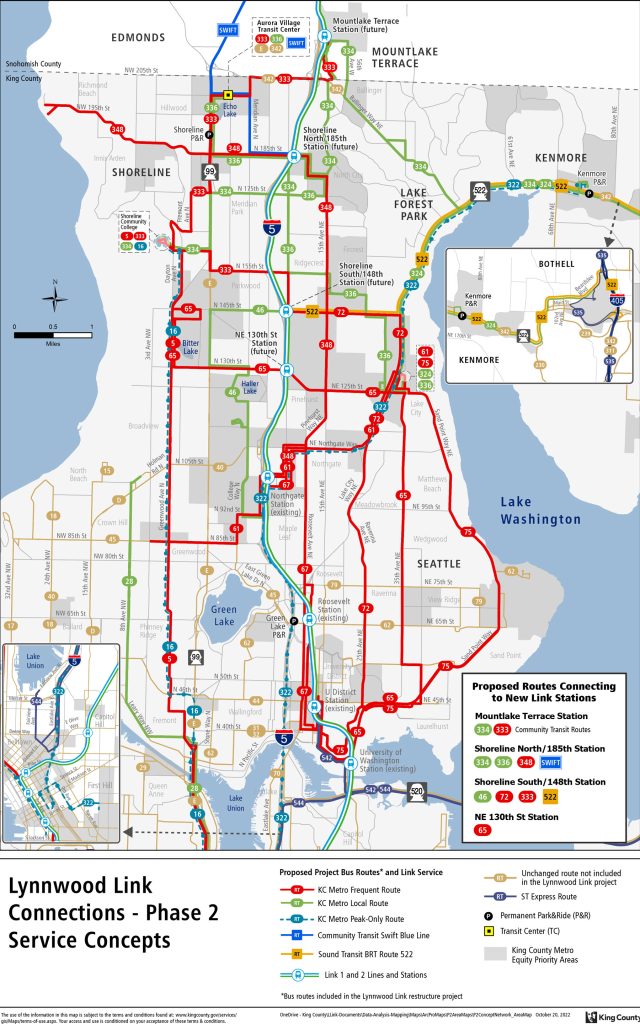 Innovative ideas
Let's start with some of the interesting ideas in this proposal first.
Feeding riders to stations: A smorgasbord of bus routes would be designed to directly serve new light rail stations opening north of Northgate, including: Route 65 to NE 130th Street Station; Routes 46, 72, 333, and 522 to Shoreline South/148th Station; Routes 334, 336, and 348 to Shoreline North/185th Station; and Routes 333 and 334 to Mountlake Terrace Station. At Northgate, new and adjusted Routes 48, 61, 67, 322, and 348 would serve the station in addition to existing Route 40. Note that Community Transit will separately extend the Swift Blue Line to Shoreline North/185th Street Station.
East-west connections: By feeding riders to stations, Metro is able to provide some new east-west connections. Examples include Route 61 between Greenwood and Lake City via Northgate, Route 65 between Bitter Lake and Lake City via NE 130th Street Station, and Routes 333 and 334 between Aurora Village and Kenmore via Mountlake Terrace Station.
Shoreline Frequency: In Shoreline, Metro is proposing to bump up local bus frequency with a handful of routes, which would be a gamechanger for the suburban community. Only Routes 5 and 65 and the RapidRide E Line provide semi-frequent service to the community today. Under the proposal, Routes 65, 72, 333, and 348 would provide 15-minute frequency throughout much of the day on weekdays and weekends to many more areas of the city than today. The extension of Swift Blue Line will also be a welcome addition for riders in the community with a rapid connection from Aurora Village to Shoreline North/185th Street Station.
Cutting express routes: Metro is proposing to retain just one peak-hour express bus route originating north of the Ship Canal on I-5 with Route 322, which runs from Kenmore to First Hill via Northgate and Downtown Seattle. That means Routes 301, 302, 303, 304, and 320 that run on I-5 would go away. Metro is also proposing to cut the express part of Route 28(X) and deleting Route 64X, but would keep express Route 16, which essentially parallels Route 5 from NE 145th Street to Downtown Seattle.
Painful ideas
When it comes to painful ideas, that really just boils down to cutting local bus service. Metro is working with too few service hours and proposing to redeploy service to areas already receiving frequent transit service. That means areas in Pinehurst, Bitter Lake, Maple Leaf, Green Lake, Tangletown, and Wallingford could see a cut in local bus service to balance the books.
Metro is proposing to fully delete Routes 20 and 73. That means fully abandoning service on Latona Avenue NE and 15th Avenue NE between NE 75th Street and Pinehurst Way NE. Also worrying, Metro is proposing to entirely cut bus service from sections of Lake City Way NE — a natural transit corridor — from Roosevelt Way NE to Ravenna Avenue NE and on Meridian Avenue N from N 130th Street to N 185th Street. Other notable proposed service cuts include segments on 5th Avenue NE between NE Northgate Way and NE 125th Street, 3rd Avenue NW between NW Richmond Beach Road and NW 200th Street, and NW/N 200th Street between 3rd Avenue NW and Aurora Avenue N.
Some of the routes on the chopping block are indeed lower-performing ones in the network, but they provide meaningful coverage and connections in areas with transit-supportive densities. And while Metro is proposing some new service on east-west streets that cross Meridian Avenue N to link up with the RapidRide E Line and Link stations, that alone doesn't make up for the direct bus access people have today and connections that Route 346 offers. So many of these deletions just don't make up for what they take away.
The proposal merits some praise and a lot of criticism
So with the proposal summed up, let's tick through what's good and bad about it.
In an era where Link is becoming a critical north-south rapid transit spine and rider demand is more spread throughout the day, feeding bus routes to stations, cutting peak-hour express bus routes, and reinvesting freed up service hours for more frequent local service is exactly the kind of thing Metro should be doing at every opportunity and Metro should be commended for it.
It is, however, peculiar that this restructure misses the opportunity to eliminate peak-hour express Routes 16 and 322 in the study area and frankly others in Ballard. Those service hours could bolster the local network in a meaningful way, saving critical local service proposed for deletion. It's also curious that Metro decided to exclude a whole constellation of local routes from possible changes in North Seattle, whether they be in View Ridge, Fremont, Sunset Hill, or Central Ballard.
By keeping the bus restructure focus especially narrow on north-south bus routings and connections to new Lynnwood Link stations, the proposal misses opportunities to develop truly complete and additional east-west crosstown bus service. Take, for instance, what Metro is doing with Shoreline South/148th Street Station. Multiple routes converge at the station to more or less allow for hopefully shortish transfers, depending upon destination. Routes 46/333 on the west side and Routes 72/522 could shuttle riders between parts of Shoreline and Lake City via the station, but forcing people to transfer between buses at Link stations to continue crosstown really just doesn't cut it.
The best example of a crosstown route proposed in this restructure is Route 65 that fully runs through east-west and manages to serve a station. The second best is Route 61, but Metro manages to split the baby with a bungled version compared to the one considered in the Northgate Link restructure. It's just hard to get excited about what Metro is doing here.
In another restructure, Metro might build out several full crosstown routes north of 85th Street, two to three somewhere between 85th and 50th Streets, and even extend Route 542 all the way to Ballard via lower Wallingford and Fremont.
As for the Route 522 revision proposal, this will bring buses directly to the new light rail station at NE 148th Street and I-5 in Shoreline via NE 145th Street. There's a lot of good sense in doing this, but the line will eventually be converted to the Stride S3 Line with many fewer stops. Fortunately, Metro appears to have ameliorated this by layering Routes 72, 324, and 334 and providing all-day service at varying frequency levels.
Another source of criticism with this proposed restructure is that it's just eliminating a lot of critical local service. Seattle and Shoreline are growing and shouldn't be seeing less coverage and direct connections than it has today, the exact opposite should be happening while frequencies and span of service are a boosted. Loss of service is truly concerning and makes access to and attractiveness of our transit network worse.
This restructure also shouldn't be viewed just through the lens of how it's arguably better or worse for individual riders. It has real implications on how development will be delivered in the future. In Seattle, the city's land use code provides for partial and full reductions in car parking mandates in many zones where frequent, all-day transit is provided within a quarter-mile of a transit stop. That affects how much car parking must be delivered for new residential and non-residential projects, particularly in multifamily and commercial zones.
Moreover, a loss of local transit service could wind up increasing car parking requirements that projects in North Seattle will have to bear. That, in turn, could reduce or tilt the scales against development and increase housing costs. Another consequence of more car parking as part of housing is that people are likely to have more cars, which reduces the frequency of their transit use, especially when local transit is taken away. In other words, the consequence of cutting local bus service sets up a vicious, rather than virtuous, cycle in future North Seattle bus ridership. This is certainly something Metro should explore closely in its bus restructure process here and in future ones.
Summing it up
As a matter of policy, this kind of bus restructure should be concerning when we're opening new light rail stations. People shouldn't be losing local bus service just so some people have better connections to light rail. They should be getting better connections to light rail and have great local bus service. Perhaps this is a failure of policy by the King County Council not mandating and promising an increase in service hours to achieve both of these objectives. Whatever the case, Metro should go back to the drawing board and maybe even request that officials cough up money to fund an equitable plan that works for everyone. This proposal just really misses the mark and will leave much of our bus system in North King County even more hobbled than it was to begin with.
Now's the time to get involved. Through March 10th, the public can provide feedback on the proposals online.

Stephen is a professional urban planner in Puget Sound with a passion for sustainable, livable, and diverse cities. He is especially interested in how policies, regulations, and programs can promote positive outcomes for communities. With stints in great cities like Bellingham and Cork, Stephen currently lives in Seattle. He primarily covers land use and transportation issues and has been with The Urbanist since 2014.