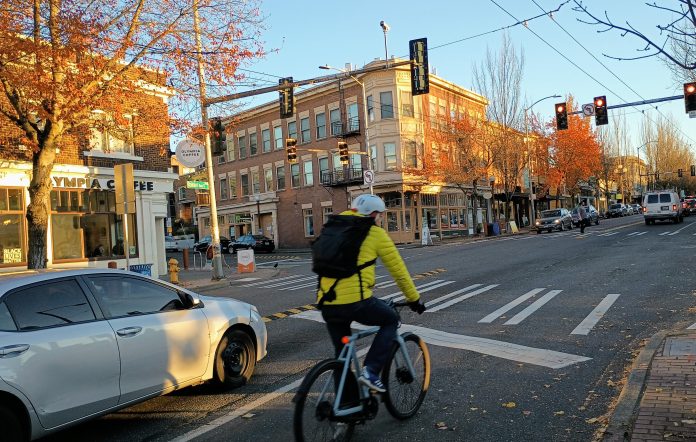 On Monday, Senator Maria Cantwell's office announced that the Seattle Department of Transportation (SDOT) has been selected to receive over $25 million from the U.S. Department of Transportation for a suite of street improvements intended to improve safety, as part of the new Safe Streets for All grant program funded by the Infrastructure Investment and Jobs Act passed in 2021.
The Senator touted the impact that the grant will have on streets in SoDo, one of the most dangerous neighborhoods in the city for people using any mode of travel, but SDOT's grant application, which The Urbanist covered last fall, includes projects across the entire city. It included 4 miles of protected bike lanes, 4.5 miles of arterial traffic calming, 1.5 miles of new sidewalks, and upgrades to 117 different intersections. 97% of the funds were earmarked for underserved communities that have been bearing the brunt of disinvestment for decades: the Rainier Valley, Beacon Hill, the Duwamish Valley, Bitter Lake, and Lake City. The $30 million in projects was to be combined with $7.5 million in local dollars, stretching them further.
"This 'Safe Streets' grant means we will accelerate efforts to improve and innovate our sidewalks and streets, especially in underserved and disproportionately impacted communities," Seattle Mayor Bruce Harrell said in a statement following the announcement. "From calming traffic on high-crash streets to helping families safely walk and bike to school, we must do everything we can to reverse the heartbreaking trend of people being injured on our streets. We're grateful for this partnership and the significant resources that will go toward keeping people safe."
Monday's announcement came with some fine print: USDOT isn't set to provide the full award requested. However, the $25.6 million award is very close to that $30 million originally requested, and would fund almost the entirety of the cost of the improvements themselves, without funding for planning and design work, according to the application. It remains to be seen what the impact of that funding gap will be.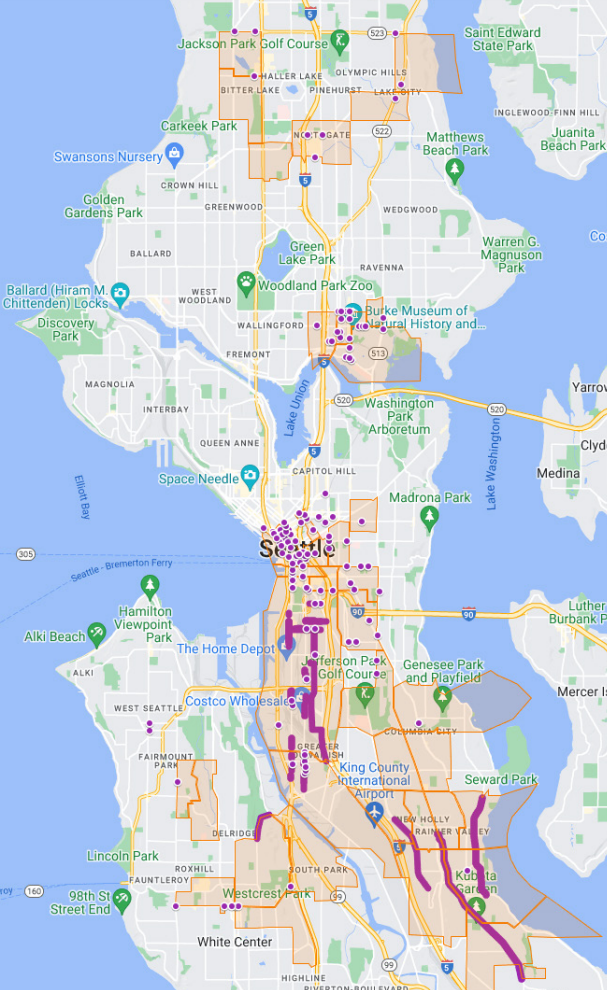 "We are working internally and with our USDOT partners to determine which projects can be completed with these grant funds, while improvements at other sites may be built with local funds or future grants," SDOT spokesperson Ethan Bergerson told The Urbanist via email.
There are a number of sources that could end up providing a local match to make the package whole. Around 40% of the funds are set to go to upgrade intersections with Accessible Pedestrian Signals (APS) and other pedestrian-oriented upgrades, which the city is also funding via its new transit-lane and block-the-box camera pilot, still active for another few years. Additional cameras could help fill that gap. In addition, the city is planning to double the number of school zone speed cameras in future years, and is currently using a very conservative estimate for future revenue. Ultimately, the gap is fairly small, even in a year of city budget crunching.
The urgently needed upgrades impact a number of areas of the city that have seen high profile (and avoidable) tragedies in recent years. Traffic calming on Seward Park Avenue S is set to improve the spot where Mike Colmant was hit and killed by a wrong-way driver while riding his bike in 2021. And sidewalk upgrades in SoDo, as well as a long-awaited route for people biking to safely navigate through the neighborhood, will make changes near the site of crashes that killed both Antionio Tiongco and Gan Hao Li last year.
Among the six unsignalized intersections citywide that made the list of proposed upgrades was Harvard Avenue E and E Olive Way, one block from the Capitol Hill light rail station. In November, a crosswalk was painted across Olive without SDOT approval by one or more safe streets activists. Within a day, the crosswalk had been washed off the street by city crews. If the upgrades are able to move forward, they will add marked crosswalks, flashing beacons, and a median island at the intersection, providing the infrastructure the city says is needed to support a new crosswalk at this dicey intersection. Of course, the city has a lot of other crossings like that one, and federal dollars will only go so far.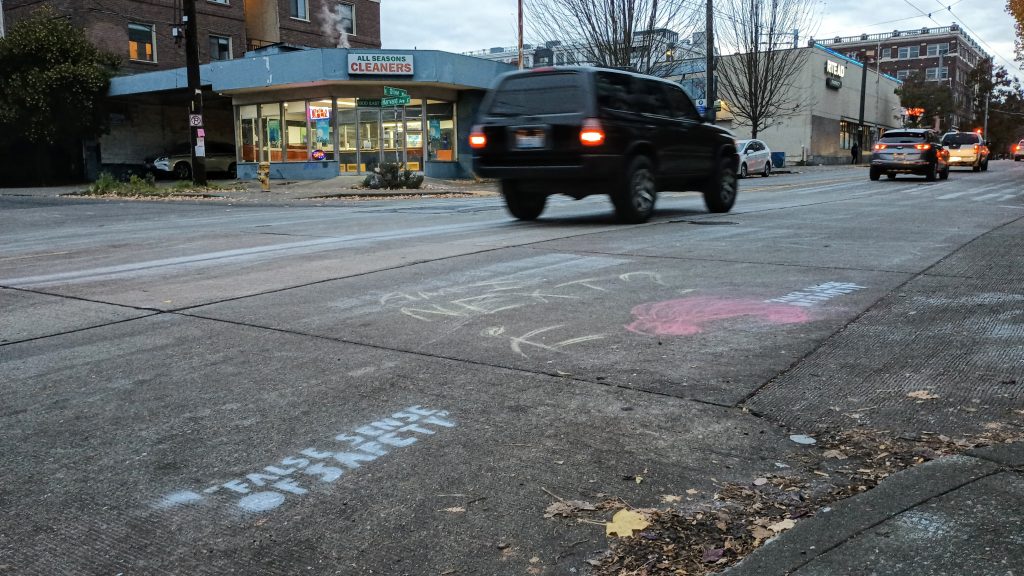 The timeline for making these improvements will be something to watch. SDOT is already planning to deliver a large number of projects by the end of 2024, coinciding with the end of the nine-year Move Seattle Levy. Those include the first phase of the Beacon Hill bike route, the Georgetown to South Park Trail, and a new protected bike lane on Alaskan Way. Given the fact that so many of the projects in this USDOT grant are urgently needed safety upgrades, we'll be watching to see whether any schedules, including on some projects that have already been delayed, get impacted.
Seattle was not the only jurisdiction to be awarded funds this week via the Safe Streets for All program, though it did receive the largest overall award in the state. Sixteen other government bodies are set to see safety funds, most totaling less than one million dollars. Locally, the Puget Sound Regional Council, the four-county regional planning body for central Puget Sound, will receive $4.8 million to create a comprehensive regional safety plan. Improving safety on a regional scale, as some areas of the region have experienced much bigger jumps in traffic fatalities than others since the start of the pandemic, was a priority for a broad set of elected officials as the body approved a regional transportation plan last year.
But the large award for Seattle just shows how competitive Washington's largest city is in terms of the federal dollars that are set to be available in the coming years. Last year, SDOT passed on applying for another high-profile USDOT program, the RAISE grant, but will have another opportunity this year to request funds for one or more additional projects that have the potential to make a big impact on the city. The opportunities are only expanding at this point, if Seattle is able to find the vision to match them.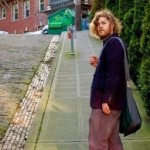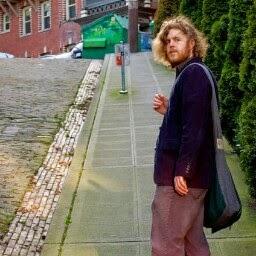 Ryan Packer lives in the Summit Slope neighborhood of Capitol Hill and has been writing for the The Urbanist since 2015. They report on multimodal transportation issues, #VisionZero, preservation, and local politics. They believe in using Seattle's history to help attain the vibrant, diverse city that we all wish to inhabit. Ryan's writing has appeared in Capitol Hill Seattle Blog, Bike Portland, and Seattle Bike Blog, where they also did a four-month stint as temporary editor.