At their meeting last week, Bellevue's Planning Commission initiated their discussions on a land use code amendment (LUCA) to allow more micro-apartments in the city. The work is the next step from an October 10th Council direction to advance the LUCA as part of the city's Next Right Work strategies on affordable housing.
For the purposes of the LUCA, staff have defined micro-apartments as units that are 320 square feet or less and contain both a kitchen and a bathroom. This distinguishes the units from group quarters or congregate housing, which have multiple bedrooms around shared facilities. Although micro-apartments are not explicitly banned from the city under the current land use code, staff say that existing multi-family amenity requirements have presented barriers to their construction that has led to few, if any, units being built.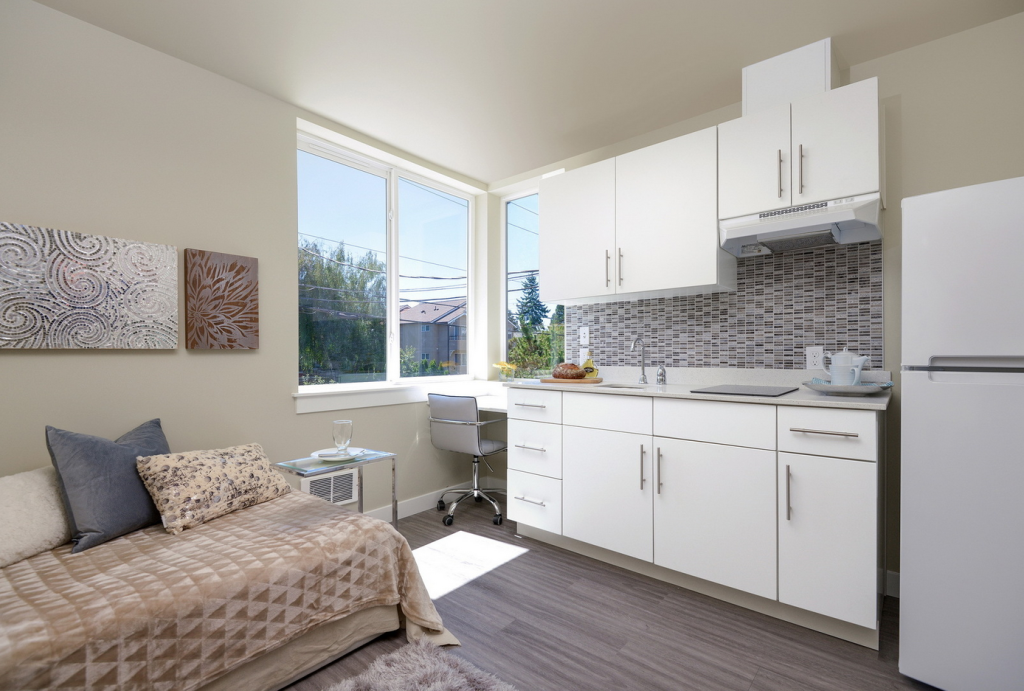 With input from the Planning Commission, development community, and the general public, staff would craft a LUCA that would seek to remove some of these barriers from micro-apartments constructed in existing mixed-use areas. In their current proposal, the number of required off-street parking spaces would be reduced to 0.25 spaces/unit, with no spaces required for units permanently affordable to people making 80% of Area Median Income (AMI) or less. Depending on their location in the city, current studio units can require as many as 1.2 parking spaces per unit, a regulation which represents a significant cost for micro-apartment developers because it reduces the amount of developable land.
Additionally, staff's current suggestions would remove requirements for multi-family play areas, allow for increased density by switching from a dwelling units per acre metric to a Floor-Area Ratio (FAR) calculation, and require more bicycle parking. These changes are meant to acknowledge that most residents of these developments would be single adults without children who would be more likely to rely on transit, biking, and walking to access their day-to-day needs.
Access to transit is a key consideration of this LUCA process, as the Planning Commission will also decide in which mixed-use areas of the city these reductions in barriers would apply. Although the body could choose to restrict the LUCA's scope to areas within a half-mile of frequent transit, staff have recommended that all mixed-use areas be incorporated to take advantage of potential future increases in transit service and coverage.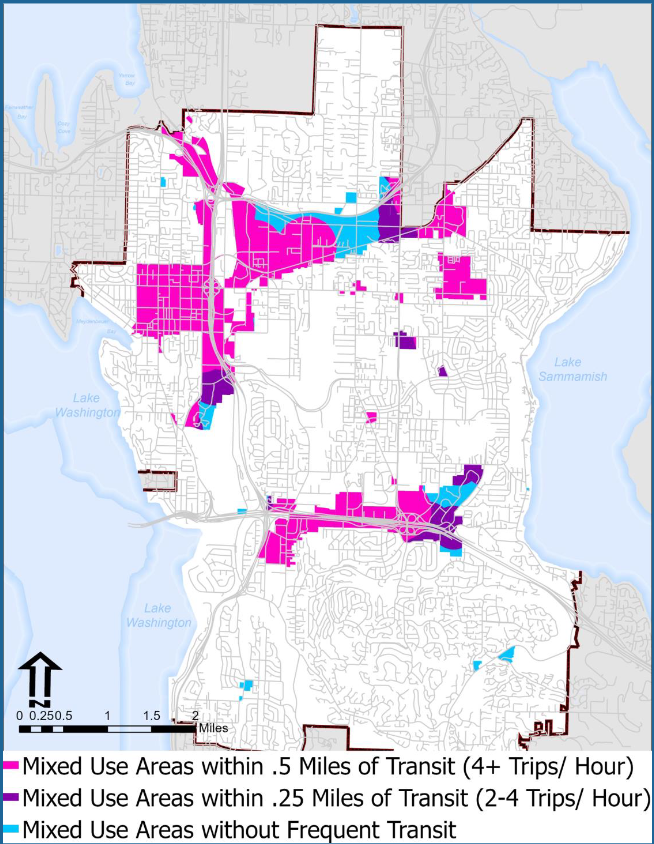 In contrast to Bellevue, Seattle has seen the construction of thousands of micro-apartments across the city's urban villages, but new restrictions enacted in 2014 shifted unit production from congregate housing suitable for low-income households to larger (approximately 280 square feet) middle-income units. At this time, staff have said that Bellevue's LUCA process will not consider amendments to the city's congregate housing code, and currently the only planned additional incentive to encourage micro-apartment affordability is the reduction in parking requirements for units affordable at less than 80% AMI.
Although Bellevue has a Multi-Family Tax Exemption (MFTE) incentive program that guarantees affordability for a limited time, the city does not have a Mandatory Inclusionary Zoning (MIZ) program to ensure long-term affordability (in spite of the policy's widespread support). Beyond the lower rents that inherently come with units that are smaller than other market-rate apartments, there would therefore be no requirement that any number of constructed micro-apartment units be more deeply affordable.
Planning commissioners largely did not seem happy with that outcome, with many expressing concerns that these unit types did not address the core need for affordable housing in Bellevue. Planning Commission Chair Carolynn Ferris urged the incorporation of an MIZ requirement into the LUCA, fearing that lowering barriers without mandating affordability would simply result in larger profits for developers.
Commissioner Mo Malakoutian asked about additional incentives, beyond parking minimum reductions, that could incentivize units affordable at 50% AMI or less. Staff pointed to the city's MFTE program, which would grant a property tax exemption to developers that could guarantee the affordability of 25% of their units at 45% AMI or less, but such a benefit would only last for 12 years.
Other commissioners, like Luisa Cuellar-Callad, emphasized increasing the livability of small units through the requirement of nearby open or shared spaces. Several acknowledged the importance of ensuring construction viability through the reduction of barriers but questioned if similar attention had been afforded towards setting standards that ensure resident comfort.
Staff did not provide exact numbers on how certain amenity requirements concretely impact project feasibility, but they shared anecdotal feedback from developers who claimed that profit margins on micro-apartment projects are "razor-thin" and that further requirements could make projects economically infeasible.
A couple of members even seemed to question the utility of focusing on micro-units over other housing types that would be more suitable for families.
"Not everybody that requires affordable housing fits the demographic section of a single person or a student or a young professional. How about the affordability people who are a single mother with two kids, or a family with a child?" asked commissioner Vishal Bhargava. Cuellar-Callad agreed, noting, "We have families that have jobs in Bellevue but they cannot afford Bellevue. They could not live in these apartments… Right now, I think we have more pressing matters. Offering this type of option for builders to build on this land — this land could be used for other types of construction that could actually help the affordability part that we're trying to solve in Bellevue."
Staff responded by noting the limited scope of the LUCA and its inability to address all aspects of affordability in Bellevue for all households. They also mentioned that micro-apartments represent one part of the Council's Next Right Work, which also includes policy updates to streamline permitting, encourage middle housing, and switch to FAR calculations to encourage more density.
There is an argument to be made that this suite of work, which is slated to occupy city planning staff for the next 12 to 18 months, does not go far enough in increasing affordable housing, but encouraging micro-apartments to increase housing diversity has been on Bellevue's radar since the adoption of the 2017 Affordable Housing Strategy.
After last week's discussion, the next stop in the LUCA process is a public hearing, which will be held at the commission's March 8 meeting. Staff will take commissioner comments and public feedback to craft policies that they hope to bring to Council for final approval by May. In a planning context, this four month timeline is a speedy process — one that will hopefully allow staff to shift attention towards higher-impact actions more quickly while meaningfully increasing the types of housing available in Bellevue.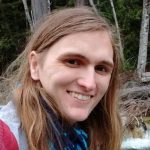 Chris is a UW Environmental Sciences graduate who moved to Bellevue in 2015. When he's not busy being an urbanist fox on the internet, he's working on the Eastside to support efforts reducing greenhouse gas emissions and going to city council meetings to denounce the hegemony of automobile infrastructure. Follow him on Twitter at @Deutski1.