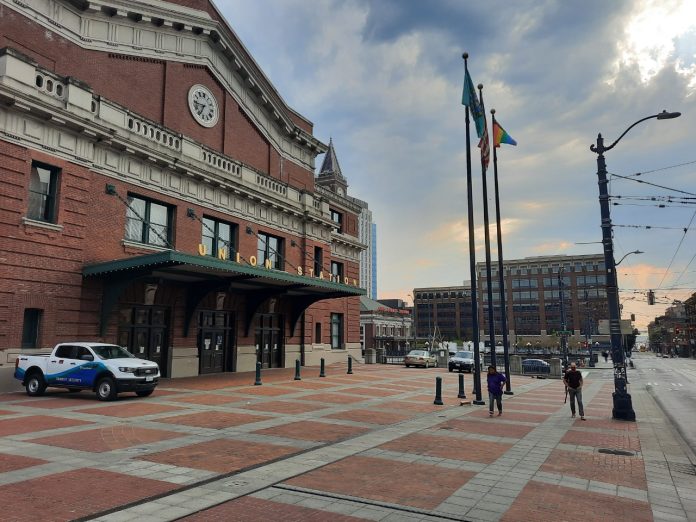 Plans for South Downtown "FrankenHub" would be disastrous for generations of light rail riders
As we enter the seventh year of Sound Transit 3 (ST3) expansion planning, Sound Transit is again at a crossroads and needs to finalize a plan for the Chinatown International District Station (CID). On the positive side, the agency recently presented an option, "4th Ave Shallower," that is worthy of our support.
Unfortunately, Sound Transit has also has begun to consider concepts for the CID that are not in the CID and that do not serve the basic requirements for the station, which include:
Creating seamless connectivity between the region's various critical transit networks (bus, link, Sounder, Amtrak and Seattle Streetcar) in order to encourage use through customer-centric design;
Minimizing impacts within the CID in a manner that is centered on equity for both construction as well as throughout the duration of the system.
At Seattle Subway, we believe that the shallower 4th Avenue CID Station is the best way to achieve these objectives. Read on to learn more about why we feel you should reach out today at meetingcomments@soundtransit.org.
Both of these requirements are imperative for equity
Some proposals on the table fail the first imperative of seamless connectivity, while also not actually improving performance on the second imperative of equity. Unnecessary additional transfers creates a systemic flaw in the transit system that will lower ridership and damage system reliability, impacting the elderly, people with mobility devices, and low income workers trying and sometimes failing to make connections most.
Those who can afford it will just drive instead of subjecting themselves to a less reliable, jumbled, inconvenient system not built with passengers in mind. Failure to follow industry best practices (interconnected multimodal hubs) doesn't actually achieve the equity goals stated. It simply shifts responsibility for equity impacts from Sound Transit to the Seattle Department of Transportation (SDOT) because CID bridge structures are 100 years old, and they will have to be very heavily retrofitted or removed and replaced entirely as they come to exceed its safe lifespan. Replacing these bridges together with building ST3 requires foresight, and we must bring foresight to bear here.
Rider experience is critical for equity
Some proposals considered will cause transit riders using Sounder to connect to Ballard, Lower Queen Anne, or South Lake Union to endure a minimum three seat ride. If they are using a bus for their first and last mile, it becomes a five seat ride. This is a glaring invitation to never take transit. It will be an enduring, 100-year equity issue for all mobility impaired, low income, or historically marginalized communities affected by this failure to adhere to transit best practice.
For the elderly, people with mobility devices, and people with no alternatives, the systemic flaw in this design will become most apparent whenever trains are full. The Mariners have 81 home games; the Kraken have 41; Sounders have 17; UW and the Seahawks have over a dozen combined, leading to many days when the system is at capacity and a transfer means passengers will likely be stuck for unknown periods of time. Some might walk instead, if they are able.
Inevitably elevators and escalators will go out; proposed stations outside of CID add three vertical conveyances to someone's transfer journey at Pioneer Square alone. This invites painful, foreseeable failure that will leave transit riders left holding the bag for our collective unwillingness to follow industry best practices.
A functional rapid transit system gives people of all economic standings and with all levels of mobility a way to quickly and safely get to where they need to go. Access to the public amenities, services, and all the live/work/play destinations of our region open up opportunities for anyone who uses the rapid transit system. It is essential that Sound Transit treat users of the system as if their time is precious and that seamless mobility for all is the promise. It's essential that Sound Transit doesn't intentionally add barriers to using the system.
Sound Transit must also not limit its focus to only light rail in a vacuum, at the expense of other existing and future rail connections at King Street Station. In the context of the CID, that means the new station has to be close to the existing CID station, Amtrak, Sounder, and high volume bus transfers on 2nd, 4th, and Jackson Streets to meet that standard.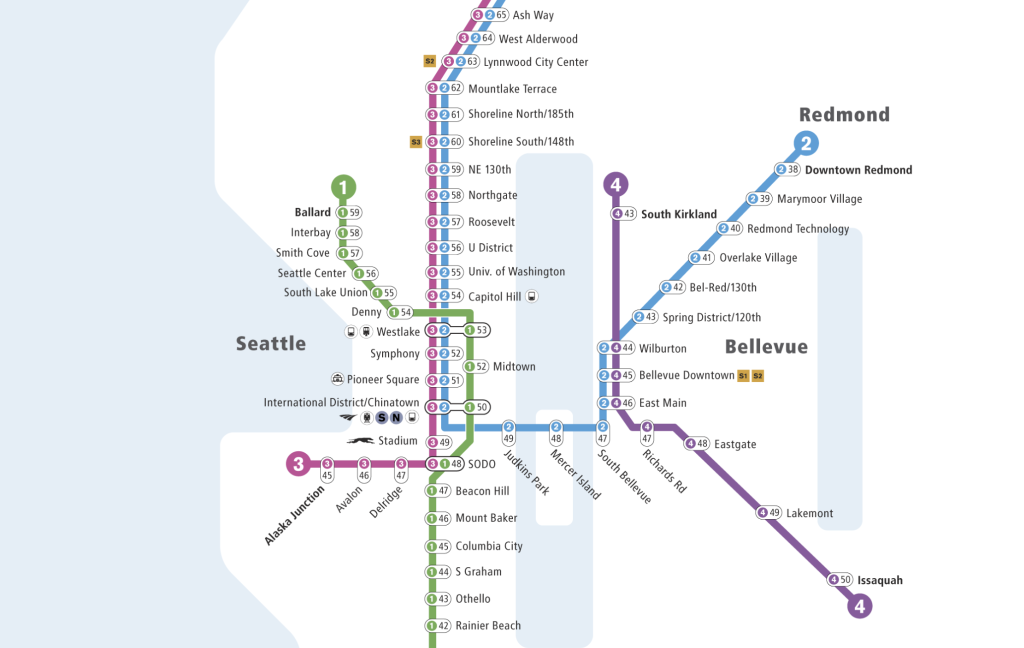 Riders on Sounder from Pierce, South King, and Snohomish shouldn't have to add a second transfer for a short trip or make their way halfway across a neighborhood just to make a hyper-common transfer to South Lake Union (SLU), a major employment destination, and beyond. Riders coming from otherwise underserved communities outside of downtown on some of our region's most critical bus routes (e.g. King County Metro Routes 7, 14, 36, 131, 132) will continue to engage with every other component of the regional rail system in the CID at the existing hub.
Moving the station does not save Chinatown from construction
While the City of Seattle bears responsibility to work hand-in-hand with Sound Transit, it is the responsibility of the agency to think broadly about equity and look at all future impacts to the CID community holistically. With this in mind, it is important to note the following infrastructure will need repair and replacement within the timeline of construction or early years of operations of the new light rail lines funded as part of ST3: the 2nd Avenue Extension Bridge (built in 1928, poor condition in 2019), South Jackson Street Bridge (built in 1910 and updated in 1987), and the 4th Avenue Viaduct (built in 1910).
It does not strike us as wise to eliminate the promise of creating a properly connected regional hub in order to save construction on 4th Avenue, when construction on 4th Avenue will have to be completed regardless of what Sound Transit does.
While done with the best intentions, such a move creates over a century of future equity impacts to light rail riders. Creating a non-integrated hub design will mystify and anger riders of all incomes, backgrounds, and home counties for decades. While such a move might be executed in order to achieve an equity outcome, the only real impact is simply that when 4th Avenue is inevitably rebuilt, Sound Transit will be able to keep its name out of it. We don't think abandoning all best practices for an intermodal hub is worth this minor bureaucratic win.
Seattle Subway's recommendation
Only one option considered by Sound Transit has the potential to meet the goals set by voters in 2016: 4th Avenue "Shallower" Station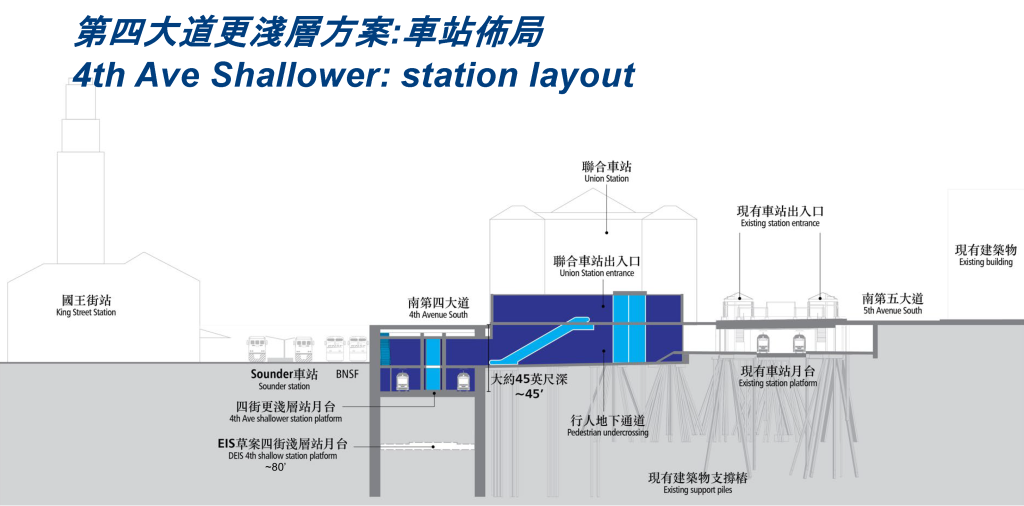 Though Sound Transit has provided limited information on this option so far, it is extremely promising for the following reasons:
A shallower tunnel means easier, faster, access and transfers for riders throughout downtown;
A shallower tunnel in that location meets the promise of a true multi-modal gateway and better activation of Union Station to create the positive and seamless experience on par with New York's Grand Central Terminal;
Shorter travel times and better experiences will mean higher transit ridership, which is an equity and environmental win;
The shallower tunnel at that location means Sounder/Amtrak riders accessing Ballard, Interbay, SLU and West Seattle will not be subjected to untenable 3-seat to 5-seat rides;
The shallower tunnel forgoing the unnecessary additional transfer also makes the system more resilient: People of all abilities will be able to get to Sounder and Amtrak, even when 1- and 2-line trains are full;
A shallower tunnel could mean a shorter construction timeline;
A shallower tunnel could mean lower costs than previous options. Sound Transit and the City of Seattle, and all levels of government should partner on CID bridge structure replacement costs given the City will someday need to pay for their replacement anyway.
It is Sound Transit's responsibility to build a regional rail transit hub that is well-connected, thoughtful and efficient, and that will stand the tests of its multiple centuries lifespan — one in which it will see more than 100,000 users pass through the hub daily. This piece of infrastructure will be the front door to our region's densest urban core, so it must be built in a manner that encourages people to ride transit. To do so, transit must be the fastest and most convenient option.
All of the new alternative options presented to the Sound Transit Board outside of the CID forsake that responsibility. One aspect of equity often missed in these conversations is that transit riders' travel times must be prioritized. Should the agency build any of alternatives outside of the CID, the result will be a catastrophic failure of public planning for which transit riders will pay for with their delay, often tired and wet, trying to navigate a system built with its riders and their time as an afterthought.
Finally, as a region we find ourselves proposing suboptimal transit line integrations due to a history of not completing adequate long range plans. Washington DC is still building a Metro plan they set in motion in the 1960s (for a rail system of similar scale to Seattle's). They aren't subjected to lines being built without an eye to the future, and therefore avoid the added cost and suboptimal outcomes of retrofitting stations or not connecting stations because no one ever planned for what was entirely knowable and foreseeable.
For example, why did Sound Transit have had to shut down the transit tunnel and disrupt endless thousands of riders to connect East Link, when we knew in the 1990s that EastLink would be connected in the future, and the connection could have been built when the tunnel was closed for two years in 2007-2009? Sound Transit's legal reasoning preventing sound planning is straight out of a Joseph Heller novel.
Voters approved study of Future System Planning as part of ST3. That planning must not be limited to the existing, paltry Long-Range Plan that has largely been funded through ST3 (meaning we as a region have little vision of what lies ahead, and that's a problem). That process must include updating the Long-Range Plan to incorporate a broad regional vision for expansion to serve massive projected increases in population in locations that ST3 will not serve. Most importantly, as part of ST3, Sound Transit must contemplate the future riders that will come with those expansions beyond ST3 for corridors that are not yet incorporated in the existing Long-Range Plan.
Seattle Subway encourages you to share your support for the shallower 4th Avenue CID Station with Sound Transit at meetingcomments@soundtransit.org.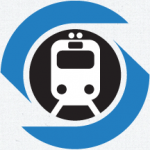 Seattle Subway is an all-volunteer, grassroots organization dedicated to promoting high quality transit for Seattle and the Puget Sound Region on the fastest possible timeline.