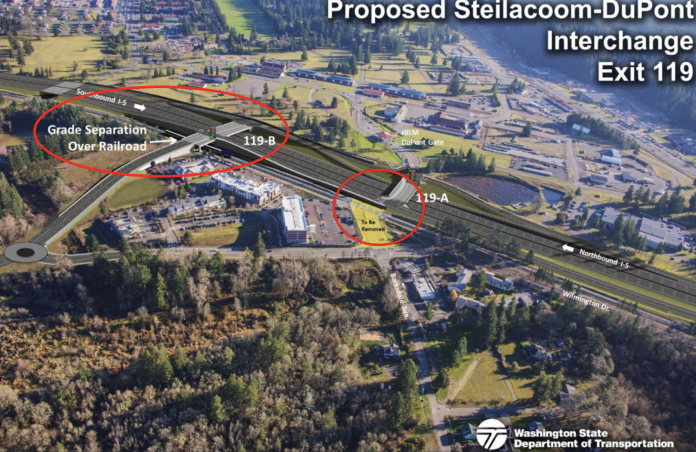 Sound Transit is partnering with the Washington State Department of Transportation (WSDOT) for a grade-separation project in Pierce County. The project is being led by the state transportation department as part of freeway expansion efforts near Joint Base Lewis-McChord (JBLM) and will benefit a railway that Sound Transit owns. The grade-separation project will not immediately offer improvements for Sound Transit riders, but it would have consequential benefits to other railroad users. Construction of the project is set to begin later this year and wrap up completion in 2026.
In a briefing to the Sound Transit Board's Rider Experience and Operations Committee, agency project manager Mark Johnson said that the project will impact a portion of the railway "used today by Amtrak and freight railroads and on which Sounder will run when we extend service to DuPont — like in 2045." Sounder service currently terminates a few miles to the north at Lakewood Station.
The project is centered on a section of the Lakewood Subdivision (also known as the "Point Defiance Bypass") that runs parallel to I-5 in DuPont. Currently, there is an at-grade crossing of the railway with Barksdale Avenue that connects with southbound on- and off-ramps of I-5 and an overpass of I-5 to the east.
"At this location, Sound Transit's crossing gates and signals have been badly damaged by vehicles running through the gates several times since we rebuilt the rail line," Johnson said. "WSDOT's proposed project will construct a new grade-separated bridge over both I-5 and Sound Transit's rail lines, which will connect to Steilacoom-DuPont Road. The at-grade crossing at Barksdale Avenue will be removed along with a short segment of the roadway."
This is not the first such project to make changes that benefit the Lakewood Subdivision. "WSDOT's I-5/JBLM project has already complete two I-5 interchange rebuilds," Johnson said. "Each one removed an at-grade crossing of Sound Transit's rail line."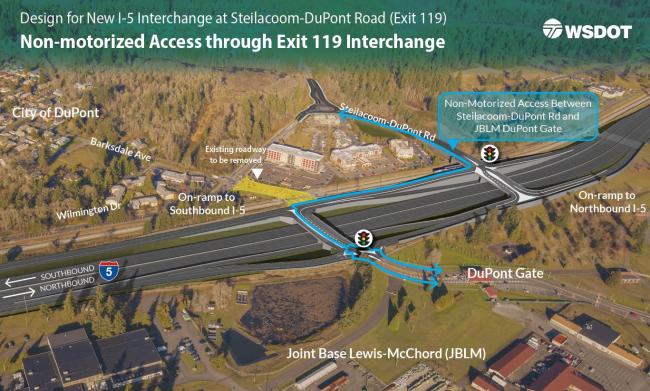 The new grade-separation project will vastly reconfigure the Exit 119 interchange. When completed, there will be two overpasses of I-5. The northern overpass will cross the railway and I-5 while providing southbound and northbound on- and off-ramp access to I-5. Conversely, the southern overpass won't cross the railway, but will bridge over I-5 and provide access to the southbound I-5 on-ramp and from the southbound I-5 off-ramp. The two overpasses will essentially work together as a modified roundabout/diverging diamond interchange system which may be somewhat efficient for motorists, but the pedestrian and bike experience is all but sure to be a treacherous and undesirable one.
The grade-separation project is not too far from a fatal derailment on the Lakewood Subdivision. In December 2017, the maiden voyage of Amtrak Cascades service resulted in a tragedy on a tight curve due to overspeed near Mounts Road about two miles to the south. Since then, Sound Transit and railroad users have activated positive train control on the Lakewood Subdivision for additional safety and Amtrak service on the railway was restored in November 2021 following Sound Transit approval.
Under the terms of an amended agreement with WSDOT, Sound Transit will grant the state transportation department additional easements for the project and receive an additional $150,000 as compensation for a total of $1.1 million. WSDOT will also compensate Sound Transit for time spent in coordination meetings and design review as well services rendered for related project construction, such as railway flagging, grade crossing removal, and inspection.
Despite the clear pedestrian and bike facility design flaws of the planned interchange, there are big upsides to grade-separation. "Most important, elimination of this at-grade crossing will enhance safety for all roadway users and railroad users," Johnson said. "And it will reduce Sound Transit's potential liability as owner of the rail line."

Stephen is a professional urban planner in Puget Sound with a passion for sustainable, livable, and diverse cities. He is especially interested in how policies, regulations, and programs can promote positive outcomes for communities. With stints in great cities like Bellingham and Cork, Stephen currently lives in Seattle. He primarily covers land use and transportation issues and has been with The Urbanist since 2014.