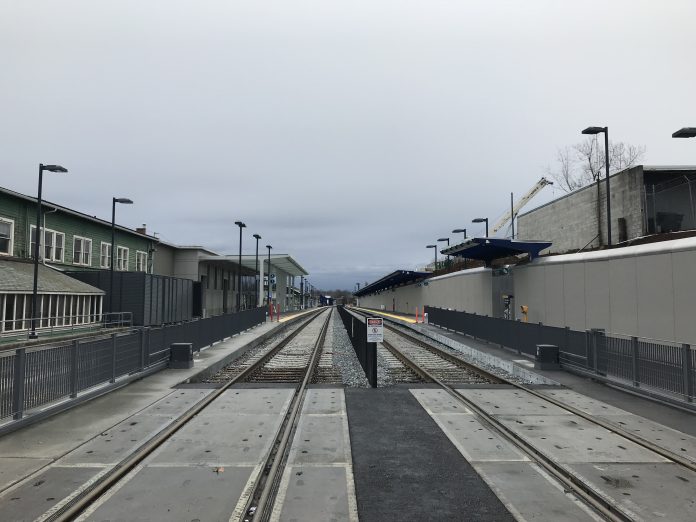 Amtrak services will return to the Point Defiance Bypass on Thursday, November 18th, the company announced late this afternoon. The bypass is expected to shave up to ten minutes off travel times (updated schedules currently show a scattershot of time savings) between Tacoma and Olympia versus the waterside route currently in use. While the corridor has remained in partial use by Sound Transit as far as Lakewood for commuter rail service, use of the bypass by Amtrak was short-lived when the maiden voyage on December 18, 2017 ended in a tragic derailment just south of DuPont.
A long road to a safe restart
Getting to this point of service restoration on the bypass has been a very long road following investigations, decertification and temporary replacement of flawed train equipment, implementation of safety measures, improved training and protocols for staff, and testing of systems and vehicles. After fits and starts, the bypass will finally come into use by Amtrak again after a nearly four year hiatus.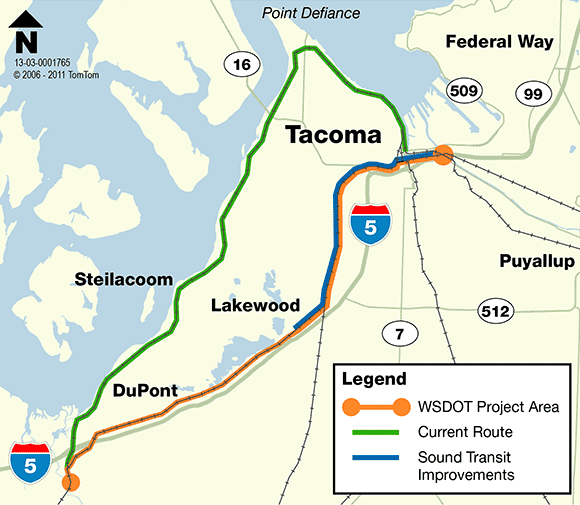 Amtrak's president Stephen Gardner issued a statement emphasizing the work to ensure safety on the bypass. "Amtrak is continuously improving safety for the benefit of our customers, employees, and the communities we serve," he said. "We are ready to safely resume service on the bypass consistent with the steps required by our host railroad, Sound Transit, the Federal Railroad Administration and our own Safety Management System."
Though unlikely to be noticeable to passengers, one of the biggest changes for safety has been installation of positive train control (PTC) on the bypass and the entire Amtrak Cascades, Coast Starlight, and Empire Builder corridors. PTC systems can slow and stop trains if needed to avert an overspeed derailment, train-to-train collisions, and certain prohibited movements by actively overriding train operator controls. This means that an overspeed event like the one that occurred in the 2017 derailment would be prevented by PTC.
Prior to today's announcement, Sound Transit — which owns the bypass — required that Amtrak demonstrate full compliance with safety requirements. Other safety measures were implemented to ensure safer operations, including:
New speed restrictions that progressively reduce speed where warranted on the bypass;
Retraining and fully qualifying staff on the bypass;
Enhanced simulator programs that use specific route details and conditions to train for the bypass; and
Creation and implementation of a Safety Management System, which covers a range of policies and procedures to address risks, expand staff training, improve reporting, and enhance training courses with an eye toward a culture of safety.
First trips on the bypass and other changes
Beginning on Thursday, November 18th, the first trains to the use the bypass will be as follows:
The 7:22am southbound Amtrak Cascades departure from Seattle (departing Tacoma at 8:08am); and
The 5:30am northbound Amtrak Cascades departure from Eugene (departing Portland at 8:20am and Olympia at 10:13am).
With the move from the Puget Sound waterside route via Point Defiance to the inland Point Defiance Bypass, the station served in Tacoma will also move. Passengers will want to ensure that they plan trips to and from Tacoma Dome Station where Sounder commuter rail service operates from today. Passenger waiting rooms are located within the Freighthouse Square building on E 25th Street and provide a superior experience compared to the old Amtrak bunker station off Puyallup Avenue.
For folks who enjoy really good views, the waterside route from Tacoma to the Nisqually Valley is worth booking a trip now to get a last glimpse of Puget Sound, islands, and Olympics before passenger rail service is terminated on it for good.
What's further ahead
Amtrak Cascades has promised that service levels between Seattle and Portland would be increased beyond the three daily roundtrips once the bypass reopened. That promise still seems to be good based upon Amtrak's announcement which noted that there will be "additional trains added in the months ahead as Covid restrictions ease." That could mean as many as six daily Cascades roundtrips could be operating between the two cities soon. A fourth daily roundtrip is already running, though it is Coast Starlight which has slightly longer travel times and doesn't serve all of the same stops. Restoration of Cascades service between Seattle and Vancouver, British Columbia with two daily roundtrips is still pending approval and agreement on protocols for Covid vaccination documentation by Canada and United States.
Looking further ahead, the Cascades service will be receiving improved equipment with deliveries of Siemens Venture trainsets in 2024. The modern equipment will become the permanent replacement of decommissioned Talgo trainsets and will no doubt be a winner with passengers. The Venture trainsets are slated to come into service somewhere in 2025 or 2026.
But for now, Amtrak passengers will have to be contented with faster travel times and improved reliability, and an enhanced passenger experience at Tacoma Dome Station.

Stephen is a professional urban planner in Puget Sound with a passion for sustainable, livable, and diverse cities. He is especially interested in how policies, regulations, and programs can promote positive outcomes for communities. With stints in great cities like Bellingham and Cork, Stephen currently lives in Seattle. He primarily covers land use and transportation issues and has been with The Urbanist since 2014.