Sound Transit has incrementally been improving its station wayfinding strategies. In 2019, the agency adopted Asian-style station exit and directory signs and then improved them in 2021. Prior to that, the agency had improved platform signage to simplify and clarify information. And when Link expands next, the agency will roll out new station codes and diagrammatic maps. But cribbing notes from London offers three ways to further the agency's station wayfinding program.
One tool that London has occasionally employed is stair count signs. At the Belsize Park Tube station, stairs to the surface have wall signs letting riders how many steps there are between station platforms and the surface. The station is relatively deep at 109 feet below the surface. Riders have two choices: the stairs or an elevator and 20 steps. It's not a wheelchair accessible station as a result, but without the notice, riders who may be unfamiliar with the station wouldn't necessarily know what their options are and if the stairs are a wise choice for them.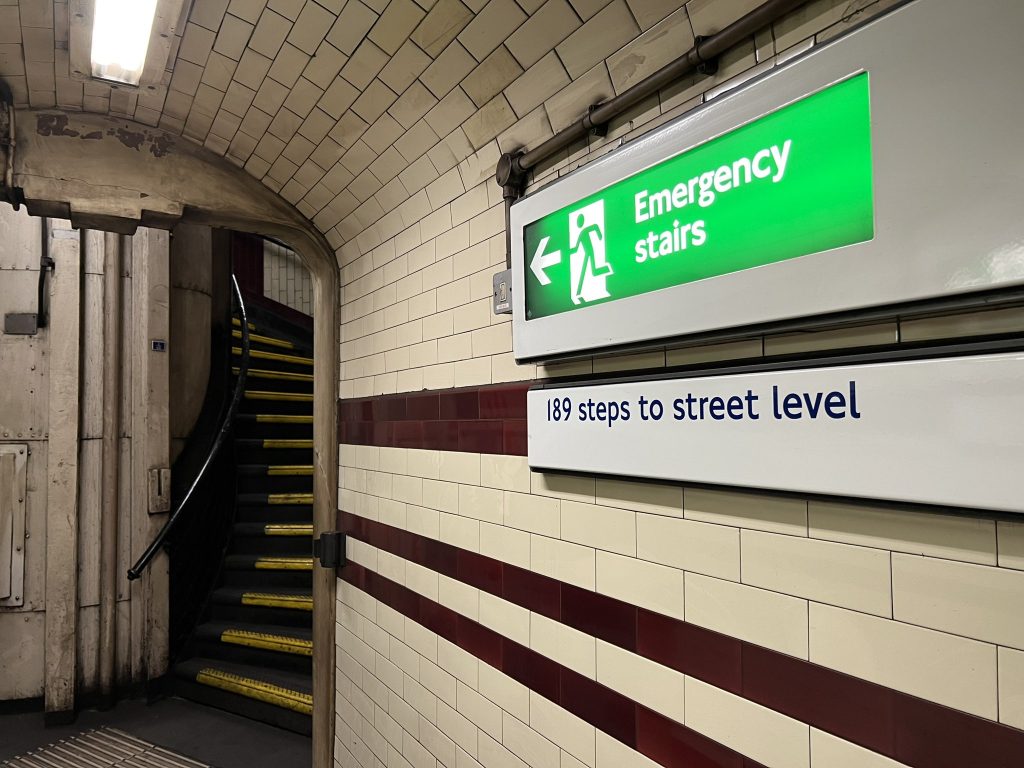 Sound Transit has been improving on escalator maintenance and uptime, but stair counts could be a helpful tool in decision-making, particularly when one or more station escalators are out of service. Often, too, Link stations are situated with different surface level topography leaving one exit to be higher or lower. Detailing the number of steps to each street-level exit could help as part of that decision-making process.
Another ingenuity in London: elevator network guides. At many stations, all elevators are given a unique number or letter emblazoned above their thresholds. Along with these are placard guides placed to the side and inside of elevators diagraming the relationship of elevators throughout a station or station complex. Those diagrams can be quite detailed, offering information on which floors elevators connect and which side the elevator doors will open.
Want to go from the Elizabeth line to one of the London Underground lines at Liverpool Street? Take Lift E to the mezzanine floor and then Lift F to the ticket hall. From there, additional guidance will be offered. In a more complex situation, a rider may want to reach Broadgate. The elevator guide would direct the rider to similarly take the same elevators to the ticket hall but then ride Lift G to the Broadgate level.
To reassure riders of options at Liverpool Street, signage above the Lift E doorway indicates that the rider can reach the station exit as well as National Rail, London Buses, London Overground, and London Underground services. Similar information is provided at the Elizabeth line platform with wall signs. Connecting services are indicated with directional arrows and elevators are given a special level of detail for which are best to reach specific platforms.
Right now, Sound Transit has few interchange stations and none that present the kind of complexity like a London's Liverpool Street or Paddington stations. But implementing similar elevator wayfinding at Link and Sounder stations would be a big help to riders. Not all station elevators serve street, mezzanine, and platform levels. In many cases, riders have to navigate multiple elevators to get from street level to platform level. Out-of-service elevators are also a common problem, making it a serious chore for riders who need elevator accessibility. So dedicated elevator wayfinding could greatly improve this element of rider experience.
A third wayfinding strategy that London employees is focused on riders aboard trains. Station names are repeatedly highlighted conspicuously at platforms so riders are assured what is being reached as the train slows. Station name signs dot platform walls and benches. These are very bold and clearly identifiable because of the iconic London roundel and signage bands.
While Sound Transit shouldn't pilfer the roundel, new iconic station signage that is sized and located properly could help many riders. This could be particularly helpful at stations downtown and with center platforms. Currently, Downtown stations place the signage too high to see from a passing train and stations with center platforms turn the rider focus toward the platform, not the exterior wall (if one exists), where station name signage can be hard to identify among structures and other features. Station names are also displayed too infrequently and often blend in with the walls and fixtures, adding to the challenges already present. Reassurance to riders is important, so better addressing this area of signage would be a help to riders of all types.
As the transit system grows, Sound Transit's wayfinding approach continues to evolve. Implementing these London-style wayfinding improvements seems a natural part of that evolution and would improve rider experience. These could be trialed as a part of small pilot at some stations now to see how they work and give time to refine them before additional Link extensions open. Bigger changes could then be implemented as part of opening the East Link and Lynnwood Link extensions when signage has to be changed anyway.

Stephen is a professional urban planner in Puget Sound with a passion for sustainable, livable, and diverse cities. He is especially interested in how policies, regulations, and programs can promote positive outcomes for communities. With stints in great cities like Bellingham and Cork, Stephen currently lives in Seattle. He primarily covers land use and transportation issues and has been with The Urbanist since 2014.